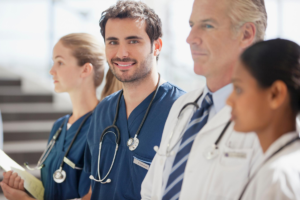 A Navy Nurse
The Navy Nursing Corps cares for members of the US Navy. They work in the US, internationally, and are also deployed when needed. For many people, a career in the military is a way to get an education, work experience, and also enter into professional life. But for those with an interest in medicine and healthcare, joining the Navy can be a way into a career as a nurse.
---
What Is a Navy Nurse?
A Navy Nurse serves as an Officer in the U.S. Navy. Navy nurses include professionals with many different specialties and work on interdisciplinary teams to treat their patients.
---
Tip for How to Become a Navy Nurse Officer
If you wish to move up in rank quickly, choose a nursing specialty. Navy officer nurses practice a variety of specialties such as nurse practitioner, emergency trauma, surgical, maternal, perioperative, and psychiatric.
---
How Do I Find Out How to Become a Nurse in the Navy?
Requirements for the navy nursing corps are rigorous. Applicants must meet the high physical standards of the U.S. Navy in addition to possessing professional qualifications.
To qualify for the Navy Nurse Corps, you must:
Be a U.S. citizen and a practicing RN
Be enrolled at or the graduate of a BSN degree accredited by the Commission on Collegiate Nursing Education
Have a license to practice in the District of Columbia, Puerto Rico, a U.S. state or a U.S. territory
New NROTC or NCP graduates have one year to obtain a license following the first day of active duty
Be ready to serve for three years of Active Duty
Be between 18 and 41 years old
Pass a full medical examination
Be in good physical condition
General qualifications for Active Duty or Reserve Duty vary based on the assignment and your service experience. Learn how to become a nurse for the navy by referring to the qualifications listed by the Navy. The site also has great information on what candidates can expect as nurses in the navy.
---
What Is It Like Being a Nurse in the Navy?
Nursing in the navy involves similar roles to nursing elsewhere in the United States. Members of the navy nursing corps provide medical care for navy personnel and civilian personnel, as required. To find out what is it like being a nurse in the navy, network online and ask an active duty nurse about the pros and cons of their job.
Military nursing is very stressful and may involve deployment to war zones to care for troops. Perks include free healthcare and job security, although that's not usually a problem for nurses.
---
What Is a Nurse in the Navy Called?
The rank of a navy nurse determines the title. Currently, nurses in the navy vary from Ensign through Rear Admiral.
---
Is Navy Nursing Salary Competitive?
The average U.S. Navy salary ranges from $54,000 to $231,000 per year for all nursing roles. This information is based on job descriptions and user responses from a 36-month time frame. Navy nursing salary comparable to civilian pay, which averages $84,956, according to Indeed.com.
---
How Much Does a Navy Reserve Nurse Make?
According to Chron.com, nurses in the navy reserves or the navy national guards make from $6,000 to $23,000 per month depending on their experience and years in service. Like other naval reserve and guard members, nurses receive additional bonus money when deployed, re-enlisted, or working in hazardous conditions.
---
What Are the Steps for How to Become a Navy Nurse?
Joining the Navy Nurse Corps helps nurses advance their careers and increase their salaries. However, many nurses and nursing students don't know how to become navy nurses. There are several ways to qualify for the Navy Nurse Corps, including:
Joining the NROTC program at a CCNE-accredited university
Completing a Bachelor of Nursing Science then joining the navy
Participate in student enrollment after high school
The Navy Nurse Corps sponsors scholarships for high school graduates and college students enrolling or accepted into nursing education programs. These scholarships cover up to $180,000 in scholarships at schools with NROTC participation.
---
Your Career as a Navy Nurse
For those with a degree and license, a naval nursing program starts with speaking with a knowledgable Navy recruiter. Nurses can also join the Navy Reserve on a part-time or full-time basis. Part-time reservists commit to one weekend a month and an additional two weeks per year. Being a Navy Nurse is a lucrative and rewarding career for nurses who wish to serve their country.
---
Related: