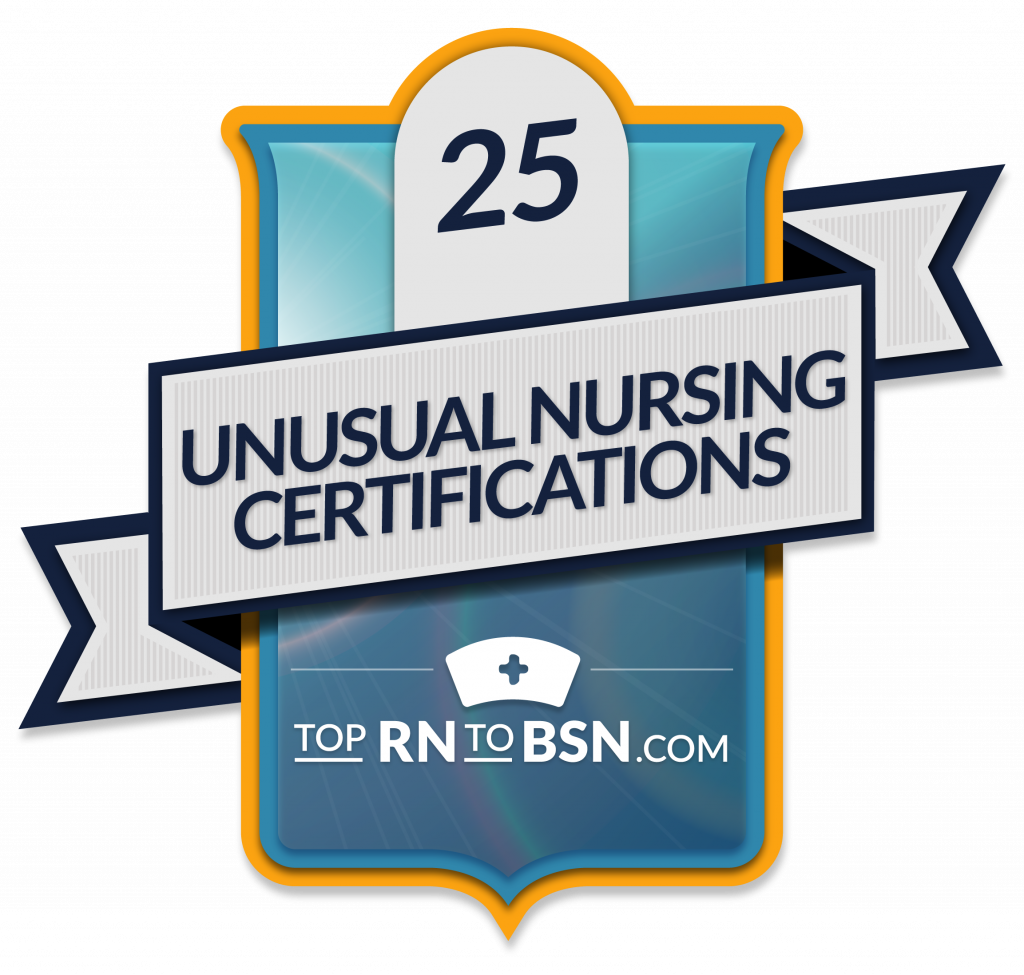 Unusual Nursing Certifications
Unique nursing jobs and certifications for nurses can offer an exciting change of pace and an opportunity to specialize in a type of care. If your regular nursing job has gotten a little stale, there's no shortage of unusual jobs for nurses that can help you mix things up a little. Nursing certifications give you career mobility and help you earn a higher salary. With today's nursing shortage, virtually any nursing certification will help you immensely.
Nursing, in general, is a high-paid, high-demand career, especially with the nationwide nursing shortage. That said, if you really want to make the most of your investment, look for the highest paying nursing certifications right off the bat. Or if you want something unusual, that guarantees you a job that hardly anyone else is looking for, you could consider some of the unusual certifications below.
---
The 10 Best-Paying Unusual Nursing Certifications
1. Dermatology Certified Nurse Practitioner or Nurse Certified (DCNP) – Salary Potential: $107,336
2. Women's Health Care Nurse Practitioner (WHNP-BC) – Salary Potential: $114,035
3. Advanced Diabetes Management (ADM-BC) – Salary Potential: $122,000
4. Certified Urologic Nurse Practitioner or RN (CUNP) – Salary Potential: $101,693
5. Certified in Infection Control (CIC) – Salary Potential: $99,119
6. Certified Flight Registered Nurse (CFRN) – Salary Potential: $92,400
7. Certified Hospice and Palliative Care Nurse (CHPCN) – Salary Potential: $80,000
8. Certified Nephrology Nurse or NP (CNN) – Salary Potential: $110,000
9. Certified Neuroscience Registered Nurse (CNRN) – Salary Potential: $100,000
10. Faith Community Nursing (RN-BC) Parish Nurse – Salary Potential: $60,993
At the end of the day, there's no easy answer when it comes to nursing. However, if you look for options based on your own needs and lifestyle, you'll see where your passions meet up with other people's needs.
---
Finding Certifications for Unique Nursing Jobs
TopRNtoBSN editors sought out reputable nursing certifications from legitimate professional organizations with one main criterion: the certification had to be relatively rare, in some demand, and attainable. Some are available online, some are not; some are quite unusual, and some are a natural outgrowth of need. The certifications are presented by average salary.
---
---
What is a Dermatology Nurse Salary and Job Description?
---
---
---
---
---
---
---
---
---
---
---
---
---
---
---
---
---
---
---
---
---
---
---
---
---
---
---
---
I'm Bored With Typical Nursing – What Else Is There?
Do you enjoy traveling? Do you prefer spontaneity over predictability? Then you might enjoy a career in travel nursing. Travel nursing isn't exactly among the most unusual nursing careers, but it does offer a lot of excitement. You can stay in different locations across the US for several weeks at a time and broaden your horizons. In their time off, travel nurses explore, hike, and get to know lots of local areas. Travel nursing programs help fill the gap in places that have been hit especially hard by the current nursing shortage. As a result, travel nurses are in high demand. If you're the adventurous type, you should absolutely look into the travel nurse option.
---
More Unusual Nursing Jobs
There are lots of unusual nursing opportunities in the nursing field. For example, you could be a theme park nurse and maybe ride a roller coaster during your break. You could be a yacht nurse if you want to travel in style or become a flight nurse if you need extra excitement.
---
Popular Certifications
Want to add excitement to your career while staying closer to home? You already have your nursing degree (bachelor or master of science in nursing) and passed the NCLEX to get licensure. You want to do more specialized patient care,
In that case, certification is your best bet. With certification, you can break into options like case management, dialysis, and a lot more. You can find a career that aligns more closely with your passions than regular nursing. When it comes to unusual jobs for registered nurses, all you have to do is look around. With a little persistence and creativity, you'll find an exciting job that suits your needs.
So, what certifications are in demand for nurses? Nurse Journal points out that some specialties are in especially high demand. These nursing specialties come with plenty of job prospects and high salary potential. You can get certified in specialty areas like:
Nurse Manager
Nurse Case Manager
Family Nurse Practitioner
Intensive Care Nurse
Mental Health Nurse
Advanced Cardiac Life Support (ACLS)
Basic Life Support
Take some time to research your choices and find the ones that look most appealing to you. You may also get a higher degree and become an advanced practice RN (APRN). The Bureau of Labor Statistics (BLS) shows nothing but growth!
---
Should I Get a Certification Right Out of Nursing School?
Should you get a certification right out of the gate? That depends on you. Some people graduate and then immediately search things like "nurse certifications for a new grad." Others want to take more time. Nursing certification is challenging. If you're feeling burnt out on studying and are ready to get straight to work, or if you need time to pay off some loans before adding to your education, there's nothing wrong with waiting before looking for specialty certifications.
However, there are also a lot of benefits to pursuing certification right away. Certification will help you advance your career, for example. New grad nurse certifications will help you move on from an entry-level job quickly. Certifications for new nurses can pave the way to better pay and a more exciting career.
---
Are Some Nursing Certifications Easier Than Others?
As a nurse or a nursing student, you know that there's no such thing as easy. While a search for "hardest nursing certifications" will give you plenty of results, a search for "easy nursing certifications" or even "what is the easiest nursing certification exam" will require a lot of digging. All nursing certification exams are designed to be challenging. The challenge is what assures patients that their nurses have expert knowledge.
That said, there are several things you can do to minimize your specialization stress. First, instead of looking for an easy exam, look for the least stressful nursing jobs and then pursue certification based on your goals. This way, you can minimize burnout and look forward to a relatively simple career. Second, pursue a certification based on your interests and passions. When you're passionate about a subject, you'll be far more motivated to study for it. Your exam will be a challenge, but it may feel easier because of your excitement about the material. Finally, look for certification programs that fit your schedule and lifestyle. For example, some specializations let you earn your certification online. With enough flexibility and time to study, you can minimize stress and make your certification more manageable.
---
Related: