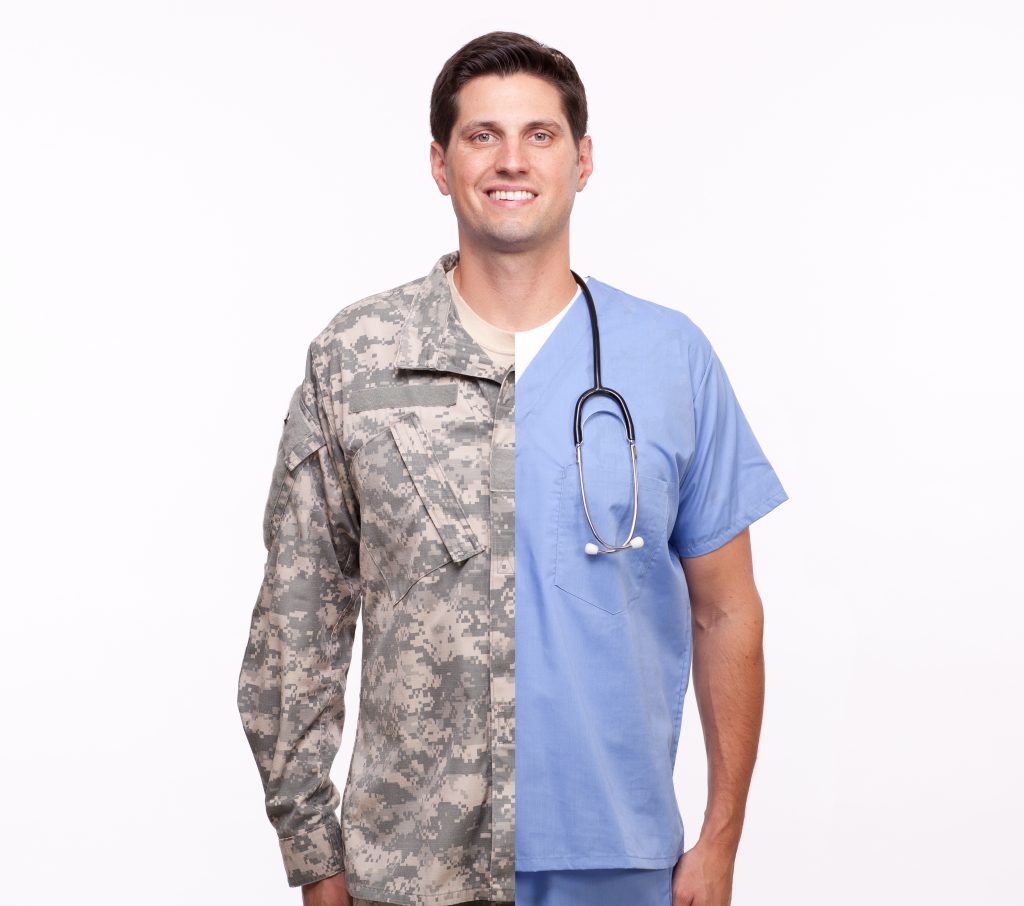 Military Nurse
Nursing is one of the most rewarding careers you will ever experience. Becoming a military nurse offers additional benefits and rewards over and above a traditional nursing career. Military nurses have more options for traveling and can actually work as medics in the field, providing an opportunity to work in a fast-paced and very unique environment. Military nursing prepares you for high-stress situations such as trauma and emergency room care.
---
---
What Is a Military Nurse Job Description?
Military nurses are medical professionals and also soldiers. While some work in hospitals on base, others work on the front lines offering medical assistance to those injured during combat. Military nurses receive specialized training. They can work under pressure and provide the best possible care with whatever tools and resources are available. Military nurses are active members of the military and often make it a lifelong career.
After discharge, many military nurses work in hospitals as emergency or trauma nurses or as paramedics and EMTs. The skills and training they receive during their military career help them to function efficiently in areas where quick thinking and fast action are a must. Military nurses are skilled in triage and moving patients. This combination makes them ideal for working on ambulances and as flight nurses who care for patient transport.
---
Military Nurse Job Duties
A military nurse performs the same duties as a non-military nurse. They care for patients, dispense medications, and work with doctors, assisting them with their duties. A military nurse works in hospitals on a military base or in small medical clinics located in areas near the front lines and all locations in between. This is where they offer the same types of medical care as a non-military nurse.
A military nurse has the skills and training to work in a military environment. They have the ability to assess, stabilize, and move patients during stressful situations while at the same time taking precautions to protect themselves and others. Additionally, military nurses can work in a stable environment as well as a hostile one. Thus, they are trained as soldiers and also have the ability to use that training while providing medical care.
---
Education Requirements
In order to become a military nurse, you must attend college and earn a nursing degree. As soon as you earn your degree and pass the licensing requirements, you can apply for a military nurse position. If you are going to school for your military training, the government will pay for your tuition and licensing costs. This includes any fees associated with taking the National Council Licensure Examination or NCLEX. If you take your training outside of the military, the government may reimburse you for your education.
Once you enlist in the military, you will need to begin officer training. The branch of military service you choose will determine where you take your training. Because you are also a soldier, you will be taught a variety of other skills. They include leadership, tactical maneuvers, and also how to thrive in a structured military environment. As part of this advanced training, you must complete many different physical exercises and stay in top physical shape. Exercise and drills are mandatory and you will be expected to excel in every area.
---
Salary
A military nurse on average makes approximately $74,000 per year. The basic range begins at around $59,000 a year and tops out at approximately $104,000 a year. In addition to their wages and medical expenses, military nurses receive 30 days of paid vacation each year. They also are eligible for housing stipends and free health insurance. Additionally, nurses called into combat are eligible for hazard pay due to working near a combat zone.
Becoming a military nurse is not for everyone. If nursing and the military both interest you, then a military nursing career may be for you. After 20 years of service, you can retire with full honors and a pension. You also have the option to re-enter the workforce as a civilian while keeping your military benefits. A career as a military nurse is filled with both challenges and opportunities. It's up to you to make the most of them!
---
Related: