What is a Dialysis Nurse?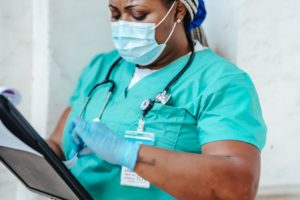 A dialysis nurse's job description is to monitor a patient's treatment, update medical records, and also the medical team on the patient's health A dialysis nurse plays an integral role in the lives of those suffering from kidney disease or kidney failure. They are part of a group of medical personnel in the nephrology unit.
What is the role of a dialysis nurse? While many dialysis nurses usually treat patients needing dialysis, they also work with patients experiencing a wide range of kidney-related issues or those that need to rid their bodies of waste. This is a critical job and the lives of those with advanced kidney disease depend on these providers to keep them from succumbing to their disease.
---
---
What is it Like to be a Dialysis Nurse?
Is dialysis nursing stressful? Being a dialysis nurse is an extremely rewarding career choice. They are responsible for the care of patients receiving dialysis to treat various kidney issues. These nurses will administer medication, care for the patient during dialysis, and provide the patient with a care plan to educate them about their disease. Dialysis nurses also provide care instructions to ensure patients follow the proper diet and other guidelines and restrictions.
---
What Does a Dialysis Nurse Do?
The duties of a dialysis nurse are varied from day-to-day. Overall, they support patients that need dialysis due to kidney failure when their kidneys can no longer rid the body of waste.
Here are some of the duties of a dialysis nurse:
They support patients needing dialysis.
Theses nurses are responsible for educating the patient, family, and caregivers about the disease, treatment, and what to expect during dialysis.
Oversee the entire process, including setting the dialyzer and bloodlines.
Record the patients' vitals and update medical records.
Provide pre- and post-procedure care for those in the Hemodialysis unit.
Prepare and update medical plans.
Dialysis nurses evaluate the treatment plans and help the patient through their treatment.
Keep the medical team updated on each patients' condition and progress.
Follow up with patients following their procedures.
Are responsible for scheduling treatments
Evaluate each patients' response to the treatment and medications.
Check all equipment to make sure they are running at top performance.
---
Dialysis Nursing Salary:
Do dialysis nurses make more money? Those considering dialysis nursing as a profession will ask, "How much does a dialysis nurse make?" The answer is, they make a very good living. According to the 2020 U.S. Bureau of Labor Statistics (BLS), most registered nurses make around $75,330 per year or $36.22 an hour with experience.
Currently, New York ranks at the top of the pay scale for nephrology nurses at $76,835 per year. Those choosing this field will earn a very healthy salary as a dialysis nurse.
---
Dialysis Nurse Certification:
What skills does a dialysis nurse need? Those that are pursuing a career as a dialysis nurse will need to complete the steps below before they can begin their career.
They will need to attend nursing school and earn an ADN or BSM from an accredited school.
Following graduation, they have to pass the NCLEX-RN exam.
Before becoming a dialysis nurse, they must have at least two years of surgical experience, most often in the nephrology unit. It is extremely rare for new graduates to be hired into a dialysis nursing position.
They will need to earn their certification from the Nephrology Nursing Certification Commission. This may be as a CDN (Certified Dialysis Nurse) or a CNN (Certified Nephrology Nurse). After this certification, they can practice in this field.
---
Travel Dialysis Nursing:
While many people may not have heard of travel nursing, it is increasing in popularity. One reason for the increase is the need for nurses and other medical personnel in certain areas. This has come to light during the COVID-19 pandemic. As a result, more and more nurses are signing up to be travel nurses because of the accelerated pay. Travel dialysis nursing is no exception.
According to indeed.com, there are numerous jobs available at a very high pay scale. Those that choose to become travel nurses will have all their expenses paid. They can earn several thousand dollars per week. This is especially true in areas where they need for nurses with this specialization is high. In addition, the need for travel nurses has increased due to the COVID-19 pandemic, and the need for experienced healthcare providers.
---
Your Career As A Dialysis Nurse
Nephrology or dialysis nurses play a vital role in helping improve the lives of those struggling with kidney disease. Nurse dialysis jobs are critical to the health and well-being of many people, so this is a very good field for those in the nursing and medical profession to explore.
---
Related: