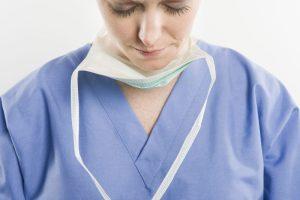 Pandemic Nursing Job Guide
The guide to pandemic nursing jobs and recruitment during COVID-19 has all the information your need for getting a job or filling one. The COVID-19 pandemic has created new opportunities for nurses as well as many other medical and healthcare professionals. Nurses especially have had doors opened for them that in the past may not have been made available.
With the number of available nurses being well below what is needed during non-emergency times, many healthcare facilities are offering bigger salaries and more lucrative benefits for students who are willing to enter a nursing degree program and fulfill the eligibility requirements. Graduating nurses are being offered higher starting pay to have them work in specific, high-risk areas where help is sorely lacking.
---
Nurse Recruitment & COVID-19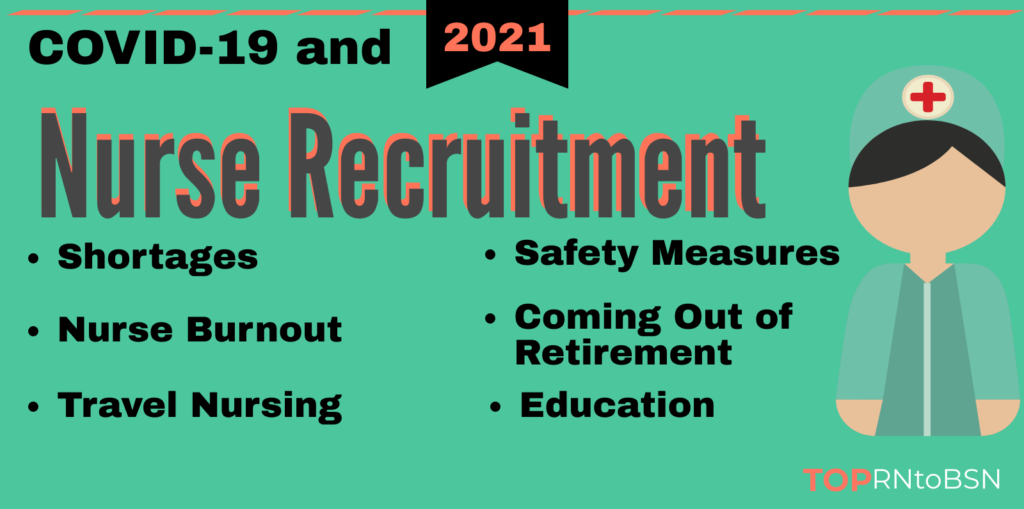 ---
Nursing in a Pandemic Environment
Nursing in a pandemic environment is nothing like it was during non-emergency conditions. The severity of the pandemic and the unpredictability of the COVID-19 virus have put almost every healthcare facility on notice. Not only can the work conditions change, but they can also change very quickly leaving little to no time to adapt. In a pandemic environment, safety protocols are constantly changing. More precautions are added and special measures must be taken to ensure every patient is receiving the highest level of care possible while still maintaining a safe environment.
As the pandemic continues and the virus begins to wane, many of the newer, more advanced protocols will remain in place. Nurses will begin to become accustomed to the new normal and will have to continue to adapt if new protocols are put in place. Very few hospitals and healthcare facilities will return to pre-pandemic protocols and habits. New nursing students will be educated using these new standards, ensuring that if a pandemic ever occurs in the future, the medical and nursing staff at every facility will be ready to take on the challenge.
---
Nurse Shortages as a Result of COVID-19
The US has been contending with a shortage of nurses even before the pandemic, so one of the main concerns in the health and medical field was a COVID-19 related nursing shortage. With the number of nurses available already at record low numbers, the industry couldn't spare any more nurses leaving the field. Another primary concern was nurses being exposed to the COVID virus and being quarantined for long periods of time. Not being able to work would be devastating for them financially and catastrophic for their employers who are already dealing with extensive staff shortages.
This is part of the reason for the expeditious implementation of the new COVID-19 protocols. The goal was to keep nurses who were on the job as safe and healthy as possible. Nursing students who were getting ready to graduate were offered large sign-on bonuses if they were able to complete their state board licensing exams and be ready to go to work as quickly as possible. Even though this wouldn't completely eliminate the existing shortage, it would help relieve the pressure on the nurses who were still working in the field.
Many of the hardest-hit hospitals and healthcare facilities in the country established COVID-19 units set aside solely for patients who were diagnosed with the virus. Facilities were forced to hire new staff members to take care of the patients in the new units. While some of the existing staff could be switched over to the new unit, others would have to be hired. Hundreds of new nursing positions were made available across the country. Although this seemed to make the nursing shortage worse, it also encouraged more students to enroll in nursing degree programs.
---
Nursing Jobs During the Pandemic
Nursing jobs at all levels of the hiring spectrum are in high demand. Even CNAs, also known as certified nursing assistants, are in demand. Many CNAs have returned to school to enroll in a nursing degree program and become licensed or registered nurses. LPNs and RNs are also advancing. LPNs are moving up to positions as Registered Nurses. Registered Nurses are, in turn, moving into administrative or teaching positions. While these are the more traditional nursing roles, new positions have been created or expanded upon due to the circumstances created by the Pandemic.
Travel nurses are becoming more mainstream. A travel nurse normally accompanies a patient while they are traveling from one location to another. They may also be employed by colleges and universities to travel with athletic teams or other groups. Even though travel during the pandemic has been limited, the number of travel nurses on the job has steadily increased partly due to the higher wages and increased benefits for those who are willing to travel while they are working. This is a great choice for single nurses who don't have family limitations or constraints. It's also good work experience for nurses who are just starting their careers.
---
Healthcare Workers & COVID-19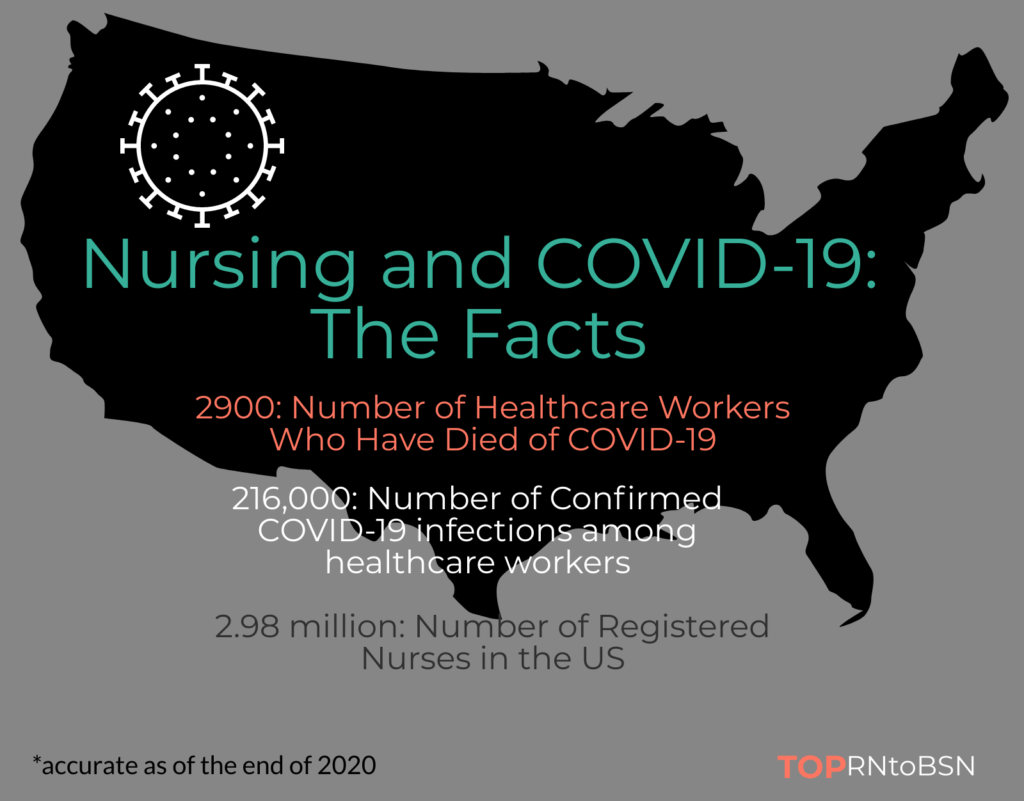 ---
Opportunities Available to a COVID-19 Trained Nurse
A COVID-19 trained nurse has numerous opportunities available to them. The additional training that a COVID-19 receives allows them to work in areas where extra precautions need to be taken. Advanced training for nurses includes critical care protocols, protocols of ventilator use, and post-critical care for rehab facilities that care for patients after their crisis is over. While the COVID pandemic is still in full force, specially trained nurses are able to find work in almost any location and at any type of facility. Communities are still following mandatory orders from government officials to maintain the strictest protocols. Health and medical facilities are doing their best to have COVID-trained medical professionals on hand at all times.
A COVID-19 trained nurse can find work in critical care and intensive care units that deal with cardiac and upper respiratory conditions. The experience that is received through the training on how to use the ventilators is also beneficial because it can be used during almost any emergency situation. COVID-19 training adds so many more advanced skills that a nurse can use to find the perfect job and negotiate their own terms. The additional training will hold value for long after the COVID-19 pandemic has passed.
Nurses who have received COVID-19 training are able to pick and choose from a variety of career opportunities in many different areas. Because of the nature of the COVID training, nurses receive certifications that verify they have passed the classes and have the necessary knowledge and expertise to treat patients suffering from COVID and other critical conditions. The certifications also guarantee a higher pay rate than other nurses who lack this essential training.
What Is a Certified Cardiac Nurse Practitioner?
---
Benefits of Being a Travel Nurse During the Pandemic
There are several benefits to becoming a travel nurse during a pandemic. First, you are able to travel extensively. Travel nurses either travel with a patient who requires round-the-clock medical care or they travel as part of a medical team that moves from location to location as they are needed. In most cases, these critical care teams are sent to areas where an emergency has occurred, much like a hurricane, tornado, or earthquake. The number of persons injured would be staggering and more than likely would overwhelm local medical teams.
The next benefit is the additional training you receive. COVID-trained nurses have additional training that covers critical care as well as the use of ventilators. This type of advanced training may cost thousands of dollars, but with the extreme need for highly skilled, COVID-trained nurses, companies are more than willing to cover the cost if it will ensure that their nurses get the training they need to help others. The ability to travel as a COVID-trained nurse makes it possible for other areas to have access to this level of training when they need it the most.
Finally, your wages as a travel nurse are considerably higher. COVID-trained, travel nurses have the best of both worlds. They are able to use their skills where they do the most good and are able to travel and see the country in the process. One of the main drawbacks to being a travel nurse is that most of your time is spent traveling and far away from your home base. For many people with few friends or family, this may be a win/win situation. Becoming a travel nurse is a personal choice and all pros and cons should be weighed equally.
---
New Requirements Directly Related to the COVID-19 Pandemic
The pandemic has led to a few new requirements for nurses who are entering the field. Even those who have been in the field for many years are having to take additional training as well as undergo mandatory testing and vaccination. The new requirements and protocols have to do with preventing the spread of the virus. The training they are required to take has to do with both self-care as well as the care of the patients. In addition to self-care, nurses must also be able to monitor their own vitals as well as the vitals of their co-workers to ensure that the people they work with remain healthy as well.
The COVID-19 pandemic has changed many things about how nurses perform their duties, as well as how they care for themselves. Documentation is essential when taking care of patients and dispensing medications. With the introduction of the COVID virus, new forms of documentation were requested. Because of the contagious nature of the virus, it was essential to track a person's movements prior to their diagnosis. This allowed for individuals to be quarantined as needed to prevent the spread of the virus.
Following essential treatment protocols and carefully documenting medications and the patient's responses to each is the best way to find out which methods are most effective. These treatment records provide the best information as to what is most effective at controlling the spread of the virus and ensuring the patients' recovery. The new requirements that pertain to documentation are in place across the board and intended to assist in controlling the spread of the virus.
---
Coming Out of Retirement
Many retired nurses have made the decision to come out of retirement. They bring with them many years of experience that is invaluable when it comes to treating patients and following specific protocols. Many of the retired nurses who are taking their duty seriously are willing to step up into managerial roles to help keep things running as smoothly as possible. In addition to their managerial experience, many of the nurses who are choosing to reinstate their licenses bring their long list of skills with them. Some are surgically trained, while others are trained in phlebotomy and other laboratory procedures that are of vital importance when dealing with a pandemic.
Nurses who are coming out of retirement also have experience with different populations. Some may have the skills needed to work with pediatric patients. Others may have the skills needed for the geriatric population. Every retired nurse who returns to the field to assist with the COVID pandemic has a unique set of skills that will be beneficial. Retired nurses are often able to travel and can go wherever they are needed and will do the most good.
Another benefit for a nurse who comes out of retirement is the pay they receive. Their exceptional skills and years of experience make them an asset that is extremely valuable to any company or facility that hires them. Nurses who come out of retirement can find employment in a variety of positions, including that of an educator. Being able to teach young nurses the things they need to know is important, especially when the knowledge they are imparting cannot be found in a textbook or lesson plan.
---
The Need for Additional Training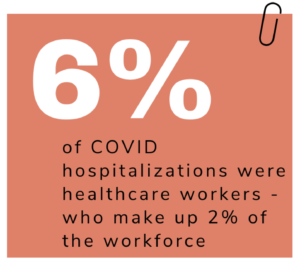 The training most nurses receive is oftentimes limited to specific protocols, methodologies, and standards that meet the basic needs of the community they serve. When an emergency situation occurs like that of the COVID-19 pandemic, new training protocols must be established that will allow the nurses and other medical professionals to continue to meet the needs of the individuals they serve. This training may take several forms and cover a wide variety of subjects that will be needed for the education to be as thorough as possible.
When caring for COVID cases, the scope of care changes. It is no longer considered under the traditional scope of care. For many people who contract the virus, the symptoms may be mild and non-life-threatening. For others, however, their condition quickly deteriorates resulting in the need for critical care in an intensive unit. Ventilators may be required to help the patient breathe. To maintain this level of care, normal nursing training is not enough. The nurse in charge of these patients must have been taught advanced care techniques to ensure that all protocols at that level are followed.
This is one area where retired critical care and trauma nurses can show their expertise. By returning to the field, not as a nurse, but as an educator, they can teach new nurses many of these protocols and techniques so they are ready for any type of event. Retired nurses who are certified educators can enter the classroom and provide the level of instruction that is needed for nurses to be able to be effective at performing their duties.
---
Becoming a Nurse Educator
Nurses who have chosen to pursue a Master's degree or higher have the option of entering the workforce or going back into the classroom as an educator. Some may choose to do both. Retired nurses make excellent educators for several reasons. Not only do they have the benefit of being certified using the latest information and technology, they also have many years of experience they can draw from to teach their students proven methods and techniques that have been used for many years. Both current and retired nurses have a solid base of information to back up the lesson plans they teach.
Nurses who have only been practicing for a few years but have a desire to assist others in learning about the profession, can return to school and complete their post-graduate courses and begin to teach professionally. Once they have made the decision to teach, the next step is to choose the subject matter. Pediatric nursing, trauma care, geriatrics, cardiac care, and even contagious disease protocols are all viable concentrations. There are also topics like nursing management, documentation, and ethics that a new nurse will need to learn prior to entering the workforce.
Becoming a nurse educator during a pandemic can be a very lucrative endeavor. A licensed nurse who becomes an educator can work outside the medical field. They can offer their services to the general public and local businesses. In this situation, the nurse would be teaching employees and the general public how to care for themselves if they contract the COVID virus. The nurse could also hold classes on what they can do to reduce their risk of exposure or keep themselves protected while they are out in public.
---
Creating a Safer Work Environment
As a pandemic nurse, you would be instrumental in helping create a safer work environment. For many months, thousands of workers were expected to work from home. Now that many of those restrictions have been lifted and employees are returning to their respective offices, many are having to re-learn safety protocols that in the past were common sense. Now they are mandatory activities that are required if they want to continue working in the office. This includes hand-washing for at least two minutes, social distancing of at least 6 feet apart, and the wearing of face masks to reduce the spread of airborne germs.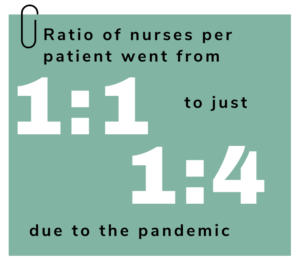 Nurses are now being asked to come into offices and teach safety protocols to employees who may need to have a refresher course when it comes to proper public hygiene. Whether a nurse works as an instructor or practices their craft in a healthcare facility or hospital, they set an example for those around them. As role models, new nurses will naturally follow their lead and begin to practice safer habits in the workplace. Retired nurses who have re-entered the workforce are also seen as role models, even though some of their methods may be slightly different than the norm, they still hold value and are worth learning from.
The COVID-19 pandemic has changed the face of healthcare in many ways. Not only has it strengthened the medical community by way of improving teaching methods, it has also broadened the horizon of many nurses. Nurses are being taught to incorporate safer work protocols into their day-to-day practice. By implementing new protocols into their daily routines, they can create a safer work environment in which they can lower their risk of infection as well as reduce the risk of the patients who are under their care. With everyone being more cautious about how they do their job, companies are also doing their part by having offices deep cleaned more often.
---
Recruiting Nurses for the COVID-19 Pandemic
Recruiting nurses for the COVID-19 pandemic has not been without its challenges, thankfully with the new online background check services a few things are easier now. The unique circumstances surrounding the pandemic and its unique needs have created a set of circumstances that makes it a very profitable and rewarding time to be a nurse. Whether you have chosen to pursue a nursing career because you want to care for people or because you want to teach others, the goal is basically the same. Enriching the lives of others while at the same time helping them to remain as healthy as possible are the desired results. Whether recruiting new nurses or bringing older nurses out of retirement, every person has something to offer. Nurses are able to provide high-quality medical care to patients who are experiencing COVID-related symptoms. They are also able to help reduce the risk of spreading the virus to others.
Nurse recruitment during a pandemic is essential to maintaining a fully functional workforce, especially when it comes to fighting such a dangerous disease. Whether you have nursing experience or are starting out fresh, by enrolling in a nursing degree program, you can further your career and make a difference in the world by doing so. Everyone needs to do their part and working in the nursing field offers benefits far beyond the paycheck you receive.
---
Related: