Infographic – Second Career Nurse
The second career nurse often does better in school and handles initial workplace stress better than starting 1st career nurses.

Share this infographic on your site!
---
The Second Career Nurse
Why they do it:
A calling to serve
Flexibility and mobility of nursing
Job Security
What they bring to the table:
Second Career nurses:
Do better at school than 1st career nurses
Handle initial workplace stress better than starting 1st career nurses
Bring diversity to the nursing profession
They're solving the nursing crisis.
55% of current nurses are expected to retire by 2022[3]
With fewer nursing students yearly[3]
And many aging boomers.
1.05 million replacement nurses will be needed by 2022. [2]
---
Second Career Nursing Options
While getting to choose from a wide range of rewarding careers:
Ambulatory Care Nurse
Cardiac Care Nurse
Critical Care Nurse
Geriatric Nurse
Long-Term Care Nurse
Oncology Nurse
Travel Nurse
And Many More
---
National Average Nursing Salaries
By Specialty:
Acute Care Nurse: $73,000
Adult Nurse: $97,000
Cardiovascular Nurse: $90,500
Travel Nurse: $75,000
All registered nurses: $66,200
By Education Level:
Associate Degree in Nursing: $57,446
Bachelor of Science in Nursing: $65,278
Master of Science, Nursing: $80,465
Advanced Practice RN Board Certified: $100,000
---
Enhancing Perspective
Mentoring can prove a powerful education and team building process. That functions both ways:
Mentors can learn from the variety of new work and life perspectives of the second career nurse.
Second career nurses can get up to speed in their current nursing environment, and learn how to avoid any early career pitfalls.
There are more ways than ever to get into nursing as a second career, even with:
work
family
other obligations
---
Education Delivery Methods
Three delivery methods:
Online
Blended
Classroom
---
Types of Programs
Many types of programs that can all get you started:
Associates
Bachelors
Masters
Degree completion programs
Accelerated programs
With accelerated baccalaureate programs taking between 11 and 18 months
And accelerated entry-level masters programs taking 3 years
Accelerated nursing degrees are on the rise
And the number of programs is on the rise in response:
159 programs nationwide transition TNs with diplomas and associate degrees to Masters of Science in Nursing
225 accelerated entry-level baccalaureate programs
71 entry-level masters programs are available in the US
---
A Second Career for YOU
Can you see yourself doing it? It has never been easier to transition from your current work into nursing.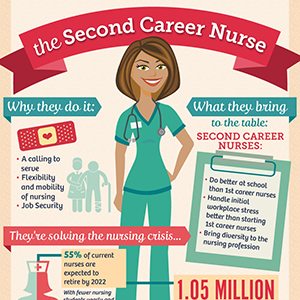 ---
Citations:
https://www.discovernursing.com/nursing-notes/2014-june-second-career-foremost-passion-unique-perspective-second-career-nurses#.VQmnPI7F-G8
https://www.aacn.nche.edu/media-relations/fact-sheets/nursing-shortage
https://bhpr.hrsa.gov/healthworkforce/reports/nursingworkforce/nursingworkforcefullreport.pdf
https://www.discovernursing.com/explore-specialties#no-filters
https://www.aacn.nche.edu/media-relations/fact-sheets/accelerated-programs
https://www.aacn.nche.edu/media-relations/fact-sheets/degree-completion-programs
---
Related: