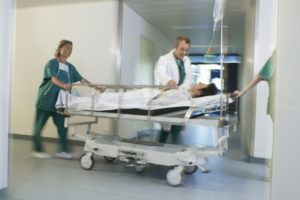 What is an ACNP?
An Acute Care Nurse Practitioner, or ACNP, is an advanced practice RN nurse specializing in caring for the injured and acutely ill. If you are interested in becoming a nurse of any kind, you may be asking the question, What is an acute care nurse practitioner? An acute nurse practitioner is an advanced practice registered nurse who specializes in caring for those who are injured and acutely ill.
---
---
Where Do ACNPs Work?
Although ACNPs can technically work in any healthcare environment, they most often work in locations such as urgent care centers, where people seek care for injuries and acute illnesses. ACNPs help to diagnose illnesses and other medical problems. They also order the treatments and medications necessary for recovering from unexpected illness, injuries, or suddenly exacerbated chronic conditions.
Some of the other settings ACNPs work in are as follows:
Surgery Centers
Cardiology Departments
Pulmonology Departments
Neurology Departments
Interventional Radiology Offices
Doctor's Offices
Walk-in Clinics
Critical Care Units
Community Environments
Acute Care Nurse Practitioners are essential because they can administer most of the same services as a physician. In addition, given that there is presently a physician shortage, ACNPs often help fill in for physicians and reduce the strain being placed on physicians regularly. Moreover, the world is in a global health crisis, with no sign of an end to the shortage. The deficit may last well into the next decade. Therefore, ACNPs will be a much-needed part of the medical community well into the foreseeable future.
---
Job Description for Acute Care Nurse Practitioners
ACNPs are licensed, independent practitioners. Suppose you are wondering where an acute care nurse practitioner works. In that case, they can administer care in ambulatory, critical, and long-term care settings. They often work autonomously, but they can also work on a team or in conjunction with other healthcare professionals. If you wonder what an acute care nurse practitioner does, that can vary depending on where they work and with whom they are working. However, by possessing advanced clinical training and competency, ACNPs can provide a level of care that goes above and beyond a general nurse practitioner.
Since all ACNPs must possess a Master of Science in Nursing (MSN) or higher, they can diagnose, treat, and manage chronic and acute conditions of all kinds. An Acute Care Nurse Practitioner role also involves ordering, conducting, supervising, and interpreting diagnostic testing. They also focus on helping people prevent diseases and promote living healthy lifestyles with health counseling and education. In addition, ACNPs help their patients make healthier lifestyle choices overall. These advanced practice nurses also research, consult, and advocate for their patients.
---
ACNP Education and Certification
If you are wondering how to become an acute care NP, you need to complete the following steps:
Acquire a BSN: An ACNP must have a minimum of a BSN before they can enter into a graduate program. This is the first step in terms of how to become an acute care nurse practitioner. However, many programs allow associate's degree holders to bridge to a BSN. This process takes approximately 2 years.
Acute RN Experience: Many programs require those entering into a graduate program to acquire experience as an acute RN before they can gain entry into the graduate program. Some programs even allow students to gain this experience concurrently. Either way, prior experience in working in acute healthcare settings is a major prerequisite to becoming an ACNP.
Graduate Programs: ACNPs must enter into graduate programs. These programs include health maintenance and promotion, clinical reasoning, and research in healthcare. Additionally, some areas of study include trauma units, critical care, cardiac care, transplant care, hospitalist acute care, intensivist care, and more. Some of the tracks within this field include advanced pharmacotherapeutics, pathophysiology in acute care settings, and advanced health assessment specific to acute care, among others.
Examinations, Licenses, and Certifications: Students can obtain proper certification via graduate programs or independent studies. Additionally, the American Association of Critical-Care Nurses (AACN) also offers entry-level certifications for ACNPs. From there, nurse practitioners must complete an application either in person or online to receive the information on testing. Certifications are awarded after the exam has been successfully completed. The exam takes around 3 1/2 hours to complete. Moreover, applicants must complete other certifications such as Basic Life Support, Pediatric Advanced Life Support, Advanced Cardiac Life Support, and also Neonatal Advanced Life Support.
---
Acute Care Nurse Practitioner Salary
An acute care nurse practitioner's salary can be between $96,860 and $123,628. The median ACNP salary is $108,696. Those seeking top-paying ACNP salaries should try for jobs in New York, California, Alaska, New Jersey, or Massachusetts.
---
Related: