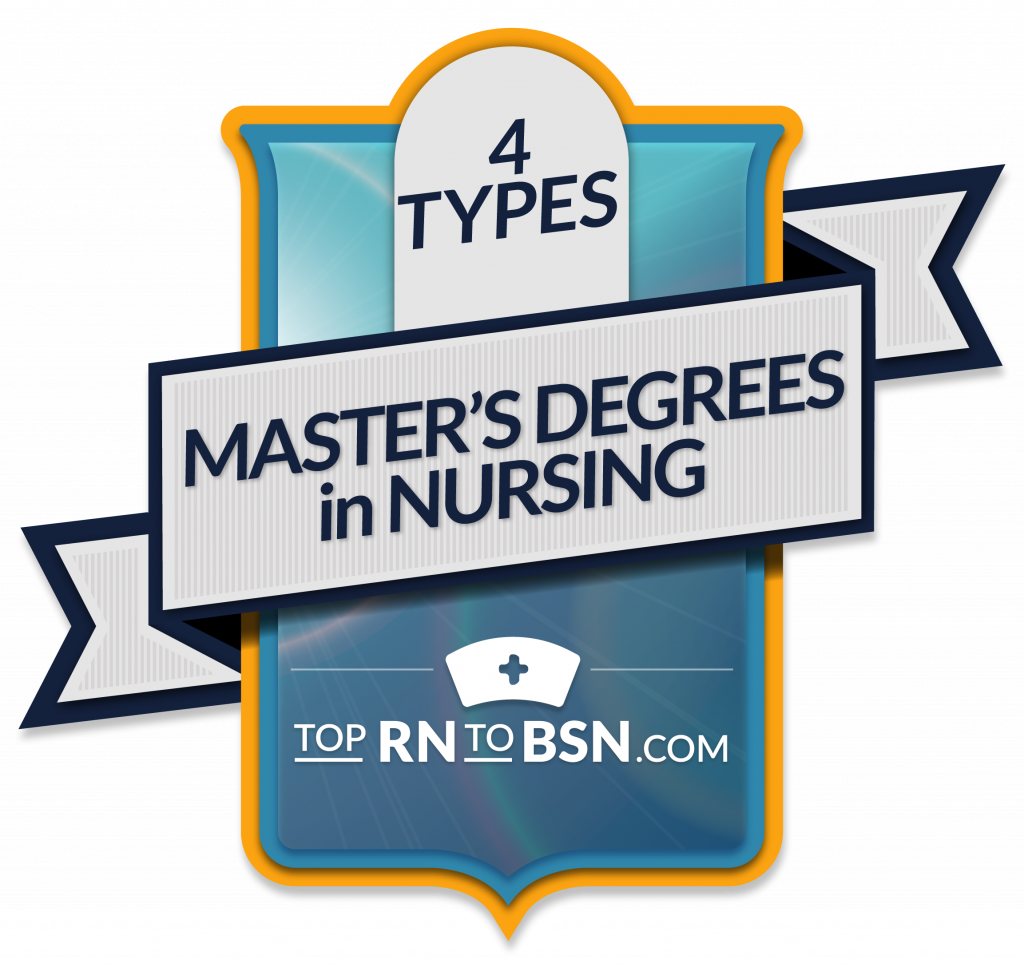 Master's Degrees In Nursing
Four types of master's nursing degree options include different paths depending on your current education and experience level. In the last decade, there's been a major push for nurses to earn their Master of Science in Nursing degree. In a competitive market, the desire to make more money, and specialize in the profession, to name a few. Certainly, RNs can make a great living with a BSN, and can even pursue some specializations and certifications. However, if you want to take on more authority and responsibility, an MSN is in your future.
---
How Long Will It Take?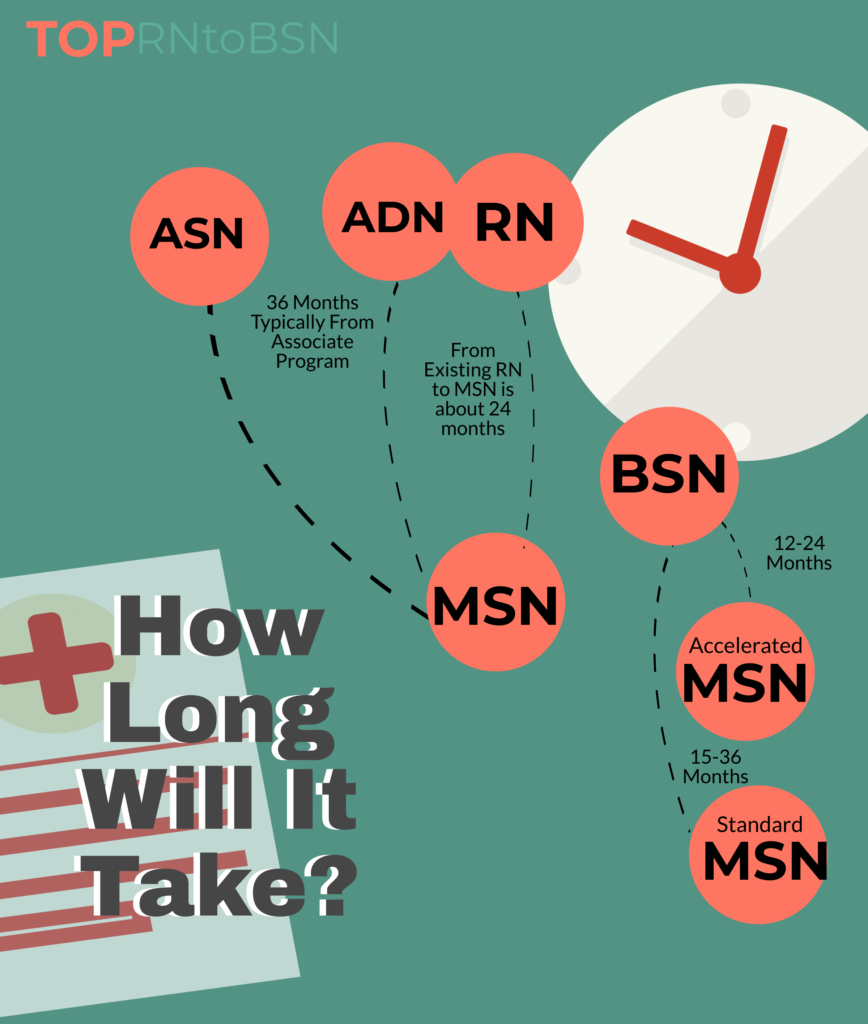 ---
How Can I Get My MSN?
Depending on your current education and licensure level, there are a number of different potential paths to getting your MSN.
---
1. RN to MSN
Your RN to MSN degree gives you all of the skills you need to work as a leader of a team of nurses. It also prepares students to manage a healthcare facility. Individuals who have passed their test to become an RN already have many of the skills they need to work as a nurse. Earning their MSN is the best way to transition to a management position.
---
2. BSN to MSN
BSN to MSN degrees are the best choice for individuals who have already completed the basic, first steps of their education. A BSN degree will give you the more advanced skills that a nurse needs to work within a healthcare environment as well as provide hands-on care to patients.
---
3. ADN to MSN
An ADN to MSN degree program offers the full scope of a nurse's education. The ADN, or Associate's degree in Nursing, gives you the full spectrum of the courses you need to complete your education. You receive basic education, as well as, the advanced skills required when a nurse is placed in a managerial role.
---
4. ASN to MSN
An ASN to MSN is a full degree program from beginning to end. While the ASN degree program prepares you for the Registered Nurse examination, it also paves the way for a student to move through the BSN degree program and on to the MSN degree program where they will learn the most advanced skills in the nursing industry.
---
---
What to Expect in a Master of Science (MSN) in Nursing Program
Earning a Master of Science in Nursing will teach you all of the more advanced skills a graduate will need to work within a healthcare setting. A Master's degree will also include skills that allow a student to pursue a managerial or supervisory position. With a Master of Science in Nursing degree, you can expect to take your nursing care to the highest possible level. It allows you to pursue a career as an educator, independent caregiver, or an advanced position in one of the many specialty areas within the nursing industry.
A Master's of Science in Nursing degree provides students with the skills they need to become effective administrators. While a focus on hands-on patient care is still included, a Master's degree also includes the administrative skills that will be needed to both manage a team of nurses on a ward or work as an administrator of a large healthcare facility. Completion of an MSN degree will allow you to apply for more advanced positions that offer more responsibility and the opportunity for a higher pay rate.
---
What Can You Do With a Master's in Nursing?
Individuals who are interested in the hands-on aspect of nursing can choose from many of the different career paths that take nursing one step further. With the advanced skills and technology you receive through an MSN, you can move into a variety of different fields. The key is choosing the path you want to pursue and then taking any other courses you may need to fine-tune your degree focus. Specializations are available that will allow you to pursue the type of career you want within the nursing field. As you continue to build your career, you can use continuing education courses to expand your field of knowledge.
Most people who choose to pursue an MSN degree do so because they want to either advance their career in their current position or they want to advance toward a specific specialization that will allow them to focus on a certain type of nursing. This can include surgery, trauma, geriatric, pediatric, oncology, emergency, or orthopedic, just to name a few. Nurse practitioners, for example, have taken advanced courses that allow them to "practice" medicine. They are able to diagnose, prescribe, and treat within a specific scope of medicine that is determined by the American Medical Association and other organizations that govern the practice of medicine.
---
Nurse Practitioners
Nurse practitioners work in a similar capacity as medical doctors. They have taken additional courses that will give them the knowledge they need to be able to diagnose, prescribe, and treat their patients. They work under a general physician's care and can provide the highest level of hands-on care to the patients they serve. General nurse practitioners will often find work in rural areas where there are no full-time physicians.
Nurse Anesthetists
Nurse anesthetists work with anesthesiologists when preparing patients for surgery. They work with anesthesiologists to provide hands-on care before, during, and after various types of surgical or minimally invasive procedures. Nurse anesthetists are able to administer local anesthesia in controlled situations where a licensed anesthesiologist is not present. They have taken advanced courses that will allow them to use a variety of medications that are associated with anesthesiology.
Acute Care Nurse Practitioners
Acute care nurse practitioners are capable of working in emergency rooms and trauma centers. Therefore, acute care involves the ability to care for patients in life-threatening situations. They are able to make the necessary decisions required to save a person's life. Acute care nurses normally require advanced trauma training to be proficient in their jobs. Acute care nurses can work as flight nurses or with trauma teams. Additionally, they work as advanced care nurses who travel with patients, and also as medics on an emergency response team.
Nurse Midwife
A nurse-midwife has completed degree programs in both nursing and midwifery. Skilled midwives can perform home births and deliver babies in a wide variety of settings. Midwifery involves understanding both the obstetrics and gynecological aspects of childbirth. Furthermore, a midwife handles many different intense situations that may arise during the birthing process.
Family Nurse Practitioners
Family nurse practitioners are well-versed in family medicine. They have had training in the field of pediatrics as well as geriatric care, with the main focus on general medicine. This gives the skills and abilities to be able to treat patients of any age and who may suffer from a wide range of illnesses. Family nurse practitioners work in doctors' offices, mainly in rural areas where a doctor must travel to each office on a regular basis.
Psychiatric Nurse Practitioners
Psychiatric nurse practitioners work specifically with psychiatric patients, either in an office setting or in a psychiatric facility. They have received specialized training that will allow them to provide hands-on care to their patients. Psychiatric nurse practitioners also work in facilities for individuals with special needs. For example, some work with developmentally delayed patients who live in group homes or assisted living facilities.
---
Nursing Salary By Degree Level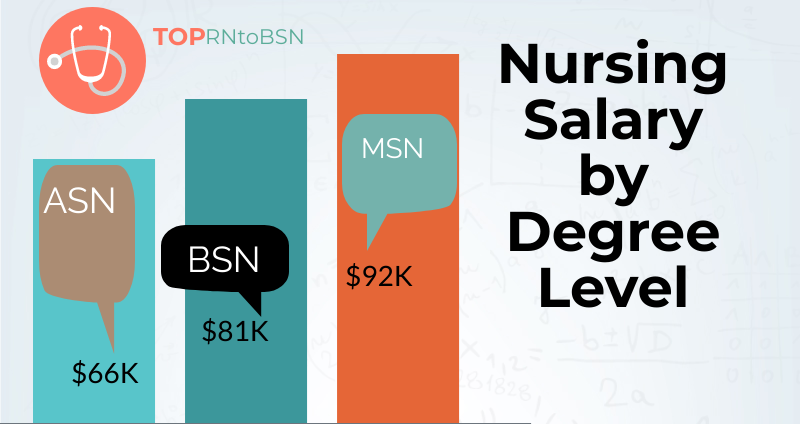 ---
Nursing Specialization Options
The field of nursing offers many different specializations a nurse can choose from if they want to focus on a specific type of medical care. This can include any of the following fields of study as they are related to nursing as a career. The following list includes many of the most popular specializations that a nurse can pursue as they enter into their BSN or MSN degree program.
Pediatric
Nurses who choose to become pediatric nurses have decided to provide direct care to infants and children up to the age of approximately 16 years. An infant's body is different than a child's or an adult's. This requires specific knowledge of anatomy and what treatment options should be used on a child versus an adult. For newborns and premature infants, the specialization is even more refined to include neonatal and NICU care options.
Geriatric
Nurses who are interested in working with the elderly will need courses that are included in the geriatric specialization. This includes courses that provide additional knowledge that is needed to treat many of the diseases that are directly associated with aging and the elderly. This can include the study of Alzheimer's, dementia, and various types of arthritis and digestive issues that are common in the elderly population.
Trauma/Emergency
Trauma and emergency care require advanced life-saving skills. Nurses must know how to administer basic life support treatment options during an acute care situation. These advanced skills include being able to perform tracheotomies and other emergency procedures in the field. Nurses who receive this level of training often find work on trauma teams or emergency management teams. Frequently, they work during catastrophic situations like natural disasters.
Surgical
A surgical nurse must have a very precise working knowledge of the human body. Additionally, they need to know the different types of surgeries used in the treatment of specific health conditions. Surgical nurses must undergo continual training. These nurses must stay up to date on various types of techniques and the constant advancements in technology.
Orthopedic
An orthopedic nurse specializes in conditions that affect the bones and also connective tissues. They often work in medical centers that specialize in the treatment of sports-related injuries or also the treatment of degenerative bone diseases. These nurses also work with children who have birth defects or other health conditions that cause abnormal bone growth.
---
Related: