Job of a Nurse Anesthetist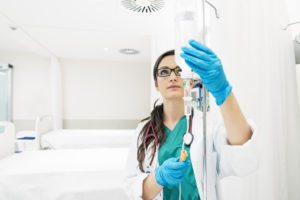 Seeking the next step in your nursing career? Earning a nurse anesthetist certification is a sure-fire way to not only boost your earnings, sometimes by double but also increase your professional clout and earn a specialty certification, all with just two to three years of further study and clinical experience.
---
---
What Does a Nurse Anesthetist Really Do?
A nurse anesthetist is a vital member of a doctor or surgeon's team, whether in a hospital, surgical center, dental practice, private office, etc. He or she works closely with a physician or anesthesiologist to provide patients with anesthesia-related care of all levels prior to and after many kinds of procedures. These high-level nurses are expected to carefully evaluate and prepare patients and work with the physician in charge to deliver the best anesthesia plans for patients.
---
Nurse Anesthetist Job Description
The basics of a nurse anesthetists' job are to provide patients with anesthetic care before, during and after procedures, taking care to monitor vitals and continually evaluate patients as they progress. Some say that these nurses do everything a physician anesthesiologist does, particularly if in a rural setting, while others are quick to point out that these nurses administer and monitor a patient's anesthesia and sedation themselves but are not the decision-makers behind the medication utilized.
Certified Registered Nurse Anesthetists (CRNAs) are considered "advanced practice" nurses with a high degree of autonomy and respect within their field. According to the American Association of Nurse Anesthetists, CRNAs can provide anesthetics to patients in every practice setting, for every type of surgery or procedure, and are often the sole anesthesia providers in nearly all rural hospitals and the armed forces.
---
Nurse Anesthetist Salary Info and Job Outlook
Becoming a certified nurse anesthetist is a tremendous way to boost your earnings and elevate yourself in your field. In 2014, the Department of Labor (DOL) reported an average annual salary of $158,900 for the roughly 36,000 nurse anesthetists working at that time in the U.S. Hourly average earnings for nurse anesthetists were about $75.
Out of all the working nurse anesthetists, those who were employed in private medical offices earned about $10,000 less per year than nurse anesthetists working at hospitals and surgical centers.
By comparison, registered nurses in the U.S. earned about half as much on average, according to the DOL's Bureau of Labor Statistics, which also reports that demand for both RNs and CRNAs is expected to continue to rise in coming years.
And the outlook is rosy. U.S News & World Report consistently ranks the nurse anesthetist job in the top 5 of their "Best Health Care Jobs" report. The prized nursing role also earns a top spot on lists like "The 100 Best Jobs" and "Best Paying Jobs."
---
Education and Training of Nurse Anesthetists
Nurse anesthetists are RNs specializing in anesthesiology who have completed a master's degree in nursing (which normally takes about two years to finish) and one year of related critical care experience. More than a dozen nurse anesthetist programs in the U.S. award doctorates rather than master's degrees.
Nurse anesthetists must pass a national certification exam and they are required to re-certify every two years by completing 40 hours of continuing education.
---
Related: