Certified Registered Nurse Anesthetist (CRNA)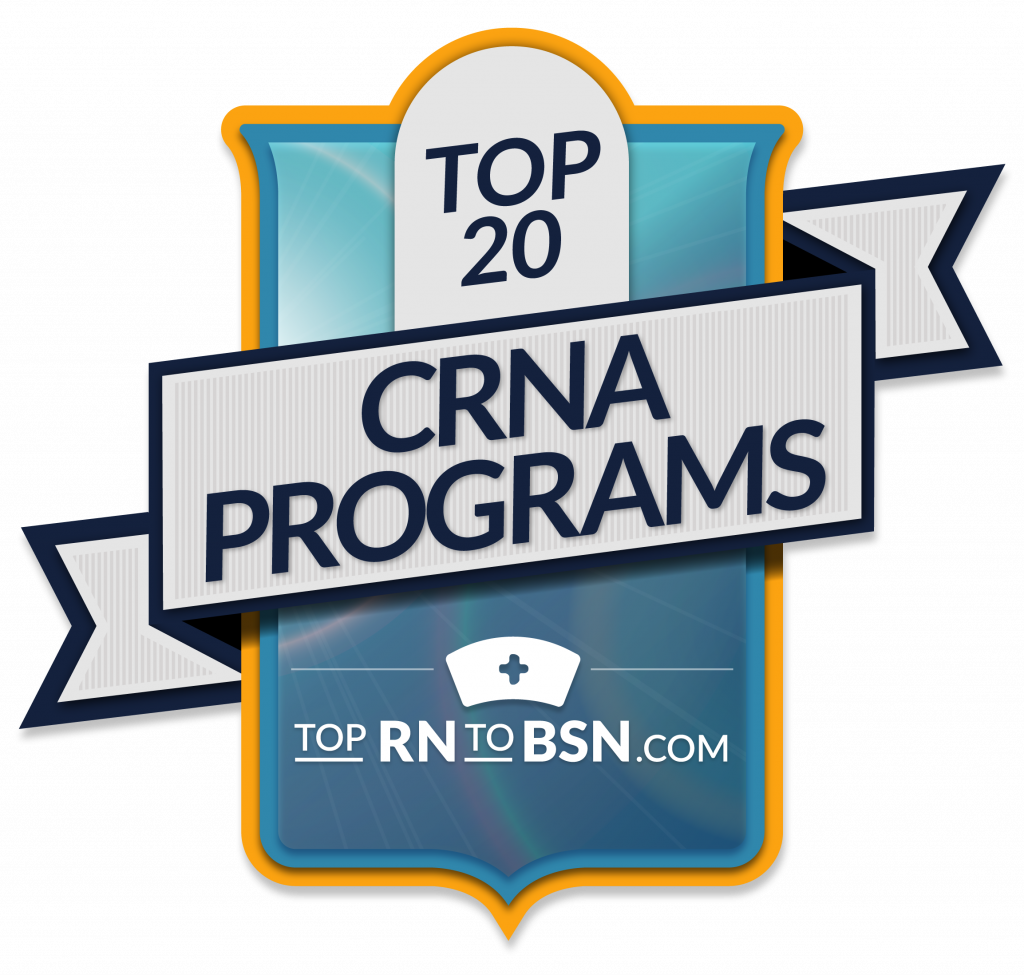 The best CRNA schools have masters and post-masters programs for nurses to train to become Certified Registered Nurse Anesthetists. Nursing is widely recognized for playing a vital role in healthcare, but what about anesthesia? Anesthesiologists are medical doctors, but what many outside of the medical field might not realize is that anesthesia is much more often the job of a nurse anesthetist. In most rural and highly urbanized areas, which are alike in having a shortage of doctors, nurse anesthetists are a crucial part of healthcare.
Registered nurses have the option of advancing their careers by earning an MSN or DNP and becoming a CRNA (Certified Registered Nurse Anesthetist). This highly respected certification comes with more work autonomy and a higher CRNA salary. CRNA schools are not difficult to find, and for well-trained nurses, online BSN to DNAP programs can meet all of the needs for the certification. For those starting with an MSN already, nurse anesthetist programs can be as little as one year. It's an intensive education and a career with a lot of responsibility, but it is well repaid in a much higher salary and stronger job market presence.
---
---
Methodology: How TopRN Ranked the Best CRNA Schools in America
To rank the best nurse anesthetist programs, TopRNtoBSN started with the obvious – COA-accredited schools. The Council on Accreditation of Nurse Anesthesia Education is the critical standard for education in nurse anesthesia and the place to go for programs that will help students pass the CRNA exam. From there, programs were ranked according to four criteria: Reputation, Student Reviews, Cost, and Alumni Salary, with data drawn from U.S. News & World Report, Niche, IPEDS, and College Scorecard.
This combination of data gives students the confidence that their program will prepare them for a challenging but rewarding career as nurse anesthetist.
---
1. Northeastern University
"Whether in a planned procedure or an emergency, a small local hospital or a regional center, a rural or urban setting, and throughout the life cycle, the nurse anesthetist is a critical member of the health care team." – Bouvé College of Health Sciences Course Catalog
Northeastern University's Nurse Anesthesia DNP program recognizes Nurse Anesthetists as a core part of the medical community. Northeastern's curriculum is rooted in interdisciplinary learning and collaboration. Students get lots of hands-on experiences. As a result, students feel prepared and confident as they move on to the next steps in their careers. Northeastern graduates routinely become leaders in their fields, including the medical field. This school provides deep educational experiences, creating a springboard for lifelong learning.
Northeastern University is one of the world's most respected private research institutions, and the Bouvé College of Health Sciences School of Nursing is widely recognized as one of the finest and most influential nursing schools in the US. Northeastern is most known for its pioneering cooperative education program, in which students supplement their classroom education with work with Northeastern's partners. Massachusetts also stands as one of the top-paying states for nurses.
Degree: DNP
---
2. University of Pennsylvania
The University of Pennsylvania DNP-NA program will prepare you for just about anything. All types of medical facilities need Nurse Anesthetists. There's definitely no shortage of jobs. That's why Penn will introduce you to all sorts of clinical situations. If you might run across it in your career, this program will cover it. Students take a lot of their classes in a high-tech simulation center. From the first year, students work with the real tools that they'll need on the job. Out of all of your possible Nurse Anesthetist programs, this one will have you graduate with confidence.
From the beginning, Penn has always combined innovation with academic excellence. This school encourages entrepreneurs. Those who want to forge their own career paths find themselves at home here. Penn's research makes a positive impact on its community and beyond. For those in the medical field, this means that they can learn at the forefront of the latest practices and technology. Overall, this school lives by the words of its founder Benjamin Franklin: "Genius without education is like silver in the mine."
Degree: DNP-NA
---
3. University of Iowa
The University of Iowa's CRNA program combines classroom teaching with real-world experience. In fact, students here are a vital part of alleviating Iowa's Nurse Anesthetist shortage. By participating in clinicals throughout the state, students get to fill in the gap. Thanks to this experience, students graduate with confidence and leadership skills. One of the best BSN to DNP Nurse Anesthesia programs in the nation is also a key service provider.
The University of Iowa brings top-notch innovation to healthcare and beyond. It has one of the largest medical centers in the US. As one of the top public research institutions in America, it provides all sorts of resources and opportunities for those who study here. Students at this school enjoy great scenery, excellent diversity, and top-level education at one of the world's top CRNA schools.
Degree: DNP
---
4. Boston College
Boston College's MSN Nurse Anesthetist program is one of the best for job placement. In the last five years, 99% of graduates passed the NCE on their first try. Why are these graduates so prepared? It comes from Boston College's multi-step process. Students get a foundation of core classes, followed by skill practice and leadership quality classes. If you're looking for Nurse Anesthetist programs, or if you want the MSN to DNP track, this program makes an excellent choice.
Boston College is rooted in its deep history. The school began in 1863 and has grown to meet student needs ever since. Faculty and staff here believe that education has a lot of power. Students are encouraged to use their education for the greater good. Boston College goes beyond the basics and into the heart of the learning process. As a result, students get a well-rounded education that encourages lifelong curiosity, with graduates entering one of the best markets for nurses.
Degree: MSN
---
5. University of Michigan Flint
One of the nation's best BSN to DNAP programs at the University of Michigan Flint provides a clear and straightforward program to put students on a path to their CRNA career. Before your first class starts, your advisor will help you determine your full degree plan. The curriculum exceeds accreditation requirements. Since this program has a 100% job placement record, you'll find that the challenge is worth it.
UM-Flint is part of the University of Michigan network. This means that you'll get a respected name on your degree. It'll certainly open up doors for you as you advance your career. More importantly, it means that you'll get a high-quality education. At this school, students grow their knowledge and sharpen their skills. With its affordability and engaging learning structures, UM-Flint will help you get exactly what you need from your school experience.
Degree: DNAP
---
6. University at Buffalo (SUNY)
The University at Buffalo DNP program provides the training that empowers students to make the difficult decisions a nurse anesthetist has to make. The in-depth training will help you gain confidence in your career so that you can provide the best possible care for your patients. Emphasizing leadership as well as clinical practice, this program will solidify all of your core nursing skills and more. Buffalo offers two tracks: a BSN to DNP or an MSN to DNP.
The University at Buffalo is the de facto flagship of the SUNY system, the largest and best-funded institution of the State University of New York. Buffalo dates back to a private medical school that opened in 1846, and healthcare remains central to the university's mission. Buffalo trains more nurses than any other SUNY college and is widely ranked one of the best schools for nursing in the nation.
Degree: DNP – 2 tracks – BS to DNP and MS to DNP
---
7. Michigan State University
MSU's DNP Nurse Anesthetist programs prepare students to adapt, make complex decisions, and keep learning throughout their careers. Students choose from two tracks, depending on their current education level: BSN to DNP, or MSN to DNP. MSU helps its students become the best nurses they can be. It prepares those students to meet this ever-changing field head-on. If you want to stress adaptability in your post-Masters CRNA, this program will help you reach your goals.
Michigan State University was the model of the land-grant university, setting the standard for applied science and research. Today, MSU continues to use its research and high-tech resources to make a positive impact all across the world. The medical field has consistently benefited from MSU's research and techniques. MSU is one of the top universities in the world. As a student, you'll find no shortage of opportunities at this school.
Degree: DNP – 2 tracks – BSN to DNP or MSN to DNP
---
8. University of Minnesota Twin Cities
The University of Minnesota's DNP program is fast-paced and demanding, and one of the best CRNA schools in the nation. In this program, students get the widest possible range of experience. Ready to learn about general and regional anesthesia techniques? Want to use your skills in all sorts of hospital settings? UM Twin Cities will help you accomplish all of these goals, and it will help you become a leader in your career. How will you know you're getting one of the best Nurse Anesthetist programs? UM's nursing school is one of the top 5% in the United States.
UM, Twin Cities is one of the best public research universities in the country. Faculty members have won several awards in science, research, and medicine. Medical students here enjoy small class sizes and lots of one-on-one attention. Professors are always available for students who have questions. Students here are smart, driven, and determined. If you want to surround yourself with dedicated peers, then UM Twin Cities has what you need.
Degree: DNP
---
9. Georgetown University
Georgetown University's DNAP program is one of the top ten in the nation. The first year of this program involves lots of classroom learning. The next two years blend classroom time with clinicals and research. This award-winning program gives students lots of anesthesia practice in the Georgetown cadaver lab. Faculty and staff members are some of the top medical experts in the United States. If you want one of the best BSN to DNAP programs, you'll find what you need at Georgetown.
Georgetown is a historic, beautiful school in the nation's capital, offering challenging academics and a commitment to serving the community. If you're passionate about social justice and want to use your nursing skills to help others, then you should check out this school. Georgetown's deep connections to the Washington, DC area have made it one of the nation's top universities for job placement. Georgetown University provides an exciting place to learn and connect.
Degree: DNAP
---
10. University of Kansas
The University of Kansas Nurse Anesthetist program consistently produces outstanding, highly qualified graduates who are confident in all sorts of medical settings. Students at the KU Medical Center learn how to administer anesthesia for different age groups and medical populations. They get the most up-to-date knowledge about nursing practices, and they get equipped to adapt when those practices evolve. If you want amazing clinical opportunities and access to cutting-edge research, then this is one of the best CRNA schools you can find.
The University of Kansas Medical Center (KUMC) is one of the world's foremost academic medical centers and the foundation of healthcare in Kansas. KUMC's research impacts people around the globe. As a member of the Association of American Universities, KU gets a lot of recognition for its quality academics and research. It has a thriving campus, caring professors, and a commitment to student growth. The University of Kansas provides countless opportunities for students who want to become the best versions of themselves.
Degree: DNP
---
11. University of Alabama at Birmingham
The University of Alabama at Birmingham's School of Nursing is recognized as one of the top Certified Registered Nurse Anesthetist — CRNA schools. UAB's Post BSN to DNP Nurse Anesthetist programs prepares graduates to sit for the national certification exam proctored by the National Board of Certification and Recertification for Nurse Anesthetists (NBCRNA). UAB's CRNA programs have received accreditation from the Council on Accreditation of Nurse Anesthesia education program as well as the International Federation of Nurse Anesthetists.
The University of Alabama at Birmingham is a four-year institution of higher learning that was established as an independent university in 1969. It is one of the universities that make up the University of Alabama System. The school is the largest employer in the state of Alabama and is affiliated with one of the largest teaching hospitals in the country. The school occupies about 80 blocks of the south side of downtown Birmingham.
Degree: DNP
---
12. University of Pittsburgh
The University of Pittsburgh's onsite Post-Masters CRNA program has been recognized as one of the U.S. Nurse Anesthetist programs since the late 1990s. PItts's BSN-to-DNP Nurse Anesthesia program is fully accredited by the Council on Accreditation of Nurse Anesthesia Education Programs (COA). Graduates of the BSN to DNP nurse anesthesia programs are ready to sit for the National Board of Certification and Recertification of Nurse Anesthetists (NBCRNA). Coursework includes didactic class work and clinical experiences. Degree candidates are required to complete 86-credits over a three-year period.
The University of Pittsburgh was founded on what was then the western frontier of America in 1787. The university includes seventeen graduate and undergraduate schools on its 132-acre urban campus. Pitt also operates four additional undergraduate schools in Titusville, Johnstown, Bradford, and Greensburg — all within the boundaries of western Pennsylvania.
Degree: DNP
---
13. University of Southern California
The University of Southern California's BSN to DNAP programs come from the Keck School of Medicine. Their Doctor of Nursing Practice in Anesthesia (DNAP) requires applicants to hold a baccalaureate degree and an unencumbered Registered Nurse license when applying. The University of Southern California's nurse anesthetist programs has been fully accredited by the Council on Accreditation of Nurse Anesthesia Education Programs (COA). Coursework prepares graduates in the specialized areas of cardiothoracic, trauma, obstetrics, neurosurgical, and orthopedic, among others.
The University of Southern California was established in 1880 and holds the distinction of California's oldest research university that is a private school. The school operates two campuses. The University Park campus is about 300-acres, while the Health Sciences campus of 79-acres. Together, these campuses are home to more than 45,000. Los Angeles is also one of the highest-paying cities for nurses.
Degree: DNAP
---
14. Duke University
Duke University's School of Nursing offers a post-masters CRNA that prepares graduates to enter the workforce with anesthetic skills that apply to patients of all ages in a variety of clinical settings. Duke's Doctor of Nursing Practice (DNP) includes a Nurse Anesthetist track. (NA-DNP) CRNA schools, like Duke, prepare students to sit for their CRNA exams after graduation. Duke University graduates boast a CRNA exam pass rate of 100%. US News & World Report has recognized Duke University's Doctor of Nursing Practice as the third-best nursing program in the country.
Duke University is a private university that was established in 1838. The university campus spans nearly 8,600-acres that covers both urban and suburban locations. Duke University is ranked as a top-ten university is a variety of national education rankings. Duke operates two sister schools in China and Singapore. US News & World Report has recognized Duke University's nursing program as the #2 overall best graduate nursing school, and the best DNP degree program in the country in 2019.
Degree: DNP – 100% CRNA pass rate
---
15. Gonzaga University
Gonzaga University's BSN to DNP Nurse Anesthesia programs are offered by the Department of Nurse Anesthesia in the School of Nursing & Human Physiology. Those applying to Gonzaga University's Doctor of Nurse Anesthesia Practice (DNAP) must already hold a registered nursing license as well as a baccalaureate degree. Degree candidates receive clinical training from the Providence Sacred Heart Medical Center, Gonzga's partner in the post-master's CRNA program.
Gonzaga University is a Catholic university founded by the Society of Jesus in 1887. Its 150+-acre campus is within walking distance of downtown Spokane and is located along the Spokane River. Gonzaga is home to two impressive large libraries. The Foley Center Library serves as the undergraduate and graduate resource, while the Chastek Law Library services Gonzaga's law school.
Degree: DNAP – partnership with Providence Sacred Heart Medical Center
---
16. California State University, Fullerton
The College of Health & Human Development at California State University, Fullerton offers BSN to DNP nurse anesthesia programs with clinical studies based at the Kaiser Permanente School of Anesthesia (KPSA). KPSA is a pioneering educational institute that has been recognized for its contributions made to the field of anesthesia. Cal State Fullerton's 110-credit nurse anesthetist programs follow a nine semester/3 year, full-time path. Clinical experiences follow the guidelines set forth by KPSA.
Cal State Fullerton is a Hispanic-serving institution of higher learning that was founded in 1957. Cal State Fullerton is one of the member schools in the California State University system and boasts that its campus is home to the largest student enrollment of all other system member schools. The school has a tremendous impact (over $2.2 billion) on the local and state economy.
Degree: DNP
---
17. Baylor University
Baylor University's College of Medicine/School of Health Professions offers two distinctive paths to earn a Doctor of Nursing Practice degree. The 18-month BSN to DNP nurse anesthesia program is specifically created for registered nurses who wish to become Certified Registered Nurse Anesthetists (CRNA). The 24-month MS-DNP degree program is mostly completed online; students must attend degree-related requirements only three times during the program. Baylor's DNP graduates are prepared to become leaders in a variety of healthcare-related fields – i.e. research, policy-making, or education.
Baylor University, established in 1845, is a Catholic university that was chartered by the last congress of the Republic of Texas. It holds the distinction of being the longest continuously operating institution of higher learning in Texas, as well as one of the first schools to open west of the Mississippi River. Its 1,000-acre campus is located in an urban college town in central-eastern Texas.
Degree: DNP – two tracks – BSN to DNP or MS-DNP
---
18. University of Cincinnati
The University of Cincinnati's College of Nursing offers a three-year (Doctor Nursing Practice (DNP) degree that focuses on the advanced practice of Nurse Anesthetics. The University of Cincinnati's BSN to DNAP programs are more clinically based as a student moves through the coursework. CRNA schools prepare DNP graduates for careers in the ever-evolving nursing field. Degree applicants must possess an unencumbered RN license. Cincinnati's BSN to DNAP programs are the 4th oldest program of its kind in the United States.
The University of Cincinnati's student enrollment exceeds 43,000 students. The school was established in 1819 and is the oldest university in Cincinnati and the second largest in the state of Ohio. It is one of the member schools of the University System in Ohio. The University of Cincinnati is a public, space-grant university and recognized as a Cyber Operation Facility of excellence.
Degree: DNP
---
19. Virginia Commonwealth University
The College of Health Professions offers Virginia Commonwealth University's Doctor of Nursing Practice with an advanced specialty of nursing anesthetics. This post-masters CRNA program from VCU consistently ranks as the #1 program among all other nurse anesthetist programs in the country. Coursework is designed for RNs who wish to become Certified Registered Nurse Anesthetists (CRNA). Students are required to complete a Nurse Anesthetics clinical practicum. VCU's DNAP program is a hybrid program with distance learning requirements with a few on-campus visits through the program.
Virginia Commonwealth University was established as a division within the Hampden-Sydney College in 1838. The school operates two primary campuses in the city of Richmond — The MCV campus that is home to the schools of Pharmacy, Nursing, the Medical Center, and Allied Health. The Monroe Park campus is located in the historic Richmond neighborhood known as the Fan District.
Degree: DNAP
---
20. Texas Christian University
Texas Christian University's DNP Anesthesia post-masters CRNA degree program, from the Harris College of Nursing & Health Sciences, offers registered nurses (who hold a baccalaureate degree) to train to become nurse anesthetists in only 20 months. Coursework integrates a 16-month clinical Advanced Pain Management Fellowship residency under the guidance of anesthesia experts. TCU's program is completed within a hybrid educational format. In addition to clinical requirements, academic requirements include the completion of Research, Informatics, Emerging Science, anatomy, pharmacology, and physiology, among others.
Texas Christian University is a coed Christian-based institution of higher learning that was established in 1873. The private school's 325-acre campus is home to more than 10,000 students and is located approximately three miles from Fort Worth's downtown. US News & World Report has recognized Texas Christian University among the top national university across the country.
Degree: DNP-A; Advanced Pain Management Fellowship
---
What Does a Nurse Anesthetist Do?
Anesthesia is a substance-induced loss of sensation for the purpose of a medical procedure. This state aims to suppress the central nervous system, block nerve impulses, and sedate sensation throughout the patient's body. Without the use of anesthesia, patients face painful or uncomfortable medical procedures.
Anesthetists provide anesthetics to patients in a variety of situations. Nurse Anesthetists work in collaboration with surgeons, general dentists, anesthesiologists, and other healthcare professionals. Nurse anesthetist hours also tend to be slightly different from regular nursing hours; nurses typically work 4 to 5 days a week in 8 to 14-hour shifts, while anesthetists work 2 to 3 days per week in 24-hour shifts. Anesthesia typically requires special medical equipment, monitoring instrumentation, and the usage of sedatives. Nurse anesthetists must know how to properly operate these tools and guide the patient through the process of sedation, surgery, and then recovery.
Here are the general duties that anesthetists are expected to carry out:
Physical assessment of the patient
Preoperative instruction and guidance
Preparation for anesthesia
The administration of anesthetics in a safe and effective manner
The intraoperative maintenance of anesthesia
Guidance of patient recovery from anesthesia
---
Will I Be Able to Find Nurse Anesthetist Jobs?
The nurse anesthetist career outlook is very positive since CRNA providers are in high demand in both rural and urban areas. The Bureau of Labor Statistics estimates that this field is expected to grow 31 percent from 2016 to 2026. While the baby boomer population generation ages, the need for medical care will continue to expand within the next few decades. Medical professionals will be needed in all areas of healthcare.
---
Will I Make More Money with a CRNA Certification?
Yes, the nurse anesthetist's salary is higher than the average registered nurse salary. The Occupation Employment Statistics (OES) report states that the average registered nurse makes around $70,000 per year. Nurse anesthetists earn a CRNA DNP salary of $110,930 per year. The Business Insider reports that the Doctor of Nurse Anesthesia salary can go as high as $157,690 per year.
In order to receive a high DNAP salary, the nurse must undergo a Doctor of Nurse Anesthesia program. This program advances the knowledge and training of nurses within the field of anesthesia. In order to become a nurse anesthetist, the registered nurse must seek out an accredited program, such as DNAP, that teaches anesthesia. Coursework usually involves anatomy, physiology, and pharmacology related to the field of anesthesia. CRNAs, just like APRNs, must also possess a Bachelor of Science in Nursing (BSN) or a similar baccalaureate degree. An accredited anesthesia program may last anywhere from 2 to 4 years. All nurse anesthetists will also need to pass a CRNA exam that is conducted by the National Board of Certification and Recertification for Nursing Anesthetists (NBCRNA). This board also covers requirements, CRNA registration, and the exam process.
In addition to the medical knowledge and training needed to become a CRNA, nurse anesthetists must be able to work independently and use critical thinking ability. CRNA work also involves teamwork, was anesthesia employs CRNAs, physicians, and dentists. If you are a nurse who wants a higher salary, fewer workdays, and more autonomy, then becoming a CRNA would be the ideal pathway.
---
Related: