How Do You become Certified Registered Nurse Anesthetist?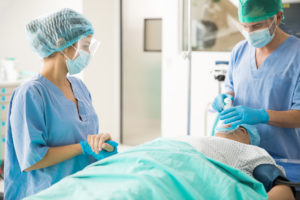 Many nurses advance their careers and become a CRNA. A Certified Registered Nurse Anesthetist certification qualifies RNs to administer anesthesia to patients before and during procedures. In this field of work, healthcare professionals administer anesthetics to induce a loss of sensation in the patient. This sedation allows the doctor to carry out complex medical procedures without causing physical pain to the patient.
Knowing how to administer anesthesia properly is a highly valued skill in the healthcare world, which is why CRNAs are in such high demand. As a result, CRNA job growth will increase by 31% in the forthcoming decade. Are you interested in potentially becoming a CRNA professional? Here is what you need to know about nurse anesthetist programs and also training.
---
CRNA vs Anesthesiologist: What is the Difference?
The difference between a Nurse Anesthetist and an Anesthesiologist is relatively simple. A nurse anesthetist (CRNAs) is a nurse with specialized training. At the same time, anesthesiologists are doctors who have attended a four-year medical school. Anesthetists and anesthesiologists play similar roles in a medical setting. For example, they both manage the administration of anesthesia.
Doctors who are anesthesiologists have a higher earning potential and also have more education than their counterparts in nursing. However, the Certified Registered Nurse Anesthetist salary is one of the highest in the field of nursing.
---
* FYI: Nurse Anesthetist Pronunciation
Nurse anesthetist pronunciation is difficult at first. "Anesthetist" is pronounced "A-NES-THE-TIST" by the American standard.
---
Nurse Anesthetist Schooling: CRNA Programs
There are plenty of Certified Registered Nurse Anesthetist programs and schools from which nurses can choose. Even online CRNA programs are available, including Doctor of Nursing Practice (DNP) anesthesia online programs and a professional doctorate. Some nurses opt to pursue BSN to DNP nurse anesthesia programs. BSN stands for Bachelors of Science in Nursing, the go-to degree for many students seeking employment in the nursing field. Once a student graduates with a BSN, there is the option to accelerate with BSN to DNAP programs, otherwise known as the Doctorate of Nurse Anesthesia programs. In addition, some nurses seek this education through a post-masters CRNA. This path to becoming a CRNA fast if you already have a master's degree in nursing.
Nurse anesthetist schooling years can last anywhere between 2 and 4 years for an on-campus or online DNP program, depending on the program and the intensity of the courses. A decent CRNA program should teach students things like safety measures, how to handle medical equipment, how to prepare for anesthesia administration, how to monitor a patient, and how to guide a patient through the post-operative phase of recovery. It is common for anesthetic programs to cover courses in anatomy, physiology, biochemistry, and pharmacology.
---
CRNA Credentialing Requirements
How long does it take to become a certified registered nurse anesthetist after gradating? To become a certified registered nurse anesthetist, you will need the following.
Both a BSN and a registered nursing license (RN).
Graduation from a nurse anesthesia educational program that is COA accredited. The COA, or Council on Accreditation of Nurse Anesthesia Educational Programs, creates a set of standards that credible nurse anesthesia programs must abide by.
Work experience. This can be done through internship or also externship. In supervised settings, CRNA trainees can learn by practicing anesthesia techniques and also applying theory or knowledge to clinical problems.
Pass the CRNA certification exam. Finally, every nurse must pass a CRNA exam in order to be hired as an anesthetist.
---
Related: