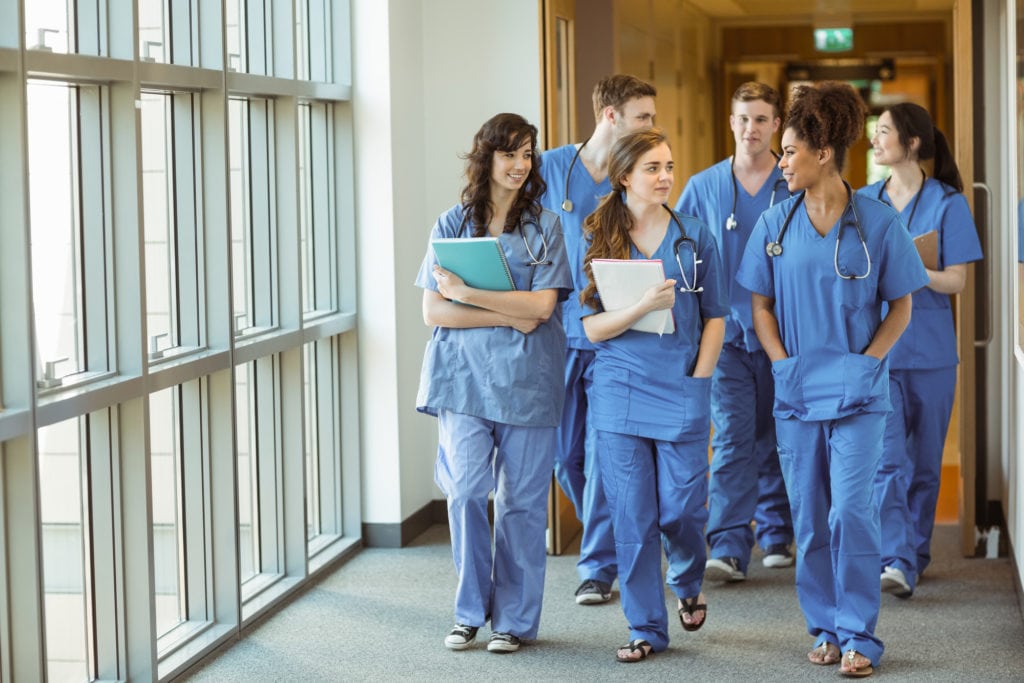 DNP Degree Programs
There are many types of DNP programs available including Online, Hybrid, and Campus-Based degrees, and they vary in cost. In the field of nursing, it's possible to explore two different terminal degrees, and one of them is your Doctor of Nursing Practice (DNP). This degree equips advanced practice registered nurses (APRNs) and nurse administrators with the requisite skills for implementation of the latest medical care practices that are evidence-based and help lead medical care professional teams across many healthcare environments.
---
DNP vs PhD
A DNP is a practice-based doctorate while, in comparison, a PhD in nursing is research-based. Furthermore, sometimes DNP programs are compared to Family Nurse Practitioner (FNP) programs. An FNP is usually a specialty within a Master of Science Nursing (MSN) degree. However, some DNP programs have FNP specializations tied to the doctoral degree as well.
Those participating in Doctor of Nursing Practice programs will find that they are building on the knowledge gained during a traditional master's degree program in nursing whereby instruction is provided in quality care improvement, evidence-based practice, leadership in health care settings, and clinical program development.
---
Types of Doctor of Nursing Practice programs: Online, Hybrid, and Campus-Based
Students with interest in pursuing 12 months online DNP programs have several options for delivery ranging from fully online instruction to traditional campus-based programs. With these options, students have the flexibility to choose programs that fit their styles of learning. Finding the most affordable online DNP programs also allows them to balance their academics while maintaining responsibilities like career and family. Below are the primary delivery options from which students can choose for a 12-month online DNP program.
---
Online DNP Programs
Many students, millennials especially, want to attend a DNP program entirely online. Students can receive their coursework in pre-recorded lectures they can listen to or view coursework asynchronously anytime. Or, they can participate synchronously using virtual classrooms and live video lectures that allow students real-time interactions. There are also DNP programs with online courses that require a limited amount of campus-based orientations, immersion-based events, and workshops.
---
Hybrid DNP Programs
Often referred to as blended programs, hybrid degree programs mix campus-based training with online DNP learning. There are typically two types of hybrid programs for DNP. They include those where students complete some classes online and some on-campus, and those where students take courses featuring both an on-campus and online component. Hybrid programs are for students with an appreciation for the flexibility online learning offers but would still want in-person interactions with classmates and faculty regularly.
---
Campus-Based DNP Programs
When students participate in a traditional campus-based DNP program, they'll travel to campus so they can join in training labs and attend courses. Under some circumstances, courses take place in the evening or on weekends. That way, students can maintain their professional careers full-time while earning their degrees.
---
Cheapest online DNP programs
When applying for 12-month online DNP programs, your current college advisor will work with you toward finding affordable online DNP programs with the highest quality courses that will fit your lifestyle. Additionally, they'll help shape your coursework to suit your future career goals and aspirations. Be sure to be upfront regarding your schedule, as well as how much time you can commit to your studies.
---
Related: