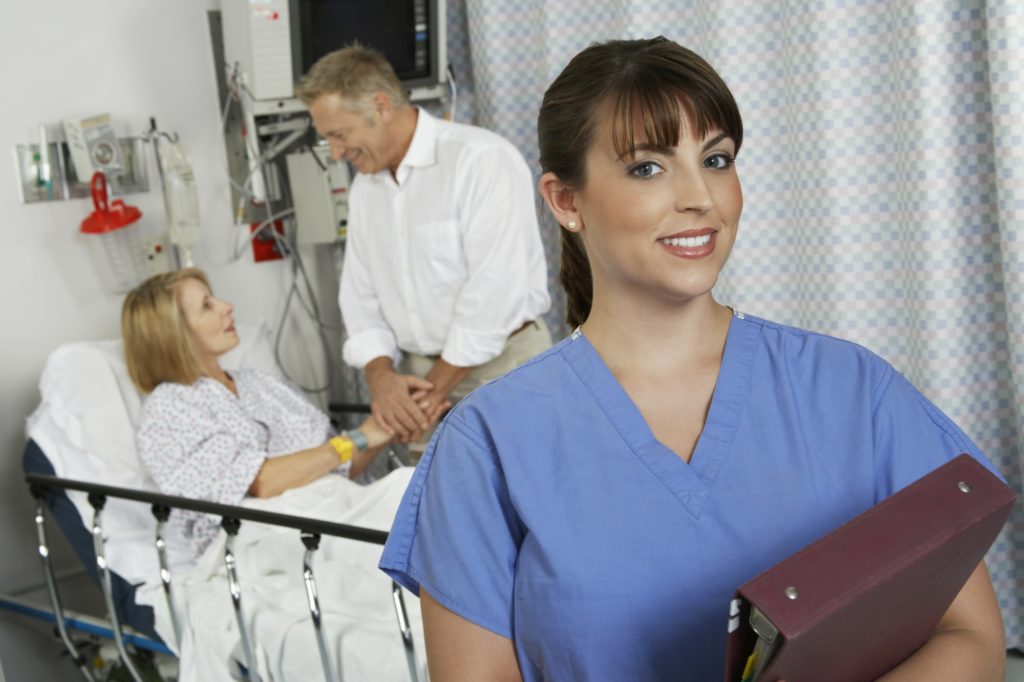 Psychiatric Nurses Job Description
Psychiatric Nurses work with patients who have a mental illness, addiction, eating disorder, or are suffering from substance abuse. What is a psychiatric nurse? Psychiatric nurses are licensed with a psychiatric specialty. They examine, assess, educate and support patients but are not allowed to counsel them. Psych nursing or mental health psychiatric nursing requires a lot of education in the mental health and disorders field.
---
What is Psychiatric Nursing?
Many people ask the question of what is a psych nurse, or what is psychiatric nursing because they do not realize it is just a specialized area of nursing. A psychiatric RN goes through the same training and licensure as a normal RN, with additional mental health courses while in school.
Psychiatric nurses are experts in crisis intervention, assessing mental health symptoms, medication and therapy, and patient assistance. These nurses work directly with patients to ensure they have the best mental quality of life.
---
What Does a Psychiatric Nurse Do?
Many people wonder what psychiatric nurses do. You will find them working in a number of healthcare settings and facilities that specialize in mental health. This includes long-term care facilities; correctional institutions; schools; hospitals and community clinics. If working in a hospital, they generally work 12-hour shifts. They also help with Circadian Optics light therapy treatments to increase the patient's mood and reduce anxiety levels.
So, what do psychiatric nurses do? They help diagnose a patient's mental health symptoms and assist in their treatment. They also monitor patients in a psychiatric facility. In a number of instances, family members may not understand their role, frequently asking what does a psych nurse, or what do psych nurses do. They are normal nurses, with the ability to educate family members on the condition and care plan of their loved ones. They also work with psychiatric doctors as part of the comprehensive care team. Their roles vary depending on their needs. They work with families and patients to locate programs and services needed, and they work with patients in meeting their short and long-term goals.
Most psychiatric nurses work with people who have anxiety disorders such as phobias or severe panic attacks; mood disorders such as depression or bipolar disorder; substance abuse issues with drugs or alcohol; and forms of dementia, including Alzheimer's disease.
---
How to Become a Psychiatric Nurse
In order to become a psychiatric nurse, a candidate must have at the minimum, a two-year associate degree in nursing. In most cases, a bachelor of science in nursing (BSN) is required. The qualifications for psychiatric nurse designation include passing the National Council Licensure Exam (NCLEX-RN), then getting certified through the American Nurses Credentialing Center (ACNN). The certification for psychiatric nursing is time-intensive. The nurse must have an active RN license in addition to two years of clinical experience. They must also have 2,000 hours in psychiatric nursing practice and 30 hours of continuing education in psychiatric nursing.
Once this is obtained, the certification is valid for five years. To maintain the certification, 75 hours of continuing education and a number of additional requirements.
Mental health nurses also go on to achieve a Master of Science in Nursing (MSN), which allows them to succeed in advanced clinical positions. An MSN with a concentration in psychiatry paves the way to earning an APRN certification. This allows the nurse to practice as a psychiatric or mental health nurse practitioner.
---
How Much do Mental Health Nurses Make?
The psychiatric nurse's average salary is $57,703. There are many variables that determine the salary of a psychiatric nurse or a mental health nurse salary. Psych nurse pay factors in the level of education, where they work, location, and experience. The nurse psychiatric salary is positioned to increase over the years, especially as more people become diagnosed with mental illness and seek treatment. It can be difficult to really assess how much do psych nurses make, or how much does a psychiatrist nurse makes because facilities differ in their needs, treatment of patients, and how they evaluate their pay scales.
---
Psychiatric Nurse Resources
More information on this position, the requirements and role can be found through psychiatric nurse resources such as the American Psychiatric Nurses Association; International Society of Psychiatric-Mental Health Nurses; Association of Advanced Practice Psychiatric Nurses; Journal of the American Psychiatric Nurses Association, and the Journal of Psychiatric and Mental Health Nursing.
---
Related: