Highest Paying States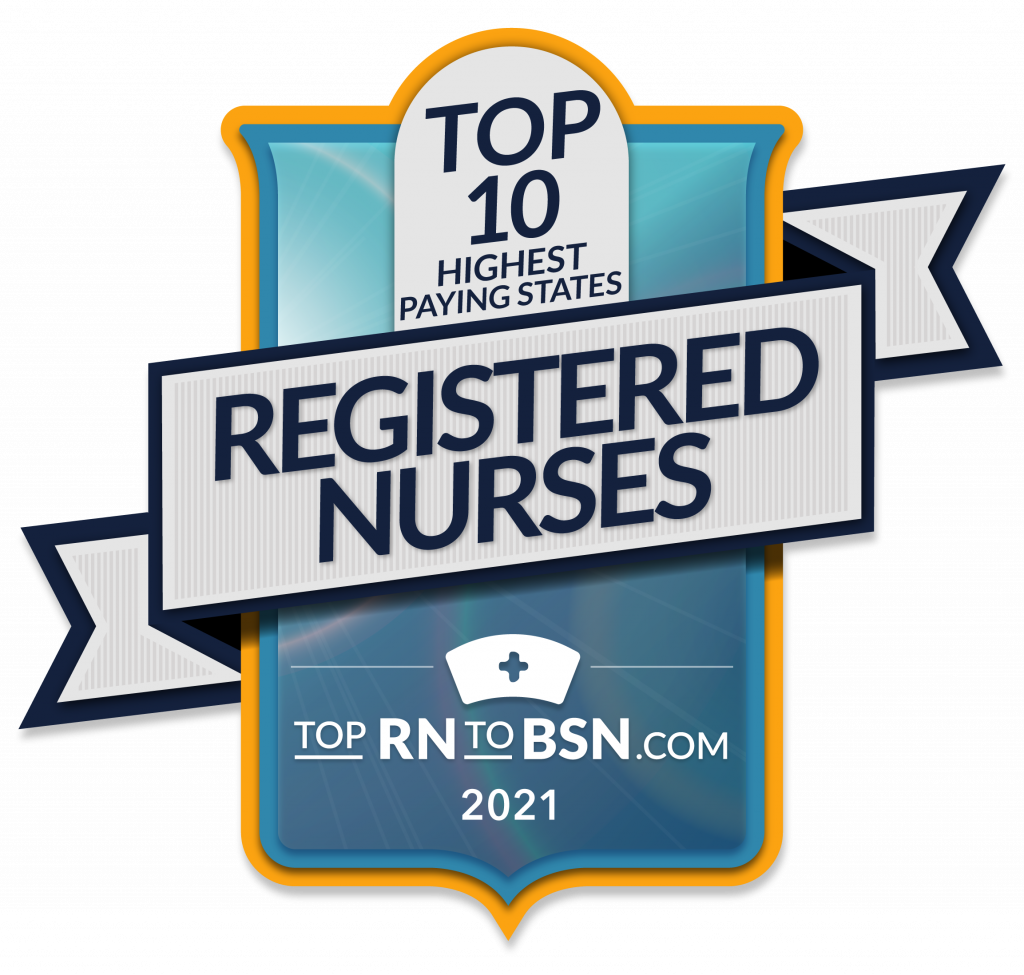 The highest paying states for nurses include the states that have an above average salary for nurses which also reflects the cost of living. In the world of nursing, several factors impact the amount of money a nurse will be paid for the job performed. Nursing is one of the only professional fields where experience is still more important than the number of degrees acquired, within reason. A registered nurse (RN) who has earned an associate's degree, but has 20 years of experience, may still be paid higher than a 5-year veteran who holds a bachelor's. Although this is changing slightly due to the incentives that hospitals and clinics are receiving to ensure that all nurses have a minimum 4-year degree. The list below is reflective of this long-held seniority practice.
---
"Were there none who were discontented with what they have, the world would never reach anything better."
-Florence Nightingale, the founder of modern nursing
---
The following rankings the Highest Paying States based on the average annual salary for RNs in various states, as reported by The Bureau of Labor and Statistics through the U.S. Department of Labor. The list is organized strictly based on how much money nurses make, but we do mention cost of living to give readers a sense of what they are getting into. Some of them may surprise you. There are many factors that impact how much a nurse might need to feel valued, but that is a whole other list. It should be noted that Cost of Living is rarely reported by the state because if you think about it, the difference between one of the biggest cities in the world may be in the same state as a very small, or far less populated town with less infrastructure and a much smaller economy. To report on Cost of Living for the top 10 highest paying states for RNs, we took the Payscale.com cost of living calculator for the most populous city in that state. What are you waiting for? Let's see how much you are about to make, and, more importantly, where you are about to live!
---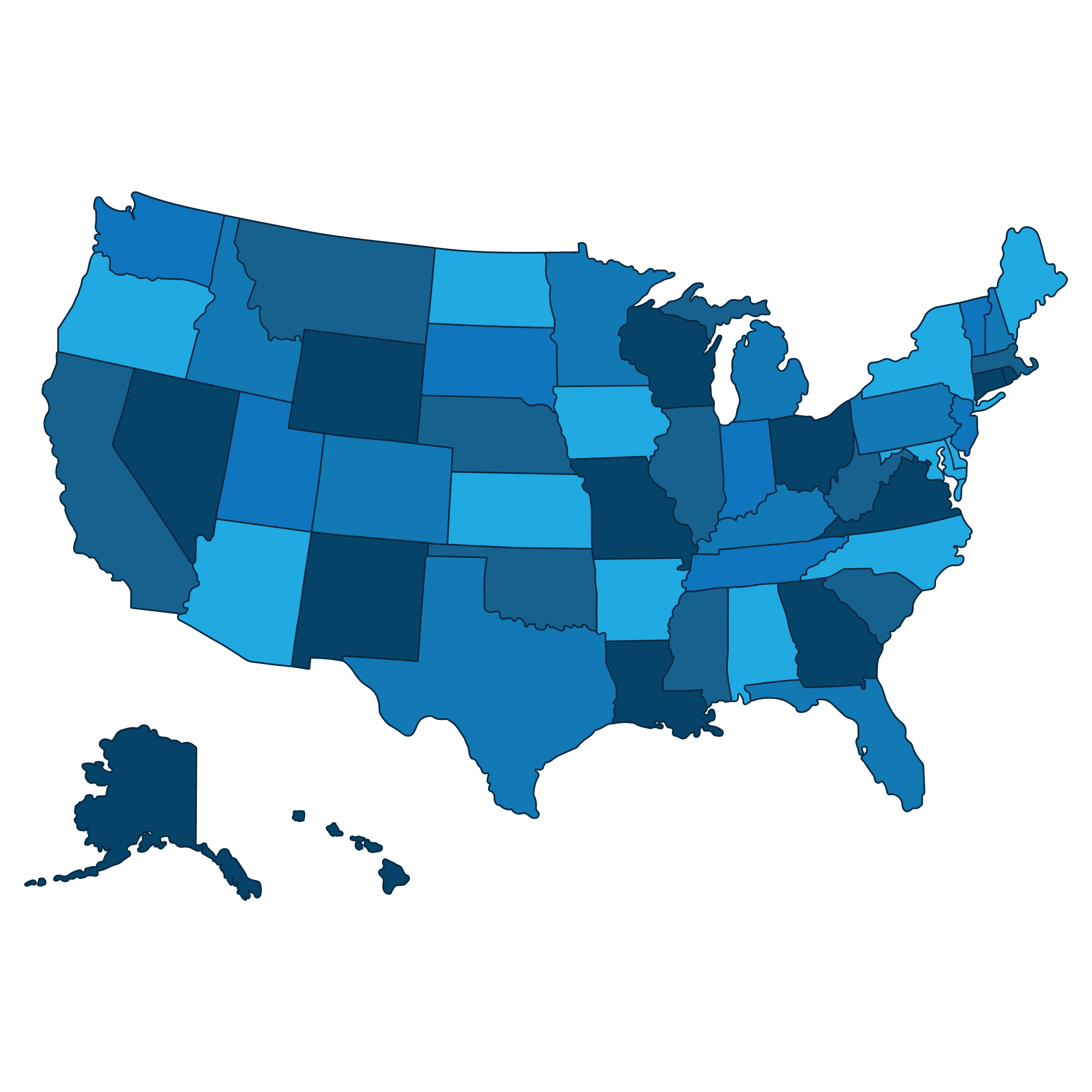 ---
1. California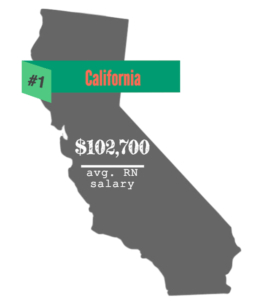 It is no surprise that California makes the best place to work if you are a Registered Nurse, as most cities in California offer job opportunities that pay much higher wages than those same jobs in other places. The Bureau of Labor and Statistics through the U.S. Department of Labor indicates that the median salary for a Registered Nurse in the state is $102,700, which is much higher than the national average. In metro areas like the San Francisco Bay Area, nurses also earn more. However, nurses without a BSN or who work in less resourced communities in the Golden State can expect to make closer to $65,000 per year, and senior level nurses, with more than 20 years experience and advanced degrees can expect up to $125,000.
The sad fact is, what often comes along with high salaries is a high cost of living. California's most populous city, Los Angeles, is no exception to this rule. According to Payscale data, the average cost of living for a family in LA is 43% higher than the national average. Housing is the item that drives up costs most in this southern California city, with transportation costs following a close second. Commute times in southern California are also famously tricky, with average commuters spending more than 45 minutes to get to work. There is nothing like a spot in the sun though, and with the ocean waves crashing down along the entire western part of the state, time spent outside the clinic or hospital makes California a nurses paradise.
Average RN Salary: $102,700
Cost of Living for populous city: Los Angeles, 43% higher
---
2. Hawaii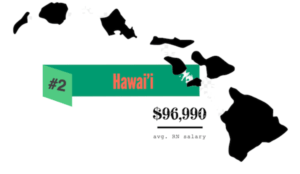 Aloha, RNs! Not only is Hawai'i one of the most beautiful places in the world, it is also one of the best if you are a working nurse. The BLS data on nurses salaries in the Aloha State indicates that nurses working in Honolulu average a $96,990 salary. Those lower averages are near $63 thousand, and the higher ones are close to $126 thousand! Not to bad for nurses who benefit from living in the least stressful state in the U.S. With the new regulations banning sunscreen due to its impact on the coral reefs in the region, nurses can expect the same number of surfing accident victims, and a whole lot more lobsteresque tourists. Healthcare, including nursing, is the most well-paying industry in the state, with Information Technology following close behind.
Just like any utopia, the cost of living in Honolulu is a whopping 88% higher than the national average. The big-ticket item on that island is housing. With a statewide housing shortage and development geared toward resorts and attractions, not single-family home construction, the housing prices are up to 200% higher than average. Given the status of this state as an island, in the middle of the Pacific Ocean, anything that is not grown on the island must be shipped from far away. This increases the cost of food and utilities for folks who live there about 70% higher than average. The plus sides of living here, however, are too many to name. In addition to being one of the least stressful places to live, a cultural focal point of Hawai'ian people is to relax, love each other and the earth, and appreciate the beauty that surrounds them.
Average RN Salary: $96,990
Cost of Living for populous city: Honolulu, 88% higher
---
3. Massachusetts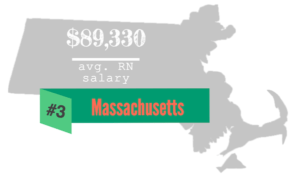 Massachusetts may be known for hosting tea parties and generally revolutionary ideals, but what you should know it for is its high wages for RNs. With a relatively low cost of living as compared to other great states for nursing salaries, Massachusetts is a no-brainer for smart nurses. For a state that is number one in the nation in education, they have made a brilliant move paying RNs what they are worth. The BLS data shows that an average annual salary for an RN in Massachusetts is $89,330. The lower end of that average is $56,490 and the top spot earns $131,710 per year. That person likely spends time on Martha's Vineyard. At least, I would if I were that person.
The cost of living for Boston, Massachusetts' most populous city, is not that bad. It is only 17% higher than the national average. This very manageable cost of living, coupled with the high salaries, nurses in Boston and the lovely surrounding towns can have the best of both worlds. With public transport comparable in its reach and efficiency as New York's subway, the T train is not what is jacking up the prices in Beantown. Besides housing, it is the cost of utilities in this very old city that has the numbers creeping above the national average. Healthcare for Massachusetts residents is highly subsidized, and with a huge agricultural industry, the cost of food stays in check. The only question after how to spend all that money you can make as an RN in the Bay State is how to make it through the 6-month long winter.
Average RN Salary: $89,330
Cost of Living for populous city: Boston, 17% higher
---
4. Oregon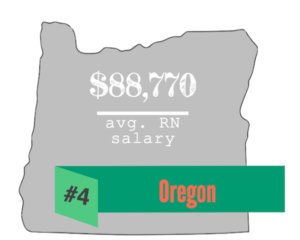 Oregon is a great place to be a nurse. The BLS indicates that the median salary for nurses here is $88,770. The lower end of this average is $65,080, which is not bad, considering much of Oregon is rural and under-resourced. Finding healthcare in these communities is hard enough. Finding nurses who make nearly the national average salary, is wonderful, and makes for more comprehensive healthcare generally. The upper end of this average for nurses is $118,540, for those RN with tons of experience and a supervisory position. Many of these nurses are concentrated in more populous areas like Portland and the state capital of Salem.
Speaking of Portland, this big city is lovely, lively, and according to Payscale, livable. You may know more about it than you ever cared to by the hit TV show, Portlandia. The quirky town certainly has its fair share of goofballs, but also is a large economic hub. The athletic wear giants, Nike and Adidas, are based there, as well as the tech company Intel, and manufacturing industries that sprang up in the wake of the waning timber industry. As a result, the cost of living for this desirable place is a little above average, around 13% higher. Just like most cities on this list, housing at 78% higher than national averages, is the biggest expense for RNs and their friends. Most other common expenses are close to on par with national averages.
Average RN Salary: $88,770
Cost of Living for populous city: Portland, 13% higher
---
5. Alaska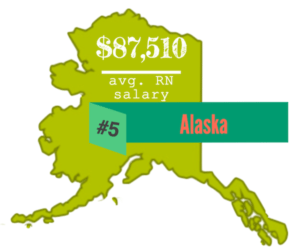 In the northernmost state in the country, where healthcare is both hard to come by and expensive for residents to access, nurses in The Last Frontier make a pretty good living. The average for RNs who live and work in Alaska is $87,510. The low end of the average is about $62,270, and the highest earners make $119,210 per year. The capital city is Juneau, but most nurses work in Anchorage or in medical outposts scattered around the state. Nurses with a background in rural nursing and nurses with indigenous heritage are in most need around the state, and there is supplemental grant money for these nurses to work in Alaska. Just remember, full days of no sun and the coldest temperatures in the U.S. is nothing when comes along with the Northern Lights, trust me.
While it is called the largest city in the state, Anchorage is really a big town (pop. 298,695). It is famous for many things, and you may know it as the starting point of the Iditarod sled dog race. Balto fan, anyone? The race commemorates the 1925 rush to get Diphtheria antitoxin from this most populous city to the city of Nome, during an epidemic in the tiny outpost. Only a team of sled dogs would be able to deliver the drug to Nome in enough time to save the citizens therein, and they did. Tears to my eyes, to this day! Luckily RNs won't be waiting on brave dogs and mushers to have what they need to work with patients, but with all that extra money, they could choose to keep and train a sled dog team. Just in case.
Average RN Salary: $87,510
Cost of Living for populous city: Anchorage, 28% higher
---
6. Nevada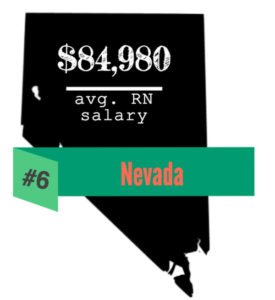 Few states have has the kind of staying power and scrappy resolve that Nevada does. Nontraditional from its very beginning, Nevada became a state in the late 1880s after a very expensive telegram to the nation's capital. Nevada nurses make an average of $84,980, a respectable wage for a place with so much disparity. The settlement was slow in the beginning, likely due to the extreme desert conditions, an average of 7 inches of rainfall per year. Even into to 1940s Nevada's entire population was close to 100 thousand people. The whole state, I am not making this up. Now that number is closer to 3 million and rising. The advent of irrigation technology and the slack laws around morality (including gambling and sex work) have given this state the easy-going reputation it has.
It is hard to mention gambling without mentioning Nevada's most populous city, Las Vegas. The cost of living in this City of Lights is an easy 3% higher than the national average, with transportation costs bringing it up more than other reasons. In fact, the average cost of utilities in Las Vegas is 10% lower than the national average. Nurses who are looking into working in Vegas should be aware that the tourism industry, which fuels most of the economy makes for a pretty unique patient population. Transient people who are in town for fun are the majority of people RNs in Sin City work with, thus creating a non-permanent feeling for many professionals that is pretty widely felt. A perfect environment for those who like to change it up a lot, but no so much for nurses who need to feel rooted in their work.
Average RN Salary: $84,980
Cost of Living for populous city: Las Vegas 3% higher
---
7. New York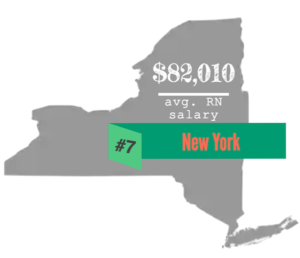 New York state nurses stand to make a great income, with the average salary right at $83,500 per year, according to BLS data. The lower end of this spectrum is around $54,050 and the upper-end caps around $117,470. For the small town, upstate farming communities, or the quaint college towns, these averages mean big bucks. The more experience and higher the level of nursing education, the higher the salary potential. The population density is so extreme in the city that even though New York state is the 4th most populous state in the country, 40% of the close to 20 million people in the state live in the Big Apple.
For a city that is so small in area compared to its population, New York City's cost of living sure is Texas-sized. It is hard to even type how the cost of living stacks up to the rest of the nation, I am serious, I do not know how anyone does it. You hear stories, but the numbers are so hard to understand. The cost of living, as compared to all the rest of us non-New Yorkers, is 128% higher. Housing alone is three hundred and sixty-nine percent higher than other cities in the country. I spelled that one out because the numbers were too big to display in numerals. Why do nurses choose it? There is absolutely no place in the world like New York. There are 297,331 RNs with a license in New York, which happens to be 8% of all RNs in the U.S. These hardworking and dedicated professionals must love something about it.
Average RN Salary: $83,450
Cost of Living for populous city: New York City, 128% higher
---
8. New Jersey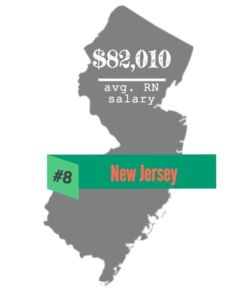 Just south of New York City, both on this list and geographically is the State of New Jersey. With a much smaller area and population of just under 9 million people, New Jersey is a state that has historically treated manufacturing and industry very well. Now, it treats its nurses very well. After the hard work of nursing school, Registered Nurses earn an average salary of over $82,000, says BLS. The lower end of RN earners makes closer to $58,900 while those pulling these numbers up on the average earn closer to $10,5710. New Jersey is a beautiful and magical place. It either has or is close to everything you need in life. If you can swing it, it is a wonderful place to be a nurse.
The most populous city in the Garden State is Newark. It is the hub of the shipping industry of the entire east coast, as well as its busiest port town and seaport. They also host one of the busiest international airports in the country, located just outside the city. Something for nurses to consider is that the cost of living in this hub of travel and industry is 22% higher than the national average. Housing, that sneak thief, is 55% higher than average. In fact, New Jersey has the sixth most expensive rental market in the country, and the taxes for homeownership are high.
Average RN Salary: $82,010
Cost of Living for populous city: Newark, 22% higher
---
9. Connecticut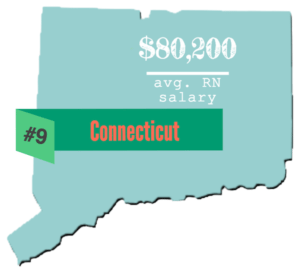 The state of Connecticut is known for its education of young people as well as post-secondary education, and for its hedge funds. It has one of the highest per capita income rates of any state in the U.S. It is true that there is a large wealth gap in the state, with the communities with the fewest resources bringing in much less money than those top earners. Nurses in Connecticut overall do very well, at an average of $80,200 per year. Even those with less experience or who are living in some of these under-resourced areas bring home an average of $57,360. The highest average wage for nurses, like pediatric nurses, in the Constitution State is around $103,520, much higher than the national average. A salary like this, in a state that invented pizza as we know it in the U.S.; I am not sure why I don't become a nurse and move to Connecticut. Seriously, when I am done with this I am going to look into all of that.
The most populous city, in the fourth most densely populated state, is the city of Bridgeport, CT. The reason this historic port town has the nickname "The Park City" is because it has amazing parks. With that mighty average salary and a cost of living that is only 4% higher than the national average, the birds won't be the only ones singing in Park City this summer. Seriously, compared to some of the cities on this list, 4% higher might as well be no percent higher. Housing costs in Bridgeport are 15% L.E.S.S. than average.
Average RN Salary: $80,200
Cost of Living for populous city: Bridgeport, 4% higher
---
10. Washington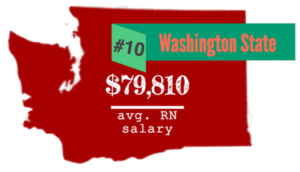 To jump coasts on you, Washington State made it into the top 10 highest paying states for Registered Nurses. With an average salary of $79,810, nurses in Washington state are making out like bandits! The lower end of the average gets a new nurse around $53,850, while the top RN salaries are right at $112,500. Washington State has huge agricultural, lumber, fishing, and manufacturing industries, and the economy is one of the strongest in the country. In addition, Washington pays its workers a high minimum wage. The pay rate translates to better working conditions, more people with access to healthcare, better health, and easier working conditions for registered nurses. It is trickle-up economics at its finest!
The most populous city in the State of Washington is Seattle. The Emerald City is a gem of a town, leading the way nationally with a minimum of $15 per hour for all wage workers. However, the cost of living is 49% higher than the national average. Housing is 94% higher than national averages, with Groceries, Utilities, Transportation, and Health Care all hovering at around 25% higher than average. The plus side for nurses is the Seattle metro area community takes healthcare and medical research very seriously. They have one of the best paramedic systems globally. In addition, they boast a Trauma 1 medical center that also serves the surrounding states of Alaska, Idaho, and Montana. No wonder Grey's Anatomy is based there.
Average RN Salary: $79,810
Cost of Living for populous city: Seattle, 49% higher
---
Cost of Living and Salary
One element that can feel like the biggest thief in regards to a nurse's paycheck is the cost of living in the state where they live. Ideally, in a place where the cost of living is extremely high, a nurse's salary be high enough to be able to keep up. There are complicated equations our editors could use to shuffle this list of states around, maintaining most of the same states that we have now, they would just be in a different order. We figured that no one moves to a state where the cost of living is high unless it's hello Hawaii!
---
Related:
Find Your Best Nursing Program Now!