TV Nurses
Nurses on TV have been a staple on our favorite medical shows since the early days and have given us some of our favorite TV characters. From City Hospital (the first TV medical drama) to General Hospital (the longest-running TV soap opera still on the air, since 1963), there is no more reliable source of entertainment than handsome doctors and pretty nurses – except maybe cops and robbers.
---
TV Nurses of Yesterday and Today
A funny thing started happening around the 1970s, though, at the height of the 20th century feminist movement – TV nurses started getting interesting. With pressure to make more relatable women, TV writers and creators realized there was an audience for nurse characters who were well-rounded, realistic, and complex. The tired old sexist tropes were out, and nurses who could hold their own against any doctor were in.
Today, from the old days of empty-headed, eye-candy nurses of the 1950s and 1960s, we have a long tradition of diverse, respectable TV nurses. Sure, most of them are still pretty – it's TV, after all – but there's way more representation for women of every race, age, size, and sexual orientation. In the 21st century, we have a new era of showrunners, with writers, directors, and creators who bring a diversity of experience and backgrounds to create characters more like we'd see in real life.
---
What Makes a Nurse We'd Like to Work With?
The qualities we look for in a good TV nurse are the same kind of qualities we look for in a good real-life nurse. Sure, TV shows exist to entertain, so sensible, competent professionals aren't necessarily the most entertaining choice. And God knows, TV nurses aren't always the most competent or professional lot. Medical dramas have more than their fair share of sexual tension, bad decisions, and iffy medical expertise.
But it's not those nurses we're talking about here. We're talking about the TV nurses so good, we'd be happy to work alongside them at any hospital, emergency room, or clinic. They're the ones who exemplify good nursing – empathetic, calm in a crisis, mature, and caring to patients and coworkers alike. They're not the ones who fuel the emotional close-up moments in their shows – they're the ones who keep the other characters, and the show, grounded.
This list is about one thing – the nurses we'd love to work with. That's the criteria. Argue all you want, but these are the characters that we think represent the best of nursing on TV.
---
---
1. Ann Perkins
Show: Parks and Rec (Parks and Recreation)
Aired: 2009 to 2015
Played By: Ann Meredith Perkins Traeger, RN played by Rashida Leah Jones
Ann Perkins is an RN who keeps a level head in almost every situation. Rashida Jones is the actor who plays her, and she shows us a true example of an evolved and evolving person, from caring for a boyfriend through two broken legs, to lobbying for the removal of what caused his injury in the first place. She even stands by her best friend and Parks Department associate director Leslie Knope's every bad idea. She is a loyal and thoughtful person, dedicated to her job, and selectively spontaneous and fun with everyone she loves.
Over time she has an amicable break-up, respectfully dates around, is graceful to her ex's new partner, and marries the ever-positive, hard-working, and health-conscious Chris Traeger – all while effortlessly maintaining her job, keeping her friends, and minimizing the amount of drama that impacts her daily life. She effectively shows us that being a confident and competent woman is a worthwhile endeavor, and we would love to work side by side anyone who can bring that to the table.
---
2. Claire Temple, Night Nurse
Show: Marvel
Aired: 2015
Played By: Claire Temple played by Rosario Dawson
Claire Temple is one of those nurses who is able to adapt to and become effective in any situation she is presented with. It's an important skill for this factious nurse, since she's essentially two characters from the middle of the 20th century combined into one 21st century icon. In 2015, Claire Temple (Rosario Dawson) made a classic Marvel time-travel move, appearing in multiple episodes of Luke Cage, Jessica Jones, Daredevil, Iron Fist, and The Defenders.
She is effectively a composite of Claire Temple, a doctor who routinely trades medical help for life saving with Luke Cage in the 1970's Marvel comics, and Linda Carter, the Night Nurse, who in the 1970s comics provides off-the-record medical care for superheroes' abnormal, injured bodies. Even if they never call her Night Nurse in the Netflix series, we would love to work with both Claire Temple, because of her dedication to her values, and her fearless commitment to true defenders of justice.
---
3. Eli Lloyd
Show: Grey's Anatomy
Aired: 2005 to current
Played By: Eli Lloyd
Although the Shonda Rhimes hit Grey's Anatomy closely chronicles surgery students, doctors, and hospital administrators, they could never get away with a realistic working hospital without nurses – especially in a hospital where the doctors spend as much time getting into trouble and finding places to have romantic encounters as they do at Seattle Grace Hospital. In true Grey's fashion, the nurse we would love to work with, Eli Lloyd, is as brilliant as he is beautiful.
His persistent, yet gentlemanly romantic pursuit of Dr. Miranda Bailey (the only Grey's doctor you should trust to operate on you) shows that he is not only respectful – he has good taste. He also is never scared to keep some of the more ridiculous doctors in line, in moments they forgot how to be professional. Still going strong on ABC network since 2005, the entire series can also be streamed online on most streaming sites.
---
4. Christina Hawthorne
Show: HawthoRNe medical drama
Aired: TNT 2009 to 2011
Played By: Jada Pinkett Smith as Chief Nursing Officer Christina Hawthorne
Christina Hawthorne is the eponymous central character in HawthoRNe, which ran for three seasons between 2009 and 2011 on TNT. Jada Pinkett Smith took the lead role of Hawthorne, a chief nursing officer at Richmond Trinity Hospital in Virginia. And the show's 30 episodes displayed the drama affecting her personal and professional life.
While the nurse sometimes faced challenges in her relationship with Dr. Tom Wakefield, the chief of surgery, she still demonstrated her passion for her job – and her willingness to risk it to defend her patients and staff. In 2011 Truth About Nursing noted the show's representation of nursing authority and skill.
---
5. Julia Baker
Show: Julia
Aired: NBC 1968 to 1971
Played By: Julia Baker played by Diahann Carroll
The sitcom Julia ran on NBC from 1968 to 1971, and its title role, played by Diahann Carroll, was one of the first female African American characters to be represented outside of the stereotypical limitations of American television. The show revolved around widowed single mother and nurse Julia Baker, and it is now considered groundbreaking – even if at the time reviewers were often less than enthusiastic, labeling it unrealistic and apolitical.
While Carroll thought that Julia was often light in dealing with the issues at hand, she was captivated by the character herself and is said to have identified with her from "the inside and out." In 1969 the show earned Carroll an Emmy nomination, not to mention a Julia Barbie doll.
---
6. Carla Espinosa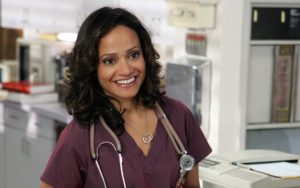 Show: Scrubs
Aired: NBC/ABC 2001 to 2010
Played By: Carla Espinosa played by Judy Reyes'
Scrubs ran for a remarkable nine seasons between 2001 and 2010, first on NBC and then on ABC. It followed the lives of staff at the Sacred Heart Hospital (a teaching hospital). But it's Judy Reyes' portrayal of outspoken ER nurse Carla Espinosa who is arguably one of the most memorable characters. Throughout the series, viewers saw the head nurse's relationship with surgeon Christopher Turk lead to marriage and children.
Espinosa is a spunky, no-nonsense individual who isn't afraid to challenge doctors when needed, and she even has a connection with Dr. Cox, who terrorizes most of the other staff. While the show's focus was often on comedy, this had no effect on Reyes' drive for authenticity, as the actress took inspiration, technical knowledge and personality for the part from her real-life-nurse sister, who later told her, "You stole my character!"
---
7. Epiphany Johnson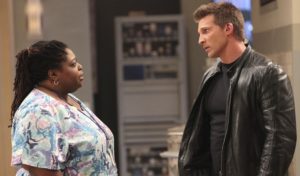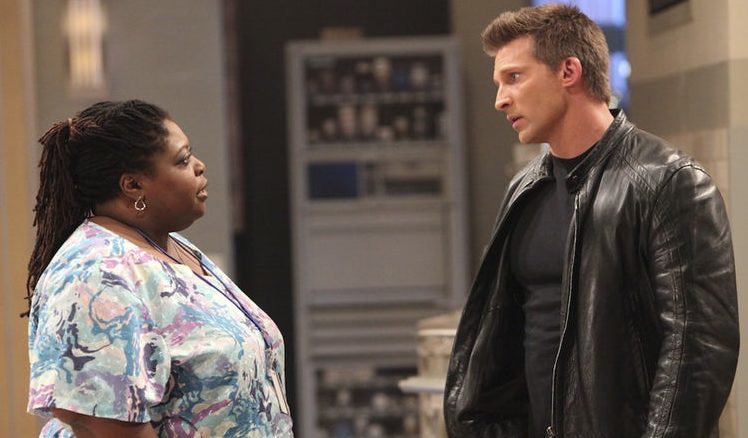 Show: General Hospital
Aired: ABC 1963 to present
Played By: Nurse Epiphany Johnson played by Sonya Eddy
Nurse Epiphany Johnson is everything we would want in a co-worker at General Hospital. She is no stranger to sharing her sound opinions with unsuspecting and entitled doctors, and she is hard-working and reliable. Additionally, she is a cancer survivor and has survived more than one heart attack, and the very image of resiliency as she also lost her beloved son, Stan, to gun violence. She has been the head nurse at General Hospital since we met her character, played by Sonya Eddy. She keeps the place together, and outworks nearly every professional there, providing mentorship to new nurses and support to doctors when they need it.
---
8. Peter Petrelli
Show: Heroes
Aired: NBC 2006 to 2010
Played By: male Nurse Peter Petrelli played by Milo Ventimiglia
Male nurse Peter Petrelli is one of the main characters in superhero drama Heroes. The show ran on NBC from 2006 to 2010. His special power is "empathic mimicry", or the ability to copy or even soak up the powers of other superheroes. In contrast to his politician brother, Nathan, Peter chooses a career in hospice nursing and later becomes a paramedic. His compassion is a defining part of his makeup; Tim Kring, the series' creator, has said that the character's superpower is "based on his empathy and his ability to connect with people."
---
9. Carol Hathaway
Show: ER
Aired: 1994 to 2009
Played By: Carol Hathaway played by Julianna Margulies
Carol Hathaway is a registered nurse and is the nurse manager in the emergency room of Chicago's County General Hospital on the 1994-2009 medical drama ER on NBC. As a nurse manager, she is the right amount of bossy and compassionate, getting things done, but not at the expense of ensuring that nurse working conditions are satisfactory and they are recognized for the outstanding work they do.
Played by Julianna Margulies, Nurse Hathaway holds a master's degree in nursing and is not an uncomplicated person. After a very scary suicide attempt at the beginning of the series, Nurse Carol shows grit and determination, coming back not only to become an excellent manager, but also an example of resiliency. She intends to go to medical school at some point but decides against it because she sees that her job as a nurse is worthwhile.
---
10. Christine Chapel
Show: Star Trek the Original Series
Aired:
Played By: Commander Christine Chapel, RN
Commander Christine Chapel, RN, was a Human Starfleet officer in the 23rd century. Her character appeared on each season of Star Trek, the Original Series, as well as Star Trek: The Animated Series and the films Star Trek: The Motion Picture and Star Trek IV: The Voyage Home. She not only brings a calm and confident demeanor to the ship, but she also must be extremely good at her job, given that she must treat every intergalactic species that comes on board. She keeps herself occupied with both her medical duties working alongside Dr. McCoy, as well as her command duties, but does not shy away from her personal interests.
One of these interests is Mr. Spock, the seemingly uninterested Vulcan/Human hybrid character, upon whom she showers unrequited love. She served in the Medical Department, a subsection of the sciences division, aboard the USS Enterprise from 2266 to 2270 as a nurse, and in the mid-2270s as a doctor, under the command of Captain James T. Kirk. In 2286, she was assigned to Starfleet Command. She shows that dedication and hard work not only gets rewarded in space, but also might get the attention of a Vulcan who struggles with emotion.
---
11. Nurse Mildred Ratched
Ratched is a Netflix Original show that aired in September 2020. The show follows the story of Nurse Mildred Ratched, a former war nurse, who moves to California. She begins working as an asylum nurse at the Lucia State Hospital, a psychiatric hospital. The series delves into Mildred's dark and troubled past, painting the gradual evolution of her character from a seemingly kind nurse to a ruthless manipulator of her patients.
Show: Ratched
Aired: Netflix 2020
Played By: Nurse Mildred Ratched played by Sarah Paulson
---
12. Jenny Lee
Call the Midwife first aired in 2012 on BBC and was created by Heidi Thomas. The series follows Nurse Jenny Lee as she works with the midwives of Nonnatus House, located in the East End of London in the 1950s and 60s.
Show: Call the Midwife
Aired: BBC/PBS 2012 to present
Played By: Nurse Jenny Lee played by Jessica Raine
---
13. Annie Roland
Nurses was a television drama series that aired on NBC from 1991-1994. The series followed the lives of the staff, including main character Sarah Wheaton, at the Cunningham Hall nursing home in Chicago.
Show: Nurses
Aired: NBC 1991 to 1994
Played By: Nurse Annie Roland played by Arnetia Walker
---
14. Veronica Callahan
The medical drama Mercy aired on NBC from 2009 to 2010 and follows three nurses at the fictional Mercy Hospital. It centered around Veronica Callahan, a former military nurse who returned to her hometown to work in the emergency room of a local hospital.
Show: Mercy
Aired: NBC 2009 to 2010
Played By: Nurse Veronica Callahan played by Taylor Schilling
---
15. Melinda Monroe, Nurse Practitioner
Virgin River is a romantic drama series that first aired on Netflix in December 2019. The main character of the show is Melinda Monroe, a nurse from Los Angeles who moves to the remote California town of Virgin River in search of a fresh start.
Show: Virgin River
Aired: Netflix 2019 to present
Played By: Melinda Monroe played by
---
16. Kenny Fournette
The Night Shift aired on NBC from 2014 to 2017 and followed the lives of the night shift staff of doctors and nurses at San Antonio Memorial Hospital.
Show: The Night Shift
Aired: NBC 2014 to 2017
Played By: Kenny Fournette played by James Roch
---
17. April Sexton
Chicago Med is a medical drama TV series about Nurse April Sexton. The series follows her professional and personal struggles working in the emergency room of a demanding Chicago hospital.
Show: Chicago Med
Aired: NBC 2015 to present
Played By: Nurse April Sexton played by Yaya DaCosta
---
18. Frankie Maddox
The BBC comedy-drama Frankie aired in 2013. The show follows the life of midwife Frankie Maddox, played by Eve Myles. She juggled her chaotic personal life with her district nursing job in Bristol. District nurses in the UK deliver patient care to the community and visit most patients in their homes.
Show: Frankie
Aired: BBC One 2013
Played By: Frankie Maddox played by Eve Myles
---
19. Kitty Forman
That 70's Show was a popular sitcom which aired on Fox from 1998 to 2006. It followed the lives of a group of teenagers in Wisconsin during the 1970s. Kitty is a nurse and the mother of Eric Forman, a main character.
Show: That 70's Show
Aired: NBC 1998 to 2006
Played By: Nurse Kitty Forman played by Debra Jo Rupp
---
20. Margaret "Hot Lips" Houlihan
MASH is an American sitcom that originally aired from 1972 to 1983. The show follows a team of doctors and nurses stationed at the 4077th Mobile Army Surgical Hospital during the Korean War, and stars Loretta Swit as the strong-willed Nurse Margaret "Hot Lips" Houlihan.
Show: M*A*S*H
Aired: 1972 to 1983
Played By: Margaret Houlihan played by Loretta Swit
---
21. Penelope Alvarez
The remake of this 1975 series follows a US Army Nurse Corps veteran, Penelope Alvarez. It details her return to civilian life after serving as a medic in Afghanistan.
Show: One Day At A Time
Aired: 2017 to 2020
Played By: Penelope Alvarez played by Justina Machado
---
22. Nurse Jackie Peyton
Nurse Jackie is a medical comedy-drama series that aired on Showtime from 2009 to 2015. It starred Edie Falco as the title character Jackie Peyton, an emergency nurse at All Saints Hospital in New York City.
Show: Nurse Jackie
Aired: Showtime 2009 to 2015
Played By: Nurse Jackie Peyton played by Edie Falco
---
23. Dell Parker
Private Practice was an American medical drama television series that aired on ABC from 2007 to 2013. Male nurses like Dell Parker are unusual on television, and there are even fewer male nurses that are midwives! Private practice was a spin off from Gray's Anatomy, but less popular.
Show: Private Practice
Aired: ABC 2007 to 2013
Played By: Dell Parker played by Chris Lowell
---
24. Helen Rosenthal
The TV drama St. Elsewhere is about fictional teaching hospital in Boston and aired on NBC from 1982 to 1988. It follows the professional and personal lives of doctors, nurses, and staff at St. Eligius Hospital, lead by head nurse, Helen Rosenthal.
Show: St. Elsewhere
Aired: NBC 1982 to 1988
Played By: Nurse Helen Rosenthal played by Christina Pickles
---
25. Nurse Joy
Show: Pokémon Emergency!
Aired: 1997
Played By: Nurse Joy portrayed by Megan Hollingshead
Nurse Joy debuted in Pokémon Emergency, the video game and cartoon that features creatures who are connected to the four elements, and exist as fighters in epic battles for resources and land for their trainers. When lead trainer Ash Ketchum finds his electric mouse character, Pikachu, critically injured from a fight, Ash rushes him to the Pokémon Center in capital Viridian City where Nurse Joy heals Pikachu.
Whenever there is a Pokémon in trouble, Nurse Joy finds herself available to heal them, and even helps Ash and his best friend Brock after falling from a high building and hurting themselves. Without Nurse Joy, many Pokémon would not survive some of their harrowing adventures. She is ingenuitous and brave, sometimes risking capture by the nefarious Team Rocket to save the Pokémon, whom she adores. She gets honorable mention, because in our world, she would probably be a veterinary nurse, but is still a medical nurse professional we would love to work with!
---
Related: