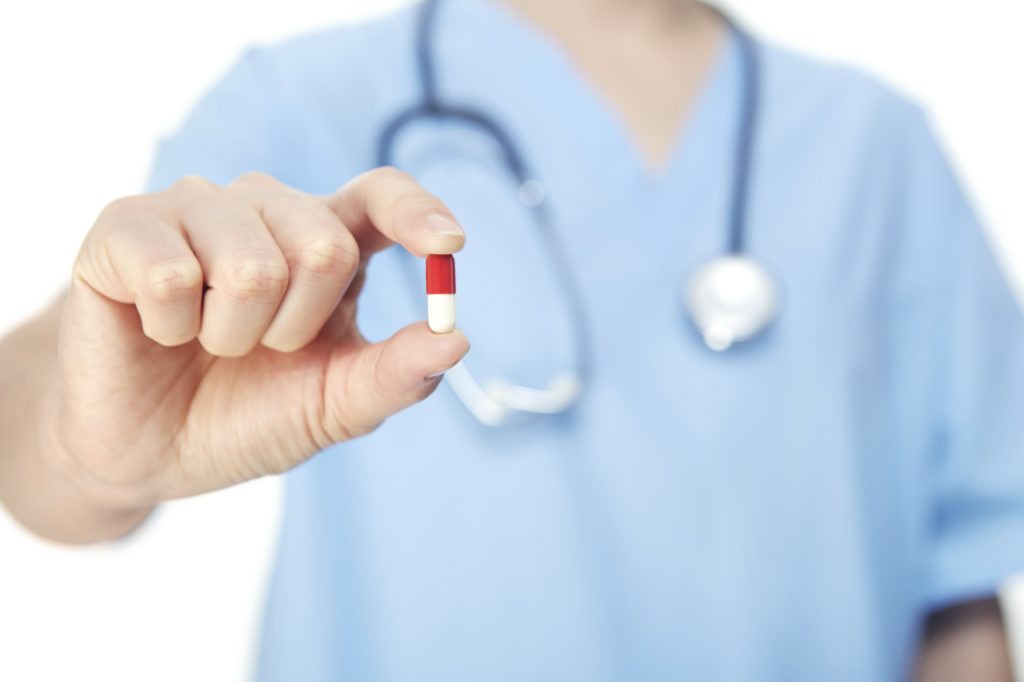 These nurse practitioner prescribing laws apply to Advanced Practice Registered Nurses who can write prescriptions. A Nurse Practitioner (NP) is an Advanced Practice Registered Nurse with responsibilities beyond the standard care offered by a Registered Nurse. This individual medical professional can provide a range of additional services and care options, including but not limited to screenings and referrals, diagnostic and treatment, physical exams, health and wellness counseling, and prescriptions for medications, with some possible restrictions based on the state requirements.
---
The Nurse Practitioner's prescriptive authority refers to the ability to prescribe medication. Nurse Practitioners can prescribe medication in all 50 states, although the independence with which they can prescribe drugs, medical services, or devices can vary depending on the state. The prescriptive authority for Nurse Practitioners is essential for healthcare practice and service. That prescriptive authority provides quality and cost-effective healthcare for patients who need fast, reliable, and accessible care in their communities.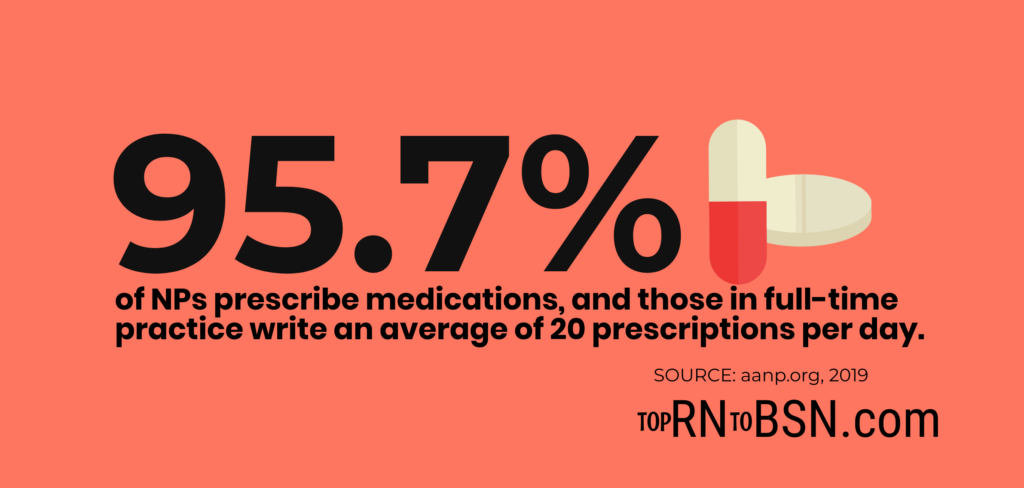 The Nurse Practitioner prescriptive authority has been around since New Mexico first approved it in 2002. Soon after, Louisiana, Illinois, Iowa, and Idaho passed approvals. The American Association for Nurse Practitioners (AANP) recommends that NPs not be restricted. Instead, they encourage NPs to prescribe medications, devices, medical equipment, supplies, and other healthcare services for patients. But, the AANP endorses oversight by the state board and the training, education, and certification credentials.
---
Why is it Important for Nurse Practitioners to Be Able to Prescribe Medication?
The prescribing privileges for Nurse Practitioners include a range of responsibilities for diagnostic, interpretation of results, counseling, exams, etc. In addition, a Nurse Practitioner can pursue several additional specialties and certifications in Women's Health, Neurology, and Cardiology. However, there are other concentrations that are available in Nursing and specifically for Nurse Practitioners.
A Nurse Practitioner prescribing authority is a significant development. According to the American Association of Nurse Practitioners (AANP), Nurse Practitioners step up to provide services in growing numbers. The idea of nurse training to a level where they would offer primary care services has been around since 1965, when Dr. Henry Silver and Loretta Fox joined forces to develop a certification program. In the intervening decades, the program has evolved and grown. More than 270,000 Nurse Practitioners (NPs) are now licensed to practice in states across the US. Each of the NPs sees an average of 24 patients every day, which takes on an enormous amount of healthcare coverage. It helps to address the massive demand for primary care that was already evident in 1965. The job outlook is at 26%, higher than the average for career opportunities in the US.
Nurse Practitioners (NPs) must continue to prescribe medications because they fill a crucial role in offering primary care services. They treat populations that may not otherwise have the same access to reliable and cost-effective healthcare or medical services. And this is true, especially in rural and underserved communities and high-population areas. In addition, NPs have advanced training and often have additional specializations and certifications. Many of these skills allow them to also provide comprehensive care options and treatment to the populations they serve.
---
Practicing Under a Doctor
A Nurse Practitioner's prescriptive authority is regulated by the state boards of Nursing. The prescribing authority is licensed and regulated to promote public safety. But the question is: Can an APRN prescribe medication? The APRN can prescribe medicine based on the authority granted to them by their licensing state and the state board of Nursing. For each state and particular individual's situation to keep up-to-date on the current status of prescriptive authority and licensure.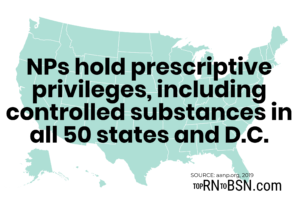 A Nurse Practitioner prescribes drugs, including controlled substances, with and without the collaborative support of a physician. With the growth of job opportunities for Nurse Practitioners, the role has taken on ever-greater responsibilities. It includes providing high-quality care and prescriptive authority. The job of NPs is essential since they are fully authorized to offer healthcare services in rural and underserved areas. These areas would not otherwise have the level of community medicine or prescriptive medical services available.
---
Practicing Independently
Even in urban areas, a Nurse Practitioner can help cover a range of services with prescriptive authority. But, they also assist with a wide range of other diagnostic care, testing, and also treatment options for clinics and community medical centers. Part of the reason NPs fill this role is that their salaries are often lower than a medical doctors. So, it may be more likely that the non-profit organization or otherwise budgetary-challenged small community can afford to hire them. As a result, NPs are meeting the needs of patients in the evolving non-traditional settings. Furthermore, these settings are all over the US to address the shortage of physicians and a growing aging population.
Beyond the obvious reasons for NP involvement in the care and treatment of patients, there's a difference in how NP treat their patients. In general, they pursue a more holistic approach for the patients they serve. This approach can take on a more consultative or counseling-focused focus. It's more in keeping with the often more integrated approach that the Nursing profession has with the care and treatment of a patient. It can also involve discussions and counseling on lifestyle choices and other factors that affect the patient's overall health and wellness.
---
Are There Limits to the Nurse Practitioner Prescribing Laws?
What medications can Nurse Practitioners prescribe? Nurse Practitioners can prescribe medications with varying layers of physician oversight. Some states support reduced, restricted, and full-practice authority. As a result, Nurse Practitioners (NPs) can prescribe antibiotics, birth control, and other non-controlled substances in all 50 states.
There's the question: What drugs can a Nurse Practitioner prescribe? As a highly educated and experienced medical professional, a Nurse Practitioner can prescribe antidepressants like Prozac and Zoloft. Under Alaska Nursing Statutes, Nurse Practitioners (NPs) must apply to prescribe controlled substances (Schedule II-V). The Indiana Nurse Practice Act restricts prescriptive authority. It requires an agreement collaborating with a physician and a Controlled Substances Registration (CSR). In addition, Nurse Practitioners can prescribe narcotics in 23 states without collaboration or a doctor's oversight.
The care of a Nurse Practitioner is comparable to that of a doctor. Therefore, maintenance and prescribing authority are essential. However, nurse involvement does replace doctors but instead works collaboratively together. The Nurse Practitioner controlled substance prescribing medications must include the DEA registration number. For Schedule II and II drugs, the Nurse Practitioner is authorized to prescribe a 30-day dosage supply.
With the ongoing opioid crisis, the focus on prescriptive authority and ethical ramifications have taken center stage. NPs may be in the best position to advocate for their patients. They are ideal because they have a complete understanding and evaluation of the current and needed pain management, particularly with a background in Pharmacology. Ongoing education and follow-up are always required for the NPs to understand their roles as advocates for their patients. NPS offer the level of education directly to their patients that should help mitigate oversight and misinformed prescriptive authority.
---
What are the States that Allow an NP to Prescribe Independently?
The Nurse Practitioner prescribing laws by state vary based on collaborative practice, full authority, or required supervision. In many states, the nurse practitioner's prescriptive authority includes a collaborative or reduced approach. They include Alabama, Arkansas, Delaware, Illinois, Indiana, Kansas, Kentucky, Louisiana, Massachusetts, Michigan, Mississippi, New Jersey, New York, Ohio, Pennsylvania, South Dakota, Utah, Virginia, West Virginia, and Wisconsin. The states with prescribing rights for Nurse Practitioners with full authority with state licensure include Alaska, Arizona, Colorado, Connecticut, District of Columbia, Hawaii, Idaho, Iowa, Maine, Maryland, Minnesota, Montana, Nebraska, Nevada, New Hampshire, New Mexico, North Dakota, Oregon, Rhode Island, Vermont, Washington, and also Wyoming.
---
Scope of Practice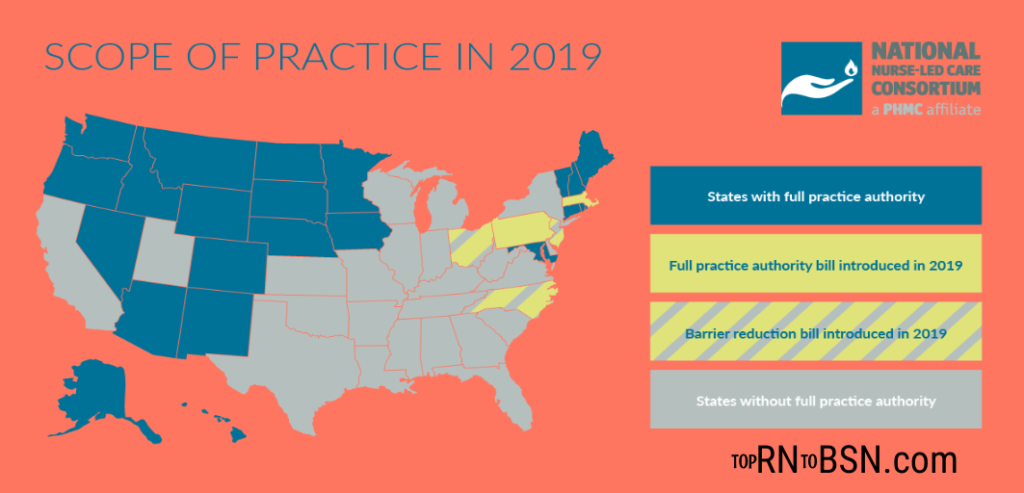 ---
The Nurse Practitioner prescriptive authority by state requiring supervision and a collaboratively written prescription includes California, Florida, Georgia, Missouri, North Carolina, Oklahoma, South Carolina, Tennessee, and Texas. The restrictions on prescriptive authority are controversial. While the American Association for Nurse Practitioners (AANP) points to the years of safe, reliable, and cost-effective service NPs have offered to their patients, some states do not allow full-practice authority. So, NPs must rely on physicians to fully support their patients' prescriptive needs.
State restrictions and authorizations for the prescriptive authority of Nurse Practitioners under the law and state boards are in a state of evolution. The prescribed authority of Nurse Practitioners can be somewhat contentious based on the position that some physicians' groups take on the topic. Still, the trend is moving toward more extraordinary power as NPs continue to fill the gaps in care availability and necessity. More than 58 million Americans face the side effects of the shortage of inadequate physician availability in their communities. In addition, with their growing importance in health and medical care, nearly 50% of NPs now have hospital privileges that allow them to order specialty services as part of the quality of care.
---
Related: