Cardiac Nursing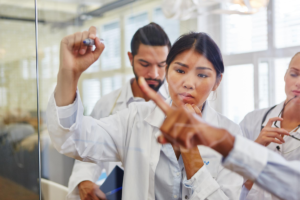 A cardiac nurse is a registered nurse who has specialized in the care of the cardiovascular system. They are usually specialized advanced practice registered nurses (APRNs) who work with cardiologists and healthcare professionals who provide cardiovascular care for patients with chronic and acute heart conditions. A certified cardiac nurse, or cardiac nurse specialist, is qualified to work in clinics, labs, telemetry care, and more. A Certified Cardiac Nurse Practitioner has the same qualifications as above but holds a master's degree or higher.
---
What is a Cardiac Nurse?
When looking at what is cardiac nursing, you'll find that it's an intense role that provides life-giving care to patients who are in need of ongoing medical help. A certified cardiac nurse can work with all age ranges from pediatrics to geriatrics and all ages in between.
Becoming a cardiac nurse begins by earning a bachelors or masters of science in nursing (BSN/MSN), then studying one of the two certifications for cardiac nurses. Once a registered nurse sits and passes either the Adult Cardiac Medicine (CMC) or Adult Cardiac Surgery (CSC) exams, they are considered a certified cardiac nurse and can work in the field of cardiology alongside physicians or in a setting of their choosing.
When looking at all of the education requirements, you might be asking "how long does it take to become a cardiac nurse?" The answer is dependent on the educational path you take to become a nurse. It takes two years to earn an associate's degree to become an RN, but you may find that it's difficult to become a cardiac nurse without further education and working for at least 2,000 hours in cardiac nursing before sitting for one of the certifications for cardiac nurses. Most certified cardiac nurses have earned their masters degree in nursing prior to sitting for the exam in order to become an effective and certified cardiac nurse.
---
What Does a Cardiac Nurse Do?
A cardiac nurse specialist provides support to both patient and cardiologist. They explain treatment plans, follow up with patients, record data collected by heart monitors and telemetry equipment, and track the progress of a patient. A cardiac nurse can work in an emergency room, in a clinical setting, and also work as a traveling nurse. The exact nursing duties of depend on where they work and the certifications they hold.
A nurse that has trained in advanced cardiovascular life support is qualified to work on patients who are in a cardiac emergency situation while a nurse with telemetry skills may work directly with patients or in a setting where they monitor telemetry information of patients on heart monitors. A cardiac nurse with cardiac catheterization training can work in critical or acute care environments and work with medical technicians who are trained to work in telemetry care.
The field of cardiac care is one that has further specializations in the form of maintaining cardiac devices and showing patients how to use them. Nurses in these jobs work with patients who have heart failure. They also assist patients as they recover from a cardiac event, heart surgery, or implantation of a medical device that regulates their heart.
---
How Much Does a Cardiac Nurse Make?
The U.S. Bureau of Labor Statistics lists the median pay for nurses in 2020 was $75,330 per year for those Registered Nurses. However, the BLS does not specifically state the average cardiac nursing salary and categorizes the role under the general designation of registered nursing. The role of cardiac nurse is a specialized role that requires advanced education. In addition, nurses must pass a certification exam. Because of the extensive training, the role demands a higher salary. A cardiac nurses salary can range anywhere between $61,000 on the low end and $120,000 on the upper end. Location is also a factor in the average salary as population density plays a role in the census of the cardiac ward.
---
What is the Job Outlook?
The job outlook for cardiac nursing is trending upwards as the Baby Boomer population ages and experience issues that come with an aging body or genetic predispositions. Regional medical facilities are just as likely to have a large population of older adults that need cardiac care in amounts similar to a medium-sized city. When looking at how much does a cardiac nurse makes, it's quickly apparent that it's well-compensated in most areas of the country.
---
Certified Cardiac Nurse Practitioner
If you want to improve your earning potential, consider becoming a certified cardiac nurse practitioner (CCNP). These nurses are qualified to work in the same areas as a cardiac nurse, but has a wider range of treatment protocols available to them. A CCNP can perform many of the same duties as a cardiologist within reason, and the earn a salary that reflects this fact.
---
Related: