Black Nurses Guide to nursing diversity covers HBCUs, minority scholarships, and cultural competence for nurses. The demand for African-American RNs, as well as other minority nurses, is at an all-time high and is set to keep rising for the next few years. According to the most recent National Sample Survey of Registered Nurses conducted by the Health Resources and Services Administration (HRSA), over one million RNs will be needed to support the need for healthcare in the US by 2020.
There is a growing need for RNs from different backgrounds and specialties to connect with the growing minority populations. African Americans, for instance, tend to have less access to healthcare and disproportionate rates of illness compared to the majority whites.
---
Black Nurses and Social Mobility
Nursing has traditionally been a more diverse field than most professional careers, but today nursing schools are looking even more to attract students who are sensitive to cultural differences, which is a key component of effective community outreach efforts. The number of black nurses is still low in nursing graduate programs and the nursing workforce, and if you are a black nurse or a black nursing student looking to advance your education by earning a BSN or an MSN, there are plenty of opportunities for you. Black nurses can still go back to school, advance their careers, and be in a better position to help the nursing profession recruit and retain more African American nurses.
There are a few metrics for figuring out the best states for black nurses. The Bureau of Labor Statistics (BLS) finds the highest-paying states for black nurses (according to average RN salary) to be:
1. California
2. Hawaii
3. Massachusetts
4. Oregon
5. Alaska
However, U.S. News & World Report considers the best state for diversity to be:
Delaware
Vermont
Maine
West Virginia
Washington
Notice those lists do not coincide! Meanwhile, the states with the highest demand for nurses are:
1. California
2. New York
3. Texas
4. Florida
5. Pennsylvania
While many black nurses worry about racism and labor laws in the South, others suggest Georgia and Texas are excellent choices. The high cost of living is driving many black nurses out of California to these more affordable areas. The DC Metro Area – Virginia and Maryland – also has a reputation as being a top region for black nurses and nursing jobs.
---
Nursing Diversity Needed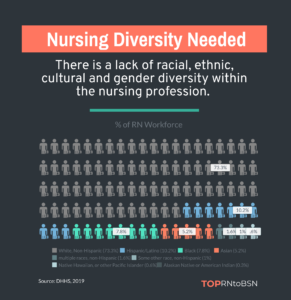 ---
Social Mobility in Nursing
Shifting from one social status to another is known as social mobility. It's the change in wealth and social status of families or individuals over time. Some societies promote upward social mobility, others not so much. Some colleges and universities, just like societies, provide a better opportunity for social mobility. In higher education, social mobility is determined by the extent to which a university or a college provides education for more economically disadvantaged students (from families whose incomes fall below the national average) and makes sure that they earn their degrees and secure well-paying jobs. Winston-Salem State University (WSSU) is one of the best-ranking universities when it comes to social mobility. Consider the college's social mobility index when making your decision. Check out CollegeNET's social mobility index rankings.
Black nurses face unique challenges, opportunities, and circumstances unique to their lives. In this guide, we will discuss the importance of black nurses, scholarship opportunities for minority nursing students, and other ways black nurses can find support.
Cultural competence addresses cultural differences that black nurses face as minorities in nursing.
Nursing is more diverse in many ways than other professions. Nursing schools are continuously looking for ways to attract students from different cultural backgrounds. Despite their efforts, the representation of black nurses in Graduate School and the workforce at large still does not keep pace with the percentage of African Americans in the population. In order to advance their careers, black nurses must be encouraged to go back to school and receive the credentials needed for higher-paying nursing roles.
There are hundreds if not thousands of nursing schools in the country. Unfortunately, African American nursing students often drop out at a higher rate than other demographics. Reasons may include the following:
Black nurses are under more pressure to make sure that they have chosen the right career than ever before.
---
How Can Black Nurses Can Achieve Social Mobility
Receiving their nursing degrees can help black nurses move into a new socioeconomic bracket. This is called social mobility, and it describes the upward movement and status of families over generations. America has always been a society that promotes social mobility among its diverse population. Similarly, colleges and universities promote social mobility by seeking a diverse student body.
In higher education, economically disadvantaged students and students from underrepresented minorities often receive special consideration. This gives them access to better-ranking schools and social mobility upon graduation.
---
What Is Cultural Competence in Nursing?
Cultural competence in nursing deals with effective interaction with those from different socioeconomic backgrounds and cultures. In the context of black nurses, this includes relating to patients from different backgrounds as well as other medical practitioners from diverse cultures.
There is a great deal of diversity in nursing, and healthcare institutions that want to foster cultural competence in health care can conduct a cultural assessment. According to Madeleine Leininger, respecting cultural diversity in nursing practice starts with projecting inpatient care. An assessment should test Groups, individuals, and communities on their beliefs, values, and practices when serving culturally diverse patient populations.
Diversity in nursing practice should include a cultural assessment to ensure that practitioners know how to respond to cultural differences that impact healthcare practices. The same model applies to equality and diversity in nursing care. When dealing with other minorities in nursing and the patient population, medical professionals should use the acronym LEARN to evaluate their cultural sensitivity.
---
LEARN Cultural Sensitivity
LEARN stands for:
Listen: Listen to your coworker's perception of the work situation or patient care. Listen to the patient's description of their health problems.
Explain: Explain your understanding of the problem or situation. Is there a psychological, cultural, physiological, or spiritual misunderstanding that can be broached with a little understanding?
Acknowledge: When you acknowledge that there are differences between your point of view and the patient, you exhibit empathy and gain the patient's trust. It may be easier to concentrate on similarities to provide the best health care and bridge any differences. The same holds true when approaching issues with other nurses from different backgrounds. This is a great step toward achieving equality and diversity in nursing care.
Recommend: Cultural background impacts the recommendation that you make to two other coworkers and to patients. Be sure to include the patient in the decision-making process whenever possible.
Negotiate: Cultural diversity in healthcare may include negotiations with coworkers and patients with different beliefs and backgrounds. Inevitably, you will face skepticism based purely on the fact that you are a black nurse. It takes tact and perseverance to get through to patients with preconceived notions of what their healthcare worker should look like.
Patients may also have special requirements when it comes to their health care due to their cultural beliefs. Sensitivity is of the utmost importance when dealing with these situations. Cultural competency in nursing takes continuous practice.
---
Diversity in Nursing Definition
Cultural diversity in healthcare includes race, gender, age, veteran status, disability, sexual orientation, national origin, socioeconomic status, ethnic heritage, education, religion, and physical characteristics. This diversity in nursing definition Reminds black nurses of their rights and responsibilities in terms of respect for their cultural diversity in nursing practice.
---
Where is the Largest Concentration of Black Nurses?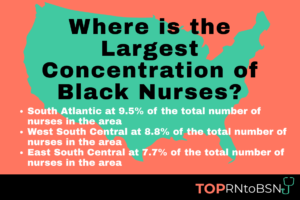 ---
Representation of African Americans in Nursing
Black nurses now make up nearly 8% of the workforce. African American nurses have a high representation than other minorities in the nursing workforce as follows:
| | |
| --- | --- |
| White, Non-Hispanic | 73.3% |
| Hispanic/Latino | 10.2% |
| Black | 7.8% |
| Asian | 5.2% |
| Two or More Races | 1.6% |
| Some other race, non-Hispanic | 1% |
| Native Hawaiian, or other Pacific Islander | .6% |
| Alaskan Native or American Indian | .3% |
---
Explanations for Lack of Diversity
Increasing the number of African American nurses within registered nurse demographics is a multipronged problem. Minority nursing statistics are ticking upwards for the representation of black nurses. However, that's largely due to the larger makeup of the nation's racially diverse population.
African American nurses still face a lack of racial diversity in their profession. In order to promote a more diverse health care workforce, industry leaders and educators need to come together to encourage black nurses to stay in the field and to pursue advanced degrees. Minorities are underrepresented as Nurse Administrators, Nurse Educators, and in advanced practice roles. That keeps registered nurse salaries down for black nurses, since they make up fewer of the higher-paid nursing professionals. Nursing salaries do not yet reflect the racial and ethnic diversity of the field.
Possible explanations for lack of diversity include differences in the number of black nurses who choose higher education compared to other ethnic groups. Lower graduation rates among African Americans impact the number who enter college and ultimately the number who choose the nursing field.
---
Minority Nurses Statistics
Registered nurse demographics reveal how well black nurses are represented in the field. 280,000 black RNs and 163,000 LPNs identify as black. For the Hispanic or Latino categories, there are 136,000 RNs and 52,000 LPNs who self-identify under this category. As a point of comparison, there are 235,000 Asian RNs and 25,000 Asian LPNs. Additionally, 11,000 RNs and 4,100 LPNs identify as Alaska Natives or American Indians.
The Pacific region of the US has the highest number of minority nurses. In fact, 30% of nurses in this region belong to a minority. Asians make up the predominant minority for the Pacific region, at 16% of the total number of nurses.
So the next question is, where is the largest concentration of black nurses? Non-Hispanic African American nurses are more prevalent in the following geographical regions:
South Atlantic at 9.5% of the total number of nurses in the area
West South Central at 8.8% of the total number of nurses in the area
East South Central at 7.7% of the total number of nurses in the area
---
HBCUs and Nursing
Historically black colleges and universities are great options for African American nurses to receive an equitable education. There are many nursing schools in the United States. Research shows that African American students fail to pursue or drop out of nursing education for a number of reasons. These include misconceptions about nursing careers, lack of direction from authority figures, economic barriers, role stereotypes, and more. As a black nursing student, it's very important to ensure that you choose the right nursing school that understands these problems if you want to have a successful nursing career.
---
What Was the First Black Nursing School?
In 1881, Spelman Seminary became the first black nursing school. Located in Atlanta, Georgia, the school was later named Spelman College. The first black nursing school that is still in operation was founded in 1889 at Dillard University. Located in New Orleans, the university continued to operate in temporary sites throughout Hurricane Katrina and other national disasters.
---
Other top HBCUs with Nursing Programs
According to one ranking agency, Bowie State University and North Carolina A&T State University are the top HBCUs with nursing programs. Bowie State University is one of the best HBCU nursing colleges. It prepares students for the demanding job of nursing by giving them practical experience at state-of-the-art labs. The school also offers internships so that students can get real-world experience before graduation. Students who graduate with nursing degrees from Bowie receive an excellent education and emerge ready to take their required exams.
Founded in 1865, Bowie State University is a historically black university accredited by the Accreditation Commission for Education in Nursing (ACEN). Registered nursing programs take three years to complete and the University has one of the top HBCU accelerated nursing programs, Which eligible students can complete in 18 months.
North Carolina A&T State University offers a Bachelor of Nursing Science and is also one of the top HBCUs with nursing programs. Entry options include several stages of nursing such as the following:
BSN
RN to BSN
Accelerated nursing programs
North Carolina A&T has one of the best HBCU accelerated nursing programs in the nation. Students with good grades who don't currently hold a nursing bachelor's degree can apply for the accelerated program. completing a bachelor's degree in another field is required as a prerequisite of this program. With a rolling admission schedule and excellent options for courses and degrees, North Carolina is a great choice for nursing graduates who want to attend nursing school at a historically black college or university.
Founded in 1891, North Carolina A&T State University was established by the North Carolina General Assembly. A&T is a land-grant university designed for the education of black students. It has received accreditation from the Accreditation Commission for Education in Nursing (ACEN).
HBCU nursing colleges represent a fine history of educating African Americans at the college level. HBCU nursing programs are among the most competitive and academically rigorous programs in the United States. For students who wish to attend nursing school on a black college campus, HBCUs with nursing programs might be a great choice.
---
Timeline of HBCU Nursing Schools
In 1908, The National Association of Colored Graduate Nurses (NACGN) was founded. 10 years later in 1918, the Army Nurse Corps accepted 18 black nurses. this occurs after the peace agreement that ended World War One. These nurses were assigned to Camp Grant in Illinois and Camp Sherman in Ohio. After this, black nurses became more common, Although the process took time.
In 1932, Chi Eta Phi Sorority, Inc was formed. This professional association organized students and professional nurses of color. The sorority welcomes both men and women. Chi Was founded to address restrictions and employment faced by black nurses. Due to segregated facilities, positions held by black nurses how little opportunity for career advancement.
In 1941, the first black nurse entered military service during a war. Lt. Della Raney Jackson Served honorably throughout World War II. This was a huge step forward for black nurses fighting for a foothold in the market.
In 1951, NACGN dissolved. It was merged with the American Nurses Association, but members continue to fight for the advancement of black nurses. 20 years later in 1971, Lauranne Sams founded the National Black Nurses Association. Sams is a professor of nursing and a former dean at Tuskegee University. These men and women paved the way for Brig. Gen. Hazel W. Johnson-Brown, who in 1979 became a Brigadier General. She was the first African American woman to serve as the chief of the Army Nurse Corps.
In 1991, on the verge of a new century, Brig. Gen. Clara Adams-Ender was appointed commander general of an army post. She was the first black woman to hold that position. She commanded over 20,000 nurses and was the highest-ranking woman in the army. Adams-Ender served during the Persian Gulf War. Just one year later, Eddie Bernice Johnson became the first nurse to serve in Congress. She served in the US House of Representatives (D-Texas).
---
Scholarships for Black Nursing Students
There are a number of scholarship opportunities available for African American nurses. These include scholarships for African American females to National Black Nurses Association scholarships to full ride scholarships for African Americans offered by various private and commercial entities.
African American nursing scholarships are out there for the asking and many scholarships for black students going unclaimed. We will outline several scholarships in this section. However, simply Googling "black nurses scholarship" or "NBNA scholarships" is a great place to start.
More men are also entering the nursing field and scholarships for African American females Are increasingly joined by full-ride scholarships for African Americans of both sexes.
---
Top Scholarships for Black Nursing Students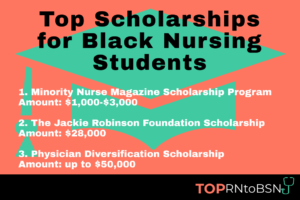 ---
Black Nurses Association Scholarships
Black Nurses Association Scholarships Are undoubtedly the best known. However, there are many other organizations waiting to help out black nursing students that are not affiliated with the National Black Nurses Association.
If you are a black nurse practitioner looking to advance your career. Look for scholarships that help black nurses afford advanced degrees. Start by joining groups that can help you apply for scholarships available only to members. These include NBNA scholarships. Historically Black Colleges or Universities also offer great scholarships for black men and women who want to become nurses. when you are choosing your college or university, ask what scholarship opportunities they have available that apply to your situation.
Black nurse's scholarships such as NBNA scholarships How to become increasingly important with the growing cost of tuition. All students including African Americans find it challenging to afford a college degree. Scholarships for African American females are offered by both HBCUs in mainstream universities. For those with good grades seeking a full-ride scholarship for African Americans, the range of scholarships available is even wider.
After checking out the Black Nurses Association Scholarships, you can also check out other organizations that offer financial assistance to two African American nursing students.
---
Other Organizations that Offer Financial Assistance
African American nursing scholarships allow many minority students to concentrate on their education instead of working long hours between classes and on weekends. Unfortunately, scholarships for black students going unclaimed could be helping out deserving older students who are looking for a second career. Black nurse scholarships, such as NBNA scholarships, help reduce the pressure of attending college for an intensive nursing degree.
Many students end up postponing their schooling while they research BSN nursing scholarships. Finding nursing school scholarships for older students can help them balance their responsibilities while achieving their career goals. Researchers believe that in the next 30 years, the U.S. will be a majority-minority country, necessitating more people of color in all healthcare fields, including nursing. Several organizations and foundations see this gap in representation as an opportunity to sponsor minorities by providing nursing scholarships specifically to them. For example, some offer scholarships for african american high school seniors or scholarships for hispanic nursing students, others are even more specific such as scholarships for african american males. Below you will find our Top 3 Minority Nursing Scholarships available.
---
1. Minority Nurse Magazine Scholarship Program
Minority Nurse offers a scholarship program every year that aims to help African-American students complete goals of achieving a Bachelor or Master of Science in Nursing. The more education an RN has, the more opportunities will be available as a professional in the field of nursing. Over the years, forty students have been awarded the Minority Nurse scholarship program, totaling $35,000.
To be eligible to apply for this scholarship, students must be a racial or ethnic minority, enrolled by the last two years of an accredited BSN program in the United States or an accelerated program leading to a BSN degree. The applicant should have a 3.0 GPA or higher and be a U.S. citizen or permanent resident. A letter of recommendation from a mentor or teacher is also required. This provides the selection committee with a better sense of each applicant who wishes to receive the award. The Minority Nurse Scholarship also asks for a short written statement summarizing the student's academic and personal accomplishments, community service, and goals for their future nursing career. Graduate students who already have a bachelor's degree in nursing are not eligible. Applicants that can not meet all the eligibility criteria will be disqualified for the Minority Nurse scholarship program.
Amount: $1,000-$3,000 a year.
Deadline: February 2019
---
2. The Jackie Robinson Foundation Scholarship
This scholarship is sponsored by the Jackie Robinson Foundation and offers to fund minority students who are working toward a bachelor's degree program. The award is not degree specific to nursing; however, nursing scholarships are one of their most popular chosen by students looking for funding. The Jackie Robinson Scholarship also provides scholarships to minority high school students showing leadership potential and demonstrating financial need to attend an accredited 4-year college or university of their choice. It is available to all ethnic and racial minority groups.
The scholarship is part of a mentoring and leadership program. The requirements for the scholarship are as follows: recipients must be graduating high school seniors, plan to attend an accredited and approved four-year institution within the United States, show leadership potential, and show a desire to help communities in need. An applicant must present evidence of financial need and be a US citizen. Educational requirements include having a minimum SAT score of 1,000, which is a combination of both math and critical reading sections. The student must also have a composite ACT score of 21. If an applicant has already earned a college degree, they will not be eligible for the scholarship.
Amount: $28,000/four years
Deadline: February 2019
---
3. Physician Diversification Scholarship/American University Of Antigua
The American University of Antigua (AUA) provides several different awards and scholarships to minority students. AUA believes that diversity needs to be found in all professions, including the nursing field. This is why they created a scholarship that is geared to underserved or underrepresented citizens in the US. There are some eligibility requirements beyond being an ethnic or racial minority needed to receive the Physician Diversification Scholarship.
To be eligible, the student must be a person of color or have descended from people of color. A student must be a US citizen, have a GPA of 3.25 or higher, and provide a list of certificates and awards received. A copy of the applicant's passport is also required. A written essay of no more than 500 words must also be admitted to be eligible. Students who receive the scholarship must keep satisfactory grades in each term they are enrolled in continuing to receive the benefits of the scholarship. The Physician Diversity Scholarship is solely based on academic excellence. AUA only offers a limited amount of scholarships, so it is advised to apply early to be considered.
Amount: $5,000 per semester, or up to $50,000 for the entire four-year degree.
Deadline: Due before the first semester of classes.
---
Professional Organizations for Black Nurses
There are several professional organizations for black nurses in the US. The National Black Nurses Association (NBNA) and Black Nurses Rock are the most popular professional organizations for black nurses. There are many advantages of joining the National Black Nurses Association or Black Nurses Rock. Here, African American nurses can get networking, professional development, mentoring, and job opportunities. There's also the Minority Nurses Association which includes all ethnic minorities (Blacks, Asian Americans, Hispanics, Native Americans, etc.) who are underrepresented in the nursing profession. African American nurses will also enjoy various benefits from joining the Minority Nurses Association.
African American nurses in the US can join several organizations for black nurses, including the following:
The National Black Nurses Association (NBNA)
Black Nurses Rock
Minority Nurses Association
The National Black Nurses Association and Black Nurses Rock make up the most popular organizations for black nurses. These organizations sponsor events and encourage black nurse practitioners and other professionals to come together and celebrate the progress made by black men and women in nursing.
What are the advantages of joining one of these professional organizations? Black nurses rock in the national black nurses Association offer opportunities for mentoring, networking, and professional development.
Another group, the Minority Nurses Association extends membership to all minorities including Hispanics, Native Americans Blacks, and Asian American nurses. These organizations help under-represented groups band together for solidarity.
Black nurses should also consider organizations like the American Nurses Credentialing Center, where they can advocate for improvements in representation across the field.
---
NBNA Conference
The NBNA hosts the NBNA Institute and Conference every year. The event draws more than 1,200 nursing students and nurses. It provides clinical instruction on a number of conditions including cancer, children's health, end-of-life care, kidney disease, women's health, and research. NBNA conference It's just one of the events geared toward African American nurses.
---
National Black Nurses Day
For over three decades, the NBNA has hosted National Black Nurses Day. This event takes place on Capitol Hill and draws over 300 black nurse practitioners, nurses, and nursing students, who attempt to inform the U.S. Congress regarding the shortage of nurses and disparities in the health care industry.
African American nurses and black nurse practitioners can make their voices heard by attending these events or joining these professional affiliations. There are numerous other organizations that can expand opportunities and open doors for nurses of color. African-American nurses looking for perspectives on nursing while black may enjoy the Q the Nurse Podcast, one of our best nursing podcasts.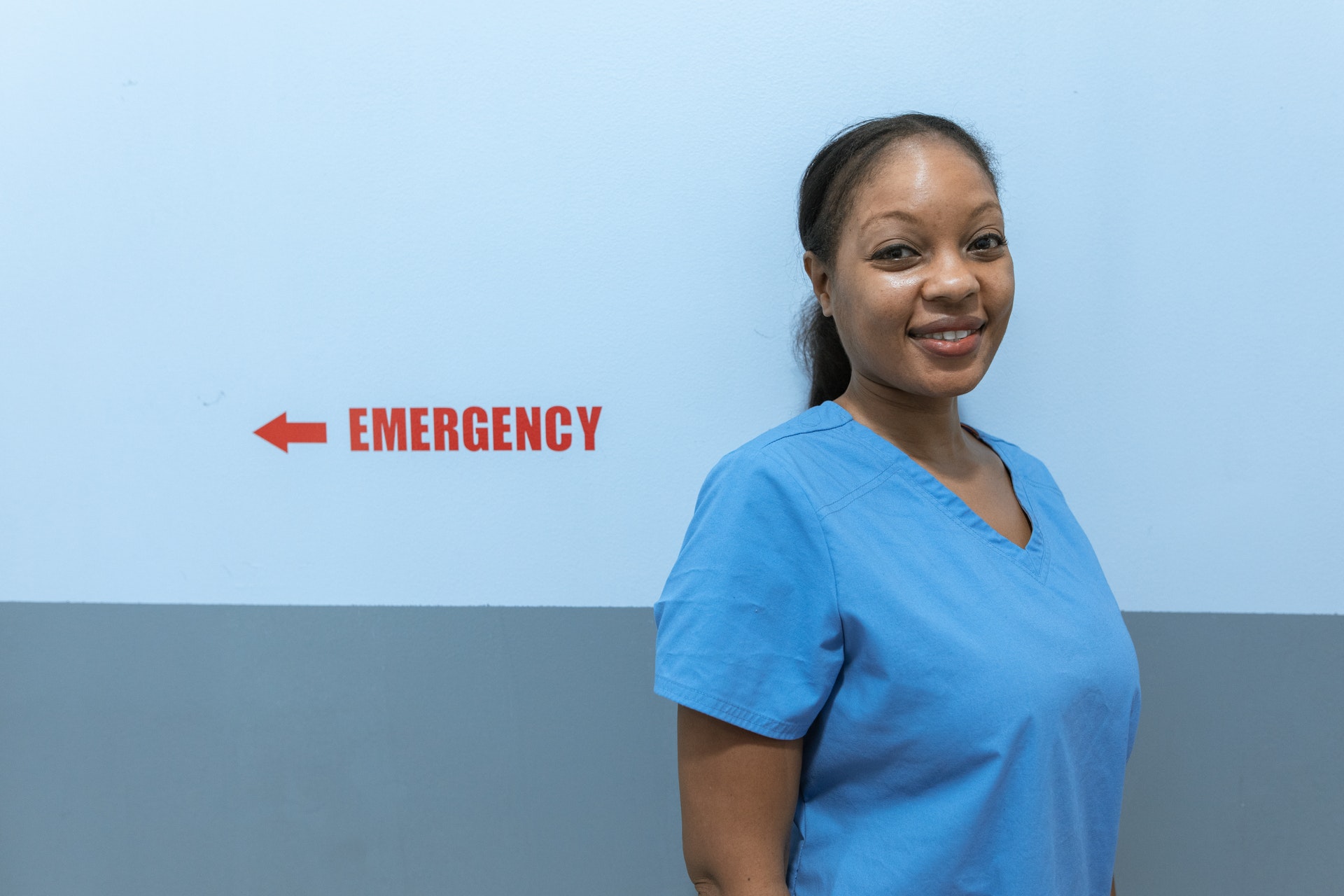 ---
Related: