Nursing Podcasts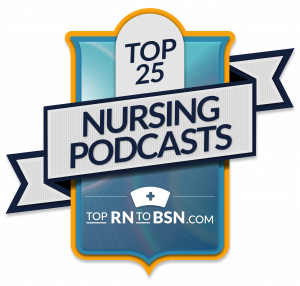 Nursing Podcasts are an excellent way for working professional nurses to stay current on topics that interest them. This is especially true when your schedule doesn't leave a lot of time for reading nursing journals. You can listen on the way to work or while exercising, listen while making dinner, or settle down for bed – anytime. There's no one way to define what makes the best nursing podcasts. There is as much variety in a podcast as any other medium, and styles to suit every taste. But, in the interest of thoroughness, Top RN to BSN has selected 25 nursing podcasts based on their relevance to nursing life, production value, and 'listenability." Basically, if it's interesting and engaging, it's what we're looking for.
The list below is made up of podcasts produced specifically by and for nurses. Our list is focused on current podcasts (ie, still producing episodes as of 2021). In the following list, you'll find the freshest nursing podcasts of 2021. The Podcasts are presented in alphabetical order by title.
---
1. Cup of Nurses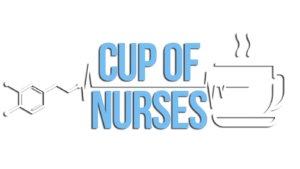 In the Cup of Nurses podcast, hosts Matt and Peter sit down for interviews with all kinds of nurses. Guests include ICU nurses, mental health experts, travel nurses, and more. They discuss various nursing points of view. Topics are varied, but they always cover some of the most important news in the nursing field. This podcast is one of the best podcasts for nurses, and since it's accessible through multiple platforms, it's one of the easiest ways to stay on top of the latest nursing news.
Cup of Nurses is an invaluable resource for anyone in the nursing field today. The podcast is just one of many resources that this organization has to offer. Its website is full of the latest news in nursing, and the blog posts regular content that nurses need to know about. Cup of Nurses examines the topics that matter most to nurses, including how to avoid burnout with the right mental healthcare, the highest paying jobs in nursing, and how the most recent headlines impact nurses.
Status: Current
---
2. Empowered Nurse Podcast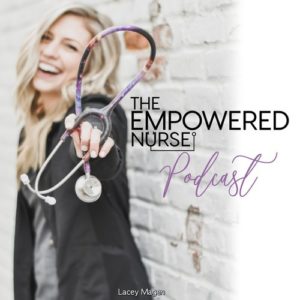 Nurses deal with a lot of transitions these days, and Lacey Magen of the Empowered Nurse Podcast has lots of helpful advice. Lacey focuses on how nurses can navigate career changes, handle the ups and downs of nursing, and how to take advantage of specific nursing resources. People have described the Empowered Nurse Podcast as "like sitting down with a friend," which is just one reason why this podcast is one of the best nursing podcasts. Lacey reminds nurses that their own health and wellness matter just as much as their patients' health and wellness.
The Empowered Nurse is more than a podcast, although the podcast is one of this organization's biggest resources. Lacey also offers one-on-one mentorships for nurses, helping them grow into their careers and learn how to empower themselves. Lacey has spent years helping nurses build their confidence, enhance their clinical skills, and find a work-life balance that contributes to happiness and joy. Many nurses have benefitted from Lacey's help and expertise.
Status: Current
---
3. FreshRN
FreshRN, a podcast current to 2020, is one of the best nursing podcasts for those who are just getting started with their careers. The program focuses specifically on that all-important first year of nursing. It helps new nurses understand what they can expect during their first year on the job, and it provides tips and tricks so that they can work with those changes effectively. New nursing graduates have raved about this podcast, saying that it helped them work through some of the toughest parts of the nursing job.
In addition, FreshRN was founded by Kati Kleber, a nurse with a lot of credentials to her name. Kleber has put her expertise to good use with FreshRN, which helps new nurses develop their confidence on the job. FreshRN includes a podcast, a blog, courses, books, and similar resources to help nurses move forward in their careers. For those who are overwhelmed with nursing and those who are wondering if nursing is right for them, FreshRN makes great, multifaceted resources.
Status: Current to 2020
---
4. Good Nurse Bad Nurse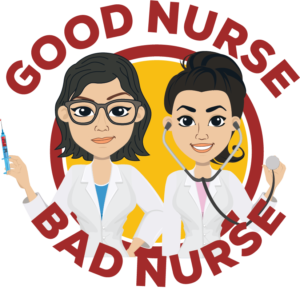 Good Nurse Bad Nurse has a little bit of everything, which is why it's one of the best podcasts for nurses. It's equal parts funny and serious, intellectual and lighthearted, entertaining, and thought-provoking. It contains elements of true crime and storytelling. Essentially, Good Nurse Bad Nurse has everything that podcast fans love most. The podcast gets its name from the fact that each episode covers one "good" nurse story, and one "bad" nurse story, so it has plenty of examples of both what to do and what not to do as a nurse.
The Good Nurse Bad Nurse podcast is independently owned and operated and self-described as, "One part light-hearted and fun, one part deep and thought-provoking." The podcast is hosted by a registered nurse who uses true crime and current events to help educate and encourage nurses worldwide.
Status: Current
---
5. Gritty Nurse Podcast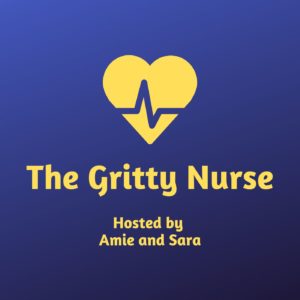 The Gritty Nurse Podcast has become one of the best nursing podcasts because it doesn't shy away from the issues. Instead, it faces the issues head-on. It covers some topics that other sources don't often cover. Those topics include racism in the field, inadequate mental healthcare, bullying among nurses, and misogyny in medicine. Knowing that justice can't exist without knowledge, the hosts of the Gritty Nurse Podcast bring light to things that others might sweep under the rug. By talking about these subjects, the hosts of the Gritty Nurse Project help pave the way for better nursing.
The Gritty Nurse is a platform for speaking out, sharing experiences, seeking justice, and championing women's rights. Hosts Amie and Sara use their voices for advocacy, whether speaking during the podcast itself or providing other resources for nurses and other healthcare workers. Amie and Sara don't just talk about the issues; They also advocate for change and provide real, usable suggestions for how to bring about that change. Their website also provides a list of mental health resources for nurses.
Status: Current
---
6. My Nursing Mastery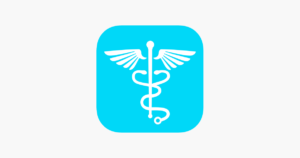 My Nursing Mastery, which is current to 2020, is a great resource. It's one of the best nursing podcasts, especially for those who are still in nursing school. Each episode focuses on a specific and practical aspect of nursing. Some of those aspects are hands-on things like IV insertion and wound care. Others are more general topics such as spirituality in nursing, nursing ethics, and male nurse perspectives. This combination of topics makes My Nursing Mastery a great learning resource. Many nurses count this podcast as one of their top career resources, and many nursing students have benefitted from the knowledge in this podcast.
My Nursing Mastery comes from Higher Learning Technologies, an organization that's transforming education. Higher Learning Technologies focuses on mobile learning, helping students find the tools and techniques that they need to learn from any location. Those tools include podcasts, exam practice questions, interactive content, and more. HLT covers many subjects and topics, including undergraduate courses, military studies, and of course, nursing.
Status: Current to 2020
---
7. NRSNG Podcasts

Nursing.com offers several podcasts, including NRSING, Nursing School Struggles, and the NCLEX Podcast. Listeners can hear all of these podcasts from the Nursing.com website or a different podcasting platform. In any case, these podcasts are some of the best podcasts for nurses. Each one appeals to nurses at different stages in their careers. Some focus on study tips and mnemonic devices for the NCLEX exam. Others cover broad topics like dealing with nerves and communication issues. This set of podcasts has something for virtually every nurse who enjoys podcasts.
Nursing.com is a highly valuable resource for nurses and nursing students. It's a learning platform designed for "visual, anxious, ADHD, and dyslexic nursing students." In addition to having several podcasts, Nursing.com has visual learning supplements, including videos, practice questions, and much more. The platform caters to both nurses and soon-to-be nurses. It even has resources to help students who want to get into nursing school. For students with specific learning needs, Nursing.com helps take some of the pressure out of studying in nursing school.
Status: Current
---
8. Nurse Becoming Podcast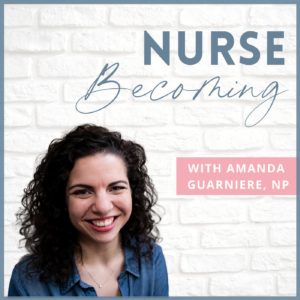 The Nurse Becoming Podcast is one of the best podcasts for nurses who want to hear personal stories from other nurses. In candid interviews, nurses on this podcast talk about their lives, careers, and how they balance the two. In addition to personal stories, the Nurse Becoming Podcast also offers advice including how to handle stress and what to do if a nurse doesn't like their placement. This podcast is a refreshing look at how real nurses deal with the pressures and triumphs of the nursing profession.
The Nurse Becoming Podcast is one of many resources from Resume Rx. These resources help new nurses and career-shifting nurses find their dream jobs. Resume Rx offers a resume template shop, where nurses can personalize their resumes to stand out among the crowd. The website also offers training materials, a blog, and interview help. Essentially, Resume Rx highlights the practical sides of getting started in a nursing career, and it provides the kind of background insight that isn't always covered in nursing school.
Status: Current
---
9. Nurse Talk Media

Nurse Talk Media features one-on-one interviews with seasoned nurses. Because these guests come from diverse and varied backgrounds, they all have important information and insight to bring to the table. That's part of what makes Nurse Talk Media one of the best nursing podcasts. Guests discuss things like the Medicare for All movement, the high cost of medical bills, and nursing resources. Nurse Talk Media is a series of several podcasts and mini-podcasts, which means that nurses can dive into the subjects that interest them the most.
Nurse Talk Media is a radio show featuring two nurses with over 30 years of experience in the field. Its primary resource is its podcasts, which combine humor and important insight for today's nurses. New and emerging nurses can learn from these experts in several ways. The podcast is offered via SoundCloud. Nurse Talk Media also shares insights on social media.
Status: Current
---
10. Nurses for Healthy Environments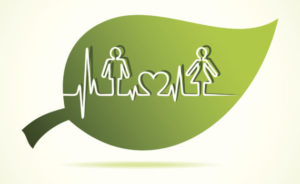 The Nurses for Healthy Environments podcast is hosted by Beth Schenk and focuses specifically on environmental health. It's one of the best podcasts for nurses who either want to go into environmental health or just want to learn more about how people's environments impact health and wellness. The podcast highlights the work of nurses in environmental health, and it explores ways in which nurses can help create a healthier environment for everybody.
The Nurses for Healthy Environments podcast comes from the Alliance of Nurses for Healthy Environments. The ANHE empowers nurses to work toward healthier spaces. It provides educational resources, policy advocacy, research, and nurse support. Focus areas include food sustainability, climate change, healthy energy production, and much more. The Nurses for Health Environments podcast is just one of many ways in which the ANHE is working toward a healthier, more sustainable world.
Status: Current
---
11. Nurses on FIRE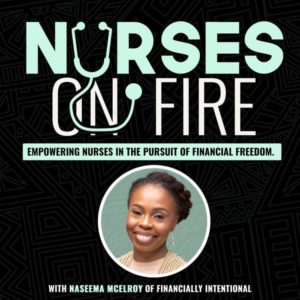 Some podcasts cover nursing. Some podcasts cover financial issues. The Nurses on FIRE podcast focuses on both. This podcast, hosted by Naseema, is one of the best podcasts for nurses who want to get out of debt and gain financial independence. In this podcast, experienced nurses talk about their own struggles with money, their experiences in the field, and what they're doing to gain their own financial freedom. Nurses on FIRE cover other topics too, including self-care for nurses, developing gratitude, and the changes that impact nursing as a whole.
Financially Intentional is an organization designed to help nurses make the most of their money. This organization, which includes a Facebook community and educational resources, helps nurses break the paycheck-to-paycheck cycle, make smart investments, and get rid of financial stress. Naseema, who hosts the podcast and founded the organization, draws from her own experiences of getting out of debt and building her own wealth.
Status: Current
---
12. NurseSpeak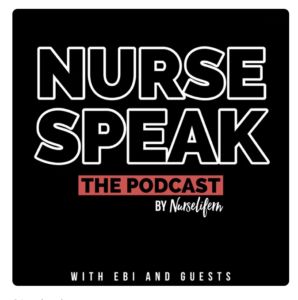 In the NurseSpeak podcast, host Ebi discusses stories submitted by nurses from all around the world. These stories feature diverse perspectives, and Ebi also includes content from his own experiences as a nurse. Described as both funny and relatable, NurseSpeak also covers some more serious topics about the nursing workplace. The balance makes this podcast one of the best nursing podcasts for today's listeners.
NurseSpeak comes from Nurselifern, a popular nursing Instagram account. This platform features nurse stories, bringing light to the human side of nursing. It's a great platform for nurses to share their experiences and gain support from their fellow nurses. At NurseSpeak.com, nurses can submit their own stories for consideration, join conversations with the community, learn more about travel nursing, and buy merchandise.
Status: Current
---
13. Nursing Co-Op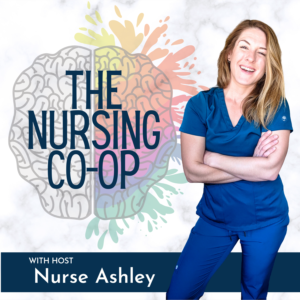 Nursing Co-Op may be fairly new (It began over the summer of 2020), but it still has managed to become one of the best podcasts for nurses. The content includes relatable interviews with nurses. Nursing Co-Op is also full of career advice, nursing knowledge, and tips on how to build confidence as a nurse. Nursing Co-Op is exactly what the name implies: a community of nurses coming together to help other nurses succeed.
Nurse Ashley Cardin is an experienced nurse who uses her platform to help other nurses increase their confidence. In addition to her Nursing Co-Op podcast, Ashley also runs a highly successful Instagram account. On all of her platforms, Ashley blends inspiration with practical advice, humor, and support. She addresses some of the most common problems that nurses face in the field today.
Status: Current
---
14. Nursing Economic$ Podcast Series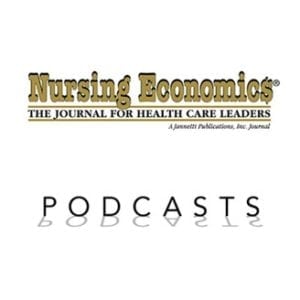 The Nursing Economic$ Podcasts series has been ranked as one of the best nursing podcasts available. This podcast covers articles from Nursing Economic$, a journal that covers nursing practices, recent changes in nursing, and economic leadership topics. This podcast is a great choice for those who want more in-depth article content and for those who prefer audio platforms to written ones. It's also great for nurses who are interested in how their profession intersects with fiscal and ethical topics.
Nursing Economic$ is a publication for nurses and others in the healthcare field. For over 39 years, this publication has covered some of the most important topics in nursing. It examines current practices in healthcare, provides up-to-date content, and asks important questions about how today's healthcare changes will impact tomorrow's practices. Nursing Economic$ is one of the most cutting-edge publications when it comes to nursing, innovation, and leadership.
Status: Current
---
15. Nursing School Simplified
Nursing School Simplified is one of the best podcasts for nurses and future nurses. It focuses specifically on the ins and outs of nursing school, and it explores the health topics that future nurses learn about in nursing school. This way, audio learners have a way to dive more deeply into the topics that they need to know. While geared toward students, established nurses may also find this podcast helpful for important information refreshers. Discussions include specific medical conditions, nursing school mindsets, using social media as a nurse, and other subjects that impact nurses and nursing students.
Cynthia Primavera started the Nursing School Simplified podcast as a way to help future nurses do their best in nursing school. It's no secret that nursing school is challenging and comes with a lot of pressure. Cynthia, who has a lot of nursing experience herself, is using her own knowledge to help students make the most of their time in nursing school.
Status: Current
---
16. Nursing School Week By Week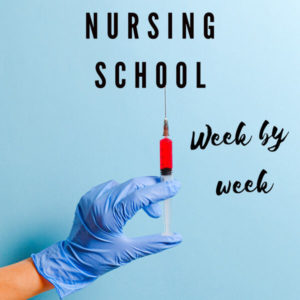 The Nursing School Week by Week podcast is current up to 2020. This podcast is hosted by Melanie, who was also a nursing student at the time of the podcast's recording. In the podcast, Melanie covered specific topics about nursing and nursing school, going into detail about what future nurses can expect from their nursing school experience. This podcast may be fairly short, but it's one of the best nursing podcasts for future nurses hoping to gain some more knowledge and confidence in their careers.
Nursing School Week by Week is simply a podcast created by someone who understands how nursing school works. Melanie, the host of Nursing School Week by Week, has a first-hand understanding of all the pressures and difficulties that come with nursing school. Melanie also understands that nursing students sometimes want to review their topics in audio format. She's provided this podcast as a way to help future nurses overcome some of the pressures of nursing school and get a full, positive school experience.
Status: Current to 2020
---
17. Nursing Uncensored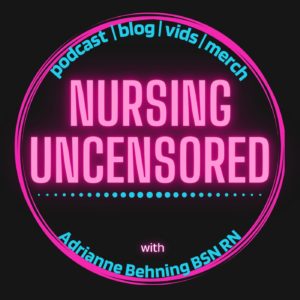 In the Nursing Uncensored podcast, Adrianne holds conversations with nurses with all types of specialties. Because these nurses are so varied in their specialties, they cover several topics and reveal lots of interesting insights. Nurses get to speak freely in this podcast, which is why it's one of the best podcasts for nurses who want to hear from others in the field. From cannabis in nursing to mental health to safe LGBTQIA spaces, the subjects discussed in this podcast leave listeners with a lot to think about.
Nursing Uncensored is a podcast, blog, and video platform that gathers nurses for important conversations. These sources focus on the human stories in nursing, covering what life is like for nurses on a day-to-day basis. Adrianne created Nursing Uncensored as a way to spark those conversations, empower nurses, and point nurses to the tools and resources that can help them the most.
Status: Current
---
18. Once a Nurse, Always a Nurse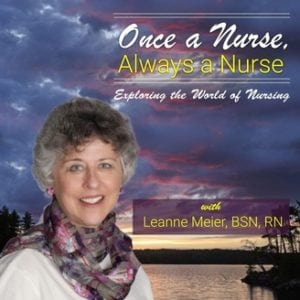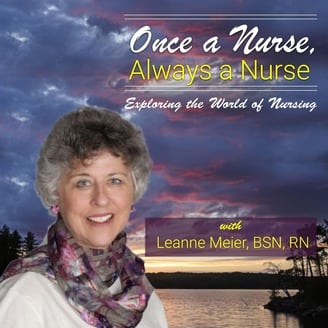 A lot of issues impact nursing today, which means that there are a lot of important conversations to be had among nurses. Once a Nurse, Always a Nurse is a podcast that was created to foster those conversations. Guests of this show talk about the things that have impacted them the most as nurses, and listeners can hear how these topics all connect to one another. Guests have discussed everything from communication to government policy. This kind of content makes Once a Nurse, Always a Nurse one of the best nursing podcasts for today's listeners.
Once a Nurse, Always a Nurse comes from the VoiceAmerica Health and Wellness Channel. VoiceAmerica hosts several live broadcasts and covers several topics. The Health and Wellness channel in particular covers topics for doctors, nurses, and other people in the healthcare field. The content on this channel is designed both to inspire and to educate, giving listeners the best of both.
Status: Current
---
19. Q The Nurse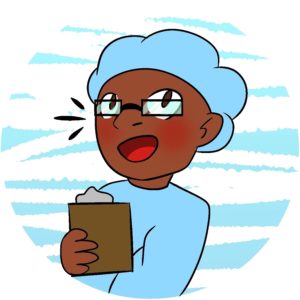 Q the Nurse is both the name of a podcast and the alias of its host, a male nurse who spotlights progressive news topics. The host interviews people he calls "everyday heroes," including nurses. He also discusses the latest news in nursing, nursing culture, and even health topics. Since it has a little bit of everything, Q the Nurse is one of the best podcasts for nurses, especially those who prefer a video format for their podcasts.
With thousands of subscribers, Q the Nurse is a successful Youtube channel. It has sparked plenty of excellent, funny, relatable, and also enlightening conversations with fellow nurses. Q the Nurse is a great resource for nurses who are looking to build their community and learn from other nurses' experiences.
Status: Current
---
20. Real Talk School of Nursing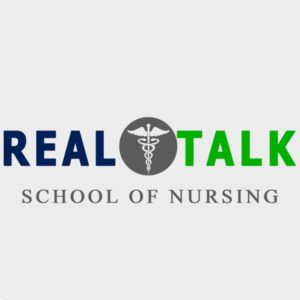 The Real Talk School of Nursing podcast is one of the best nursing podcasts for those who like listening to interviews. This podcast is all about "the stuff they don't teach you." As a resource for both nurses and nursing students, this podcast covers important nursing topics and the aspects of nursing school that are the most challenging for students. It focuses on the culture of nursing school rather than the subject matter that students are expected to learn.
The Real Talk School of Nursing podcast comes from Michael Smith, MSN RN, the host since 2018 who has been through all the ups and downs of nursing school himself. According to Real Talk, what makes nursing school so hard isn't the content itself but everything that surrounds that content. The platform is great for discussing those surrounding issues with honesty.
Status: Current
---
21. SAGE Nursing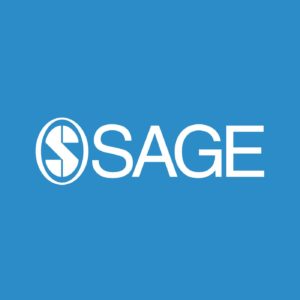 SAGE Nursing is one of the best nursing podcasts for those who want to dive into some of the more technical aspects of nursing. The podcast covers articles from the SAGE for Nursing and Other Health Specialties journal. In this podcast, a host interviews the author of a recent SAGE journal article. SAGE readers can enjoy getting a deeper look at article content, and those who don't subscribe to SAGE can get an idea of the content that they might have otherwise missed.
SAGE Publications is a portal for several journals, all of which focus on either nursing or other healthcare topics. Publications cover oncology, pediatric medicine, gerontology, and a lot more. For nurses and other healthcare professionals, SAGE is one of the best sources for learning about the medical field and the issues that surround it.
Status: Current
---
22. Simple Nursing Podcast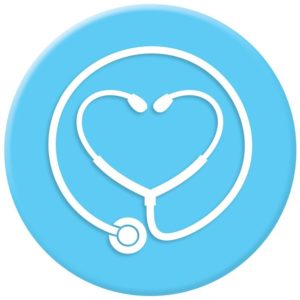 The Simple Nursing Podcast bills itself as "the simplest way to pass nursing school." It's one of the best nursing podcasts for auditory learners who want to pass the NCLEX exam. The podcast's content is based on NCLEX content, and it's currently up to 2020. Topics include different areas of the NCLEX exam, covering each section one at a time. Those sections include the respiratory system, the reproductive system, psychiatric medication, and other content that exam-takers will need to know.
The Simple Nursing platform is full of resources for nursing students who want to succeed. Those resources include exam reviews, videos, a blog, study music, and of course, the Simple Nursing Podcast. With so many resources available, Simple Nursing has something for every learning style. Those who use Simple Nursing have reported high scores on the NCLEX exam.
Status: Current to 2020
---
23. Straight A Nursing

The tagline for Straight A Nursing is "Learn More. Stress Less." Since it lives up to that tagline, Straight A Nursing is one of the best podcasts for nurses and future nurses. In this podcast, listeners hear in-depth content that they'll learn about in nursing school. Students can use this podcast to get a head start, or they can use it as a review to cover information they've already seen in their studies. Either way, Straight A Nursing is a great podcast for expanding nursing knowledge.
Straight A Nursing has all kinds of resources for nursing students. Those resources include the podcast as well as study guides, books, a planner, an app, and more. Nursing students can use all of these resources, or they can stick just one or two. In any case, Straight A Nursing helps nursing students supplement their knowledge and gain the confidence they'll need to succeed in the field.
Status: Current
---
24. The Nurse Keith Show
On The Nurse Keith Show, Nurse Keith interviews fellow nurses, getting their perspectives on all kinds of nursing subjects. Topics include systemic racism, the COVID-19 vaccination, infusion technology, and other important topics in the nursing field. Because The Nurse Keith Show is one of the best podcasts for nurses, nursing students and established nurses alike can learn a lot from the content and gain a deeper perspective on what it's like to work as a nurse today.
Nurse Keith has worked as a nurse since 1996. Having worked across various sectors of nursing, Nurse Keith has honed all kinds of nursing knowledge, and he has a lot to offer for nurses who are just getting started in the field. The show offers to coach nurses. In addition to coaching, he does speaking engagements and offers several other resources, including resume health and a healthcare search engine.
Status: Current
---
25. Your Next Shift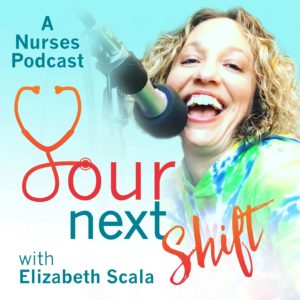 Your Next Shift is a nursing career podcast from host Elizabeth Scala. This podcast includes inspiring nurse stories that can help young nurses find insight into their own careers. The podcast also contains highly practical nursing career advice. It doesn't just provide vague goalposts. Instead, it gives listeners concrete steps that they can use to reach their goals. As a result, it's one of the best nursing podcasts. By using advice from this podcast, nurses can find what it takes to bring their careers to the next level.
Nursing from Within, the platform that produces Your Next Shift, is all about helping nurses rediscover their passion for nursing so that they can find joy in their careers. Elizabeth Scala is a holistic nurse who offers several resources for her fellow nurses, including a book on nurse burnout. In fact, Elizabeth has written several books on nursing, all of which are available through her website. Other resources also include a video series and a blog.
Status: Current to 2020
---
Related: