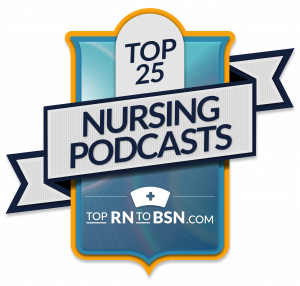 Nursing Podcasts
The best Nursing Podcasts are an excellent way for professional nurses to stay current on topics that interest them and their nursing careers and other topics. This is especially true when your schedule doesn't leave a lot of time for reading nursing journals. You can listen on the way to work or while exercising, listen while making dinner, or settle down for bed. There's no one way to define what makes the best nursing podcasts. There is as much variety in a podcast as any other medium, and styles to suit every taste.
But, in the interest of thoroughness, Top RN to BSN has selected 25 nursing podcasts based on their relevance to nursing life, production value, and listenability. Basically, if it's interesting and engaging, it's what we're looking for. The list below is made up of podcasts produced specifically by and for nurses. Our list is focused on current podcasts (ie, still producing episodes). In the following list, you'll find the freshest nursing podcasts for professional development, nursing career management, and entertainment!
---
---
---
---
---
---
---
---
---
---
---
---
---
---
---
---
---
---
---
---
---
---
---
---
---
---
---
More of the Best Podcasts for Nursing
---
---
---
Why Listen to Nursing Podcasts?
Listening to nursing podcasts is a great way to stay up-to-date on the latest developments in the nursing profession. A podcast offers discussions on medical topics, covers news, has interesting stories, and offers helpful refreshers for continuing education. A registered nurse can find a fresh perspective on relevant topics. Whether you are a critical care nurse or public health nurse, working nurses use podcasts to learn and grow.
Nurse graduates and nursing students alike can learn about the latest nursing education and research, keep up with nursing culture trends, and gain new insights from nursing experts. You can also hear inspiring stories from experienced nurses and get advice from experienced professionals. Listening to podcasts can help you grow as a nurse and stay on top of the ever-changing landscape of the nursing profession.
---
Where Can You Listen to Podcasts?
You can listen to podcasts on a variety of streaming services, such as Spotify, Apple Podcasts, Stitcher, Google Podcasts, TuneIn, and iHeartRadio. You can also listen to podcasts on many popular podcast apps, such as Pocket Casts, Overcast, and Castro.
---
Related: