Best Online Accelerated BSN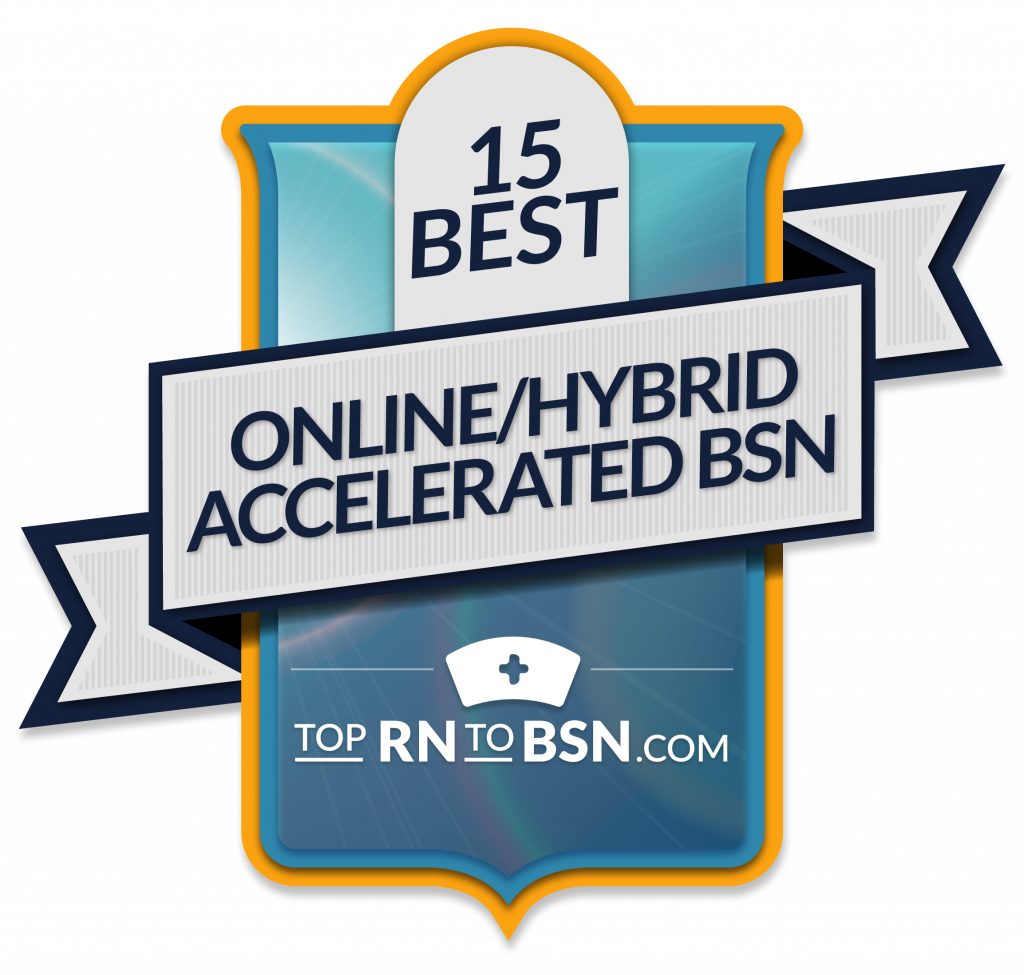 Accelerated BSN programs are online or on-campus and offer a fast path to complete a BSN for non-nurses with another bachelor's degree. The need for well-educated, highly qualified nurses – driven by a boom in the healthcare system and a critical shortage of nurses – has led to the creation of some innovative approaches to education.
One of the most useful of these ideas is the Online Accelerated BSN, also known as a hybrid Second-Degree Nursing program. Designed for working adults who already have their bachelor's degree in another field, the Online Accelerated BSN takes advantage of the already-earned credits from a bachelor's degree to help fast-track students straight into upper-level nursing classes and get them out into hospitals, clinics, and the other places they are needed in as little as a year or less.
---
How We Ranked the Best Online Accelerated BSN Programs
Like our Best BSN residential ranking, TopRNtoBSN considers only nursing schools that are accredited by the Commission on Collegiate Nursing Association (CCNE). This choice ensures that all our entries display a common level of quality, integrity, rigor, and value that translates into a marketable BSN degree. We formulate our ranking based on:
Online/Hybrid Option
Cost Per Credit
CCNE Accreditation
Although all 15 of these schools are hybrid and/or online — meaning some on-campus visits or classes are required –most ask that students limit things like work responsibilities to respect the demands of the program and get the most out of your degree experience. Some require no outside jobs at all.
Be aware that the price per credit hour is a very important factor, but shouldn't be everything in deciding where you want to make this monumental life change. Rest assured, our Best Online Accelerated BSN list will provide the most highly-regarded, dynamic, flexible, and intensive programs out there. Our editors have selected online accelerated BSN programs based on their accreditation and value. All of the programs on this list are accredited by the Commission on Collegiate Nursing Education (CCNE).
---
1. University of Texas at Arlington
The University of Texas at Arlington has provided exemplary academic delivery, and gleaned well-deserved accolades for their cutting-edge medical research, their investment in contemporary teaching practices, and their commitment to community service. UTA has a CCNE accredited college of Nursing and Health Innovation with a highly reputable online arm, whose curriculum garners one of the state's highest license and graduation rates. Over 90 percent of students who emerge from this program pass the National Council Licensure Examination.
The online Accelerated BSN at UT at Arlington program requires 51 credit hours and can be completed in as little as 15 months. Individual courses can be completed in 5-14 weeks. Second-degree students applying for the online accelerated BSN program must have already completed 70 credit hours of prerequisite courses prior to applying. Instruction delivery for this program is based on a blended or hybrid model where students' coursework is primarily online. Most of the clinical practice, however, is done in partner facilities in the surrounding region under the supervision of UT at Arlington faculty. The semester is not on a traditional schedule, enabling students to work at an accelerated pace in a timeframe tailored to their needs.
Accreditation: CCNE
---
2. Olivet Nazarene University
The Olivet Nazarene University is a liberal arts school located one hour south of Chicago, in a small town called Bourbonnais, IL. The university was founded in 1907 and institutionally have been committed to excellence ever since, with their particularly notable fields of education, business, theology, and nursing.
Olivet Nazarene's Online Accelerated Bachelors in Nursing program was designed for second-degree students who are looking to transition into the field of nursing after gaining a BA in another field and/or entering the program with 60 previously acquired credits hours. This is a full-time hybrid-style course of study that synthesizes a hands-on curriculum with online instruction that engages heavily the practical and the theoretical. Labs and clinical work take place in various locations in the Chicago area, and exams are always held in Oak Brook, IL. The entire program could take students 16 months, with a requirement of 69 credit hours. There are several scholarship opportunities awarded through the university based on various criteria including GPA and high scores on various tests.
Accreditation: CCNE
---
3. University of Wyoming – "BRAND"
The BRAND program is an acronym for "Bachelors Reach for Accelerated Nursing Degree," and a component of the Fay W. Whitney School of Nursing, in collaboration with the University of Wyoming Outreach School. This hybrid BSN program was designed to be both a distance school and an Online Accelerated nursing program, with the intention of allowing Wyoming's rural and isolated communities to "grow their own" nurses. A teaching methodology like this enables students to develop understandings of the communities they will be serving, rather than training students in Laramie, and sending them to work in communities with very different needs.
BRAND's program runs "summer-to-summer", 15 months total, including regular online classes, and a hybrid of distance and in-person instruction and clinical work. The first summer of coursework mostly takes place on campus in Laramie. Housing can be arranged through campus dorm services, however, many students choose to commute. On-campus classes are generally 4-5 days per week, every other week for the first summer. Following the summer in-person coursework, the majority of instruction is delivered online with technology that allows for face-to-face interaction with faculty. It is critical that those who apply for this program are disciplined and independent, as BRAND is both academically rigorous and equally rewarding.
Accreditation: CCNE
---
4. Capital University
Capital University is a private four-year college located in Ohio's capital city Columbus. They offer high-quality undergraduate and graduate degree programs. The school was founded by the Lutheran Church in 1830 and became an accredited university in 1850, with goals of creating leaders with a humanistic approach and engaging citizens through educational excellence in the arts and humanities.
Capital University offers an Online Accelerated Bachelors in Nursing Program, for second-degree students who are choosing nursing after achieving a BA in another field and deciding to carve out a new path. This renowned CCNE accredited program is known both for its distinction and intensity and can be completed in a minimum of 20 months of instruction. There are two tracks for the program, one is a traditional daytime schedule consisting of 20 months of instruction, and the other is a hybrid track, which is 6 semesters- or 24 months of instruction. Both tracks are immediately immersive, utilizing the strong partnerships Capital has in the community at various healthcare facilities. This program is known for developing leaders in the field of nursing, and to keep it competitive, they have built-in three master's levels courses, allowing students to earn graduate credits while obtaining their BSN.
Accreditation: CCNE
---
5. DeSales University – ACCESS program
DeSales University is a private Catholic four-year University with a Salesian mission, designed to administer a broad-based liberal arts education, with career-centered learning. Though Catholicism is central to the school's mission, the university equally values ideology around intellectual freedom.
DeSales University has been known for its excellence in nursing education both in graduate and undergraduate degree programs. The ACCESS program has been built on the success of the original nursing programs DeSales has offered, however, it allows for students to maintain their daytime jobs and responsibilities and still be able to earn a BSN with high-quality instruction and experience. All courses and mandatory learning takes place on the weekends and evenings. Students are given access to practical hands-on experience at local hospitals, nursing homes, and outpatient centers as a primary component of the program. There are many personal advisement and mentorship opportunities and access to financial aid and loan deferment. DeSales accepts from second-degree students up to 75 transfer credits, or 25 transfer courses.
Accreditation: CCNE
---
6. Thomas Edison State University
Thomas Edison State University is home to the W. Cary Edwards School of Nursing in New Jersey. Thomas Edison University is an institution that uplifts a diverse body of students. Its education practices designed for students who require flexibility and self-direction since 1972. TESU offers an online Accelerated Bachelors in Nursing program. The curriculum caters to adult learners who have a variety of life experiences. Furthermore, it incorporates a mix of mentorship from faculty, collaboration with peers, and the ability to learn by way of technological pedagogical intervention.
The Online Accelerated BSN program at Thomas Edison is intensive and subsequently known for its rigor. Therefore, it doesn't allow students to take on additional work outside the CCNE accredited program. Clinical experiences are hosted at Capital Health Campuses throughout New Jersey. Classroom-based courses are two days a week at Thomas Edison University in Trenton, NJ and online courses are offered asynchronously. Additionally, the program includes 60 credits of professional nursing courses included in the online and on-campus hybrid learning model. There are many opportunities for employment directly following graduation.
Accreditation: CCNE
---
7. Methodist College – Unity Point Health
Methodist College is a four-year school connected to Unity Point Health in Peoria, IL. This distinguished institution is known for its excellence in nursing education, health sciences, and human services. All programs include all of which are administered with significant clinical practice. Methodist College develops and updates its programming to meet the demands of the local nursing field. So, they make sure graduates are prepared for post-graduation employment in the area and beyond.
Methodist College's online Accelerated BSN program features an evening and weekend schedule for second-degree students who have earned a previous degree in a separate field, and are seeking a competitive education to transition into the world of nursing. Students are supported in taking the NCLEX-RN to achieve their nursing license upon completing the program. Five consecutive semesters, including one in the summer, are required. There is a hybrid of classroom, online, and in-person clinical learning, providing the necessary flexibility for adults with life commitments. There is a required hands-on internship section that is offered on-site. This CCNE accredited program admits no more than 30 students per session.
Accreditation: CCNE
---
8. Gwynedd Mercy University
Gwynedd Mercy University is a liberal arts school and one of the 16 Sisters of Mercy colleges in the U.S. Much of Gwynedd Mercy's mission is centered around service. Their campus is located on 160 acres near the city of Philadelphia. The M. McGuire School of Nursing at Gwynedd Mercy University is a hotbed of cutting-edge nursing education and practice for 50 years.
Gwynedd Mercy offers an Online Accelerated BSN program for second-degree adults who are seeking the best in clinical practice and critical health sciences curricula. Core values associated with this CCNE accredited program include valuing the health and well-being of individuals, families, and communities, and therefore acting consistently with moral, ethical, and legal practices that are evaluated through coursework. There are embedded opportunities to study at their downtown Philadelphia and Bensalem locations, which offer top-of-line training, simulation equipment, and facilities. This accelerated BSN program is full-time, but Gwynedd Mercy does offer a part-time program and a four-year BSN program at their main campus in Gwynedd Valley, PA.
Accreditation: CCNE
---
9. Roseman University
Roseman University of Health Sciences is a non-profit educational institution that utilizes experiential learning experiences, including in their living environment, and student-centered teaching. They are located near Las Vegas, NV, and Salt Lake City, UT. Known for never having a waitlist, they have three annual start dates, spread throughout the year. Their mission is built on innovative practices, including in clinical and practical settings.
One of the features of the Roseman Online Accelerated BSN program is what is known as a block curriculum model, which gives students the opportunity to focus on one class at a time in service of mastery. Clinical rotations for this CCNE accredited university are under the supervision of the top nurses in the area, giving students the tools to excel in the field directly upon graduation. Online coursework is administered through a comprehensive learning platform utilizing cutting-edge technology. Prospective second-degree students must have at least 54 non-nursing credits to qualify for the program.
Accreditation: CCNE
Related: 8 Best Nursing Schools in Las Vegas
---
10. Marian University
Marian University is a non-profit, catholic institution, founded in 1936, located in Indianapolis. Though it is a faith-based institution, it is within their value system to welcome students from all walks of life to learn at this university. Faith, is, however, a large factor in the ways they teach patient care and engage with the field of nursing.
Marian offers a competitive Online Accelerated BSN is another hybrid program, with the requirement of in-person labs that convene in Indianapolis. The program is known for its flexibility, as the coursework itself is primarily in an e-learning environment that can be accessed by these second-degree students at their convenience. The technology used allows students to participate in lectures, take quizzes and complete assignments, complete work with peers in discussion forums, and participate in instructor chat sessions, all from the comfort of their homes. The e-learning modules engage multiple learning styles and offer 3-D graphic interfaces that support the accompanying texts. There are many opportunities in the curriculum for interactive learning, based on real-life circumstances. These scenarios help build the problem-solving skills that are necessary on a daily basis in the nursing profession.
Accreditation: CCNE
---
11. University of Wisconsin – Oshkosh
The University of Wisconsin at Oshkosh is a research institution with a high ranking in sustainability. With the offer of over 200 majors and minors, there are boundless opportunities for both undergraduate and graduate students. The online option for the University of Wisconsin-Oshkosh BSN program is designed for students who already have a bachelor's degree and have a strong academic background. Prospective students must live in approved states where the university has contracts with partnering health facilities. Students will earn their BSN from this CCNE accredited program within a 12 month period.
All theoretical coursework for the Accelerated BSN at Wisconsin-Oshkosh is offered online, and clinical rotations occur in the student's home community, with embedded mentorship provided by nurses and practitioners who are experts in the field and work as clinical faculty. The Online Accelerated BSN option has three possible entrance dates per year. Though most of the work is done online and in the student's home community, students are required to participate in three on-campus residencies throughout the year. Due to the demands of the program, it is highly recommended that students don't take on additional work throughout the course of the year.
Accreditation: CCNE
---
12. Xavier University
Xavier University is a non-profit institution located in Cincinnati, Ohio. Founded in 1831, it is the fourth oldest Jesuit-based university in the United States, and among the top five regional universities in the midwest. Institutionally they have become revered for their attention to academic rigor and personal student attention. Xavier's nursing degree programs are CCNE accredited and bolstered by Jesuit ideology about holistic patient care.
Xavier's Online Accelerated Bachelor in Nursing program utilizes the bachelor's degree that students received prior to admission, as it is viewed as an academic foundation for their nursing curriculum. Xavier offers an online learning environment that provides the necessary theoretical coursework in a package that is digestible at the student's convenience. Their on-site simulated environment allows for students to practice nursing skills in a 'risk-free' setting, with the mentorship of faculty. In addition to the simulated labs, students will have in-person practical experience at local health care facilities, such as Mercy Health, which will allow for the practice of patient care under the supervision of some of the best practitioners in the field.
Accreditation: CCNE
---
13. Samford University
Stamford University's Ida Moffett School of Nursing has been growing nurses in the field for over 90 years. Established in 1922, the institution holds true to the Christian values for which it was founded, providing students with the necessary tools of compassion and competence coupled with professional practice in the medical field. Stamford is known for its low student-to-teacher ratios, both in classroom engagement and in clinical settings. Stamford University views nursing as a calling and claims that one can answer theirs in just 12 months with their Online Hybrid Accelerated BSN for second-degree-seeking students.
The Stamford Online Accelerated BSN program is known for being rigorous with both intense classroom and clinical learning experiences, and coursework. Most students who participate in this program do not hold a job simultaneously, in order to successfully meet the demands of the coursework. This University has exceptional clinical opportunities at some of the top health centers in the Birmingham metro area. As part of their exceptional facilities, they offer patient simulation labs centers and skill labs that are embedded into the experience of excellence for participating students. One thing that sets this CCNE-accredited program apart is that they provide opportunities for mission trips upon graduation.
Accreditation: CCNE
---
14. Concordia University – Portland
Concordia University is one of the top faith-based non-profit institutions in the Pacific Northwest, with open doors since 1905. They are known for their intimate size and supportive relationships with faculty that encompass the whole learner, including spiritual development. Concordia's nursing programs, located in the heart of Portland, have access to a state-of-the-art simulation lab and a world-class health care system. This component of Concordia nursing utilizes a simulated environment to give students hands-on experience grasping many concepts experientially, which is crucial for the successful care of patients.
Concordia's Online Accelerated BSN hybrid program gives students full access to all of these resources, which work in concert with the theoretical skill-building that is done online. The other part of the program is the work done in local hospitals with patients, under the supervision of medical professional faculty. There is no wait to get into the program, as there are many entrance dates, and it is designed to fast-track students into the field within 16 months of beginning. This is one of the few programs where a previous BA or additional credits are not required.
Accreditation: CCNE
---
15. Northeastern University
Northeastern University's Bouve College of Health Sciences offers an online accelerated nursing program at both of their Charlotte and Boston campuses. Many students who graduate from this program go on to become leaders in the field of nursing, education, and research. Both campuses offer the Northeastern Online Accelerated BSN program for second-degree students who want to change careers. The institution engages a hybrid learning scape that brings together online coursework and in-person mentored learning. This includes simulated real-life experiences in state-of-the-art simulation labs, and work at local health care centers under the direction of Northeastern Faculty.
In turn, the online section engages an innovative e-learning platform that is interactive and extraordinary in its technical capability. The program is completed within 16 months, following a demanding curriculum that prepares students to provide safe and competent care to patients. The administration asks that students view the program as a full-time job, and limit their obligations beyond the work required to complete the course work.
Accreditation: CCNE
---
Best Online Accelerated BSN Programs by State
Before you enroll in an Accelerated BSN make sure you can get a license in the state where you live. The majority of states are now members of the Nurse Licensure Compact (NLC). However, check to make sure you can earn a license in your state before you spend any money. Additionally, the NCL will also show you all the states that have reciprocity with each other so you can think about moving or becoming a travel nurse!
---
Related: