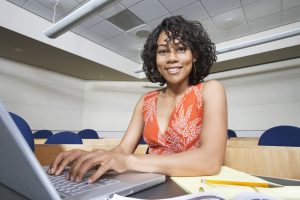 Second-Degree Accelerated BSN
A Second-Degree Accelerated BSN is an excellent option for students interested in a nursing career! When you went to college for the first time, you might have been thinking of college as a great escape, a way to learn about yourself and the world outside of the watchful gaze of your parents. Maybe you majored in liberal arts, participated in clubs and groups, and met amazing people. You set yourself up for a successful college experience and got out with a degree and many questions about what's next. Perhaps even finding yourself seeking a second degree.
You tried a few things, met some more amazing people, and worked hard. But somehow, being a barista or office worker wasn't what you had in mind when you were in school. So now you want to try again, this time centralizing the themes of "rewarding career" "good salary" and "solid employment "as you decide. If this sounds like your path, you may be closer than you think. You're a perfect candidate for a second degree, an Online Accelerated Bachelor in Nursing degree (BSN). Need help to choose a school? Check out 15 of the Best Online Accelerated BSN Programs.
---
---
How Do I Learn in an Online BSN Program?
Most Online Accelerated BSN programs offer a hybrid model of coursework, meaning students complete some of the work online and some in person. If you are thinking to yourself, "Why not fully online?" think about how many life-saving techniques your Russian literature degree bestowed, and you'll understand.
The textbook information on theory and class discussions work perfectly fine for online courses. Students listen to lectures, write on discussion boards, and interact virtually. Still, you don't need any hands-on aspects. Many nursing programs even have cutting-edge, high-tech online simulations available to show you how to do basic nursing tasks. But none of those involve caring for human beings, and that's why you need hybrid learning.
25 Best Accelerated BSN Programs for Residential
The on-campus components of this degree offer students the hands-on instruction needed to take their online coursework to the next level. Neurological studies show that memories made by hearing and reading information are stored in a completely different place than memories made by or made while doing things. The latter of these are also called muscle memories. This is why many people need to "dial" a memorized phone number before they can tell it to you. The hybrid style of an online Accelerated BSN degree ensures that you get both so that none of the critical nursing lessons are get lost while you are in the field.
---
Is an Online Accelerated BSN Made For People Like Me?
A unique characteristic of the online Accelerated BSN is it caters to the second-degree student. These students already have a bachelor's degree in a non-nursing field. These programs accept much of your previous undergrad coursework as prerequisites. As a result, you can jump directly into the core nursing parts of the degree.
Another critical component of this demographic of students includes life experience. Having some age, experience, and focus is highly appealing to recruiters at clinics and hospitals looking for top-notch nurses. However, being older and more mature also means that you already have a busy life. You may have a family, take care of a parent, or otherwise have responsibilities that require flexibility from a second-degree option. But it also means that you understand the rigors and demands of being a caregiver more than younger, less experienced new graduates.
---
Your Accelerated BSN
Suppose you already have a bachelor's degree and want to make a difference in real people's real lives. In that case, consider an Accelerated BSN as a second-degree. And if you think you're too busy to go back to school, you're not. Colleges and universities everywhere will come to you.
---
Related: