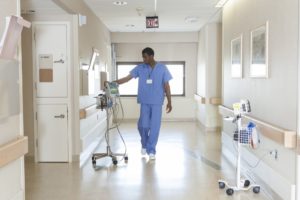 BSN Job of a Registered Nurse
The BSN job description of a Registered Nurse is to identify and monitor a patient's needs to promote health and wellness. A nursing career is a highly rewarding profession with high growth prospects. According to the US Bureau of Labor Statistics (BLS), registered nurses' employment is expected to grow by 6% by 2031.
Registered nurses play an important role in promoting wellness and helping improve the quality of life in the community. There are great opportunities in the healthcare industry for those who are considering the RN career including job security, high salaries, and great advancement potential.
---
---
What is the Difference Between an RN and a BSN?
An RN is a state issued license to practice nursing. A BSN or Bachelor of Science in Nursing is a four year undergraduate degree. However, nurses can have an RN licenses with a two year degree, four year degree, or graduate degree. Below are the different levels of qualification and competency for RNs or Registered Nurses.
| Type | Description |
| --- | --- |
| RN-ADN | An RN with a two year Associate Degree in Nursing or ADN. |
| RN-BSN | An RN with a four year Bachelor of Science in Nursing or BSN. |
| APRN | RNs with a master's degree or doctoral degree in nursing. They must be licensed as an RN and be board-certified in their area of specialization. |
---
What are the Training & Certification Requirements for a Registered Nurse?
There are several ways you can obtain the registered nurse certification requirement. An aspiring registered nurse may earn an associate degree in nursing (ADN), a bachelor's of science in nursing (BSN), or a diploma from an accredited and approved nursing program.
What is an ADN Degree in Nursing?
Can I Become an RN Without a BSN? Yes. An ADN (Associate Degree in Nursing) is an undergraduate academic degree program that provides students with the foundational knowledge needed to pursue a career in nursing. It typically takes two years to complete and includes coursework, clinical skills, and laboratory experience. Upon completion of the program, students must pass the National Council Licensure Examination for Registered Nurses (NCLEX-RN) in order to become licensed registered nurses. This degree can serve as the first step toward a Bachelor of Science in Nursing (BSN) or higher-level degree program.
What is a BSN Degree in Nursing?
A bachelor's of science in nursing (BSN) from a college or university usually takes four years to complete. An associate degree takes two years in a community or junior college. It is the most common way to obtain licensure as an RN. On the other hand, students can attend diploma programs through a hospital program and complete them in about three years.
RN License
In addition to training, nurses must take and pass the National Council Licensure Examination (NCLEX-RN). The registered nurse certification requirement may vary depending on the state, and it's, therefore advisable to check with the State Board for details.
---
What Do Registered Nurses Do?
Registered nurses provide various services depending on their areas of specialization and their work environment. They provide care for the patients as well as assist physicians in providing treatment to patients in various medical settings. In general, the RN job description includes monitoring, recording, and reporting symptoms or changes in a patient's condition.
Also, they maintain accurate patient reports and medical histories. Additionally, RNs administer medication and treatment to patients and observe reactions or side effects. RNs also perform diagnostic tests, supervise less-skilled licensed or certified nurses, and prepare patients for examination and treatment. Finally, they advise patients and their families on various health conditions.
---
What is the Work Environment Like for Registered Nurses?
Registered nurses provide patient care in a variety of healthcare settings. A majority of nurses work in hospitals and surgery centers in rotating day and night shifts to cover 24-hour patient care.
In the recent past, healthcare has greatly evolved, and nurses are working in other healthcare facilities such as physicians' offices, home healthcare agencies, nursing homes, rehabilitation centers, dialysis centers, and outpatient facilities. RNs also work in correctional facilities and the military.
Nurses usually work in close contact with people who may have infectious diseases. They are also likely to come across harmful drugs and hazardous chemicals in their line of duty. For this reason, RNs must follow strict guidelines and protocols to protect themselves against illness and disease. Additionally, nurses may suffer from back stress due to the nature of their job which calls for constant standing, walking, bending, and also lifting.
---
How Long Does It Take to Become a BSN?
The time it takes to become an RN-BSN depends on many factors, including the individual's learning style, course availability, academic history, prior academic credits, certification exams, and clinical placements. It typically takes four to five years to earn a Bachelor of Science in Nursing (BSN).
---
What is an RN's Average Salary Range?
According to the BLS, the average salary of a registered nurse was $77,680. The average registered nurse salary expectation for the top 10% of RNs was $120,250 or higher while the bottom 10% made $59,450 or lower. The findings showed that the top earners had more experience and advanced education.
---
RN-BSN vs RN-ADN Salary
The main difference between the salaries of an RN-BSN and an RN-ADN is the amount of education and experience each has. Generally, BSN nurses have more education and experience than ADN nurses, and therefore they tend to earn higher salaries.
BSN nurses typically earn more in both salary and benefits compared to an ADN. The difference can vary depending on the location of the job and the experience of the individual.
---
Highest Paying States for Registered Nurses
Below are the top paying states for Registered Nurses as reported by the Bureau of Labor Statistics (BLS).
| State | Hourly Mean Wage | Annual Mean Wage |
| --- | --- | --- |
| California | $64.10 | $133,340 |
| Hawaii | $54.43 | $113,220 |
| Oregon | $51.26 | $106,610 |
| Massachusetts | $50.07 | $104,150 |
| Alaska | $49.67 | $103,310 |
---
BSN Nurse Roles & Responsibilities
While working as an RN does not require a Bachelor's of Science in Nursing ( BSN ) degree. But there are some nursing roles only open to BSN educated nurses. Below are some jobs for BSN degree holders.
Charge Nurse
Role of Charge Nurse:
The Charge Nurse is responsible for the clinical and administrative activities of a nursing unit for a given shift. Charge Nurses provide supervision to nursing staff, direct patient care, coordinate patient admissions/discharges, manage the unit's patient care budget, and provide leadership and guidance to their medical team. They must also ensure quality standards are met, maintain clinical records, and stay up to date on the latest in medical advances. In addition, Charge Nurses must have excellent communication, organizational, and problem-solving skills.
How to Become a Charge Nurse
Complete a nursing program. You will need to complete a Nursing degree at an accredited college or university. The nursing program may be a bachelor's, master's, or doctoral degree.
Become registered as a nurse. In order to become a charge nurse, you must be a registered nurse (RN). You must become RN licensed in the state in which you will be working.
Gain experience in a nursing setting. Before becoming a charge nurse, it is important to gain experience in a nursing setting. This means working as an RN in a hospital, nursing home, or other healthcare facility.
Obtain certifications. certifications, such as basic life support (BLS) and advanced cardiac life support (ACLS).
Consider pursuing a charge nurse specialty. Depending on where you will be working, there may be specific charge nurse certifications that you should try to obtain.
Apply for a charge nurse position. Once you have gained experience, obtained certifications, and possibly a specialty in your charge nurse field, you can apply for a charge nurse position where you can lead a team of other nurses and provide superior patient care.
Salary of Charge Nurses: $95,650 (Salary dot com)
---
Case Manager Nurse
Role of Case Manager:
Case manager nurses, also known as case coordinators, help people plan, coordinate, and manage the health care services they receive. These nurses help clients work through their medical needs, serve as a liaison between clients and their health care providers, provide community resources, and support clients through the health care process. Case manager nurses typically work with clients to:
Assess medical and functional needs
Establish a comprehensive care plan
Track and monitor outcomes
Coordinate care among providers in multiple settings
Monitor care for compliance with regulations
Educate and counsel clients • Provide advocacy in the health care system
Develop financial plans to manage the health care costs
How to Become a Case Manager Nurse:
Earn a Bachelor's degree in Nursing from an accredited university.
Obtain a nursing license from your state's Board of Nursing.
If desired, pursue a post-baccalaureate degree in nursing.
Seek out opportunities in case management with a hospital or healthcare system.
Obtain certification in case management.
Keep up with all necessary continuing education related to case management nursing.
Develop interpersonal skills to work with clients and coordinate patient care.
Network with other case managers, as well as potential employers.
Salary of Case Manager Nurses: $68,687 (Salary dot com)
---
Nurse Educator
Role of Nurse Educator
A Nurse Educator is a registered nurse who is responsible for educating and training future and current nursing students, as well as other members of the healthcare team. Nurse Educators are experts in a variety of topics related to nursing, such as professional nursing practice, health promotion, teaching strategies, patient safety, nurse workforce development, and educational technology. The Nurse Educator is also responsible for creating and implementing educational plans and curriculum, providing clinical instruction, and evaluating and monitoring the performance of students. In addition, the Nurse Educator promotes the professional development of nurses as an integral part of providing quality patient care, and may also serve as a consultant or mentor for practicing nurses.
How to Become a Nurse Educator:
Earn an undergraduate degree from a program accredited by the Accreditation Commission for Education in Nursing (ACEN) or the Commission on Collegiate Nursing Education (CCNE).
Earn a master's degree in nursing (MSN).
Obtain a Nursing License. To become a nurse educator, you must be a licensed registered nurse (RN) with a valid license from the state where you'll be employed.
Become a certified nurse educator. You can become a certified nurse educator (CNE) by passing the Nurse Educator Certification Examination. The exam tests your knowledge of nursing education principles and practices.
Gain work experience. To qualify for nurse educator positions, you must gain experience in nursing. In a hospital or clinical setting, you can gain experience in teaching students or staff nurses new techniques and procedures.
Stay current in the field
Salary of a Nurse Educator: $107,511 (Salary dot com)
---
Related: