Job of a Registered Nurse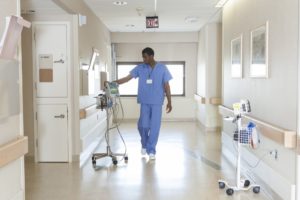 The job description of a Registered Nurse is to identify and monitor a patient's needs to promote health and wellness. A nursing career is a highly rewarding profession with high growth prospects. According to the U.S. Bureau of Labor Statistics, registered nurses' employment is expected to grow by 16% by 2024. Registered nurses play an important role in promoting wellness and helping improve the quality of life in the community. There are great opportunities in the healthcare industry for those who are considering the RN career including job security, high salaries, and great advancement potential.
---
---
What Do Registered Nurses Do?
Registered nurses provide various services depending on their areas of specialization and their work environment. They provide care for the patients as well as assist physicians in providing treatment to patients in various medical settings. In general, the rn jobs description includes monitoring, recording, and reporting symptoms or changes in a patient's condition. Also, they maintain accurate patient reports and medical histories. Additionally, RNs administer medication and treatment to patients and observe reactions or side effects. RNs also perform diagnostic tests, supervise less-skilled licensed or certified nurses, prepare patients for examination and treatment. Finally, they advise patients and their families on various health conditions.
---
What is the Work Environment Like for Registered Nurses?
Registered nurses provide patient care in a variety of healthcare settings. A majority of nurses work in hospitals and surgery centers in rotating day and night shifts to cover 24-hour patient care.
In the recent past, healthcare has greatly evolved, and nurses are working in other healthcare facilities such as physicians' offices, home healthcare agencies, nursing homes, rehabilitation centers, dialysis centers, and outpatient facilities. RNs also work in correctional facilities and the military.
Nurses usually work in close contact with people who may have infectious diseases. They are also likely to come across harmful drugs and hazardous chemicals in their line of duty. For this reason, RNs must follow strict guidelines and protocols to protect themselves against illness and disease. Additionally, nurses may suffer from back stress due to the nature of their job which calls for constant standing, walking, bending, and also lifting.
---
What are the Training & Certification Requirements for a Registered Nurse?
There are several ways you can obtain the registered nurse certification requirement. An aspiring registered nurse may earn an associate degree in nursing (ADN), a bachelor's of science in nursing (BSN), or a diploma from an accredited and approved nursing program.
A bachelor's of science in nursing from a college or university usually takes four years to complete. An associate degree takes two years in a community or junior college. It is the most common way to obtain licensure as an RN. On the other hand, students can attend diploma programs through a hospital program and complete them in about three years.
In addition to training, nurses must take and pass the National Council Licensure Examination (NCLEX-RN). The registered nurse certification requirement may vary depending on the state, and it's, therefore advisable to check with the State Board for details.
---
What is an RN's Average Salary Range?
According to the BLS, the average salary of a registered nurse was $69,790 as of May 2014. The average registered nurse salary expectation for the top 10 % of RNs was $98,880 or higher while the bottom 10% made $45,880 or lower. The findings showed that the top earners had more experience and advanced education.
---
Related: