To become a diabetes nurse educator a RN must earn a certification or a specialization to teach diabetic patients about diet and nutrition. Diabetes is a leading cause of death and disability in the US and diabetes self management training jobs are in demand with many career opportunities.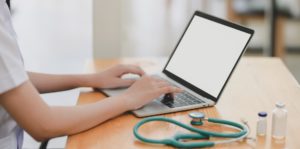 What is a Certified Diabetes Nurse Educator?
A Certified Diabetes Nurse Educator (CDNE) is a Registered Nurse (RN or APRN) with specialized experience and education in both diabetes management and teaching. They provide diabetes self-management education and support to people with diabetes, their families, and their healthcare teams. CDNEs also help develop and implement diabetes management plans, promote healthy lifestyle changes to help prevent or delay the onset of diabetes-related complications.
Diabetes nurse educators and specialized registered nurses are tasked with the responsibility of teaching patients about the essential nature of diet and nutrition when they have been diagnosed with diabetes. Diabetic patients must learn to self-manage their diabetic condition properly if they are to remain healthy and avoid the consequences and complications that often come with uncontrolled blood sugar levels.
Diabetes counselors and nurse educators are generally health care professionals trained to assist those living with diabetes to adjust their diet and exercise regimens as needed to maintain their health. A diabetes nurse educator will generally be a Registered Nurse (RN) or hold a more advanced nursing degree to meet their role as a nurse educator.
---
What Do They Do?
Why is a certified diabetes educator important? These healthcare professionals provide patients with treatment plans, counseling, and education to manage their condition. As education specialists they teach the necessary skills patients need for the prevention of diabetes and also healthy habits to manage a diagnosis. They work with patients who are prediabetic or currently have Type I Diabetes, Type II Diabetes, or Gestational Diabetes. Many work for an accredited diabetes education program. Below are some common diabetes care and education duties in a job description.
Teach patients proper nutrition to help manage diabetes. Diabetics must understand how to read food labels and learn how carbohydrates, sugars, and sodium impact a diabetic's system.
Prevent most diabetic-related conditions by having enough sleep.
Educate patients on wellness programs and sufficient exercise.
Medication dosing is an integral part of the management of diabetes. The medication for diabetes includes pills and injectable medications. If they are insulin-dependent, patients must understand the signs of low blood sugar.
The blood Glucose Monitoring process is an essential part of managing a diabetic condition. Patients must learn to monitor blood glucose levels, log their blood sugar readings, and make good dietary choices to help maintain acceptable blood sugar levels.
Teach patients the importance of A1C hemoglobin tests on a regular basis.
Encourage healthy lifestyle choices that optimize the health outcomes for patients.
---
Five Steps to Become a Certified Diabetes Nurse Educator
Diabetes self-management education and support (DSMES) is performed by health professionals who have appropriate credentials and experience in the profession's scope of practice. Below are the basic steps to becoming a diabetes nurse educator.
Earn Your RN: You must earn an RN degree from an accredited nursing program. While certification does not require a bachelor's degree (BSN), employers typically do require a BSN degree for the position of diabetes nurse educator.
Pass the NCLEX-RN Exam: After completed an accredited program, you must pass the NCLEX-RN exam to obtain licensure to practice nursing.
Gain nursing experience: In your role as a professional nurse, seek a position that provides opportunities to work with patients with diabetes to gain professional experience.
Seek related continuing education: Continuing education related to diabetes education is necessary as a part of the requirements for specialty certification.
Obtain Certification: Take and pass the exam for the National Certification Board for Diabetes Educators (NCBDE) Certified Diabetes Educator (CDE) credential. Begin professional practice after you obtain a certification.
---
What Degree Do You Need to be a Certified Diabetes Educator?
It is noted that a baccalaureate degree in healthcare is the bare-bones requirement for a diabetic nurse educator. However, most diabetic nurse educators possess more advanced or graduate degrees or certifications. Additionally, there no specific bachelor's degree programs for diabetes education. But, there are many MSN programs throughout the country offered on-campus, online, or hybrid delivery of both.
One graduate program at the Teachers College-Columbia University is the Master of Science degree in Diabetes Education and Management. CU also offers a graduate-level certificate program in Advanced Diabetes Topics. These programs train nurses to help patients live with diabetes and also how to develop, implement, and evaluate diabetes self-care management programs. In addition to this degree, nurses can earn certifications.
---
What are the Diabetes Education Credentials and Nurse Educator Certification Requirements?
Diabetes nurse educators can opt to obtain a diabetes nurse educator certification from the Certification Board for Diabetes Care and Education (CBDCE). The CBDCE offers an exam that leads to a Certified Diabetes Care and Education Specialist (CDCES) designation.
Certified Diabetes Care & Education Specialist (CDCES)
To qualify for the Certified Diabetes Care and Education Specialist designation exam, an applicant must meet the diabetes nurse educator certification requirements. They need at least 1,000 hours of diabetes education earned within four years prior to the exam. At least 40% of this experience must have happened in the previous year. And they need at least two years of professionally practicing an acceptable discipline. Certification is required to be renewed every five years. Additionally, CDCES designation holders must complete at least 15 hours of continuing education related to diabetes to meet the certification requirements.
Board Certified-Advanced Diabetes Management (BC-ADM)
The Advanced Diabetes Management Certification from the American Association of Diabetes Educators ADCES credential is for advanced level, masters-prepared practitioners.
Requirements for Credentials
---
Where Do Certified Diabetes Nurse Educators Typically Work?
Certified diabetes nurse educators typically work in clinical settings such as hospitals, physicians' offices, community health centers, and practices specializing in the treatment of diabetes. They also work for diabetes treatment centers, health promotion programs, managed care facilities, pharmaceutical companies, professional organizations, public safety organizations, and in home health care settings.
---
How Much Do Certified Diabetes Nurse Educators Earn?
How much do diabetes nurse educators make? According to the Bureau of Labor Statistics (BLS), nursing educators have a median annual income of $78,580. The salary range for a diabetes nurse educator begins at about $47,000 and tops off at about $127,000. However, salaries vary by experience, education and level of degree, specialty certification, and also geographical location.
Top Paying States
Geographically, the top-paying states for jobs for nursing educators are below.
Top Paying Metropolitan Areas
Geographically, the top-paying metropolitan areas for jobs for nursing educators are below.
Top Industries for Employment
Are certified diabetes educators in demand? There are more than 59,000 nurse educators employed in the United States. The industries offering the highest level of jobs are below.
---
Certified Diabetes Nurse Educator Resources
---
Related: