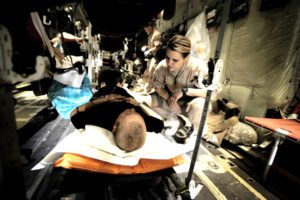 What Is A Flight Nurse?
A flight nurse job is to provide medical stabilization to patients while transporting them from one facility to another, often by air. A flight nurse, or transport nurse, is a nursing professional who holds a Registered Nurse license and has received specialized training and education. If you are considering a career and wish to become a flight nurse it is vital to find the answers to the following questions.
What is a flight nurse?
A flight nurse typical day
What is flight nursing?
Flight nurse duties in the military compared to a civilian setting
What is flight nursing, and how do flight nurses act as medical team liaisons?
A flight nurse is a fundamental part of a medical team aboard an airplane or helicopter that provides medical attention to patients who are ill or injured. As a part of the in-flight medical team, a flight nurse seeks to keep a patient in stable condition until the aircraft arrives at a hospital or healthcare facility.
---
---
What is a Flight Nurse Responsible for Professionally?
In becoming a flight nurse, a registered nurse must be further trained to work in an aeromedical environment. This includes administering the following –
Critical Care as needed.
Pre-hospital or emergency care.
Nursing care during rescue operations, to name just a few.
The most important objective of a flight nurse is to maintain a comfortable and safe environment for their patients during the flight. This includes –
Using proper equipment.
Providing appropriate medication.
---
Flight Nurse Education Requirements
Becoming a flight nurse requires more than just a registered nurse credential or license. Flight nursing requirements include both experience and education, typically at least a BSN.
Post-graduate training in intensive care or emergency room care.
A minimum of five years of professional experience in a hospital Intensive Care Unit (ICU), Critical Care Unit, or Emergency Room is required.
---
The Qualifications for Flight Nurse Training and Education
Included in the flight nursing requirements, is the requirement that all flight nurses receive training in–
Neonatal Resuscitation.
Advanced Cardiac Life Support.
Trauma Life Support.
Pediatric Advanced Life Support, among others.
---
A Flight Nurse Job Description
While job descriptions for flight nurses might differ from job to job, many flight nurse job descriptions seek the following from flight nurse job applicants –
Five years of professional experience with ICU, Emergency Room, or Trauma patients.
The aptitude for working independently within a tight confined medical setting with other medical team members.
Advanced knowledge regarding critical care. This should include experience working with ventilators.
Leadership qualities.
Effective communication skills.
The ability to manage stressful settings and environments.
Fitness to meet the demanding physical requirements of a flight nurse position.
Becoming a flight nurse requires a nursing professional to work varied shifts and to manage an on-call rotation of 24 hours per day and 7 days per week.
---
Flight Nursing Certification Options
In addition to the above-mentioned education and flight nursing requirements, many flight nurses choose to obtain additional relevant certification as a Certified Flight Registered Nurse (CFRN). The following certification for nursing professionals is an excellent credential for those nursing professionals intent on becoming a flight nurse as a career choice.
BLS – Basic Life Support.
ACS – Advanced Cardiac Support.
TPATC – Transport Professional Advanced Trauma Course.
PALS – Pediatric Advanced Life Support.
CCRN – Critical Care Registered Nurse.
---
What is the Salary of a Flight Nurse?
A flight nurse's salary is contingent upon the nursing professional's level of education and experience. According to Payscale.com, the average salary of a flight nurse is $86,730 per year and ranges from $60,000 to $111,000.
Hourly Flight Nursing Salary by Experience
| Experience | Flight Nurse salary Per Hour |
| --- | --- |
| 1 Year | $27.76 |
| 1 – 4 Years | $29.44 |
| 5 – 9 Years | $30.66 |
| 10 – 19 Years | $36.76 |
| 20+ Years | $41.61 |
Payscale.com Pay by Experience Level for Flight Nurses?
The range of flight nurse salaries varies based on experience and geographic location. However, Glassdoor.com reports the average salary of a Flight Nurse on a yearly basis is approximately $127,631. And it ranges from $81,000 to $201,000.
Top Paying Flight Nurse Companies
Glassdoor also reports the top-paying companies for Flight Nurses in the United States.
| Flight Nurse Company | Average Salary |
| --- | --- |
| CALSTAR | $134,655 |
| Life Flight Network | $128,395 |
| REACH Medical Holdings | $120,991 |
| Guardian Flight | $119,753 |
| Air Methods | $117,503 |
| PHI Air Medical | $116,294 |
| Air Evac Lifeteam | $115,700 |
| Premier Health | $112,687 |
| LifeSave Transport | $106,518 |
Glassdoor.com top Flight Nurse employers.
---
Related: