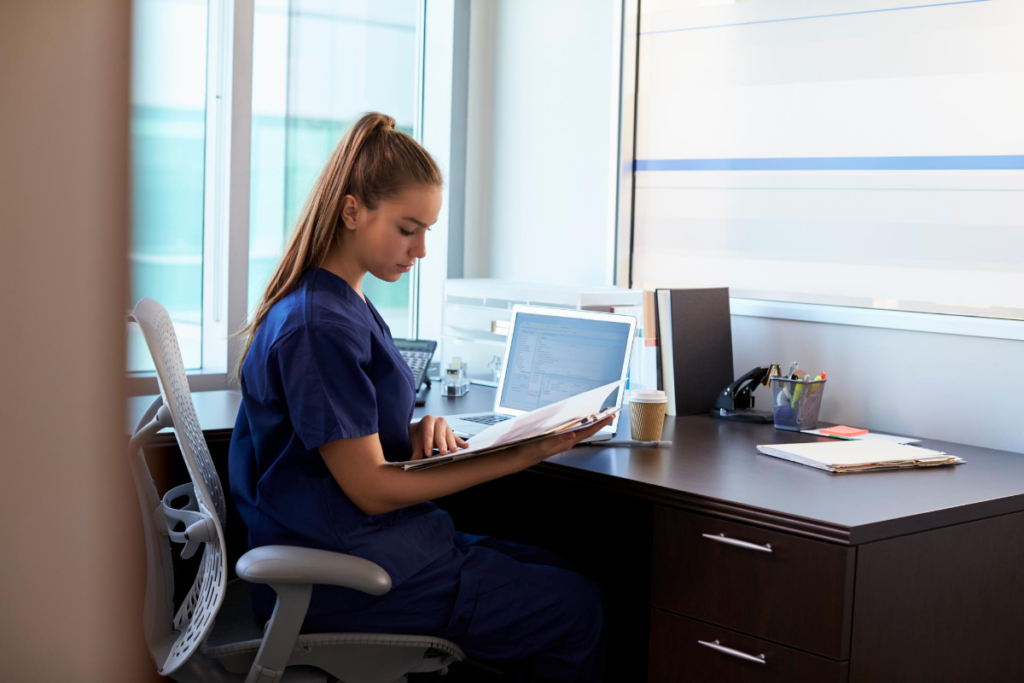 Nurse Case Management Jobs
Nurse case management jobs cover several aspects of client care like insurance claims and payment options. An experienced nurse with managerial skills, or a degree or certification in management, can find their way into working as a nurse case manager for a lucrative, hands-off nursing career. In addition, a nurse case manager is an excellent way for ambitious nurses to get their foot in the leadership door among administrative and managerial jobs.
---
What Are the Duties of a Nurse Case Manager?
Nurse case managers are in charge of several aspects of client care. Nurses who manage client case files deal with insurance, billing, understanding each client's individual needs, and communicating between family members and medical professionals. There is best malpractice insurance for student nurses, which has many facilities. Depending on the client's situation, the nurse case manager may also be in charge of any activities they are involved in. Nurse case managers work diligently to ensure that every aspect of the client's care is professional and their physical, mental, and emotional needs are met. Nurse case managers are also responsible for documenting their client's progress and maintaining an accurate accounting of their personal information. Strong knowledge of medical ethics is essential.
Nurse case managers must effectively manage the client's care and any personal endeavors and activities they participate in. One of the essential duties of a nurse case manager is to advocate for their client. It is up to the nurse case manager to speak for their client when they would not otherwise have a voice. Depending on the situation, many nurse case managers are involved in every aspect of their client's well-being. Duties include providing them with what they need for day trips, outings, and trips to the doctors for routine exams, and ensuring they have all the personal items they need. If a client still lives independently, the nurse case manager may be responsible for hiring home health aides and other support staff to ensure the client's home and living environment stays safe and well-maintained. Nurse
---
What Type of Degree Programs Are Best for a Nurse Case Manager Position?
Case Management Administrator certifications and degree programs will provide students with everything they need to handle the affairs of their clients. This can involve their health and medical needs and their financial matters in most cases. A Public Safety Management and Administration degree program can also offer benefits. These degree programs provide students with managerial and organizational skills they will need when it comes to effectively handling all of their client's affairs.
Keeping all of their client's records organized is essential for staying on track with all of their medical and financial needs. Case Management Administrator and Public Safety Administration and Management degree programs provide skills for individuals who work in both the public and private sectors. Many nurses also pursue their Master's degree in Nursing and move forward to become registered nurses allowing them even more growth opportunities. You can find more here on this site to guide you through malpractice laws.
---
How Much Can A Nurse Case Manager Make in a Year?
Nurse case managers, especially registered nurses, can make an average salary of close to $64,000 each year. Nurse case managers that are just starting at entry-level positions can expect to earn around $48,000 or less until they gain the experience they need to advance. Nurse case managers who have been working in the place for many years or have earned a post-graduate degree can achieve a high salary. They can make as much as $83,000 a year or more, based on their overall experience and the skills they bring to the table. There are always opportunities for advancement in nursing case management positions. A graduate's earning potential is only limited by the boundaries they set for themselves. If a graduate wants a job to assist in making their clients' lives better and still make a competitive wage, a nurse case management position is often one of the best options.
---
How Do You Become a Nurse Case Manager?
Many nurse case managers choose to start as LPN or RN. Working in the nursing field gives them first-hand experience in taking care of patients' needs. This includes hands-on care, behind-the-scenes care, and advocating for the patient if needed. These skills are essential for understanding a nurse case manager's role in the care cycle. In addition to an education in nursing, the student should also consider courses in Case Management and Public Safety Administration and Management. These classes ensure that they will effectively manage every aspect of their patient's care as a graduate, whether they are in a facility or living independently. Even patients who live with family members or who have caregivers who visit their homes benefit from the services provided by a nurse case manager.
---
Related: