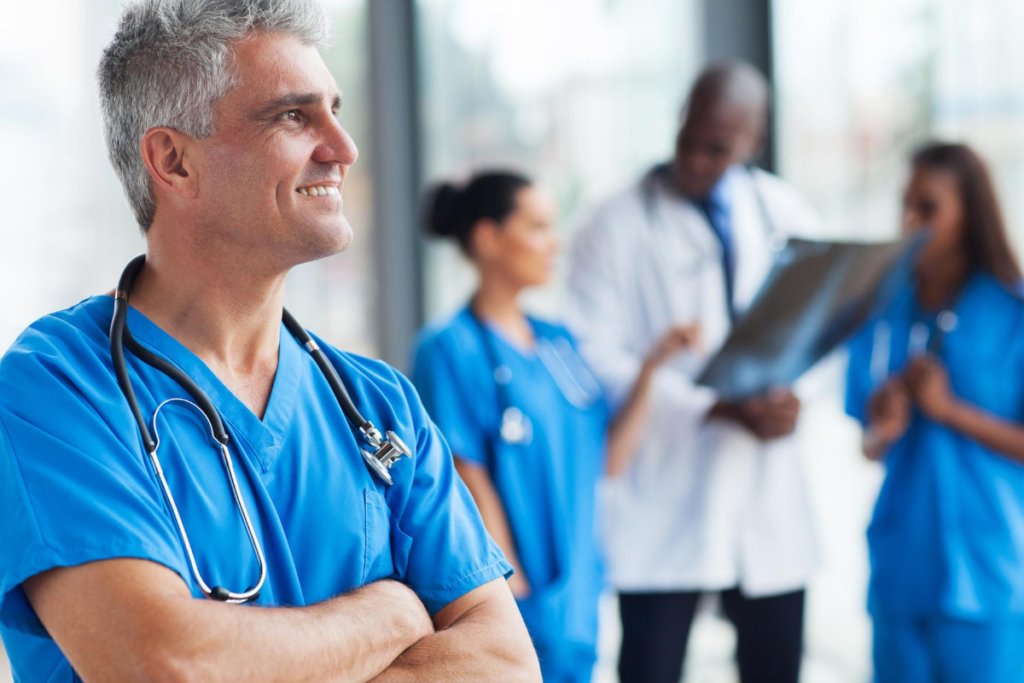 Air Force Nursing Corps
An Air Force Corps Nurse is a military nurse that also performs the duties required of them per their oath of service to their country. Prospective nurses don't often think about the military as a way to begin their careers, but just as in other professional fields, like engineering or cybersecurity, joining the military can lay the ground for a rewarding healthcare career.
---
What is an Air Force Nurse?
In order to become an Air Force Nurse, you must join that particular branch of the military and earn a degree in nursing. There are instances when an individual earns their degree and becomes a licensed nurse prior to joining the Air Force. With nursing as a MOS (mission occupational specialty), a person who enlists in the Air Force may be sent to work in military facilities or out in the field. Air Force nurses can be sent anywhere in the world to assist in a variety of different military operations.
The duties of an Air Force nurse are similar to those of a non-military nurse. The primary difference is that a military nurse is both a nurse and enlisted.
---
What Does It Take to Become an Air Force Nurse Officer?
If an Air Force nurse wants to become an officer, he or she must sign up and be accepted into Officer Training School. In order to be accepted, the student must meet the requirements and be eligible to participate. The Officer Training program is nine weeks long and has four phases to complete. Once completed, the graduate will return to the ranks as a Second Lieutenant and have all of the necessary skills to be an effective and reliable leader. Becoming an officer in the Air Force offers many benefits but also increases the amount of responsibility they carry. Those who choose to become an officer in the military often choose to remain in service for several years making it their career.
---
What Are the Duties of an Air Force Nurse?
Air Force nurses must perform all of the same tasks as civilian nurses. In addition to their nursing responsibilities, they must also perform their duties as an active duty service member. This includes deploying with their unit. While deployed, they will perform all of the duties required of a licensed nurse. This involves hands-on patient care, managing medications, and working with doctors and other medical professionals to provide quality care to those who need it, both military and civilian.
---
What Are the Benefits of Becoming an Air Force Nurse?
Being an Air Force nurse offers many benefits, both during the time of service as well as after retirement. During the nurses' time as an airman, they are able to travel extensively. They also have all of the same military benefits as others who serve their country. After retirement, an Air Force nurse can rely on their education to continue to provide them with employment opportunities in many different capacities. Air Force nurses can find work as floor nurses, a member of management, or an educator. Depending on what their specialty is while in the military, an Air Force nurse can often choose from a variety of employment options.
---
How Much Does an Air Force Nurse Make Each Year?
The salary of an Air Force nurse will depend on a variety of factors, including whether or not they have a unique specialization such as emergency, surgical, or general care. In most cases, entry-level nursing positions may start out as low as $25,000. Air Force nurses who have several years of experience and have continued to pursue their education can earn as much as $140,000. The earning potential of each Air Force nurse will also depend on their willingness to work toward advancing their careers. Additionally, Air Force nurses must take continuing education just like civilian nurses. This additional education can also enhance their earning potential.
---
What Types of Careers Are Available to Air Force Nurses After They Leave the Corps?
Air Force nurses can continue to pursue a career in nursing after they leave the military. Some may choose to remain in the military and make it their lifelong career and then transition straight into retirement. Those who wish to continue working can find employment in both the private and public sectors. Once an Air Force nurse completes Officer Training School they can continue to work as a nurse or move into a managerial position. With the level of education they receive through all of their military training, many choose to pursue a career as an educator or professor. Air Force nurses who worked in combat situations may feel more at home working as a First Responder or paramedic. The opportunities are endless due to the diversity of both their nursing and military training.
---
Related Rankings: