A Medical Surgical Nurse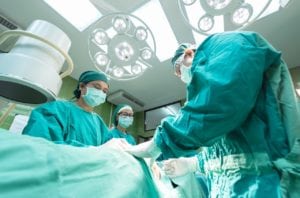 Med Surge nursing, or Medical-Surgical nursing, is a type of specialization for nurses who care for patients before and after operations. A career in nursing opens up doors of opportunity to work in unique and challenging fields. By working in a specialized field, nurses have an opportunity to learn new skills and help patients in a variety of settings.
---
What is Med Surg Nursing?
Med Surg nursing is a specialized area of nursing. The nurse works with doctors in a hospital or a surgical facility to provide appropriate care for patients. The exact requirements of the job depend on the facility and the type of surgical procedures performed in the facility. Generally, a Med Surg nurse helps with pre-operation and post-operation patient care.
---
Certification Requirements for the Career
Med Surg nursing certification requirements depend on the medical facility or hospital. In general, students must obtain a Certified Medical-Surgical Registered Nurse, or CMSRN, certification from the Academy of Medical-Surgical Nurses for their career path. The certification differs from the traditional registered nurse certification because it specializes in medical surgical nursing.
The qualification for a Med Surg nursing certification is obtaining an appropriate nursing degree and passing the CMSRN exam. After passing the exam and receiving certification, a nurse is ready to start working in medical-surgical careers.
---
Education Standards for a Med Surg Nurse
Although certification focuses on passing an exam, a medical surgical nursing job description usually sets a standard for education. Therefore, a nurse must obtain an appropriate education to qualify for the certification examination.
Exact education standards for a Med Surg nurse depend on the facility or hospital. In most cases, nurses must obtain a two to a four-year degree in nursing and pass appropriate examinations to start a nursing career. A Med Surg nursing career may require additional courses during nursing education. In addition, some facilities may require specialized education or a higher level of education to start working as a Med Surg nurse.
Students can take specialized courses as part of their education. Although standards in education depend on the facility or hospital, many will require a bachelor's degree in nursing as well as appropriate certification before hiring a nurse in medical-surgical roles.
---
The Typical Work Day
The typical workday for a medical-surgical nurse focuses on the needs of the patients. In a medical surgical nursing job description, you may notice that you will need to focus on checking the health of your patients. So, after going into the medical facility and talking to the nurses on the previous shift, you can expect to spend time checking in on your patients. According to the University of Buffalo School of Nursing, you can expect to check on your patients and their vitals before you move on to any paperwork. A typical workday for a Med Surg nurse also focuses on pre-operation and post-operation care. In addition, these nurses prepare patients for surgical procedures, talk to family members and help with recovery after a procedure.
Starting a career in nursing does not always mean taking on a traditional career path. Nurses can also focus on an area of specialization to support doctors in a high-stress environment.
---
Related: