The most affordable RN to BSN online programs offer working nurses a flexible path to complete a bachelor's degree and advance their careers.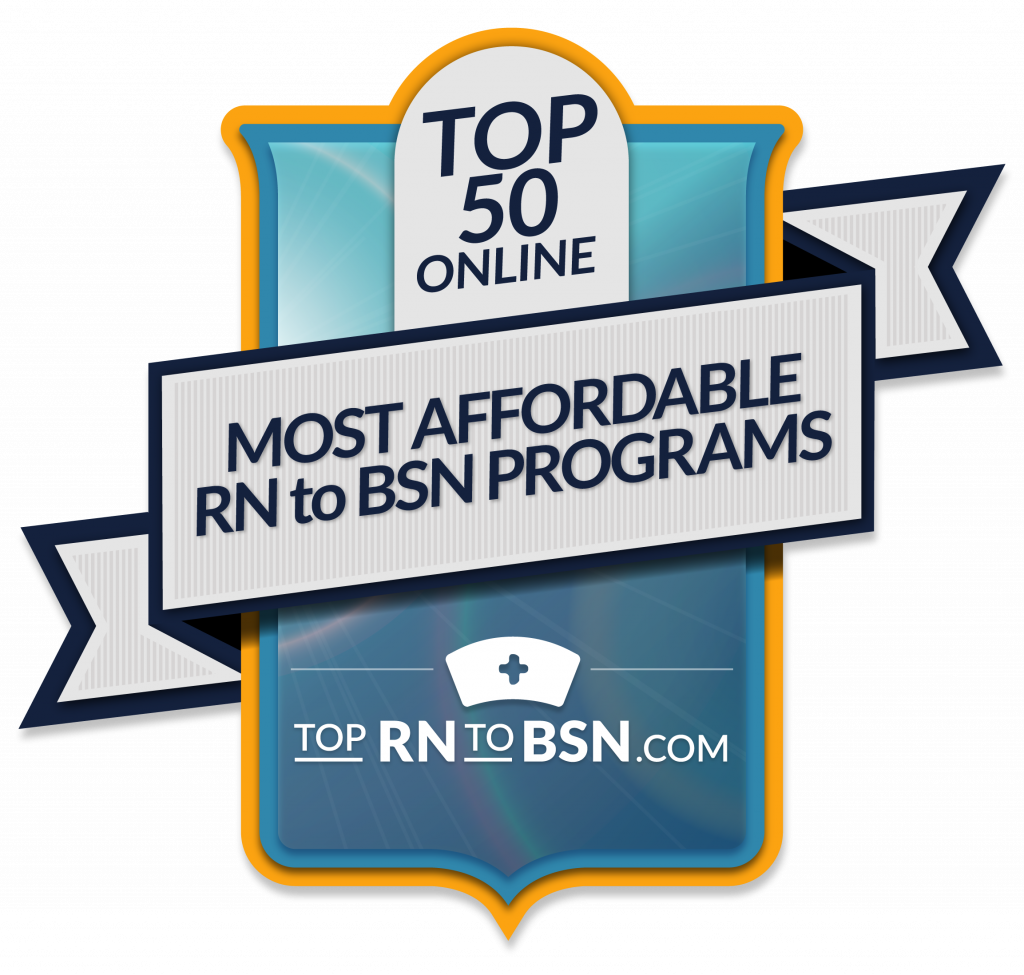 In the world of nursing, as in many fields, professional advancement is not dependent solely upon what a phenomenal nurse you are, but also which degrees you obtained while you were becoming a phenomenal nurse. Finding an affordable program that ROI's is pretty high up there too.
While the rate of pay is not always the biggest difference between RNs who have their two-year degree, and those who have their Bachelor's of Science in Nursing, the opportunity to continue growing into more challenging and dynamic positions as a nurse certainly is. Registered nurses who have their BSN degree have the opportunity to achieve a masters of science in nursing, as well as to become nurse supervisors, and have access to certificate programs that lead to an increase in pay and valuable professional experiences.
Plus, the American Nurses Association has encouraged all two-year degree holding RNs to go for their BSN, while they determine if they are going to make the four-year title a minimum requirement for practicing nursing!
In this competitive economy, a working student has a lot of things to think about. Wondering if you are paying too much for your BSN does not have to be one of them. Let us help you find the most affordable RN to BSN program.
---
---
Finding the Most Affordable RN to BSN Programs
Okay, we have convinced you to go for the BSN. Congratulations! Now how much is it going to cost you? While working hard as an RN, finding an affordable degree program should factor in as much, if not more than any other variable.
Our editors have gathered the top 50 most affordable online RN-to-BSN completion programs in the country, paying close attention not only to schools whose nursing program is accredited by the Commission on Collegiate Nursing Education, CCNE (all of the following are), and not only fully online nursing programs (all of the following are that also), but also schools that are less than $340 per credit hour (based on online and/or out-of-state cost per credit).
**If you are thinking of enrolling in a school outside of your state, be sure to check that your state allows the degree from the specific school you are considering. The school adviser should have that information. Most public schools charge more for out-of-state students. We try to note those that don't.**
---
1. West Texas A & M University – Canyon, TX
In the town of Canyon, Texas, nearly fifteen miles south of Amarillo, you will find the beautiful 176 acres of West Texas A&M University's campus. Full of trees and native foliage, this campus is home to several hot spots, including the Charles K. and Barbara Kerr Vaughan Pedestrian Mall, one of many sites that draw community members to enjoy the amenities of the university. Tourists and students alike enjoy visits to the Panhandle-Planes Historical museum, also located at the center of this bustling campus. Among the many benefits of attending one of the second largest university systems in the world, WT is known for being one of the most affordable schools, both for on campus coursework as well as the online programming.
WTAMU offers a highly acclaimed online RN-to-BSN program that is known for both fitting the budget as well as providing the necessary flexibility for a busy lifestyle. The program is designed for courses to be completed in one academic year, or it can be tailored to an individual's timeline. The coursework is accessed through an online portal, and includes practicum case studies in experiences that give students opportunities to test their skills. Applicants are required to hold an unencumbered RN license, or within 3 months of completing their degree program. One of the benefits of this program is a price tuition rebate offered upon graduation.
Cost per Credit Hour: $80
Deadline: May 1
2. Winston-Salem State University – Winston-Salem, NC
Established in 1892, their motto sums up much of their mission, "Enter to learn. Depart to serve." There are many points of pride that make Winston-Salem State University stand out as one of the great academic institutions in the south. It was rated the number one HBCU in North Carolina by the Wall Street Journal in 2016, and number one in the UNC system for students achieving employment upon graduation. Also, number one in North Carolina for Black students graduating into the field of nursing. One of the elements that makes this University top the charts in excellence is their 16:1 faculty to student ratio.
Winston-Salem State University is excited to introduce their new online only option for registered nurses to achieve the BSN entirely online! The Winston-Salem State Online RN-to-BSN program is designed for motivated students who are adept at working independently, as they are expected to be actively engaged in their own learning trajectory. The course of study offers the flexibility that adult professional learners generally need in order to be successful, and the curricula builds on the skills and experience of nurses who have already worked in the field. There are limited spaces in the newly formed online course, so it is critical to get applications in as early as possible.
Cost per Credit Hour: $112
Deadline: July 10
3. College of St. Scholastica – Duluth, Minnesota
The College of St. Scholastica's vision is rooted in the ideology of Catholic Benedictine heritage, providing a moral framework for meaningful work in the world and responsible living. It is important to such values that diversity and inclusion are at the helm of the school's mission, while making a point of expressing these values in all aspects of the university's impact including: hospitality, community, respect, stewardship, and love of learning. Much of these ideas are highlighted on the institution's website on their Statement of Inclusive Excellence. St. Scholastica is a private college with many locations that span across the state of Minnesota.
One of the Exciting options College of St. Scholastica has to offer is the online RN-to-BSN program, which is based on the same core values and curriculum as the traditional BS program. One of the possible outcomes of this program is that students are eligible for public health nursing certification, following the completion of the program, which includes a community health clinical course. Graduates also walk away with credits that can be used towards the pursuit of a graduate degree in nursing. The program is tailored to the individual with the ability for completion in one year. The program includes 46 total credits.
Cost per Credit Hour: $125
Deadline: Rolling Admission
4. Nevada State College – Henderson, Nevada
Relatively speaking, Nevada State College is a baby, as it was founded in 2002. Its age has not stopped the school from achieving excellence since its inception. Nevada State offers comprehensive programing both on campus (which is located just 15 miles away from Las Vegas, in Henderson, Nevada) and also online. More than 60 percent of their student body are first generation college students, and 50 percent are ethnic minorities, as it is within the institution's mission to embody diversity. Online and in-person students can expect a world class education, active engagement with other students and faculty, and preparation for a multitude of career paths.
The online RN-to-BSN program at Nevada State College is available on a full-time or part-time basis, and was created for nurses who are already engaged in a nursing career to further their education and career goals, as well as to be in a position to make a positive contribution to the field of nursing. The program takes a holistic approach to nursing, as the curriculum is designed based on the principles of Dr. Jean Watson's Theory of Human Caring, and engages the critical components of both the art and science of nursing. Program applicants must already hold an RN license and an associate's degree from an accredited nursing program with a GPA of 2.0 or above.
Cost per Credit Hour: $142
Deadline: Rolling Admission
5. Oklahoma Panhandle State University – Goodwell, Oklahoma
Located in Goodwell, Oklahoma, OPSU was established in 1909 as an Institute for Panhandle Agriculture, offering secondary agricultural education for the Panhandle region. They began offering a two year college program in 1921, and continued to jump the ranks until it was a fully accredited four-year university with the comprehensive programming it has today. Their mission includes creating a learning environment for a diverse student body, that includes a variety of methods, all of which nurture and support students, while engaging the larger educational needs of the region. Engaging the mission includes accessing partnerships among community organizations and breaking down the barriers between the university and the surrounding community for which it serves.
The OPSU online RN-to-BSN program was one of the first fully online nursing programs to exist. Classes for this program are interactive and offered asynchronously, and are designed for students with busy lives and careers to complete their coursework on a part-time basis. A practicum learning experience is required and assigned near where the student lives for the sake of convenience and the ability to engage with one's own community. A variety of creative learning experiences are employed in the program, and each student is given individualized advising throughout the program. Much of the coursework and experiences are geared towards training and treating rural populations, enabling students to be able to provide care to rural patients in an array of healthcare settings.
Cost per Credit Hour: $146
Deadline: Rolling Admission
6. Stephen F. Austin State University – Nacogdoches, Texas
Nestled in the heart of East Texas is the stunning city of Nacogdoches where you can find the Stephen F. Austin State University's unique 417 acre campus. The school was founded in 1923. A couple of interesting facts is that they have a 64 percent female student body, and 18:1 student faculty ratio. Sporting events are a big part of the culture at SFA, and it would be unusual to attend one without seeing the famous hand sign that goes with their athletic chant "Axe 'Em Jacks!" Their mascot of lumberjacks informs the culture of the school, and each incoming freshman is gifted with an axe handle to personalize with their own interpretation of school spirit.
The online RN-to-BSN program is designed for adult professional students who have passed the NCLEX-RN exam, and are currently licensed to practice nursing, and are also currently working in the field. The SFASU online RN-to-BSN curriculum plan includes courses in general education, science and the humanities, and a nursing core. Clinical application courses allow for exposure to a variety of areas of nursing practice, as well as a hands on experience that may differ from the exposure the student has already had as a practicing nurse, along with the opportunity to ask questions and improve upon previously gained skills in the field. Applicants must apply on the website, and have a GPA on all prerequisites of 2.5 or higher, backed up by official transcripts.
Cost per Credit Hour: $170
Deadline: April 1
7. Georgia Southern University – Statesboro, Georgia
Georgia Southern University is located just south of Atlanta, and only one hour from Hilton Head Island, historic Savannah, and the Atlantic Coast. The University is one of the biggest and most comprehensive the state has to offer, and is within the top 100 rankings of best online Bachelors programs from the US News & World Report. Student life is active on and off campus, as there are over 200 student organizations. It is in their mission to provide a collaborative learning environment that is both supportive and loaded with high expectations for student success. The faculty is top notch interdisciplinary and the student to faculty ratio is 21:1.
The renowned online RN-to-BSN at Georgia Southern is designed for Registered Nurses who are already holding a professional place in the field of nursing, but want to further their career by achieving a Bachelors of Science. Students have the option of completing the program on a part-time or full-time basis. Both live and asynchronistic (to complete at your own pace) coursework is provided, and students are expected to have set communications with faculty, both web-based and over the phone. Prospective students must have a 3.0 or higher GPA to be considered for the program, some provisions, however, can be made.
Cost per Credit Hour: $204
Deadline: April 1st and October 1st
8. University of Nevada-Reno – Reno, Nevada
Established in 1874, The University of Nevada-Reno is located 30 minutes west of Lake Tahoe. The university is consistently ranked in the top-tier of post-secondary institutions in the country, with the research that has emerged from the world renowned faculty and student body, and the stellar learning environment provided which boasts a coalescence of creativity and diversity. The school is also known for its affordability, as students pay 80% less to attend than other average tier one colleges. UNR l is also known for its active student life, with over 250 student groups and clubs whether it be arts-based, or with a political or sports focus.
One of the exciting opportunities that the University of Nevada-Reno has to offer is their fully online RN-to-BSN degree program, hosted by the Orvis School of Nursing under the umbrella of the larger university. Due to the online nature, there is a flexibility that allows full time nurses working in the field to be successful in the program. The clinical experiences that are required for program completion are community-based and can take place in the area for which the student lives. Prospective students must first complete all of the prerequisites with a 3.0 or higher, have an up-to-date Nevada nursing license, and effectively fill out the online application.
Cost per Credit Hour. $207
Deadline: Rolling Admission
9. Lincoln University-Lincoln – University, Pennsylvania
Steps were taken to create Lincoln University at the close of the civil war with the mission of its designation geared towards freed African Americans, with a combined vision of labor and study, and the intention of it being placed in the state of Missouri. In 1954 when the Supreme Court voted in Brown v. the Board of Education, Lincoln University responded by opening its doors to all qualified applicants. Today, the campus continues to be a diverse epicenter of culture, research with a wealth in academic programming and community service opportunities. Lincoln offers over 50 undergraduate programs with few highly competitive Master's programs.
With their emphasis on achieving homeostasis within the contexts of learning, as well as the goal of teaching graduates how to achieve this with patients, the Lincoln School of Nursing recognizes health as a dynamic experience on the continuum of illness and wellness. The online RN-to-BSN program encourages registered nurses who do not have their BSN to heed the advice of the the American Nurses Association and gain career homeostasis in a field as dynamic as nursing. With very affordable coursework options for students, a high graduate pass rate on the NCLEX-RN, and a 100% job placement rate upon graduation, Lincoln School of Nursing and the online RN-to-BSN focus would be a great choice for anyone considering advancing their position in their field.
Cost Per Credit Hour: $209
Deadline: the last Tuesday in September and the first Tuesday in March
10. IUPUI – Indiana University School of Nursing
Indiana University-Purdue University-Indianapolis (IUPUI) is the top public urban research institution in the state, and as a result holds a strong commitment to their community as outlined in their "Community Report," which can be found on their website. The school in itself is a testament to collaboration as it is a collaboration between Indiana University and Purdue University-Indianapolis. The mission of the school is to expand the intellectual development of the state of Indiana through research, community engagement, creative activity, teaching and learning. Their primary aim is to continue to make progress in health and life sciences. One of the things they are known for is being home to the first School of Philanthropy in the world.
A powerful offering at IUPUI is the statewide online RN-to-BSN program which is designed for a registered nurse working in the field. All of the courses are offered online using videos and online learning environments. Following the general education prerequisites the course work can be completed in 12 months for full-time students, and 18-24 months for part-time students. The classes are bundled in 8 week learning modules, and the clinical experiences can be accomplished in the student's home community. The entirety of the program includes 36 credit hours. Though the program is fully online, students are able to use the campus for resources, support, and graduation.
Cost Per Credit Hour: $210
Deadline: March 15
11. Fort Hays State University – Hays, Kansas
Situated on 40 acres, deeded to the university by the state of Kansas, you will find the limestone faced buildings that make up Fort Hays State University's campus. Though this campus, located in Hays Kansas is quite beautiful, many FHSU students will never see it, as 6,000 of their 11,200 student population attend the virtual school. The "virtual college" was a progression from their continuing education and learning technology program in 1999, and has since gained quite a bit of notoriety for its successes, as it currently offers 19 online bachelor's degrees and 10 masters online. Included in the virtual college are several certificate and endorsement programs.
One of the gems offered in Fort Hays State University's virtual college is the online RN-to-BSN program. Applicants to the program must already have an RN license and have experience practicing nursing. As part of the application process FHSU requires three personal reference letters that attest to the character of the applicant, and a 2.5 minimum GPA is required from previous transcripts. The entirety of the coursework is found on the internet, and it is required that students have access to the Microsoft office suite to enter the program. The program has an option of an outreach nursing track, which includes a practicum that can be taken online as well.
Cost Per Credit Hour: $213
Deadline: March 1 and Oct 1
12. Georgia Southwestern State University – Americus, Georgia
Set amongst the pine trees in beautiful rural southern Georgia, Georgia Southwestern State University is 135 miles south of Atlanta. The University has a true commitment to its developing community, and offers programming for high school students, technical and professional graduates, professional training for graduates, business services, and cultural enrichment, on top of the over 40 Bachelors degree programs and many master's programs to choose from as well. As an institution Georgia Southwestern State is committed to diversity, and have subsequently outlined a statement of diversity and inclusion on their website that includes anti-harassment measures to support the freedom of each individual.
One of the acclaimed degree programs offered by Georgia Southwestern State University is the fully online RN-to-BSN program, designed to meet the needs of busy adult learners who are already working in the medical field with an RN accreditation. Due to the programs flexible nature, students can enroll full-time or part-time, and can therefore complete the degree in one or two years. However, students can have up to five years to complete the program if necessary. Each student is given an advisor who helps devise a personal plan for completion based on the student's life circumstances, and this mentor will help the student stay on track to meet their proposed goals. Students are given the tools to continue on to a Master's of Science in nursing program if interested. Many students have continued on to competitive certificate programs including Nurse Midwifery and Anesthetist programs.
Cost Per Credit Hour: $216
Deadline: April 15, July 15, and November 15
13. Clayton State University – Morrow, Georgia
Serving metropolitan Atlanta, Clayton State University's main campus is found a peaceful 192 acres of land surrounded by five lakes in Marrow, Georgia. Established in 1969 CSU was originally named Clayton Junior College. It wasn't until 1986 that it became the four year university that it is today, though the name did not become Clayton State University until 2002. The student body represents every part of the United States and over forty foreign countries, and most students live throughout Atlanta. The US News and World Report has ranked Clayton State as having the most diverse student body in the Southern United States six times in the last ten years.
The only fully online program in the University of Georgia System is the online RN-to-BSN program at Clayton, developed for nurses who are already serving in the field and are looking to further their studies and career options. One of the main objectives of the program is to prepare graduates to practice nursing in diverse healthcare settings, including home care, hospice, community clinics and hospitals. One unique component of the program is that students will have the option of earning a BSN and MSN at the same time. The program can be taken on a full-time or part-time basis, depending on the students needs.
Cost Per Credit Hour: $220
Deadline: July 15, November 15, and April 15
14. Minot State University – Minot, North Dakota
Located in the heart of Minot, North Dakota a trading town not far from the border of Canada, Minot State University has a rich and lively history. Founded in 1913 as a teacher's college, Minot State has grown to become a Carnegie Master's I Institution, based on the number of Master's level degrees offered per student. As a railroad town, Minot became the site of high criminal activity when Al Capone made it a hub of his liquor bootlegging business up to Canada during the 1920s prohibition era. Since then, and with the help of the college, the residents of this fourth largest city in the state have made Minot a progressive college town where an evening of entertainment may include watching the MSU Beavers wear their signature red and green to victory on the court or field. With a focus on the post graduate success as its number one priority, Minot State has been ranked consistently in the top 100 schools for post graduate salary earnings by degree.
The award winning nursing program at Minot State offers an online RN-to-BSN program that is open to anyone who has previously completed a nursing program and passed their NCLEX RN exam as a registered nurse (although some exceptions can be made for RNs who have not yet passed this exam). With a unique emphasis on public health nursing, the BSN completion program at Minot requires that students who are seeking their online RN-to-BSN degree locate a public health agency in their local area to pursue 90 hours clinical experience in conjunction with required the course, Public Health for the Professional Nurse. The program is offered in a 2 semester or 4 semester model, depending on how many prerequisites are transferred in from a prior institution, and both models can be taken full-time or part-time. When carefully considering which online RN-to-BSN program is right for you, Minot state might just be the one, no matter where you are.
Cost Per Credit Hour: $225
Deadline: May 1st and October 1st
15. Fayetteville State University – Fayetteville, North Carolina
As a part of the University of North Carolina System, Fayetteville State University is an Historically Black College/University and one of the two oldest higher education institutions that are supported by state funds in North Carolina. Founded just after the U.S. Civil War, FSU began as a secondary and postsecondary school for young Black folks in 1865. Later, in 1877 FSU became the first state-sponsored institution for the education of African-American teachers in the South, at the time called the State Colored Normal School. In the near century and a half since its humble beginnings, FSU has graduated thousands of students and made its mark as a school devoted to research and innovation, as well as student success, and a highly revered athletics program.
The online RN-to-BSN program in Fayetteville State University's Department of Nursing prepares nurse generalists to function in six interrelated roles: advocate, clinician, collaborator/coordinator, educator, leader, and consumer of research. Depending on how many credit hours students transfer into the program, the online RN-to-BSN degree can take between two and four semesters. Graduates must have completed 120 credit hours, 39 in general studies and 81 in nursing specific courses. FSUs provides online RN-to-BSN student the same quality education and accreditations as our traditional campus BSN program. If you are a student seeking a high quality education that is flexible, and affordable FSU may be for you.
Cost Per Credit Hour: $230
Deadline: July 1 for and November 15
16. California State University at Dominguez Hills-Dominguez Hills, California
Cal State Dominguez Hills is one of the most ethnically diverse schools in the already diverse California state system, graduating more African-American students than any other in the system, as well as serving many first generation college students. This commitment to all students, regardless of background, means that Dominguez Hills students are sure to be getting a terrific education that meets them where they are, and amplifies their skills and abilities. Founded in 1960 at a different location and with a different name, Cal State at Dominguez Hills has thrived as a stand out institution for research and innovation, as well as has focused on ways to be more economically accessible to students who are California residents.
Cal State Dominguez Hills offers an innovative online RN-to-BSN program for adult learners who have already been accredited and working as Registered Nurses in the field. The curriculum is designed to fit the needs of a busy professional lifestyle, as courses and exercises can be accessed from wherever the students home, and must be completed within the time frame of a semester. Test dates are given with ample notice, so students can plan ahead for specific dates and times. There are several pre-requisite courses that are required prior to program admission. Applicants must also posses 60 or more transferable college credits and a GPA of 2.0 or above.
Cost Per Credit Hour: $239
Deadline: November 3
17. California State University at Fullerton – Fullerton, California
Located in Orange County, California, Cal State Fullerton has grown from its inception in 1957 from 452 students to more than 40,000 by 2017. Just as these past 60 years have seen a vast change in the makeup of who lives and works in the area, the students who make up the student body also have diversified. The large student population drawn to CSUF make it the largest school in the 23 campus Cal State System. A satellite campus is located 20 miles away in Irvine. CSUF has been rated number one in California and five in the nation for serving Latino students, and it is in the top 25 in the nation for Latino graduates to enter the healthcare field. Forbes has recognized CSUF as one of the top 100 Universities in the nation!
The CSUF School of Nursing offers an online RN-to-BSN program that makes the bachelors in nursing degree just a few short semesters away for those who already hold a two-year degree in nursing. They have even gone so far as to partner with local community college Associate Degree in Nursing programs to help students prepare for transfer to the online RN-to-BSN program, either in the form of getting an ADN or completing prerequisites before beginning classes in the online RN-to-BSN program at CSUF. As the school of nursing offers both online and on-campus options for completing the BSN, when applications exceed the capacity for students who can be admitted in the online format, applicants are given priority to enter based on GPA. The remaining applicants are offered admission to the on-campus format or they can choose to apply the following semester.
Cost Per Credit Hour: $239
Deadline: November 31 and March 31
18. Ohio University – Athens, Ohio
Serving close to 40,000 students, Ohio University has excellence written all over its mission, vision and values. Officially opening its doors in 1808, just four years after Ohio's statehood, Ohio University has been committed to learner centered education practices since. Beginning in the early 1900's OU's fight song can be heard at athletic and other campus wide events: "Stand up and cheer, Cheer loud and long, for old Ohio…". Located in Athens, there is much culture with which to engage, including an epic music and arts scene, plenty of bars and restaurants and interesting places to shop. Ohio University goes the extra mile to create a supportive environment for students, and it shows by the success of its graduates.
Among Ohio University's renowned offerings in their fully accredited online RN-to-BSN program, created for adults with a full life. Each online class is five weeks in length, including nursing classes and general education requirements. The program is designed so students don't have to wait to get started, as there are eight start dates throughout the year. Study materials and all assignments are found online and can be completed from any location. Faculty and advisors are committed to helping students succeed and complete the program, and are available to students for support and direction to necessary resources.
Cost Per Credit Hour: $240
Deadline: Rolling Admission
19. Cleveland State University – Cleveland, Ohio
Cleveland State sits in the epicenter of the city, and much of their mission involves serving the community and contributing to its health and revitalization. Engaged learning is the mantra that CSU repeats in their mission and vision, as they are committed to taking a learner centered approach to education, with a focus on modern approaches to material, to the arts, as well as science and humanities. It is clear that they provide students with real world scenarios and experience while employing a hands-on approach to learning as there are over 17,000 students in attendance at CSU with over 200 academic options to choose from.
This highly competitive online RN-to-BSN program at Cleveland State will provide students who have already achieved their RN license with more career options and the groundwork to continue their studies in pursuit of a Master's degree in nursing. There is higher than a 95 percent graduation rate for students who have completed the program at Cleveland State, and a high employment success rate as well. The program is designed to be flexible to fit the needs of hard working adults, and can be completed in as few as three semesters. There are many opportunities to learn about community healthcare, and providing care in a variety of traditional and nontraditional settings.
Cost Per Credit Hour: $243
Deadline: March 1
20. University of North Georgia – Dahlonega, Georgia
The University of North Georgia has campuses in four locations in the region and is a premier senior military institution, and is considered The Military College of Georgia. In addition to its military recognition that draws students from all over the country, UNG has been awarded the Community Engagement Classification from the Carnegie Foundation for the advancement of teaching. Much of the mission and vision of this well-recognized institution revolves around building leadership amongst students in this diverse and global society. Diversity is a critical topic on campus, and there are many courses offered that study diversity issues in great detail.
As of Fall 2017, UNG's online RN-to-BSN program will be exclusively online. The program is designed for professionals already working in the nursing field and who possess an RN certification. The curriculum is accessible to working students, both in its flexibility as well as content, and strives to prepare professionals in the variety of settings that nurses find themselves working. With several program-wide scholarship opportunities, as well as faculty mentors and other support structures, UNG takes the success of students and graduates very seriously. With a four semester completion time and a 91% NCLEX-RN pass rate, UNG would be a great choice for any working RN hoping to advance their career.
Cost Per Credit Hour: $245
Deadline: April 30
21. Bellevue University – Bellevue, Nebraska
This high achieving non-profit university has a bustling campuses located in Bellevue Nebraska, and among other states in the midwest, though students from all over the world benefit from their renown online programming. The institution has been routinely ranked as one of the most military friendly schools in the country, and has been considered such since its inception in 1966. Over 50,000 students have graduated from Bellevue and many have shown great success in the job market and in pursuit of advanced degrees. Bellevue University aims to provide accessible traditional and non-traditional programming with teaching styles relevant to all students.
In 2017 Bellevue will begin offering their online RN-to-BSN . This innovative field of study is unique at this institution, in that is strengthened by a strong examination of political, cultural, ethical, and social issues that go into understanding effective healthcare today. Each student will participate in a tailored practicum where students will address a nursing concern and seek resolution with the support of a partner preceptor. Graduates from this program emerge with competent skills to handle a myriad of healthcare scenarios in both traditional and non-traditional environments. Coursework on professional communication and moral, ethical and legal decision making is embedded in the curriculum, as well as innovative strategies to providing effective patient centered care.
Cost Per Credit Hour: $250
Deadline: Rolling Admission
22. Touro University – Henderson, Nevada
Located in the Las Vegas Valley in the town of Henderson, Nevada, you will find Touro University's convenient single site campus, just miles away from the famous Las Vegas Strip. Due to the small and growing size of 1,400 students, the concentrated emphasis on health science and education is pronounced, and most of the programming offers special attention to these disciplines. Touro is known for its small student to faculty ratio, and it is a critical part of the institution's mission that there are many opportunities for faculty to be available to students with extensive office hours. Touro is a commuter school and offers no on campus housing.
Touro University offers a comprehensive online RN-to-BSN degree program for practicing nurses who require flexibility. One of the benefits of the program is that it can be completed in the course of one year. There are three start dates annually, so prospective students can get started quickly. There is no travel required for this program as it is all online, and therefore, it will not be disruptive for an adult professional's lifestyle. The program offers no part-time option for this program, each class spans the course of seven weeks, with a two week break between courses. Students are allowed to take semester breaks, but will have to wait for the following year to complete the class that was skipped.
Cost Per Credit Hour: $250
Deadline: Rolling Admission
23. University of Texas At Arlington – Arlington, Texas
The University of Texas at Arlington Mavericks are known for challenging the status quo, as they transform to meet the needs of today's biggest challenges. They are recognized as one of the 115 top doctoral research institutions in the United States, classified by Carnegie as a Highest Research Activity (R-1) institution. In 2016 the research funding for the year went above 86 million dollars! Not only does UTA have an active campus life and an expanding on-campus resident population, they are also a frontrunner in distance education, and has been given consistent accolades for the quality of their online courses. The online programming spans many disciplines including a variety of nursing disciplines, Urban and Business Affairs, and even an MBA, all of which serve to create the infrastructure of an excellent online university.
UTA's online RN-to-BSN program is part of the College of Nursing and Health Innovation, and is designed to add to the already honed skills of a nurse who has experience working in the field. The curriculum is steeped in leadership training, and liberal arts components to ensure students graduate with a deep level of cultural competency and advanced problem solving skills to meet the complex needs of diverse patients. General education courses, previously considered prerequisites, are embedded into the program, so students can get started without having to fulfill those requirements prior to admission; several general education courses are offered with each start-date.
Cost Per Credit Hour: $257
Deadline: July 14
24. Grantham University – Lenexa, Kansas
Grantham University is committed to "serving those who serve," and those who aim to be change makers. Much of their mission highly regards meeting learners where they are, and making space for non-traditional students to excel, including, members of the military who are on active duty, veterans, first-generation college students, emerging entrepreneurs, and anyone who needs a second chance. Their curricula and mentorship opportunities make it possible to meet the needs of a student population that would not thrive just anywhere, and it is their belief that everyone is entitled to a college education that continues to propel the programming towards excellence and inclusion.
Grantham's fully online RN-to-BSN program is designed for students who have already achieved an associates degree in nursing and want to move their career to the next level. The primary areas for which the program is committed to expanding the competency base of their students are: community concepts, leadership, professional practices, and research. Applicants must complete prerequisite general education courses to qualify for the program, and have achieved a 2.5 GPA or greater. It is designed so that the program can be completed in 24 months time, or less. Members of the military, or students with veteran status will receive reduced tuition rates.
Cost Per Credit Hour: $265
Deadline: Rolling Admission
25. University of Central Missouri – Warrensburg, Missouri
The University of Central Missouri is located in the small town of Warrensberg, Missouri, just 50 miles south of Kansas City. The majority of classes are offered on this state of the art 1,561 acre campus, as well as extended campuses throughout the state. With many locations and online coursework, close to 14,000 students are served by UCM. The offerings of the university include over 150 fields of study, including 10 pre-professional certification programs. UCM students are in high demand on the job market, as 92 percent of graduates are employed within 6 months of graduation. The Office of Career Services is a supportive resource for students to get help accessing employment mentorship.
The online RN-to-BSN program for certified nurses at UCM is designed for adult learners who are looking for advancement in their career path and salary. This program will give students a larger framework for home healthcare, community and public health avenues, program planning and management, and health education. One of the aspects of the program students love is the flexibility it provides, and the ability for full-time students to complete the program in a single calendar year. Every student is given a significant amount of personal attention and advising, through the use of accessible technology platforms. The curriculum is innovative and student-centered in its approach.
Cost Per Credit Hour: $265
Deadline: Rolling Admission
26. SUNY-Plattsburgh – Plattsburgh, New York
SUNY-Plattsburgh offers a public four-year education on its beautiful pedestrian friendly residential campus, known for being safe and accessible. Plattsburgh is just one hour's drive from Montreal, situated between Vermont's Green Mountains and New York's Adirondacks. Undergraduate enrollment is 5,377, and over half of the students are first generation college students, for which the university is very proud. The graduate degree programs are comprehensive, with a low student to faculty ratio, and embedded are practical skill applications that aim to provide an easy transition into the professional fields for which students study. Several companies including IBM have recruited students for both internships and jobs directly following graduation.
SUNY-Plattsburgh was one of the first universities to adopt distance learning programming, which includes their highly successful online RN-to-BSN program. This competitive program is designed to bring registered nurses to the next level in the career path and educational goals. The curriculum builds on the skills gained for achieving an associate's degree as well as working in the medical field with a deepening track of study on topics like natural, biological, and behavioral sciences, with a large focus on professional studies. Students have many options to practice applied learning experiences, as the clinical coordinator works with each student individually to find relevant community partnerships for students in their region.
Cost Per Credit Hour: $266
Deadline: Rolling Admission
27. American Public University System – Charles Town, West Virginia
American Public University System offers a primarily web based education, where the average age of the student population is 33, and curricula is designed to fit into the busy lifestyle of adult learners. US News and World Report rated American Public among the top online programs in the country. There are over 2,000 faculty members located throughout the world, many of whom are leaders in their fields of research and expertise. Students have access to the university's comprehensive library, study resources, and academic advisors to provide mentorship assuring participants have everything they need to be successful. Social media tools are employed by the university to build a strong learning community.
One of the stellar online offerings at the American Public University is the online RN-to-BSN program, designed for registered nurses to have the competitive edge that a Bachelor degree provides along with the deeper skills and training to be leaders in the field of nursing. Students in this program have many opportunities for experiential collaboration with faculty who are also at the cutting-edge of the healthcare industry. Classes are designed with an asynchronous structure, so students can complete their coursework during the hours that make sense for their career and lifestyle. Discussion boards are used to connect students to one-another as well as faculty and advisors.
Cost Per Credit Hour: $270
Deadline: Rolling Admissions
28. University of North Alabama – Florence, Alabama
Steeped within the deep history and legacy of the Shoals region of the state, you will find the University of North Alabama, which happens to be the oldest public university in the state. It was also one of the first co-educational post-secondary institutions in the United States. The grounds of the campus are exceptionally beautiful and echo the antiquity of the area with the historic district for which it faces, Florence, Alabama's coined Renaissance City. In 2008 the US News and World Report ranked UNA as one of the top-tier public universities in the country. It is clear that UNA has a significant impact on the local cultural community and has helped set the groundwork for academic innovation globally.
One of the exceptional opportunities the University of North Alabama offers is the online RN-to-BSN program, enabling students who have already achieved an Associates degree in nursing to pursue their BSN while tackling other life responsibilities. The program is designed for students to have the option of completing the coursework in one calendar year, and there is ample support for students to be placed in community experiences in the communities where they live. The study and course schedule is tailored to meet the needs of each student, and the general education requirements can be met concurrently alongside the BSN coursework.
Cost Per Credit Hour: $277
Deadline: Rolling Admission
29. University of Arkansas at Little Rock – Little Rock, Arkansas
University of Arkansas at Little Rock is a renowned research institution that provides incomparable internships and experiential learning opportunities. Over 11,000 students are engaged in programming at UA Little Rock, faculty that are at the frontlines of research in innovation. The campus includes 56 structures on a campus of 250 acres, and is located in the epicenter of the state's government system, which provides a rich environment for educational opportunities. One of the exciting featured programs on campus is the Community Connection Center, which gives students mentorship and access to community partnerships to put their academic skills to the test in real-life scenarios.
The RN-to-BSN online program at UA Little Rock is an excellent way to complete a BS in nursing while working full or part-time in the nursing field. The curriculum for the program builds on the coursework for the traditional core nursing program, though allows the flexibility of completing assignments in the comfort of your home, with the necessary flexibility to work with the limits of the student's schedule. Some of the topics covered in the online classes are general wellness promotion, economics, legality, leadership, advocacy and health assessment. Prospective students are encouraged to make a pre-admissions advising appointment in person or on the phone to learn more about the online RN-to-BSN program.
Cost Per Credit Hour: $280
Deadline: August 9
30. Delta State University – Cleveland, Mississippi
Delta State University provides a comprehensive education to over 4,500 students, with traditional and non-traditional course offerings that draw students to the renowned institution. The campus has a lively culture with the student created Okra mascot parading around, regular cookouts on the quad, the ubiquitous sound of music coming from buildings and campus enclaves, the culture of art and expression, and fun traditions like the annual Pig Pickin. The institution's goal is to engage the community in and around the Mississippi Delta Region as much as possible with plenty of community service endeavors that the university supports. Delta State has an 11:1 student to faculty ratio, one of the lowest in the state, and course offerings are a hybrid of online and traditional classroom-based learning.
Delta State is the home to the highly acclaimed online RN-to-BSN program, designed for students who currently hold an RN license and are seeking a bachelor's degree to further their career goals. The mission of the program is strengthened by a commitment to serving the Mississippi delta region with high quality healthcare and leaders who can take on the complex health issues faced by the current society. The program enrolls students for the fall semester, and all coursework can be completed in two semesters. Flexible course loads and part time status is available, and faculty advisors are on deck to help students tailor their academic plan to their lifestyle and availability.
Cost Per Credit Hour: $281
Deadline: February 15
31. Georgia College & State University – Milledgeville, Georgia
As a result of the hard work of journalist Julia Flisch, in 1889 The Georgia Normal & Industrial College opened its doors to offer a two-year education for women, specifically in business and teacher training. This precocious beginning paved the way for the progressive and innovative school Georgia College and State University became and remains today. In 1967 it the highly revered institution became co-ed, allowing male students to have access to the high quality education the university had to offer. One of the points of pride GC celebrates is their honor of traditions, which include all of the events that make up homecoming week, including a murder mystery, a community service project, and of course the homecoming basketball game, to name a few.
Georgia College has offered an RN-to-BSN program for some time, but just recently it become entirely online. The program is designed to be completed in three semesters, but students have the opportunity to take their time and complete it at their own pace, per request. The online RN-to-BSN degree requires 120 credits to complete, and this institution provides a tremendous amount of support to help students achieve their goals. It is critical to the program that students achieve a great sense of clinical reasoning and a grasp on civically engaged healthcare upon graduation of the program, as well as professional nursing skills and reasoning. Applicants must have an active RN license to be considered for the program.
Cost Per Credit Hour: $289
Deadline: July 1, November 1, April 1, and May 1
32. Radford University – Radford, Virginia
It was 1910 when this University opened its doors for the first time in an effort to expand and improve the school system in the Virginia Commonwealth. Titled The State Normal and Industrial School for Women, in its early days, it was an institution meant to not only train young women to be effective teachers of their time, but also to be proper "southern gentlewomen," who were expected to model prudence and Victorian values. From that point on Radford began evolving into the contemporary public university that it is today, becoming co-educational in 1972, and building an ever-expanding progressive liberal arts education, including an emphasis on fine and performing arts. In 2008, Radford opened the most technologically advanced performing arts facility in the south of Virginia.
One of Radford University's claims to fame is their legacy of training high quality nurses for the last forty years. Based on this practice, Radford created a top-notch online RN-to-BSN program for registered nurses who hold a current license. Though the program is fully online, one of the motto's of the program is that "you are never alone". There is a tremendous amount of support for distance learners built into the program, and successful students are able to move right into the Masters of Nursing Practice Program that Radford offers. The experiential learning component that is required of all students, can be completed in one's own community.
Cost Per Credit Hour: $291
Deadline: Rolling Admission
33. University of Southern Indiana – Evansville, Indiana
This public university was founded in 1965, and has since made a name for itself with consistent high quality education and program offerings. Located in Evansville, Indiana, this 1,400 acre campus will take your breath away with its natural and architectural beauty. There are several colleges within the university including: The Romain College of Business, College of Liberal Arts, College of Nursing and Health Professions, and the Pott College of Science, Engineering and Education. One of the ways their learning innovation has been expressed is through their extensive online programming, as well as their traditional classroom style course implementation.
University of Southern Indiana has a highly successful online RN-to-BSN program that is both affordable and provides students with a solid foundation to prepare for a graduate school education, and/or to open career doors. The programs focuses include critical thinking and creative problem solving in the face of complex healthcare quandaries, and communication skills. Topics such as global health will be deeply covered. Credit through prior learning may be applied, however information about validation possibilities will not be given until the first class begins. The duration of each class is 8 weeks long, and students are required to fulfill 30 hours of nursing credits.
Cost Per Credit Hour: $297
Deadline: July 24 and September 18
34. Colorado Christian University – Lakewood, Colorado
Established in 1914, Colorado Christian University is the inaugural interdenominational Christian college in Colorado, and the Rocky Mountain Region. CCU has been consistently ranked within the top universities in the country. This institution offers over 100 degree programs, both for traditional learners and adult students who are starting their education later in life. Rooted in evangelical traditions, CCU is committed to creating a cultural and educational environment that connects learning and life skills to a Christian worldview. Their Statement of Faith is a document all faculty and staff connect to, and bring into the classroom as a praxis for learning and understanding the world.
CCU's innovative online RN-to-BSN program is rooted in the traditions for which the university was built, and therefore, the practice of nursing is viewed as a transformative path of ministry. The program is designed to be intimate and cross the barrier the internet can sometimes create, as each class has a cohort and a learning community, relationships are paramount to the success of the individual learner. Participants are also encouraged to access contact with faculty members who are leaders in the field and are available to provide mentorship. The coursework is designed to fit into a busy schedule and build on a nursing degree that has already been achieved prior to entering the BSN degree program.
Cost Per Credit Hour: $315
Deadline: Rolling Admission
35. Southwestern Oklahoma State University – Weatherford, Oklahoma
Established in 1901 with the help of an act by the Oklahoma Territorial Legislature, several adjoining towns fought to be the host community for the budding institution. Due to a variety of components, the town of Weatherford won the battle. The school almost closed several times during the Great Depression, due to financial strain, but they prevailed after much hardship. Now they are stronger then ever with innovative interdisciplinary programming and research, and a second campus in Sayre. Sports are a big part of student life on campus, and all athletic teams are represented by the bulldog mascot. There are over 100 student organizations that are active and a culture that supports student pride and academic excellence.
The online RN-to-BSN program at SOSU is a degree completion program for adults who already hold an associate's degree and are have a current RN license. It is possible for students to enter the program with advanced standing, and therefore shorten the duration of coursework, based on their previously achieved credits. The program is designed to build on the foundations of prior nursing education and life experience, and therefore provides a firm grasp on critical concepts related to providing excellent patient care and critical thinking skills. The program is meant to be flexible to accommodate the lifestyle of a busy hard-working adult learner, so SOSU ensures that students have 5 years to complete the program at their own pace, but of course can accomplish the degree much faster as a full-time student.
Cost Per Credit Hour: $315
Deadline: Rolling Admission
36. Southern New Hampshire University – Manchester, New Hampshire
Located on the 300 acre campus alongside the Merrimack River, Southern New Hampshire University brings together leaders who share a vision of providing access to affordable, high quality education to everyone. On campus student life consists of hiking, frisbee games, cultural events and traditions, and basking in the beauty of the New England campus. Online, a university was created "for the people," with the goal of accessing non-traditional students who are juggling multiple life responsibilities. There are over 200 online programs to choose from, all with the support of faculty to help each individual succeed. Programs are meant to be affordable, and accessible, with access to coursework 24/ 7.
The online RN-to-BSN degree at SNHU fits the framework of the university's mission, providing accessible and affordable education, steeped in real life experience. The program was designed by nurses for nurses, allowing flexibility for students to continue working in the nursing field. The proposed outcomes of the program include giving students the tools to provide evidence-based care, disease prevention, whole body health prevention, all in service to helping students advance to the next level of their careers and education goals. Another exciting component to the program is the focus on technology as a tool to improve professional working conditions and to better.
Cost Per Credit Hour: $320
Deadline: Rolling Admission
37. University of Mary – Bismarck, North Dakota
The University of Mary is a private, Benedictine Christian and Catholic University with seven campuses in the US and abroad, including a large variety of online course offerings. One of the things the sets a University of Mary education apart from other high quality institutions is their affordability. They have a strong liberal arts base and an emphasis on global and civic service. Over 3,000 students attend Mary and each one is given the personal attention necessary for their individual success. The flagship campus is located in Bismarck, North Dakota, the state capital, known as one of the safest places in the country to live with access to bountiful cultural events and opportunities.
Imbued with Catholic and Benedictine values and teachings, Mary's online RN-to-BSN program weaves the critical conversation of service and community into all of their coursework, as applied to both personal and professional learning. Students are known to emerge with life long friendships that were birthed in the program, as they are met with like-minded people also working in the nursing field. Even though the program is fully online, there are many opportunities to make connections within cohorts, as the university sees the support of other students as a critical component for successful nurses. Applicants must have a GPA of 2.75 or above and an associates degree or diploma from an accredited two-year nursing school.
Cost Per Credit Hour: $320
Deadline: Rolling Admission
38. Lewis-Clark State College – Lewiston, Idaho
Located at the intersection of duality where two rivers come together, the Clearwater and the Snake, two states touch, Idaho and Washington, and two cities meet, Lewiston and Clarkson, you will find this great institution. Established in 1893 Lewis-Clark State is a public comprehensive institution with many opportunities, even beyond four year programing. It is known for being one of the top performing public post-secondary schools in the west, with a reputation for intimate class sizes and faculty committed to providing individual support to each student. There is a rich cultural atmosphere on campus which includes constant performances and guest lectures, as well as student-centered events.
Lewis-Clark State College offers a fully online RN-to-BSN program for students who are already licensed as registered nurses. The entire program can be completed in as few as nine months, with flexible scheduling to accommodate the demands of a family and career. There are two clinical course requirements that can be completed in locations convenient to the student, however there may be some associated travelling. Each clinical course requires 90 hours of coursework and shadowing. The online portal is user friendly and offers 24/7 secure access. There are Fall and Winter start options for both full-time and part-time students.
Cost Per Credit Hour: $324
Deadline: February 28 and September 30
39. Indiana Wesleyan University – Marion, Indiana
Established in 1920 as Marion College, Indiana Wesleyan University has always been consistent with their Evangelical Christian values and commitment to a high quality professional and liberal arts education. IWU places Christ-centered learning at the forefront of their mission and values, as they are known for training students to ground in scholarship, leadership and character. This is a private nonprofit institution affiliated with the Wesleyan Church, and is the largest school affiliated with the Council for Christian Colleges and Universities. Over 3,000 students study at their 350 acre residential campus in the town of Marion, which is an hour away from both Fort Wayne, and Indianapolis, however 10,000 adult learners attend class at IWU in person and online.
Taking the online RN-to-BSN program at Indiana Wesleyan University is one of the excellent and affordable options IWU offers for this track. There is also an online and traditional hybrid, as well as a traditional option that is requires all classes to be on campus. The online program, however, has all of the benefits of the other programs, though it is designed to accommodate non-traditional learners with busy life demands. Practice opportunities are embedded into the program, and can be accomplished at home or in the student's home community. Students are accepted into the program seven times per year, which means there is very little waiting to begin this exciting and life-changing opportunity.
Cost Per Credit Hour: $325
Deadline: Rolling Admission
40. Loyola University New Orleans – New Orleans, Louisiana
Loyola University New Orleans is a private catholic Jesuit post-secondary school, excited to have an open door to all students regardless of denomination. Situated on historic St. Charles Avenue in the Uptown section of New Orleans, Loyola is rich in history and tradition, with a track record of supporting critical thinking skills and an inquiry-based education, that empowers students to be their authentic selves as they engage in their personal life paths. The commitment to serve is another educational component that is fostered at Loyola. The student faculty ratio is 10:1, allowing for intimate collaborations and a truly student centered education.
Loyola University New Orleans offers an affordable and comprehensive online RN-to-BSN program, geared towards opening career and educational doors for adult learners who have already been immersed in the healthcare industry. Every aspect of the program is guided by Jesuit values and ideology, deepening students' ability to provide comprehensive patient care in a variety of healthcare settings. Loyola has award-winning faculty that are committed to the success of each student, while providing an intimate atmosphere for learning within a cohort structure. The coursework builds on the skills that students have already gleaned from achieving an associate's degree and working in the field as registered nurses.
Cost Per Credit: $325
Deadline: Rolling Admission
41. Brigham Young University of Idaho – Rexburg, Idaho
Brigham Young University-Idaho is a private four-year postsecondary institution that has a strong affiliation to the Church of Jesus Christ of Latter Day Saints. Their origin story begins in the winter of 1888 when the pioneers of the faith gathered in the town of Rexburg to open this faith-based institute of higher learning, and since it has become Idaho's largest private university. The scope of this dynamic school is of epic proportions, as the on-campus traditional student population is above 32,000, and believe it or not, the online student population has just one thousand more than in-person learners!
The highly rated online RN-to-BSN program at Brigham Young University-Idaho is known for its value placed on lifelong learning and its unmatched commitment to serving adult learners who have already entered the healthcare field with a registered nurse credential. This program engages participants with the skills to interact with the most current trends in healthcare, and the necessary critical thinking skills to understand the complexity of healthcare inquires faced by our communities. Experiential learning is an important component of the program, and students are given the opportunity to teach health education sessions to older adults or various populations in the learners' home community.
Cost Per Credit Hour: $326
Deadline: July 1st, November 1st, and March 1st
42. Eastern Michigan University – Ypsilanti, Michigan
When deciding on an institution in which to invest your learning, Eastern Michigan University stands out for a variety of reasons. Located in Ypsilanti, just 35 miles west of Detroit, and a stone's throw east of Ann Arbor, this comprehensive institution is the host to seven colleges within their larger umbrella, including the College of Business, the College of Arts and Sciences, the College of Health and Human Services, the College of Education, and the College of Technology. EMU was established in 1849, initially opening its doors with the name Michigan State Normal School. The Campus now spans 800 acres with a total enrollment of over 23,000 students.
EMU offers an exceptional and affordable online RN-to-BSN program that emphasizes critical cultural, economic, and social issues that have a big impact on the delivery and directives of excellent patient care. The curriculum is embedded with learning strategies regarding systems thinking, and a foundation for processes around healthcare quality improvement. The program can be completed in as few as 16 months with a total of 30 mandatory credit hours. Prospective students must first be admitted in the general Eastern Michigan University pool, have a current RN license, and a GPA of 2.5 or above a from previous degree program.
Cost Per Credit Hour: $328
Deadline: August 17 and October 3
43. University of New Mexico – Albuquerque, New Mexico
University of New Mexico sits in the center of Albuquerque, New Mexico, right beside Route 66, on an over 800 acre pueblo revival inspired campus, offering views of the Sandia Mountain range. This large and diverse school serves as the state's flagship university. The campus is known nationally for its arboretum and duck pond that acts as a primary gathering place for students and faculty alike. Research and service are the key threads to the university's mission and set of values, as well as the drive to create a better quality of life along with avenues for knowledge and economic development for New Mexicans.
UNM's high quality online RN-to-BSN program emphasizes deeper inquiry and understanding of current healthcare responses to community healthcare needs and global illness. Developing a broader understanding of culturally appropriate care and engaging in patient-centered service, are concepts that are thoroughly unpacked by the curriculum. There is also a lot of focus placed on grasping new tools to apply evidence-based practice in patient care settings and evaluation of standards in the profession. This includes understanding technological developments in the nursing field, providing students with the framework to build on technology trends and apply them to a large scope of healthcare deliverables.
Cost Per Credit Hour: $331
Deadline: June 26 and August 22
44. the University of Massachusetts at Dartmouth – Dartmouth, Massachusetts
UMASS Dartmouth stands out from its parallel schools as a distinguished research university, engaged in transformative inquiry that has ripple effects on the economic and social health of the country and global stratosphere. This top-tier university has been recognized on a global scale as an entity on the front lines of community engagement, accessibility, and intellectual advancement. They underwent a strategic planning process in 2013, known as UMassDTransform2020, which laid the foundation for collectively carving out a vision for a future of innovation and inquiry, which included input from students, faculty and alumni. An interesting fact about UMASS Dartmouth is that it began as two different textile schools in 1895.
One of the exciting opportunities that UMASS Dartmouth offers is the BSN completion program, designed for RNs who have already been working in the healthcare field and would like to build on their education and by achieving an online RN-to-BSN . The program is entirely online, and is built around the needs of each student's needs and educational interests, with a strong curricular base on the social and physical sciences and community and public health. The coursework includes a clinical in community nursing, which acts as an independent study under the direction of a faculty member. This is an experiential learning opportunity with a focus on effective communication strategies, collaboration with patients and other healthcare leaders, and therapeutic strategies and interventions.
Cost Per Credit Hour: $332
Deadline: November 9 and March 1
45. Stony Brook University – Stony Brook, New York
Stony Brook University is the home to six professional colleges, one of which is the highly rated School of Nursing. Initially Stony Brook was designed to be an institution to develop high school math and science teachers, opening its doors in 1957. Situated in Oyster Bay, on Long Island, New York, on the campus of a former Gold Coast Estate. It has grown considerably since the 50's and 60's, now with multiple campuses, with its main site just one hour east of Manhattan by car, near both the vineyards of the east and the Atlantic Ocean beaches. Stony Brook holds the best of many worlds.
Stony Brook University hosts a very successful online RN-to-BSN program that brings together some of the most pertinent issues facing healthcare today, including leadership, comprehensive communication strategies, and a general praxis that engages the currents of the evolving sphere of global healthcare. There are many opportunities for students to practice their learned skills by providing healthcare in the community to individuals, families and groups. Prospective students must have achieved a 2.5 GPA or greater in their previous associate's education and have 57 transferable incoming related credits. Three prerequisite science courses are also required by the application deadline.
Cost Per Credit Hour: $333
Deadline: Rolling Admissions
46. SUNY College of Technology at Delhi – Delhi, New York
SUNY College of Technology at Delhi has always taken a customer service approach to education, in the sense that the student is always the most critical priority. Only a few hours outside of Manhattan, you will find this far-reaching institution nestled into the Catskill Mountains. Each student is given a comprehensive education tailored to their individual needs, one outcome of low student-teacher ratio and small class sizes. SUNY Delhi has consistently ranked highly in the US News and Report College Rankings, specifically as one of the best BA programs in the north. On campus, there are many opportunities for students to plug into extra curricular activities with over 50 student-run clubs and many options for intercollegiate sports.
One of the areas that SUNY College of Technology at Delhi has been recognized for is its excellence is online educational programming. This is just one of the many things that make them national leaders. SUNY Delhi's online RN-to-BSN program falls under this umbrella of renowned excellence. Flexibility is a selling point of this program, as it is designed to fit into the busy lifestyles of students who are already working in the field of nursing and juggling the demands of career and family. There are practicum opportunities that can be completed within the students community, and tailored to their evolving inquiry and career goals.
Cost Per Credit Hour: $333
Deadline: Rolling Admissions
47. SUNY at Canton – Canton, New York
SUNY Canton holds so much history, as it was initiated in 1906 as the first public two-year college in New York State. In 1987, it became the accredited four-year institution of excellence in technology that it is today. Canton offers 13 comprehensive online degree programs, along with over 50 on-campus degree programs that range from associates to Bachelors, with 5, one-year professional degree programs. Their online programming has been expanding to offer comprehensive options including over 400 online course offerings. SUNY Canton is known for it's diverse student body, including a large population of international students. Their faculty are committed to experiential learning practices and bringing real-world exposure into the curriculum.
In the fall of 2009 SUNY Canton initiated the online RN-to-BSN program for registered nurses to achieve their BSN degrees. This coursework combines general education classes with comprehensive nursing coursework. Students are granted entrance to the online portal full of lectures, case studies, discussion boards and other technological outlets to share ideas in community and respond to the provided curriculum. Participants are also paired with clinical preceptor experiences, giving them opportunities for hands-on learning in community healthcare settings that are convenient for the student. All aspects of the program are student-centered and geared to the needs and educational goals of each participant.
Cost Per Credit Hour: $333
Deadline: Rolling Admission
48. SUNY-Empire State College – Saratoga Springs, New York
SUNY-Empire State College is known as the College Built Around your life, as it has been a leader in non-traditional education for non-traditional adults for over 40 years. All of their programming is designed for working adults to plug coursework into their busy schedules. Students can find associate, bachelor, and master's degree programs entirely online with the flexibility to enter the web-based portal 24 hours a day, 7 days a week. Their programs are affordable and accessible. Fifty percent of their student body earns prior learning credit that will shave up to three semesters of required coursework. In addition to online courses, there are over 30 onsite locations where students can choose to study.
The SUNY Empire online RN-to-BSN program is one of the more flexible and affordable options at SUNY Empire State College. Its mission is to work with every student to allow for the program to fit within their life circumstance, allowing for a part-time or full-time course load, and with choices to do the program entirely online or utilizing the campus for classes and resources, participating in residencies, or even student study groups, or a hybrid of some or all of these options. Regardless of the path of study, all students will walk away with a grasp on evidence-based nursing care for diverse populations. Students are paired with a faculty mentor to be sure to have all of their academic needs met through the course of the program.
Cost Per Credit Hour: $333
Deadline: Rolling Admission
49. University of South Dakota – Vermillion, South Dakota
Located in Vermillion, North Dakota, the University of North Dakota was established in 1862, nearly three decades before the establishment of South Dakota as a state. As the oldest post-secondary institution in the Dakotas, USD has seen many changes in the century and a half since it set out the educate students. With a simple, one-word motto that translates to the English word Truth, students at USD are expected to perform to the highest level possible, achieving and pushing their own sense of truth, and demanding academic excellence from themselves and their fellow students throughout their time at USD.
The online RN to BSN program offered at USD follows this same pursuit of truth, in their multi-format options for accredited nurses to achieve more. USD acknowledged that the highest caliber hospitals and healthcare facilities prefer nurses to know the theory and have engaged with the intensive breadth of study that BSN graduates have. To ensure that RNs, with busy and full lifestyles, are able to access this career-enhancing opportunity, USD offers three courses of study: the Fast Track, 2-semester option (which is full-time), the Traditional Track, 4-semester option (which is part-time), and the Progressive Track, one course per semester option (which is also part-time). Giving these several options for achievement of your own truth as a nurse is just the first of many ways that USD puts students first.
Cost Per Credit Hour: $335
Deadline: July 15 and December 15
50. Walden University – Minneapolis, Minnesota
In 1979, Walden University was licensed to award Master's and Doctorate degrees to students as a part of a self-directed, distance learning program that was one of the first of its kind. They currently serve over 45,000 students and have nearly 80,000 alumni worldwide. With a commitment to adults having access to advanced degrees, regardless of the path, their education has taken prior to choosing Walden, students become a part of a family. Having started the very first, fully online masters degree program in 1995, Walden has been a pioneering force in distance learning, and have been on the cutting edge of online education since online became a household thing.
The online RN-to-BSN degree at Walden is as innovative as the school itself, allowing for students to transfer up to 75% of the credits needed to complete the BSN course, and complete the degree in as few as 24 months or less. Along with the faculty, counselors, and other students who are placed together in a cohort, the worldwide network of Walden affiliated professionals work to provide opportunities for each other after graduation, adding to the intended effect of family. If the innovation and student support are not enough, Walden always has the affordability of its programs on its side. With 60% of students receiving financial aid, and several institutional grants and scholarships available, RN to BSN students are eligible to receive $3,000 off their first semester, as incentive to keep going! With these kinds of institutional supports in place, online RN-to-BSN students will have everything they need to excel in this degree completion program.
Cost Per Credit Hour: $335
Deadline: Rolling Admission
---
---
Related:
What Is a Nurse Administrator?
25 Best Online MSN Nurse Educator Degrees
What Are The Most Popular Nursing Master's Degree Specializations?