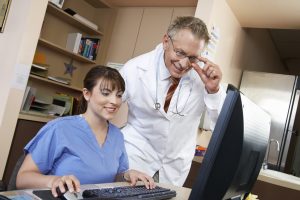 What Are BSN Nursing Internships?
BSN nursing internships provide valuable experience for aspiring nurses and give them an insight into what their future jobs will entail. The internships focus on the application of nursing theory and knowledge to actual nursing tasks in a medical setting. Most programs include a clinical practicum with qualified nursing preceptors. The program content may include the development of nursing skills, end-of-life issues, crisis intervention, ethical issues, conflict resolution, and also leadership skills. Internship programs are offered to newly graduated registered nurses or registered nurses with less than one year of acute care experience. Also, a variety of nursing internship programs also offer experienced nurses who are switching specialties the opportunity to gain experience in their new fields.
---
Qualifications for BSN Nursing Internships
For consideration for a BSN nursing internship, individuals must complete the necessary clinical training components of their BSN programs. In addition, they must be eligible to sit for the NCLEX-RN examination.
---
BSN Nursing Internships Common Goals
While the specific goals of the BSN nursing internship program will vary, the programs share some common goals.
Increase the quality of patient care and also heightened patient safety.
Provide interns the opportunity to demonstrate an understanding and know-how of the procedures and skills required for their nursing specialty.
Give interns a chance to use thorough clinical judgment and critical thinking skills throughout patient care procedures.
Help interns develop both delegation and time management abilities.
Offer an orientation of interns to a specialty nursing unit.
---
BSN Nursing Internships Length
A variety of schools and organizations offer internships for students pursuing BSN degrees. The length of time varies by program, but most internships commonly last between 12 weeks to one year.
---
Pay for Internships
Numerous nursing internship programs are paid to help registered nurses transition from students to practicing healthcare workers. The pay range will vary on experience and benefits. For example, some BSN nursing internship programs pay around $21 per hour and include benefits.
---
BSN Internship Contracts
Some BSN nursing internship programs require interns to sign a contract that indicates they will work on a specific unit for a certain amount of time. The length of time varies by program. Additionally, many organizations penalize individuals who do not abide by the contract. They are often required to payback a prorated amount of money the accepted.
---
Types of Nursing Internship Programs
Many internship programs provide students with intensive training in a specialty clinical setting. These settings include medical-surgical nursing, critical care nursing, pediatric nursing, emergency room nursing, newborn intensive care nursing, and also perioperative nursing.
---
Tips on How to Find Nursing Internships
When looking for a BSN nursing internship, it is important to look early because there is often strong competition for a limited amount of spots. A general rule is to conduct the search at least one semester ahead of time since many deadlines are mid-fall or early spring. Networking with colleagues, professors, and classmates may help students find the right internship. BSN nursing internships are commonly posted on college office bulletin boards, national and regional job boards, newspaper classifieds, and individual employer websites. The career services offices at colleges and universities can assign a counselor to help narrow down searches and may have an insight on open opportunities. Nurse recruiters are also helpful in assisting individuals find internship opportunities.
---
Related: