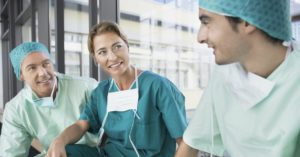 What Jobs are Good for Older Nurses?
Career options for older nurses include management positions, specializations, and working less in intense nursing roles. If you're a nurse who has been in the field for quite some time, you may be ready for a change and would like to try a home health company. Years of nursing can take a toll on your physical and emotional health. There are many jobs for older nurses in several different fields. It's common for nurses who are nearing the end of their careers to start to explore options beyond providing direct patient care. Let's take a look at some of the best options for nurses who are ready to make a change.
---
---
What Are the Best Jobs for Nurses Over 50?
If you're searching for the best jobs for nurses over 50, it's key to first decide whether you're interested in continuing to provide direct patient care. If you're interested in doing so, a scheduled nursing job, such as that of a school nurse, may be a good fit. You'll still get to provide care, but you won't be working crazy hours or dealing with life-threatening situations regularly. This is not the same as providing bedside care, of course. If you want to provide care to people for their activities of daily living, working with a home health care agency may be a good fit. Or you may want to change gears and work in nursing policy.
If you want to leave direct patient care, you may be interested in becoming a nurse supervisor, or in working in hospital administration. Health care organizations know that nurses are an integral part of the health care industry. Nurses know the ins and outs of how a hospital runs. You may be able to leverage your years of experience as a nurse to take the place of formal education in health care administration. If additional education is required for a new position, your employer may be willing to pay for your training. Due to the national nursing shortage, no one wants to let a good nurse go.
---
Jobs for Older Nurses
These jobs offer a change of pace for nurses with years of experience.
School Nurse
Nurse Manager
Nurse Educator
Occupational Health Nurse
Telephone Triage Nurse
Academic Nurse Writer
Legal Nurse Consultant
---
Is 50 Too Old to Become an RN?
No. The other side of the coin is some may want to enter the field of nursing later in life. The key is finding the right job for you that makes you happy and is a good fit! Some older students may find the RN entry master a good fit for education after 50. These are master's degrees for first-time nurses.
---
What Should You Keep in Mind When Looking for Jobs for Older Nurses?
If you are burned out or overwhelmed by your current job, you may be thinking about another job. Before you jump ship, make sure you know what you want out of your new job. Think about what you don't like about your current job, and make sure that your new job addresses those concerns. If you're struggling with working 12-hour shifts, you may want to think about alternative nursing careers for older nurses. For example, you can find a role at a facility that operates during normal business hours. Are you ready to move on from the high-stress environment of emergency medical care? Then a position in a slower-paced family practice office is a good option.
Of course, you'll also want to ensure that you're not taking a pay cut and that you're fairly compensated for your years of experience in your new job. Remember, people with nursing degrees are in high demand, and you can often fight for a higher salary. Companies are willing to pay more for top-notch nurses who have years of experience in the field.
---
Is it Smart to Make a Career Change Near Retirement?
If you're getting close to retirement age, it may feel nerve-wracking to start looking for a new career. There are many factors to consider before you make a job change. Check to see if you need any new education and training for your new job. And also find out if you give up any retirement benefits by leaving your current position. Additionally, it's a good idea to talk with a financial advisor. Let them know your concerns about a job move so they can help you make a career change that makes financial sense.
---
Thank You
To all nurses, especially those close to retirement, we thank you for your service!
---
Related: