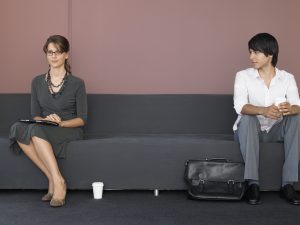 Nursing Resume Guide
Our nursing resume guide has all the tips you need to make your professional nursing resume stand out so you can land your dream job! As a healthcare professional, you know that understanding how to write a nurse's resume can be the most important part of getting a job. No matter how great of a nurse you are, if you don't know how to write a resume for nursing, the recruiter who views your job application won't be able to separate you from the rest of the applicants.
---
What Should be on a Nursing Resume?
When you submit a professional, well-polished nursing resume, the recruiter will not only see that you know how to write a resume for nurses, they'll be able to see your skills and experience shine through. If you're searching for how to write a resume for a nurse, you're already on the right track. Doing your research on how to write a resume for nursing, checking out samples of other resumes for nurses, and learning about phrasing to let your skills shine are all key parts of creating a successful resume.
---
What is the Best Resume Format for Nurses?
Of course, having a great resume isn't all that goes into getting a job, but it's what gets your foot in the door. When you have a professional, polished resume, the recruiter considering you for the job is much more likely to bring you in for an interview, where you can let your personality shine through. The most common resume format remains reverse-chronological.
---
Top 5 Nurse Job Interview Questions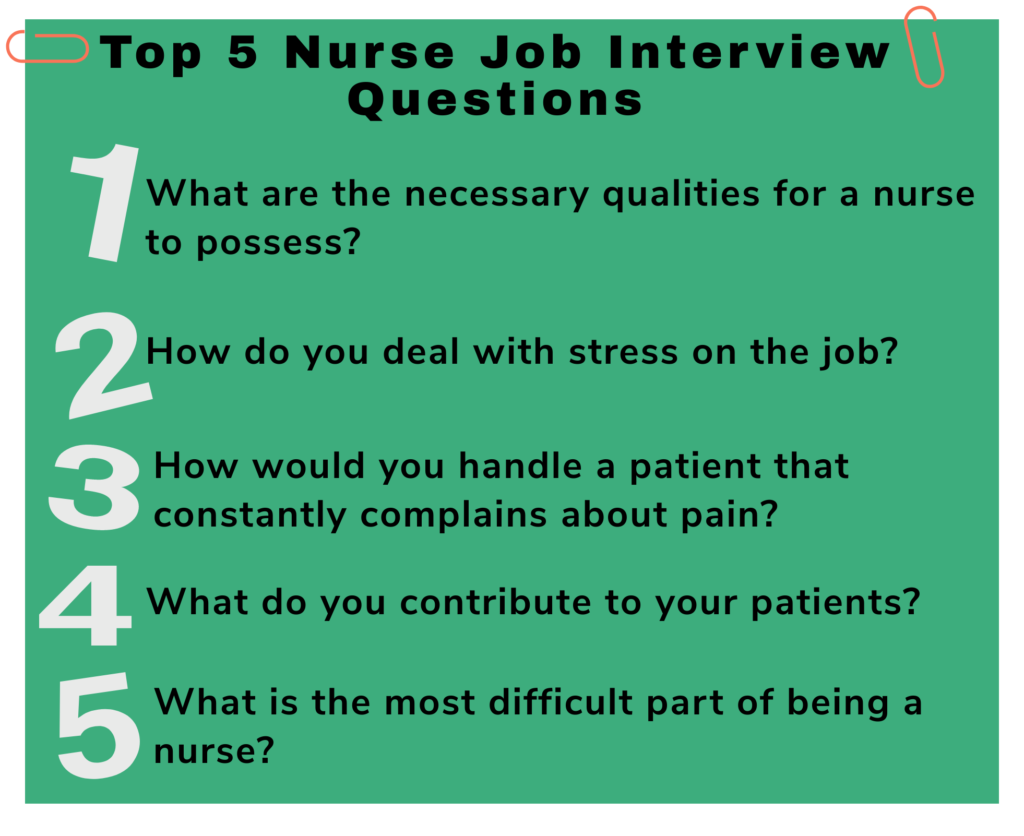 ---
How To Write A Nursing Resume: What You Need To Know
When writing a resume, you want to do your best to make your personality and style shine through. Think of your resume as an advertisement for a campaign or something you'd see on social media to draw you in and get you interested to learn more. Your resume is your one-page advertisement for why you're a perfect fit for the job, and this isn't the time to play small.
---
Basic Resume Tips for Nurses
A few basic resume tips before we get into the specifics of how to write a resume for a nurse:
Forget the objective
Unless you're applying for multiple jobs within the same company and must submit a specific resume for each job, the objective clutters your resume. Based on your cover letter, the recruiter reading your resume knows what job you're applying for. There's no need to be redundant by placing your goal at the top of your resume.
Read it again – and again.
When you're writing, it's easy for typos and other errors to go unnoticed. One of the best ways to ensure that your resume is reader-friendly is to complete the document, set it aside for a few days, and then return to it. While it can be tempting to fire off your gorgeous nursing resume the moment it's complete, you're doing yourself a disservice if you don't allow some time between finishing your resume and getting it into the hands of nursing recruiters. When you come back and review your document, you'll likely find poor wording, typos, and other issues that you'll be glad you have the chance to fix.
Enlist the help of a nursing friend.
While anyone can proofread your resume, you want to talk with a fellow nurse who understands the ins and outs of the job. They'll be able to tell you whether your resume is professional and complete. Suppose you have a nurse who you currently work with look over your resume. In that case, they'll also be able to tell you about parts of your job you forgot to mention, special accomplishments you may want to include, and aspects of your job that are unique and should be celebrated on a resume.
Ask for feedback.
If you don't get a callback for a job you're interested in, set your pride aside and ask if the hiring manager would be willing to offer feedback on your resume. While this can be a blow to the ego, hearing from the person who put your resume in the "no" pile can go a long way in helping you to switch things up so you're a more competitive candidate for future opportunities.
Keep it clean.
Your resume should be clear and concise, without tons of information that your potential employer will gloss over. Utilize the verbs in the job description in your resume, as either a keyword search or a quick-scanning recruiter will glance over your resume to see if your experience and education match what's required. Keep it simple, keep it easy to read, and highlight key points. Remember, this is a summary of your career and education thus far – you'll be able to go more in-depth when you get to the interview.
Do your research.
Just like you wouldn't go into a job opportunity without researching the position and the company, you should learn about what you're applying for as you write your resume. It's often a mistake to send the same resume to multiple positions. You'll want to make your resume compatible with the company's language and values and prioritize your experience and skills that you think will most likely be highly valued.
---
Education and Certifications
Now, let's look at how to write a resume for nurses that will catch the hiring committee's attention. As a nurse, you're highly educated, and you've fulfilled your nursing education requirement. You know you have the technical knowledge needed to complete the job. Often, going above and beyond the standard education requirements for nursing is exactly what you need to do to set yourself apart from the crowd.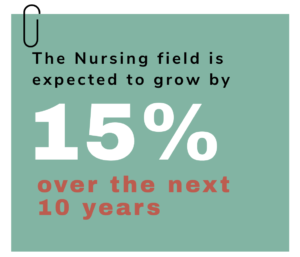 You'll want to be sure that you've matched the nurse education requirements for the position you're applying for. For example, if you have your bachelor's of science in nursing, you don't want to waste your time applying for a job that requires a doctorate in nursing practice. The same can be true of the reverse as well – if you're highly educated, you don't want to apply for a job with a much lower education level than what you've achieved while fulfilling your nurse's education requirements.
Deciding where you highlight your education on your resume can be tough. You'll need to decide whether you want your potential employer to look at your skills, education, or work experience first. If your education is from a prestigious school, or if you're just getting started with your career and don't have much work experience yet, it can make sense for education to be the first thing your potential employer sees on your resume.
---
How to List Your Degrees
When listing your degrees that meet nurse education requirements, your highest degree should come first, followed by other degrees. A common question that comes up for nurses who have had a mid-life career change is whether you should list degrees that aren't related to nursing or other medical professions. It's important to use your discretion on this. For example, if you got a bachelor's degree in education and then earned a bachelor's in nursing as well, it would make sense to leave your bachelor's in education off of your resume when applying for a nursing job. If you have a bachelor's in education, then went directly to earn your master's in nursing, you'd want to include your education bachelor's. Ensure your education listing shows the steps you took toward meeting nurse education requirements.
Also, be sure that you clearly show how you've met the education requirements for nursing. You don't want a recruiting manager to have to sit and stare at your resume, trying to figure out whether you have the legal education requirements to be a nurse before calling you in for a job interview.
For each education listing to show how you've met the education requirements for a nurse, you'll want to list the following:
Name and location of the school
Start and end date of your program (it's ok to list "present" or "in progress" as the end date if you're still in the process of finishing your degree)
The name of the degree you've earned
Your GPA if it's above 3.5 (if your GPA is lower than this, that's fine, but it's not likely to set you apart from other applicants)
If you participated in honors courses, be sure to list that information in your education section as well.
---
Credentials and Specialty Certifications In Nursing
In addition to showing that you've met the educational requirements for nurses, you'll also want to show any specialty certifications in nursing in your education section. You'll also want to list your professional credentials, including your license number.
While your specialty certification for registered nurses and your licensing information are not one and the same, it makes sense to list them under the same heading. Listing too many headings takes up valuable space on your resume. It's safe to assume that the person scanning your resume will be familiar with various national certifications for nurses, and it's ok to list them without going into detail.
---
Nursing Skills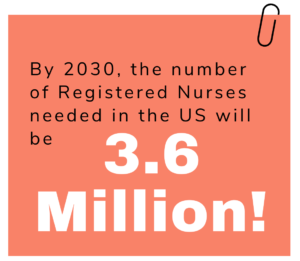 Listing skills for a nursing resume is a key way to increase the likelihood of a hiring manager viewing your resume. Many companies use resume scanners to decide whose resume actually gets passed on to the hiring manager. Listing proficiency in the skills listed in the job description is an important way to set yourself apart from others in the pool of potential hires.
It's important to list a combination of hard and soft skills when listing skills for a nurse's resume. Hard skills are technical skills that are often taught in a classroom, like performing triage and providing urgent care. Soft skills are more closely linked to personality traits and developed through professional and personal experience. Examples of soft skills include communication, leadership, and a caring bedside manner.
The resume skills for nurses that will make sense to list on your resume will be specific to your education and experience. That being said, let's take a look at some of the skills for nurse resumes that are most highly desired by hiring managers in healthcare organizations.
---
Hard Nursing Skills For a Resume
When you're thinking about hard skills to put on a resume for nursing, it might be helpful to revisit a list of classes you took in college. Think about the technical skills that you learned. Many of these skills are likely second nature to you now, and you may think of them as part of a normal day at work. Hard skills that are important to list on a resume may include:
Provide emergency and urgent care to patients, including the ability to triage
Monitoring vital signs with the knowledge of when to increase a patient's level of care based on data
Safe patient transport, both from room to room and from facility to facility
Patient safety, both in the healthcare facility and advising patients on how to stay safe at home
Technology skills, especially if you've previously used the data management system(s) utilized by the healthcare facility to which you're applying
---
Soft Nursing Skills For a Resume
When choosing soft nursing skills for your resume, you may wonder what personality traits set you apart from others in your field. If you struggle to develop this list independently, ask friends or coworkers for their input. They'll be able to tell you how you shine in supporting a team. While soft skills are important in most careers, these skills are especially important for people in the medical profession who provide direct patient care. Common soft skills that nursing recruiters look for on a resume include:
Communication, including empathizing with patients and their families, communicating effectively with staff and supervisors, and the ability to convey information during a presentation
Critical thinking and problem solving, as well as listing examples of times you had to get creative and come up with new solutions to problems in the workplace
Time management, including talking about your typical schedule and the hours you're able to work while performing at a high level
Ethics and confidentiality, being sure to mention if you've taken courses that make you an expert in ethics
Teamwork and dependability, including whether you've acted as the leader of a nursing team
When you're working to develop a list of nursing skills for your resume, give yourself some time to think. It can be hard to quantify everything that you do at work on a day-to-day basis, and taking some time away from writing your resume can allow new ideas to pop into your head. If you're currently working, pause a few times a day (even if you can only do so mentally) to think about the nursing skills your using, and list them on your resume.
---
States With a Nursing Shortage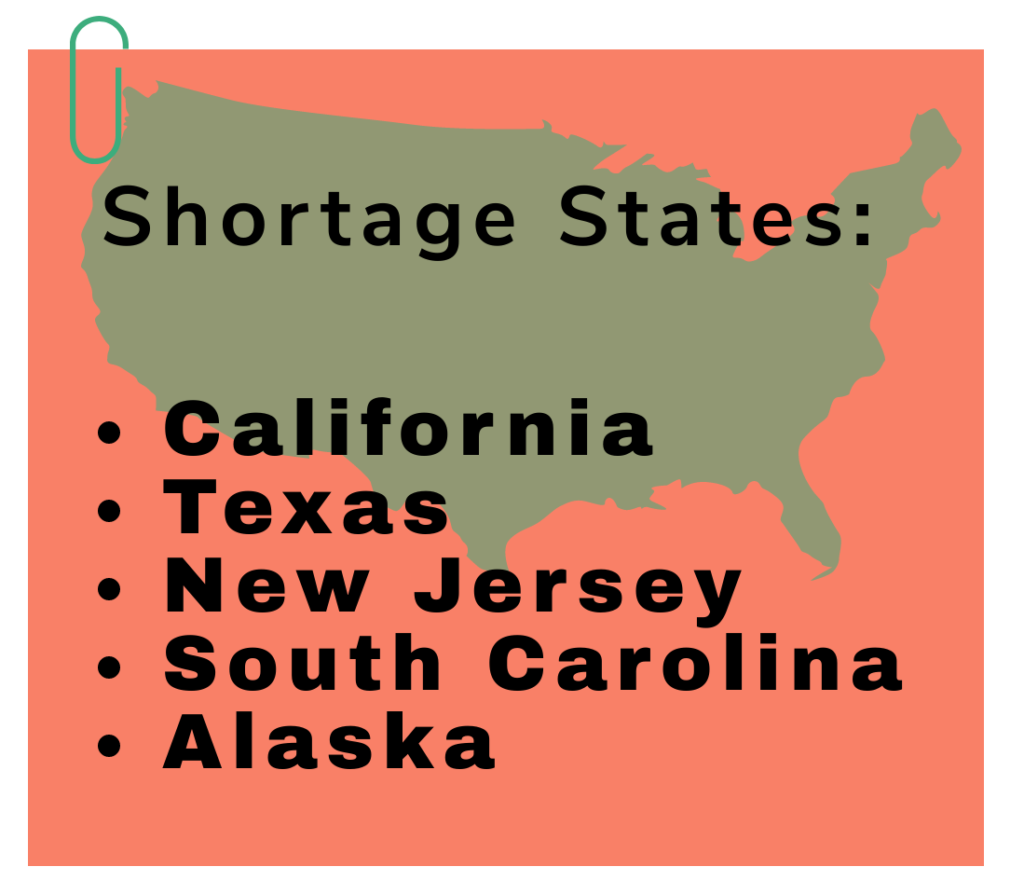 ---
Work Experience
Your work experience is one of the most important sections on your resume – recruiters dig into this section to see if your work experience in nursing will make you a good fit for what they need in their department. How you describe your work experience as a nurse is just as important as your work experience.
It's important to be honest in listing your work experience, but you also can't sell yourself short when listing work experience for a nursing resume. If you led a team, say so. Did you act in a supervisory role at some point? List that as a part of your experience. If you worked in a team that managed a crisis in your area, be sure to make a note.
While it can be tempting, but don't copy and paste another job's duties section into your work experience to describe what you did in a certain position. Your potential employer wants you to get specific. As you list your duties for each part of your work experience, be sure to continually glance at the required skills for the job posting. Be sure to use similar language whenever possible to help your potential employer see that you can handle the task at hand. It may be helpful to print out the job description and highlight key terms you want to include in your resume.
---
Correct Order for Work Experience
List your work experience with the most recent position first. List your job title, the name of your employer, and the dates that you worked for the employer, and facility-specific information (type of unit, number of beds, awards, patient demographics, etc.). Again, you'll want to list as many pieces of data as possible that make your previous work experience similar to the environment in which the job you're applying for will take place.
---
Emphasize Details of Work
Emphasize details, be specific, and use positive language as you list your duties under each work experience listing. For example, instead of "Supervised nursing team and cared for patients," write, "Supervised team of 15 registered nurses; team provided post-surgical care for up to 60 pediatric patients per shift." The more specific you can be, the better.
When you're figuring out what to list as work experience for your nursing resume, remember this is your time to shine. Don't be shy. Don't downplay the hard work that you've put in to make it this far in your career. Think about the many compliments you've received from patients, staff, and supervisors throughout your career, and be sure the qualities that others notice about you shine through on your resume. There are times to be humble in the workplace, but the duties section on your resume is not one of those times. Be bold, and take credit for all the hard work you've put in to make yourself a success.
---
Continuing Education
Continuing education requirements for nurses differ from state to state. In order to get qualified for a job, you'll want to make sure that you know how to meet the continuing education for nursing requirements for the state where the job will occur. If you're applying for a job in a new state and have yet to meet the requirements for continued licensure in that state, you may want to add an addendum to your resume explaining how you plan to catch up so that you can be licensed in that particular state.
You'll need to use your discretion when it comes to how much detail you want to list under your continuing education for nurses section. If you have specific continuing education for nursing that applies to the job, you may want to go into detail about the course. If your education is more general and doesn't specifically apply to the job, you may want to list the names of the courses you've taken to meet your requirements.
When you go in for your job interview, you'll want to make sure to show that you understand the importance of continuing education for nurses. Healthcare organizations today work hard to stay at the forefront of nursing science, and showing that you're invested in learning the latest research and techniques can go a long way in helping you to secure a job. This can especially be true if you have years of experience in nursing. You'll want to show your potential employer that you're willing to learn new techniques and aren't stuck to how things have always been done.
---
Resume Samples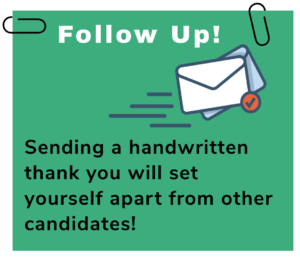 When you're working to develop your nursing resume, it can be helpful to use sample nurses' resumes as a guide. While you don't want to copy these resumes word for word, looking at nursing sample resumes can be a great way to understand the type of language typically used in nursing sample resumes. Check out these samples of resumes for nurses to get a great starting point for your resume.
Remember, no matter what, you don't want to copy and paste from someone else's resume, even if the job duty section fits you perfectly. The last thing you want is for an employer to search a portion of your resume online to see that it's been plagiarized.
---
Related: