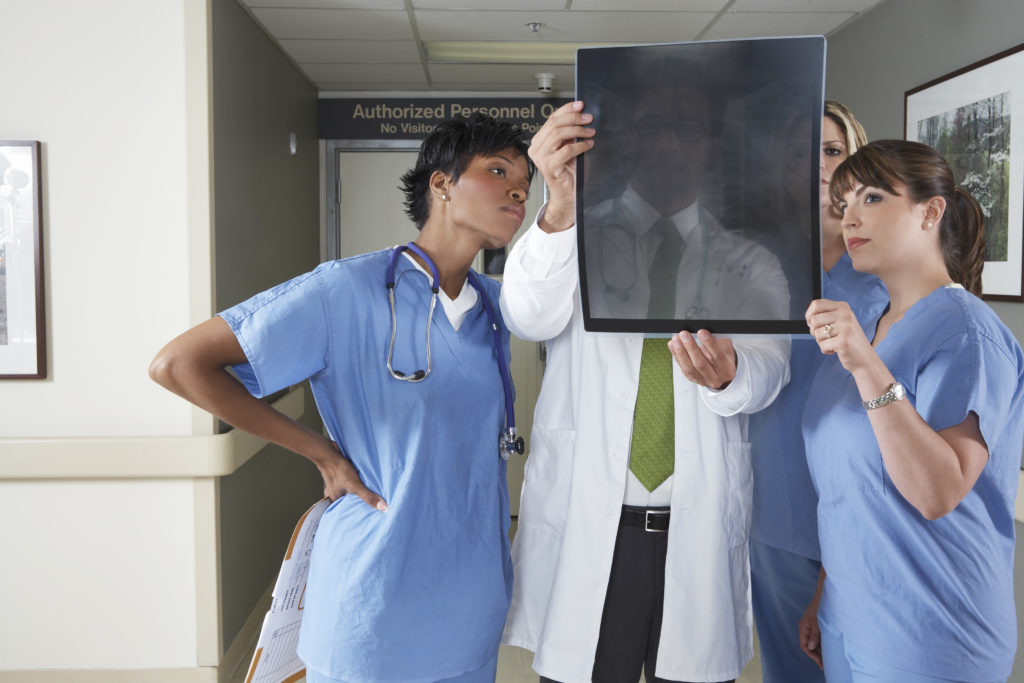 What is a Chief Nursing Officer?
A Chief Nursing Officer (CNO) is the highest-ranking professional position a nurse can obtain. It is also the most advanced position you can find in any healthcare facility or organization. The position requires many years of actual hands-on experience. It also requires the completion of a doctoral, post-graduate degree program. To get to this level, it will take several years of hard work and dedication.
A Chief Nursing Officer (CNO) is often the second-highest individual in a medical facility. A CNO is second to either an administrator or a Chief of Staff. With this type of position, you will bear most of the responsibility for how your team functions and the quality of hands-on care provided to the patients under your care. In addition, you will be the one that answers for all events that occur under your watch, good or bad.
---
---
What Do Chief Nursing Officers Do?
Chief Nursing Officers manage nursing teams throughout several different departments. They are in charge of all of the supervisors and directors that serve in each department and manage many teams of nurses. In addition, a Chief Nursing Officer is in charge of establishing protocols and maintaining a positive work environment throughout the entire facility. It is their job to maintain the integrity of their nursing staff so that the quality of care offered to patients never wavers.
Chief Nursing Officers (CNOs) help set the standards associated with the quality of care offered to patients. They are responsible for ensuring that nurses have everything they need to perform their duties as effectively and efficiently as possible. CNOs often have the final say in the hiring and termination processes that are used at the facility. These nurses may also have a say in any reprimands or punishments. The CNO will also be the deciding factor if a nurse is eligible for an award or any recognition for high achievement.
---
Where Do Chief Nursing Officers Work?
In most healthcare facilities, the Chief Nursing Officers work in the Administration area of the complex. However, there are instances when the CNO prefers to work in the same area as their nurses. Working with their staff allows a CNO to see and be a part of any important activities that may be going on at the facility. Being close at hand can offer them many years of experience if a situation arises where it would be most beneficial.
Chief Nursing Officers work in hospitals, rehabilitation centers, senior living communities, rehab centers, and many other types of healthcare organizations that have several departments and a large number of nurses on staff at any given time. Chief Nursing Officer positions can be found in both the public and private sectors.
---
Average CNO Salary Chart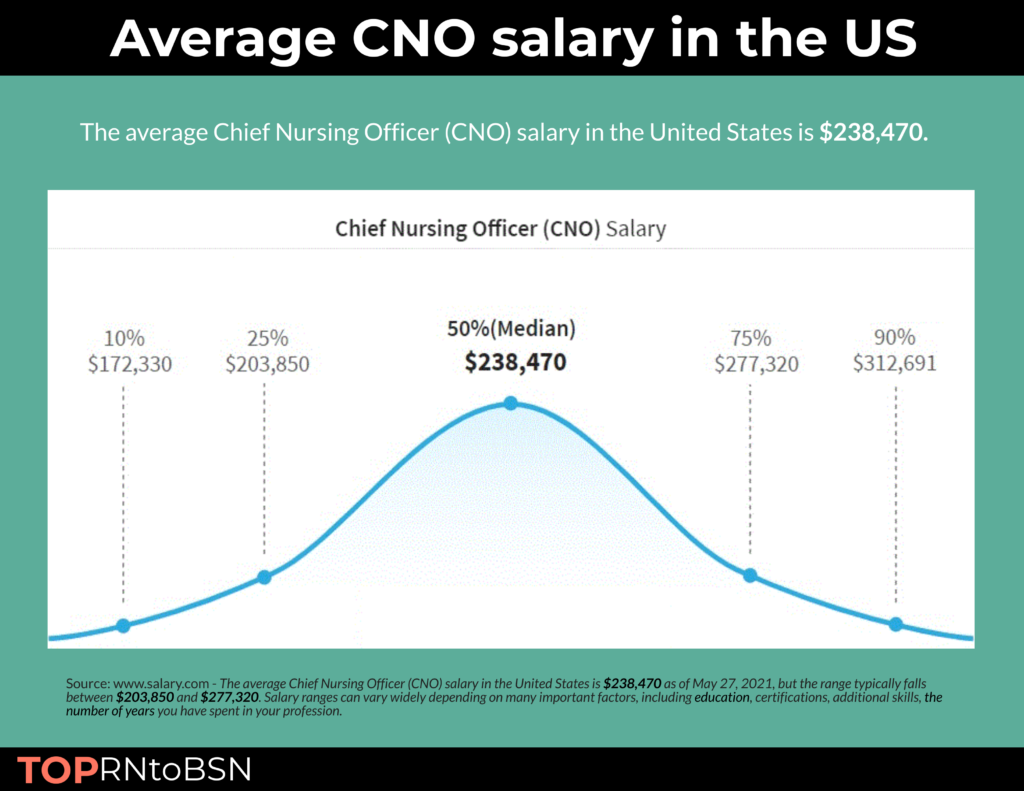 ---
How Much Is a Chief Nursing Officer's Salary?
The Chief Nursing Officer position is considered an executive-level position. Therefore, the salary associated with the job will be relatively high. Mid-size facilities in larger communities may offer as much as $150,000 if you have the right amount of experience to back up your education. Larger facilities with many different departments may pay $200,000 or higher depending on your experience and the number of years you have on the job.
The elite positions are those that involve managing numerous facilities and the staff that work in them. If you can land these much sought-after executive positions, you may be able to earn $300,000 or more each year. As of May 27, 2021, salary.com reported the average Chief Nursing Officer (CNO) salary in the United States is $238,470. The CNO salary range typically falls between $203,850 and $277,320. Salary ranges for Chief Nursing Officers can vary widely depending on education level, certifications, and the number of years of experience.
---
5 Steps to Becoming a CNO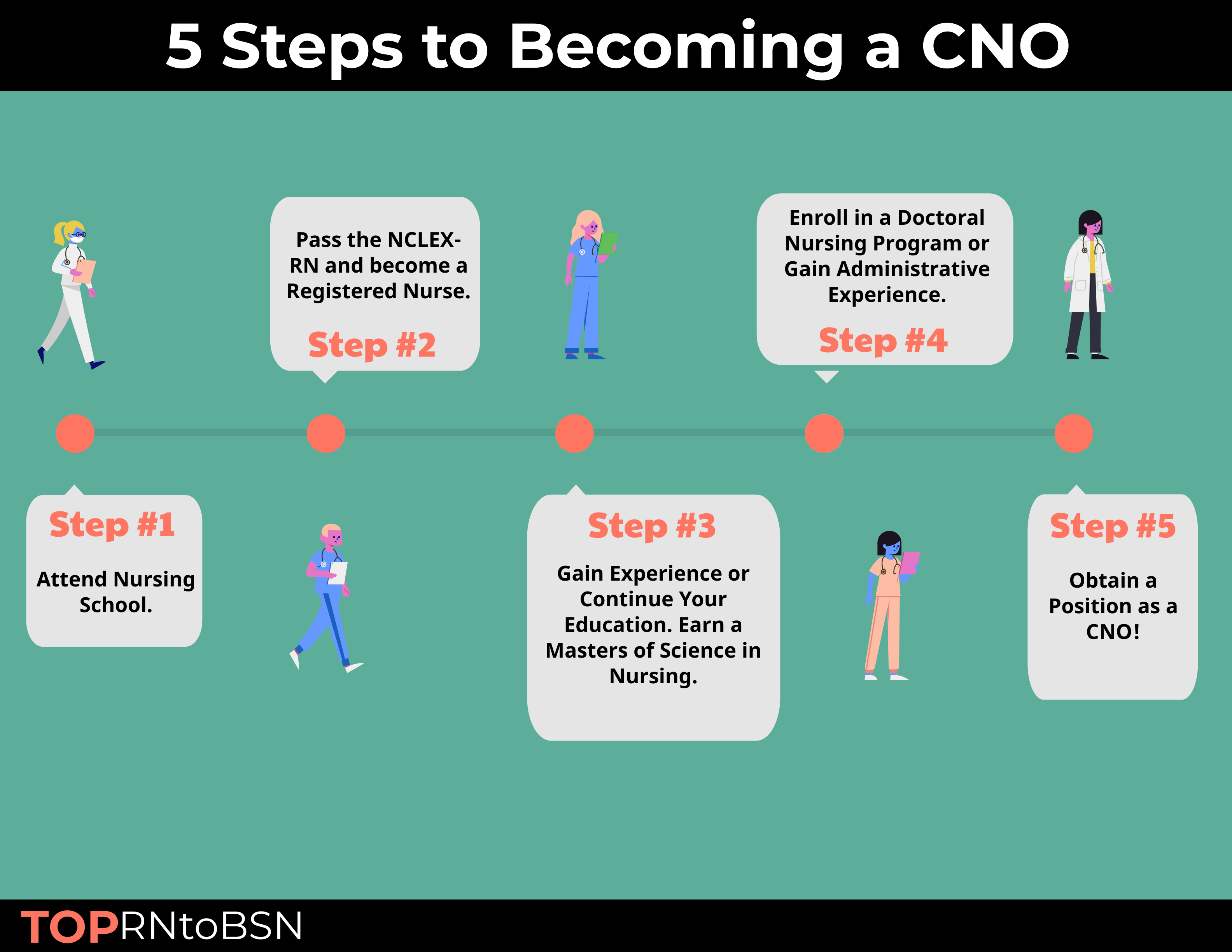 ---
Step 1
Attend Nursing School
The first step in becoming a Chief Nursing Officer is to attend and graduate from a reputable nursing program. You will need to be a dedicated student and embrace every learning opportunity that is made available to you.
---
Step 2
Pass the NCLEX-RN and Become a Registered Nurse
After you attend and graduate from a quality nursing degree program, you will have to pass the NCLEX-RN exam and become a registered nurse. The test is extremely difficult. You will have to prepare extensively before you pay your exam fee and set for the test. Study with others who are trying to pass the test. Working together may make it easier for you to retain the information you need.
---
Step 3
Gain Experience or Continue Your Education with a Masters of Science in Nursing (MSN) degree
Once you have become an RN, you have a choice. You can either go straight to work or start to gain much-needed experience. If you would rather continue with your education, you can do that as well. Some students choose to do both. They find jobs in their chosen career field first. Then they return to school and take online courses to continue moving forward with their education.
The sooner you can graduate with a Masters of Science in Nursing or MSN degree, the sooner you will be able to start to take on managerial or supervisory positions. These are the positions that will allow you to prepare more fully for a role as a Chief Nursing Officer. Completing your MSN degree online will allow you to continue working. It will also give you an edge over students who didn't find work to gain valuable experience.
---
Step 4
Enroll in a Doctoral Program or Gain Experience
The next step is to complete your education by graduating from a Doctoral degree program. If you have worked in the field as an RN or other administrative position and have a Master's degree you can get an RN to DNP Degree.
---
Step 5
Obtain a Position as a Chief Nursing Officer
The final step is to apply for and earn a Chief Nursing Officer's position. The facility hiring you will expect you to have several years of hands-on experience. The job of CNO also requires a degree from a reputable nursing school.
---
What is the Career Outlook for a CNO?
Entering the workforce as a Chief Nursing Officer has a very positive career outlook. Nurses who are trying to advance their careers and have the education and experience they need will be able to find a CNO position in many different locations. Over the past years, when nursing graduates had started to drop in numbers, it left many CNO positions unfilled. Many nurses who have made their way up to managerial or administrative positions are looking to fill some of those empty seats.
Now nurses who have the much-needed experience can sometimes pick and choose from some of the best locations in the country who are still in dire need to fill these positions. Many facilities will pay top dollar for CNO candidates who have both the experience and the education to fulfill all of the position's duties. As time goes on, the role of a CNO will never go away. Striving to become eligible for this position is challenging but very rewarding.
---
How Long Does It Take to Become a CNO?
There are different routes nurses can take to become a CNO. It can take up to seven to ten years or longer to gain the experience and the education you need to be proficient as a Chief Nursing Officer. Nurses who complete their education by earning their doctorate will have the knowledge but not the experience that most facilities desire. Working for one or two years offering hands-on care will help them gain the valuable experience they will need to be effective in the role.
Nurses who have earned their Masters in Nursing Sciences degree and continued working will be able to offer both education and experience. While this may take a little longer, the experience they gain in the field is invaluable for understanding many of the complex situations involved in caring for patients on multiple levels. Chief Nursing Officers must always strive to maintain the quality of hands-on health care provided to patients. Once people reach an administrative level, they tend not to think so much about the patients they serve. CNOs must always put the patients' needs first.
---
Where Can I Learn More About Chief Nursing Officers?
If you are interested in learning more about Chief Nursing Officers and what they do, contact your school's academic advisor. You can also visit your local healthcare facility and schedule a time to speak with the CNO. They can answer your questions and maybe even allow you to shadow them through a workday so that you can see for yourself what their job is really like.
You also have the option to do your research online or visit a local job fair. The people at the job fair will provide answers to your questions from a local point of view. This includes answers about pay and job availability. They can also point you in the direction of potential opportunities. Many of the answers you need can be found by talking to people in your area of specialization. Their advice, along with that of your academic advisor, should be enough to point you in the right direction.
---
Related: