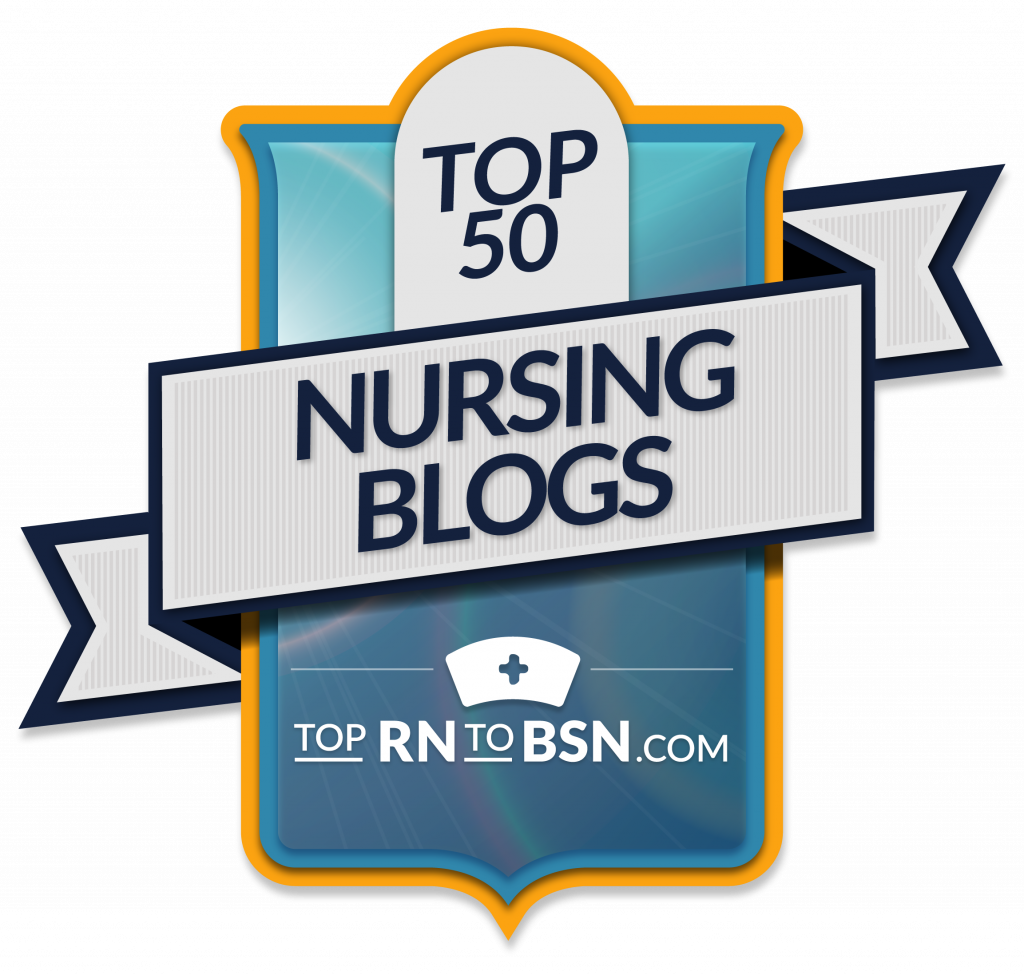 Nursing Blogs
These nursing blogs are full of funny personal stories from nurses and also educational and career information to help nurses cope and excel! An important component of good blogging is telling stories and informing the reader. So it's not surprising that some of the best such writing comes from nurse bloggers. Why? Because they've been both casual and involved observers in the collective human condition, they have many stories to tell, judging by the hundreds of nursing-related blogs online.
---
Finding the Best Nursing Blogs
We've browsed through some of those hundreds and picked our candidates for the top 50 nursing and nursing-related blogs by nurses or nursing students for 2015. Our selection is based on a number of factors:
Two independent Web domain and page ranking systems.
Change in rankings since 2014.
Recency and frequency of blogs.
Personal selection: it's not just about posting frequency and quantity of posts or blog appearance but also about value, be it useful career information, innovative products, valuable news or even just a bit of humor to lighten the troubles of life.
Please note: some blogs have posts that are NSFW (Not Safe For Work), in terms of the language used. While we try to do our best to flag such blogs, sometimes it is not possible to include a disclaimer for every blog.
---
---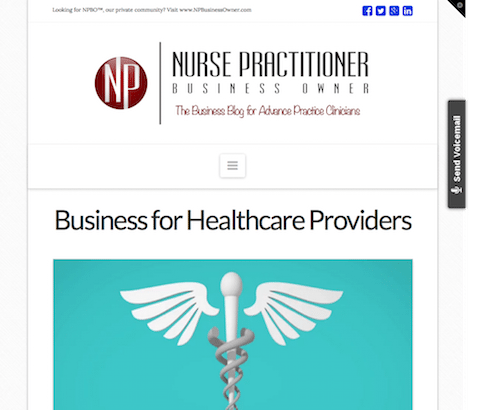 Nurse Practitioner Business Owner is a blog that is aimed at advanced practice clinicians running their own businesses. In addition to articles, the site provides resources. Owner Barbara Phillips also offers ways that you can pick her brain, as well as a forum on another site, webinars, and products and courses. Content is primarily in the form of career- and/or business-related sound bites, shared videos, announcements of upcoming webinars, highlights of training programs at colleges, such as for nurse leadership, legislative issues, and more.
---
49. Removed by editor.
---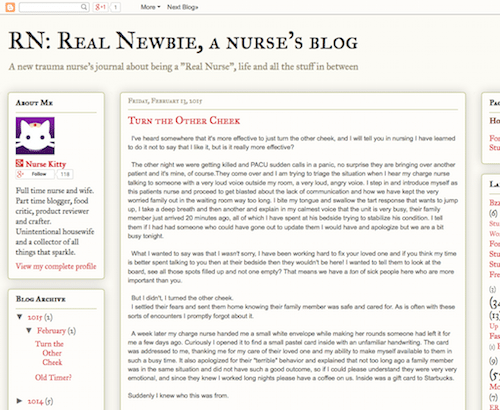 RN: Real Newbie, a Nurse's Blog shares the life of a recent addition to trauma nursing, as well whatever happens as life moves on. Recent posts include the following:
Do You Know Where Your Urethra Is? shares a humorous video about student nursing motivational speech.
Turn the Other Cheek shares the positive payoff that can come from turning the other cheek even when patients' family members come off as rude, but who actually have legitimate emotional reasons for their behavior.
Old Timer? talks about the transition from being a newbie in a hospital unit to someone with a bit of time under their belt.
---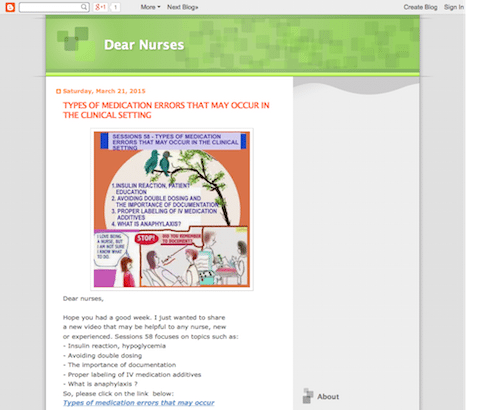 Dear Nurses is a veteran blog that launched in May 2006. Each post typically summarizes a clinical session and offers either an illustration depicting the situation, or a video of a sequence of illustrations. Recent posts include the following:
---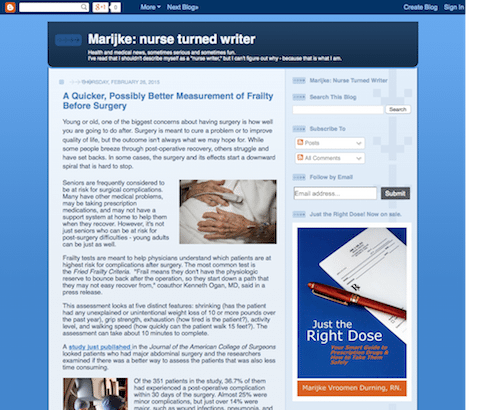 "Marijke: nurse turned writer" is the blog of Marijke Vroomen Durning, RN, a long-time writer about nursing and health, and also an author. Her own experience covers a range that includes rehab, ICU, palliative care, pediatrics and more. Recent posts include the following:
---
45. Removed by editor.
---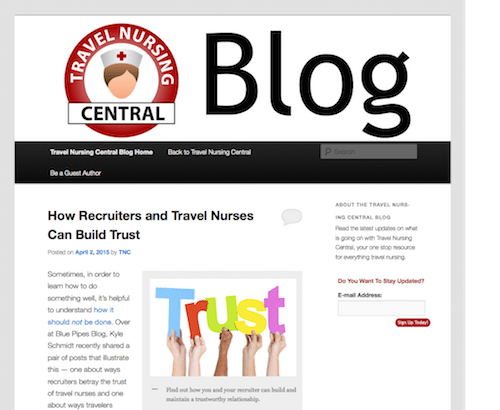 Travel Nursing Central is a comprehensive site for travel nurse, offering information on hospital and agency rankings, tax advice, tools to for finding or listing housing, finding a recruiter and more. Blog content includes news, advice and checklists. Recent posts include the following:
---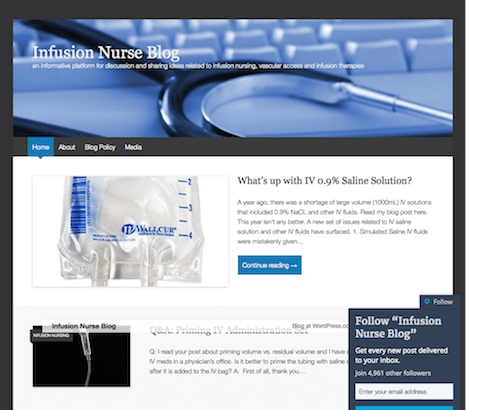 Infusion Nurse Blog focuses on issues in infusion nursing, infusion therapies and vascular access, and shares ideas and tries to be a platform for discussion. Recent posts include the following:
---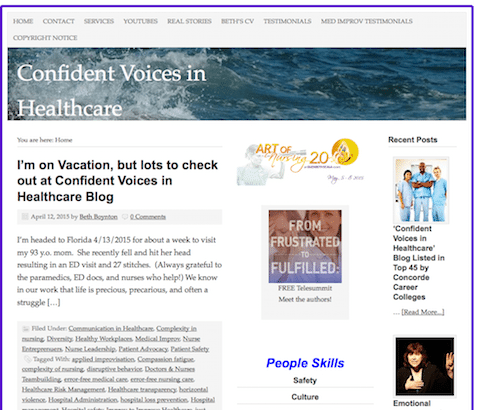 Confident Voices in Healthcare is a multi-author blog published by Beth Boynton, RN, MS. Boynton writes nursing text books and other nursing educational materials, and has been published in numerous journals and websites. Blog content is written by a number of bloggers and covers both nursing and general healthcare topics. Recent posts include the following:
---
41. Removed by editor.
---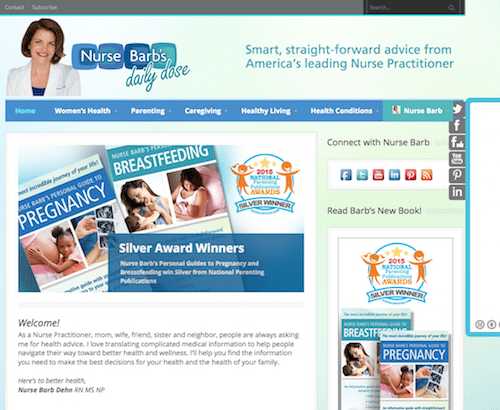 Nurse Barb's Daily Dose is the blog of nurse Barb Dehn, RN, MS, NP. Dehn is the recipient of awards for her pregnancy and breastfeeding guides, and is the author of a book, The Hot Guide to a Cool Sexy Menopause. She is also a consultant, TV host and more. The site's content goes beyond nursing and covers women's health, parenting, caregiving, health living and more.
---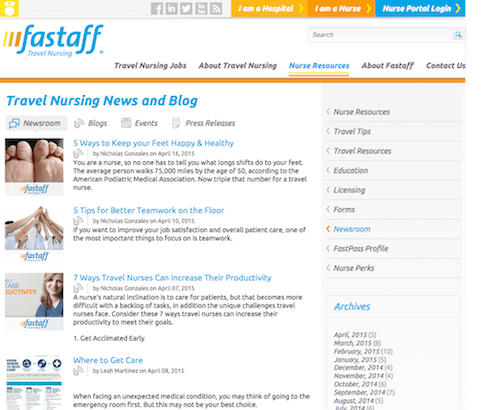 Travel Nursing News and Blog is produced by Fastaff Travel Nursing staffing agency. Content topics are mostly relevant to all nurses, though some posts are specifically about travel nursing. The blog is multi-authored. Recent posts include the following:
---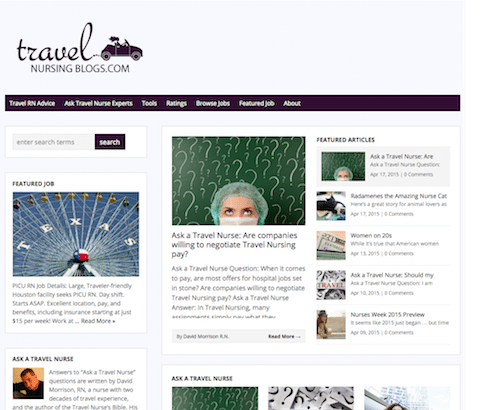 TravelNursingBlogs.com: Travel Nursing Advice combines a nursing jobs site with advice and information in the form of blog posts. While the content is mostly relevant to travel nursing, some posts are about the nursing profession in general. Recent posts include the following:
---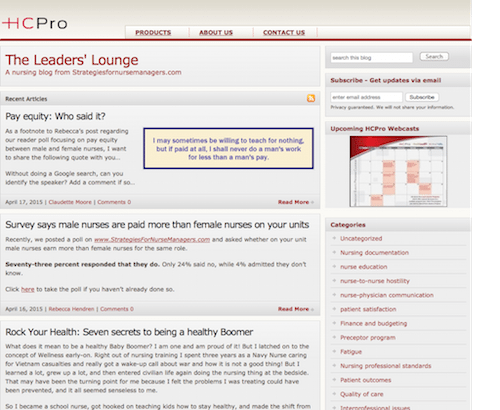 Nurse Managers blog is published by HCPro, a company that provides information related to revenue cycle management, hospital accreditation, nursing, medical coding and billing, such as Outsourced Coding, and more. The blog posts often have a contemplative feel, a sharing of knowledge and experience.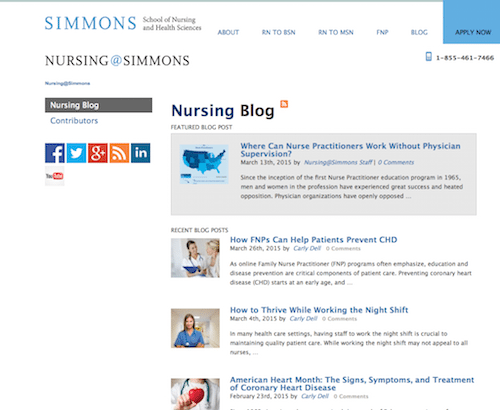 Nursing@Simmons is the blog of the School of Nursing and Health Sciences at Simmons College. Post content includes solid educational information for both nurses and nursing students. Recent posts include the following:
How FNPs Can Help Patients Prevent CHD provides some guidelines as to how Family Nurse Practitioners (FNPs) can help educate patients in preventing Coronary Heart Disease (CHD), with tips specifically a number of age groups.
Where Can Nurse Practitioners Work Without Physician Supervision? goes into depth about the history of Nurse Practitioner programs in the USA and how physicians organizations have historically opposed them, and the subsequent recent changes that allow NPs to practice in many states either with or without physician oversight — complete with a color-coded state map.
How to Thrive While Working the Night Shift talks about making the most of ending up with the night shift, which has both positives and negatives on the personal lives of nurses.
---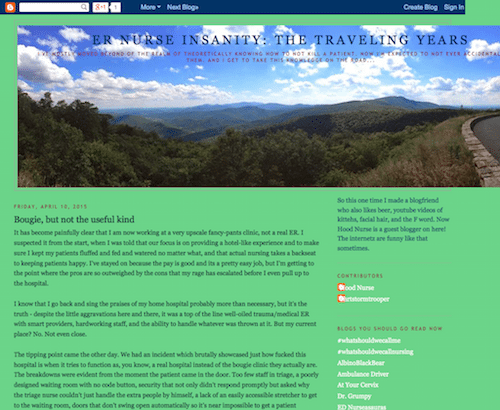 ER Nurse Insanity: The Traveling Years are the musings of two nurse bloggers, Shrtstormtrooper and Hood Nurse (recent addition who has her own blog) who have experience in travel nursing. Topics: anything relevant appears fair game, including the trials and tribulations of the industry. Warning: Some NSFW language. Recent posts include the following:
Wit reflects upon Shrtstormtrooper's recent experience caring for an "ancient" woman who was witty, funny and sharp of mind but had a daughter not aging as well mentally.
Feelings discusses Shrtstormtroopers usual tolerance for rudeness from cancer patients, but highlights the interaction with one such patient whose rudeness went well beyond the limits, causing her to lose sympathy for him.
Bougie, but not the useful kind talks about the shift in the hospital that Shrtstormtrooper works at towards being like a "fancy-pants clinic" more interested in providing a hotel-like experience where the role of nursing takes a back seat.
---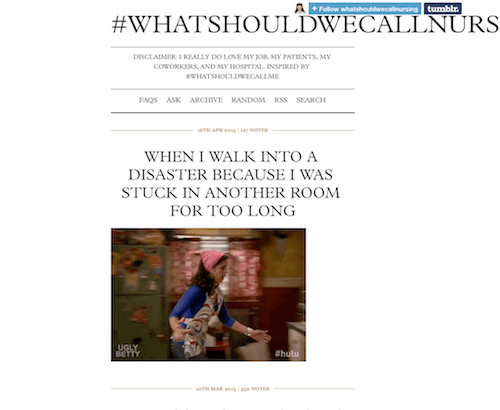 What We Should Calling Nursing is an unique, humorous approach to blogging that offers visual soundbites from TV shows and movies, with some text to tie in to various situations in the profession of nursing. Browse this blog for a bit of stress relief. Recent posts include the following:
---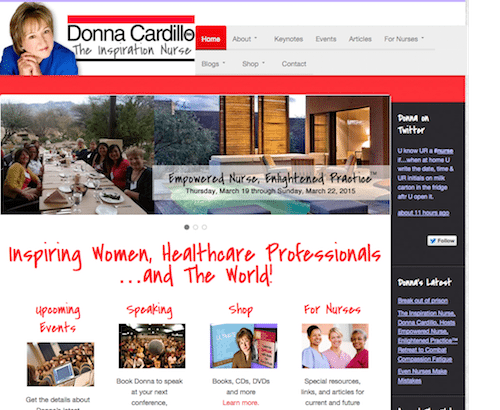 This blog is by nurse Donna Cardillo, RN, who gives keynote speeches, is a humorist and offers inspiration and motivation to other nurses. In addition to the blog posts – which are a combination of sound bites and longer pieces – the main site provides articles, info on keynote speeches and seminars, career development products and more. Recent posts include the following:
Even Nurses Make Mistakes makes the possibly difficult admission that nurses are not perfect, and how to deal with the realization.
---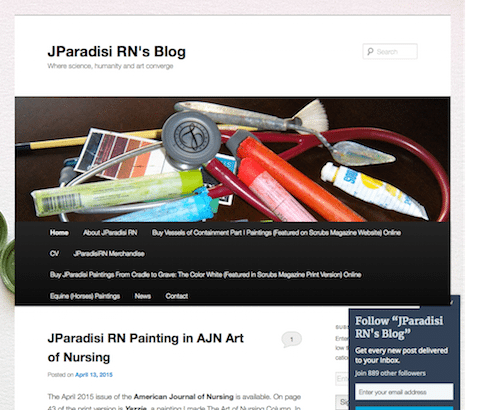 JParadisi's RN blog offers the writing of a oncology nurse navigator, awarding-winning artist and cancer survivor whose paintings have appeared in various publications and galleries, and who writes for other online publications as well. Recent posts include the following:
---
31. Removed by editor.
---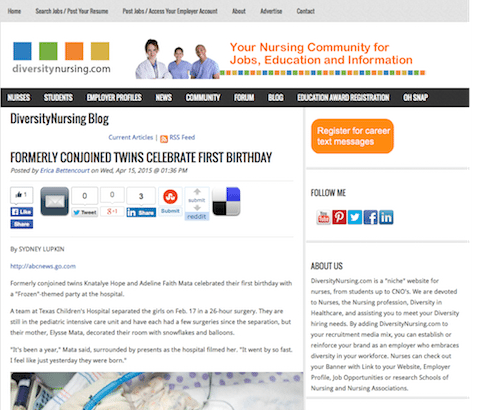 DiversityNursing blog deals with issues of gender, age, sexual orientation, disability and other marginalizing categories in the field of nursing employment, as well as general health and wellbeing. Recent posts include the following:
Can a Person With Dementia Consent to Sex? asks a tough question in relation to a recent case where a 78-year old man was initially charged with rape of his ill wife, who suffers from Alzheimer's and lives in a nursing home – a situation which is actually more common than might be thought, that dementia patients have sex lives.
Diversity In Healthcare Jobs Up – But Should We Get Our Hopes Up? indicates that while diversity in the nursing profession is still lacking (while technology progresses), there is some hope, according to findings by the Professional Diversity Network and its Diversity Jobs Index.
Special Screenings Of 'The American Nurse' To Be Held May 6 gives an overview of the award-winning documentary "The American Nurse," which will have a special screening in parts of the USA on May 6th, 2015, in honor of National Nurses Week.
---
29. Removed by editor.
---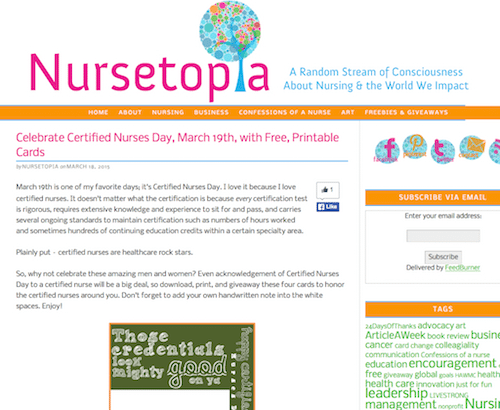 An oncology nurse who is a leader and manager blogs on Nursetopia about the profession, business, confessions, and with a side helping of art, freebies and giveaways. Recent posts include the following:
---
27. Removed by editor.
---
26. Removed by editor
---
25. Removed by editor.
---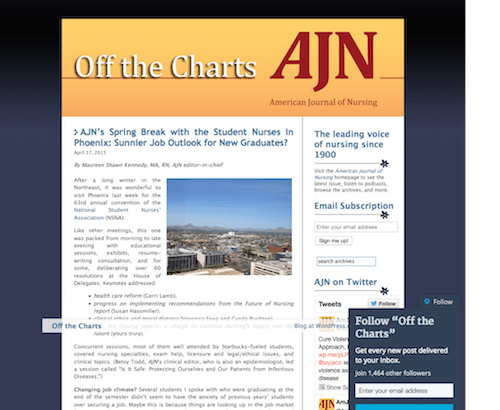 Off the Charts is the multi-author blog of the AJN (American Journal of Nursing). Content topics include the nursing profession and general health. Recent posts include the following:
---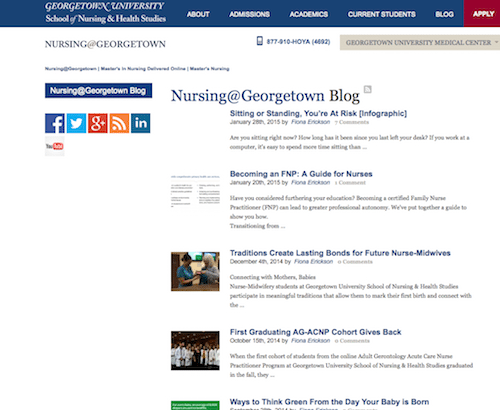 Nursing@Georgetown is the blog of the School of Nursing at Georgetown University. It covers both general health issues as well as school-specific news. Recent posts include the following:
---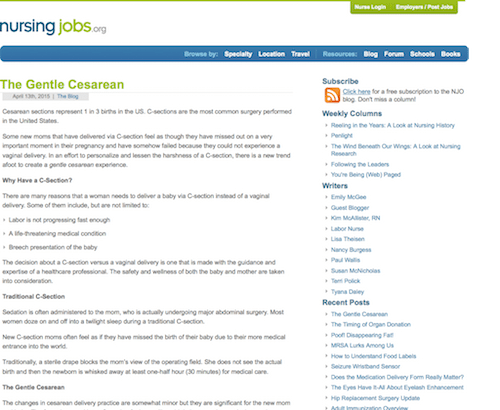 This multi-author blog from Nursingjobs.org offers tips of interest to nurses as well as general health, as a supplement to the main site, which provides job listings, a form, book resources list and info on schools. Recent posts include the following:
Weight Loss Without Dieting lists some suggestions on healthier eating to lose weight without dieting and gimmicks.
A Discussion About Concussions provides an overview of what a concussion is, what the symptoms are, its impact, and a treatment plan.
The Gentle Cesarean talks about the now common approach to birth via C-section, the general reasons to have one, and the difference between the traditional and the "gentle" C-section.
---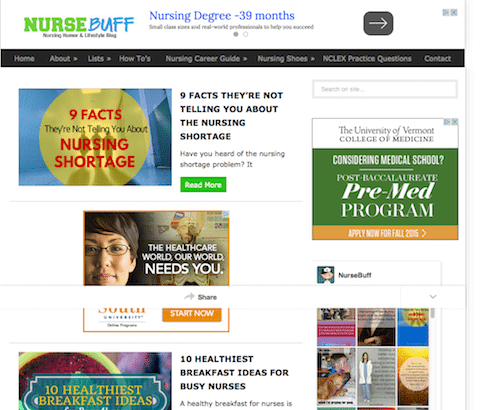 NurseBuff is a humor and lifestyle blog about nursing, with entertaining and informative list articles, a nursing career guide, NCLEX exam practice questions and more.
---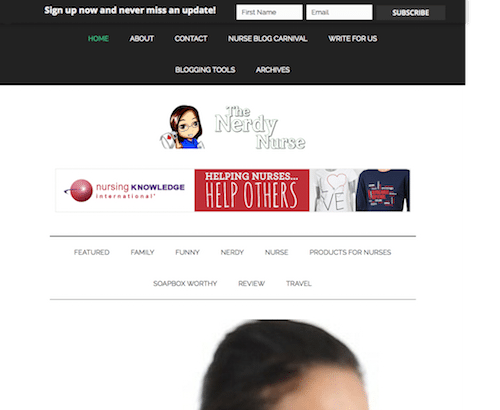 The Nerdy Nurse is the blog of Brittney Wilson, BSN, RN, which feels more like a magazine, has the occasional guest blogger, and goes beyond nursing topics in terms of content. This includes articles about family, humor, products of interest to nurses, travel and more. Wilson is also the author of the book The Nerdy Nurse's Guide to Technology, which won first place in the the AJN (American Journal of Nursing) 2014 Book of the Year award. Recent posts include the following:
6 Essential Smartphone Resources for Nursing Students gives an overview of the Skyscape Medical Library smartphone app which includes six features of use to nurses.
Health Informatics: Is Technology Improving Healthcare? looks at some statistics and related charts about informatics and whether or not technology is improving the state of healthcare.
10 Phrases Every Nurse Should Know in Spanish lists some Spanish phrases nurses can use, whether just in the USA or if you are a travel nurse headed to a Spanish speaking country.
---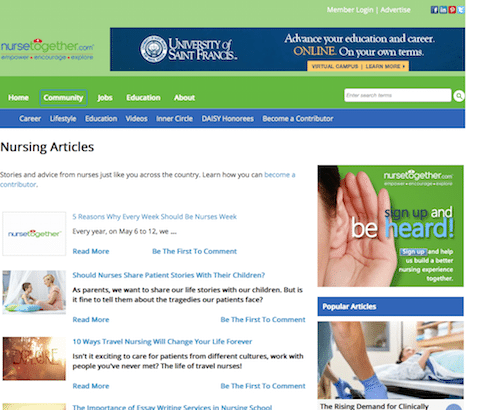 In addition to blog articles, NurseTogether is a site that offers information on jobs in the nursing field and discusses education options. Recent posts include the following:
---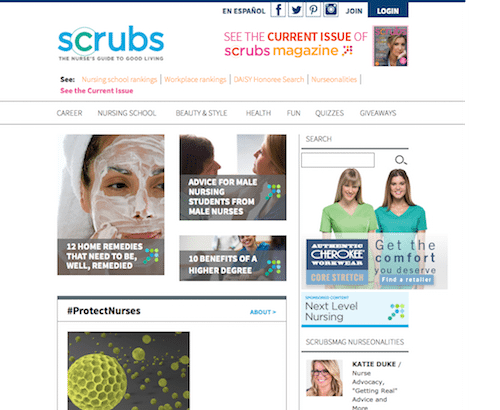 Scrubsmag is a combination magazine and blog whose self-described motto is "The nurses guide to good living." The articles cover a wide range of topics including general health, nursing school, career, beauty and styles, humor and more. Recent posts include the following:
Nurse germ protection — at home! offers some tips for nurses to avoid take home germs from work.
Protect and defend highlights several brands of nursing workwear, from a feature in the magazine part of the website.
The Art of Nursing highlights four works of art (paintings) about nurses and the nursing profession which are part of an exhibit, "Shine On: The Art of Nursing," at the Columbus Museum of Art in Ohio.
10 Best Nursing Schools Columbus Ohio
---
17. Removed by the editor.
---
The TRS Healthcare blog is regularly updated and written by both current nurses, and other experts in the field. Recent posts include:
---
15. Removed by the editor.
---
ONS Connect is the multi-author news blog/ magazine of the Oncology Nursing Society. There are over a dozen contributors, all with varied careers in nursing.
---
13. The Nursing Site Blog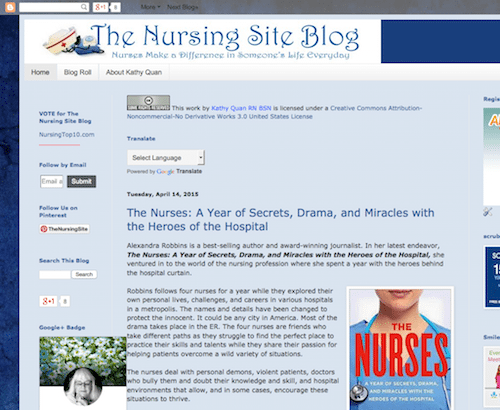 The Nursing Site is the musing of Kathy Quan (RN, BSN), a veteran nurse with over 30 years of experience in home health care, hospice, field, supervising and more. In addition to be a nurse blogger, she's also the author of five books. Recent posts include the following:
---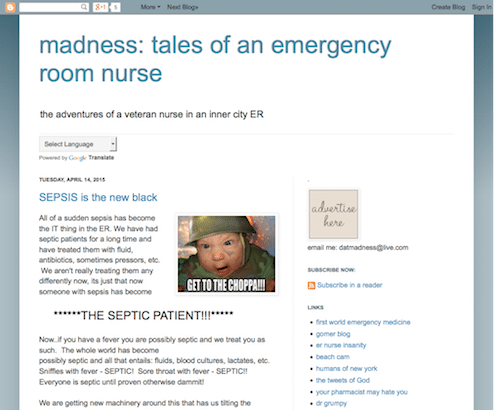 "Madness: tales of an emergency room nurse" is a blog from a veteran nurse that injects a sense of humor into the realities of nursing, alternating photos of handsome young men ("man candy") with serious and semi-serious writings. Recent posts include the following:
Fun ideas for triage outlines some unusual ideas for making emergency rooms "a lot easier for everyone concerned."
SEPSIS is the new black talks about the trend to assume a patient is septic, regardless of the health issue, and to treat them for sepsis.
It ain't rocket science folks analyzes the attempt of hospitals to win "the almighty patient satisfaction sweepstakes," and discusses a list of things hospitals could be doing to really satisfy patients.
---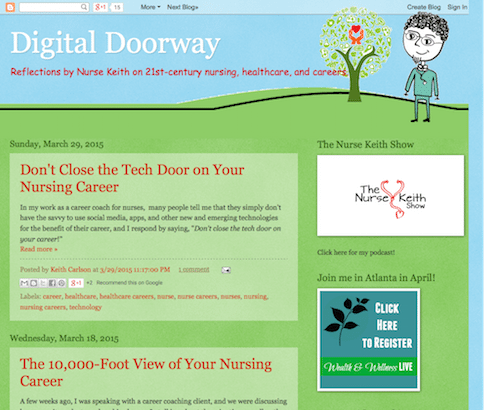 In Digital Doorway, Nurse Keith offers his thoughts on contemporary nursing, healthcare and associated careers. He also does "holistic career coaching" and has a podcast, The Nurse Keith Show. Recent posts include the following:
---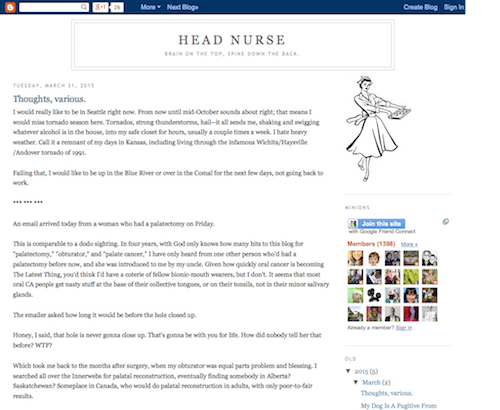 "Head Nurse: Brain on the Top, Spine Down the Back" is a tongue-in-cheek, sometimes serious blog about one nurse's life, both personal and professional. NOTE: occasional NSFW language. Recent posts include the following:
---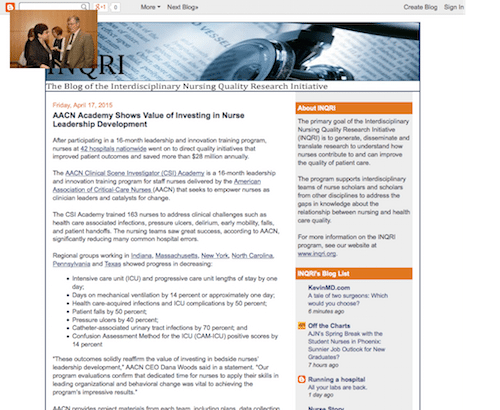 The INQRI (Interdisciplinary Nursing Quality Research Initiative) blog looks at how nurses can contribute to improvement in the quality of patient care. Recent posts include the following:
---
8. Removed by the editor.
---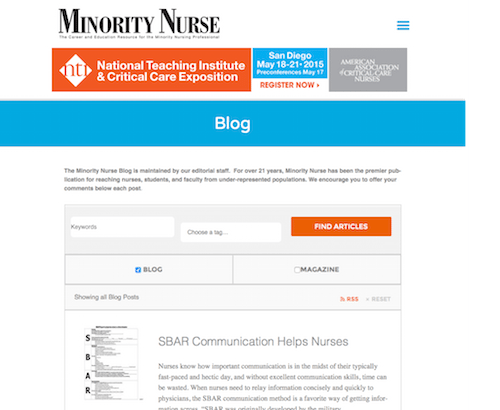 Minority Nurse blog is an accompaniment to the magazine of the same name. The blog and site in general provides resources for nurses from a number of "minority" backgrounds, including African American, Hispanic, Native American, Asian and more. Recent posts include the following:
---
6. Removed by editor.
---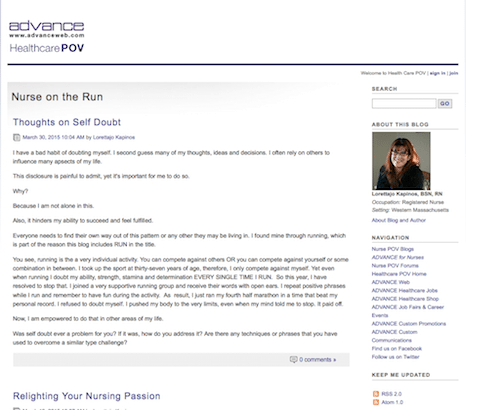 Nurse on the Run is another in a set of nursing blogs from ADVANCE Web. It is written by a veteran BSN/RN nurse who started in long-term care and acute inpatient care, and is now in emergency nursing.
---
4. Removed by editor.
---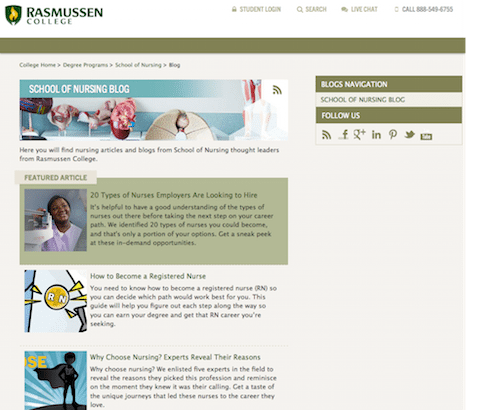 ---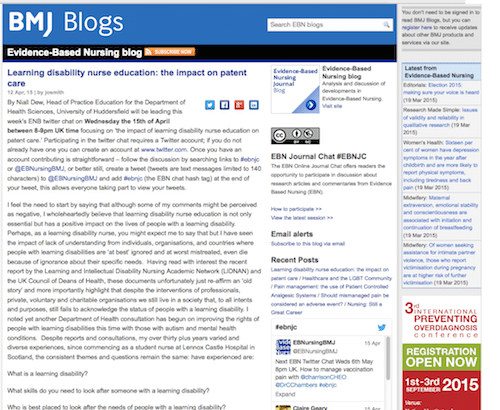 Evidence-Based Nursing journal is the blog of the EBN journal, which analyzes and discusses events and news in this branch of nursing – which utilizes the personal clinical experience of nurses, and applies a multi-step approach to collect evidence, analyze and integrate it, then evaluate and disseminate the results. Recent posts include the following:
Learning about physiological birth in the USA: Evidence and reality in which a midwife who practiced for over two decades in Australia (now in the USA) compares her observations about the differences in "normal" childbirth there and in the United States.
Healthcare and the LGBT Community which discusses the health risks that the LGBT (Lesbian, Gay, Bisexual and Transgendered) community has – especially mental health issue and reduced rate of having regular checkups. It provides some resource links for health care practitioners who want to understand how better to serve the LGBT community.
Nursing: Still a Great Career about the diversity of career opportunities within the wider field of nursing.
---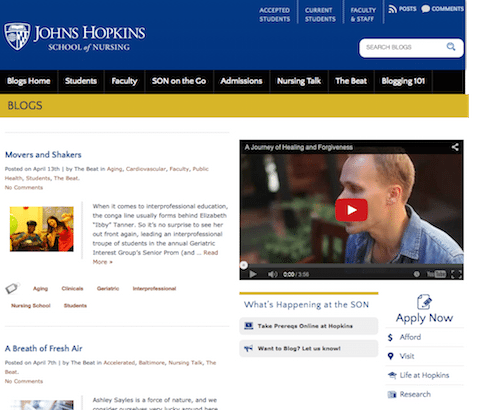 Johns Hopkins School of Nursing Blogs is the multi-author blog of the Johns Hopkins School of Nursing, which offers tips for students from nurses who have graduated, stories of personal dreams and experiences, recaps of community events and more.
---
Related: