The highest paying states for nurses offer a great salary as well as other benefits for nurses looking for the best place to be a nurse! With the high nursing demand, nursing students want to know the best place to be a nurse in the world.
Highest-Paying States
With the right education and the right specializations, many nurses have their pick of the highest-paying nursing jobs. Types of nursing jobs and salaries vary from one state to the next. With a few exceptions, the best places to be a nurse are often the same places that have the nursing shortfalls mentioned above. Some of these states offer incentives for incoming nurses because they want to make their states appealing to new care providers. These incentives include high pay and excellent benefits. Furthermore, some nursing schools in these states have great scholarships and financial aid programs.
---
Popular Cities for Nursing Jobs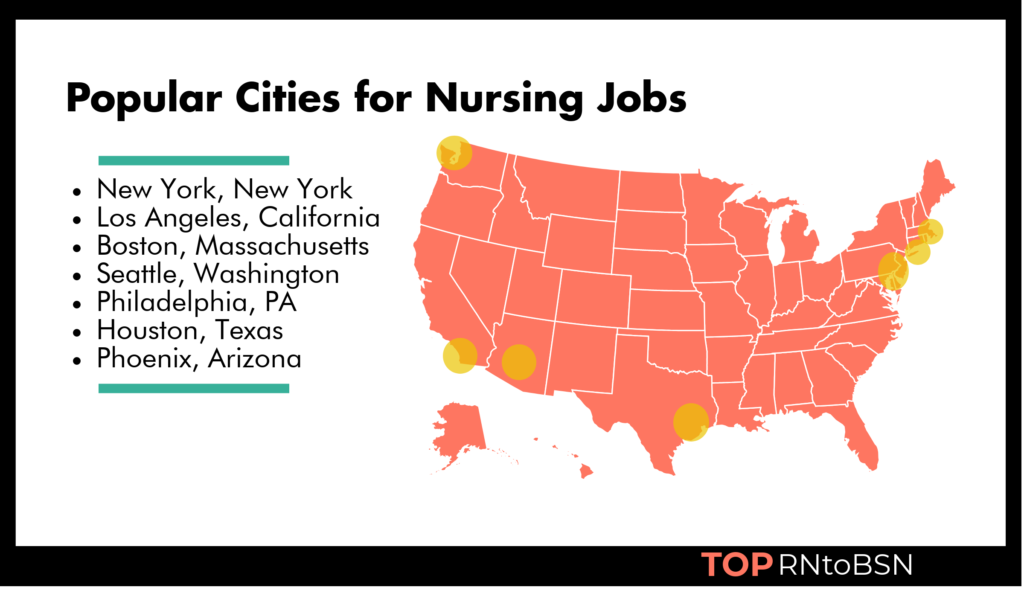 15 Best Nursing Schools Los Angeles
---
Highest Paying States for Nurse Practitioners
The best states for nurse practitioners and RNs include some of the highest-paying jobs. Some of the highest paying nurse jobs come from these states:
California has an average RN salary of $102,700
Hawaii has an average RN salary of $96,990
DC has an average RN salary of $90,910
Massachusetts has an average RN salary of $89,330
Oregon has an average RN salary of $88,770
You may have noticed that California, which has the biggest need for new nurses, has the highest-paying nursing jobs. Some of the other high-need states also tend to pay very well. Alaska lands at #6 on the list, while New Jersey lands at #9. South Carolina and Georgia both fall toward the middle, providing a very comfortable pay level for new nurses. The outlier, unfortunately, is South Dakota. As mentioned above, in spite of having one of the biggest needs for nurses, South Dakota offers the worst average pay for nurses in the US.
---
Other Benefits in the Highest Paying States
When it comes to the best states for Nurse Practitioners, you can find benefits other than excellent pay. In fact, you can find great benefits for all sorts of nurses. While there's nothing wrong with searching for the highest-paying nurse jobs or the highest-paid nurses in the world, you should also consider other factors. As mentioned above, other factors matter.
Some states offer nurses autonomy, benefits, and protections against burnout. These states include many places in the northwest, northeast, and southwest. Alaska, which has a high need for nurses, falls among them. Other beneficial states include Washington, Oregon, Rhode Island, Washington DC, Arizona, and New Mexico.
10 Best Nursing Schools in Seattle
Many other states are working toward granting nurses more work-related autonomy and other benefits. Authorities from these states are hoping to entice new nurses to work in their states. Keep an eye on nursing news in the future to see upcoming changes.
---
Best Paying Specialties For Nurses
Finally, when considering the best places for nurses, keep in mind that certain specialties make more money than others. Here are some of the highest averages based on specialty.
Nurse anesthetist: $157, 690
Psychiatric mental health nurse practitioner: $102,000
Certified nurse midwife: $96,970
Nurse practitioner: $95,350
Pediatric nurse: $89,000
Critical care nurse: $80,000
Gerontological nurse practitioner: $64,906
Of course, you should consider more than pay when it comes to a nursing career. Specializing in something that you're not passionate about is a recipe for quick burnout and resentment. However, if you have a passion or even an interest in any of the specialties listed above, you should absolutely pursue the one that interests you the most.
---
Related:
Find Your Best Nursing Program Now!