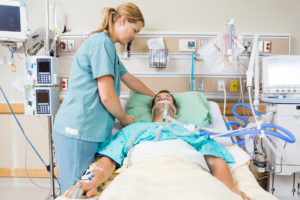 ICU Nurse Job Description
An ICU Nurse's job description is different depending on the facility, but these nurses offer critical care often in hospital settings. What is an ICU nurse? ICU nurses are critical components of the intensive care department. They are also referred to as an intensive care nurse or intensive care unit nurse. An ICU nurse has a very demanding job, therefore nursing in ICU continues to be a highly sought position.
---
Role of an ICU Nurse
What do ICU nurses do? Depending on the facility they work in, there are a number of ICU nurse responsibilities. The ICU nurse's duties include intensive care nursing skills, which include the Common ICU Standards of Care. These nursing responsibilities in ICU include:
Checking vital signs on a continuous basis
Assessments
Drawing labs
Wound care every shift
Repositioning and skin integrity check on a rotating basis
Additionally, the job description of critical care nurse roles aligns with these duties. In fact, the role of the ICU nurse and the duties of a critical care nurse is the same. Furthermore, the terms ICU nurses and critical care nurses are interchangeable depending on the type of facility. These nurses can be found working in the ICU in pediatric, neonatal, or also adult intensive care units. They may specialize in certain areas but are able to lend a hand where needed.
---
About Critical Care Nursing
Nursing in intensive care is highly specialized. These nurses must have specific training and know how to use monitoring equipment in an ICU. Becoming an ICU nurse starts with education. An accredited nursing program with a focus on ICU nursing is first. Students should seek a nursing student externship to acquire first-hand knowledge of what ICU nurses do. This externship will provide experience and mentorship to better understand nursing responsibilities in ICU and the many ICU nurse duties required on a high level.
Any person seeking to become an ICU nurse must have an ADN or BSN degree. In most instances, hospitals prefer their nurses to have a BSN. An ICU nurse can also get certified by the American Association of Critical-Care Nurses (AACN). The CCRN certification is one of the most popular, but there are certifications in neonatal and pediatrics as well.
---
What Specialty Positions are Available for ICU or Critical Care Nurses?
Since this is such a highly specialized position, these types of nurses must be versatile, but focusing on one or two areas increases their demand. A few specialty positions in this area are summarized below.
Cardiac ICU Nurse
These nurses work with patients who are facing cardiac surgery or also catheterization. The patients may also have had surgery or catheterization and need around-the-clock care to ensure they recover. The nurse must have experience in using intracardiac devices, telemetry hemodynamic monitoring, and also administering the correct medicine as part of their medical management recommendations.
Neurological ICU Nurse
These nurses work with patients experiencing brain or spinal cord injuries. They must have extensive knowledge of these types of injuries and be able to perform neurological assessments and use intracranial devices.
These nurses work with patients who have sustained life-altering injuries from motor vehicles, those who have attempted suicide, and also homicides. Therefore, they must have in-depth knowledge of chest, brain, spine, abdominal, and orthopedic injuries.
Transplant ICU Nurse
A transplant ICU nurse assists patients who are about to receive or have already received an organ transplant. Their roles are crucial. These nurses monitor for organ rejection and are familiar with the equipment in the transplant.
Burn ICU Nurse
These nurses care for patients involved in serious fires. They must be able to assess, treat, and also provide proper pain and wound care management.
Medical ICU Nurse
These nurses deal with patients suffering from pneumonia and also a host of other complications that may stem from substance abuse, internal bleeding, and more. So, they must be familiar with machines and medication for resuscitation and infection.
Pediatric ICU Nurse
These nurses work with children in the treatment of congenital diseases.
These nurses must have extensive knowledge of diseases and illnesses in newborns who have life-threatening injuries.
---
Salary of an ICU Nurse
According to the Bureau of Labor Statistics, the average salary of an ICU nurse begins at $64,474. ICU nursing salaries also vary based on location. Furthermore, the ICU nurse's salary can go as high as $93,717 depending on the type of specialty they have. There are some ICU nurses who work with private organizations which can also provide a significant boost to the standard ICU nurse salary. So, these nurses make well into the six figures. The demand for ICU nurses will significantly grow over the next decade and also raise the current ICU nursing salary.
---
Related: