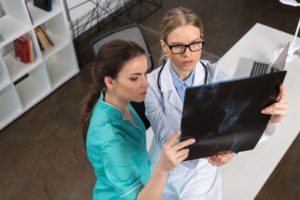 Job of a Charge Nurse
Description of a Charge Nurse's job is to care for patients and manage other nurses. They need clinical experience and managerial skills. If you like caring for people and also have good organizational and leadership skills, you may want to look into the possibility of a career as a charge nurse. This is a job for a dedicated, hardworking person who can inspire greatness in others. It's a lot of responsibility that calls for a person with good planning skills and a vast knowledge of patient care. Most charge nurses are RNs who may rotate this duty. While this job can be handled by an LPN in a long care situation, a BSN is highly recommended.
---
---
What are the Duties of a Charge Nurse?
The job description of a charge nurse is coordinating and overseeing the functions of a department in a healthcare facility. The charge nurse is the one who assigns duties to the staff and reports to the nurse manager. Also, a charge nurse prepares schedules and delegates nursing assignments. Keeping track of admissions and discharges is another responsibility. In addition, they take inventory and also order medicine and supplies. This job requires not only problem-solving skills but problem prevention skills. Checking the environment and equipment to ensure patient safety falls under the charge nurse's many responsibilities. A charge nurse serves a multi-tasked role as a leader, a teacher, and a self-starting organizer.
---
What Makes a Good Charge Nurse?
What are the nursing skills of a charge nurse? A charge nurse must have excellent people skills. Routinely, they work with not only ill and injured people but also manage other nurses in charge of their care. This requires an ability to communicate ideas not only clearly and firmly but in a gently sympathetic way.
Not only is verbal communication part of the job, but written communication skills are crucial to report patient progress and staff performance. Good attention to detail is necessary to accurately assess a case and apply appropriate problem-solving skills to ameliorate the situation. This is a very stressful position, so a person looking to be a charge nurse must also remain calm under pressure.
---
What Level of Education is Required to be a Charge Nurse?
Generally, the responsibility of a charge nurse is given to a registered nurse with advanced education such as a Bachelor of Science in Nursing. Holding or pursuing a Master of Science in Nursing is a sure way to rise in the ranks. Either a BSN or an MSN can provide an intrepid nurse with skills in leadership and management that will be important in the role of regulating health care.
---
What is a Charge Nurse's Salary?
How much does a Charge Nurse make? The average Charge Nurse salary is $95,400 and ranges from $88,603 and $106,060 (salary dot com). The median annual income for an entry-level charge nurse is typically around $80,000 depending on experience and location. Additionally, the job usually comes with a full benefits package that includes paid time off, healthcare insurance, and 401(k) or pension contributions. The outlook is expected to be excellent due to the high demand for healthcare professionals.
Being a charge nurse is one of the most difficult tasks in the healthcare industry, but certainly one of the most rewarding. You might want to check the best Job Opportunities in Israel, you can find a lucrative job opportunity, these are the following procedures of how you can apply for a job in Israel.
---
Related: