RN to BSN in New York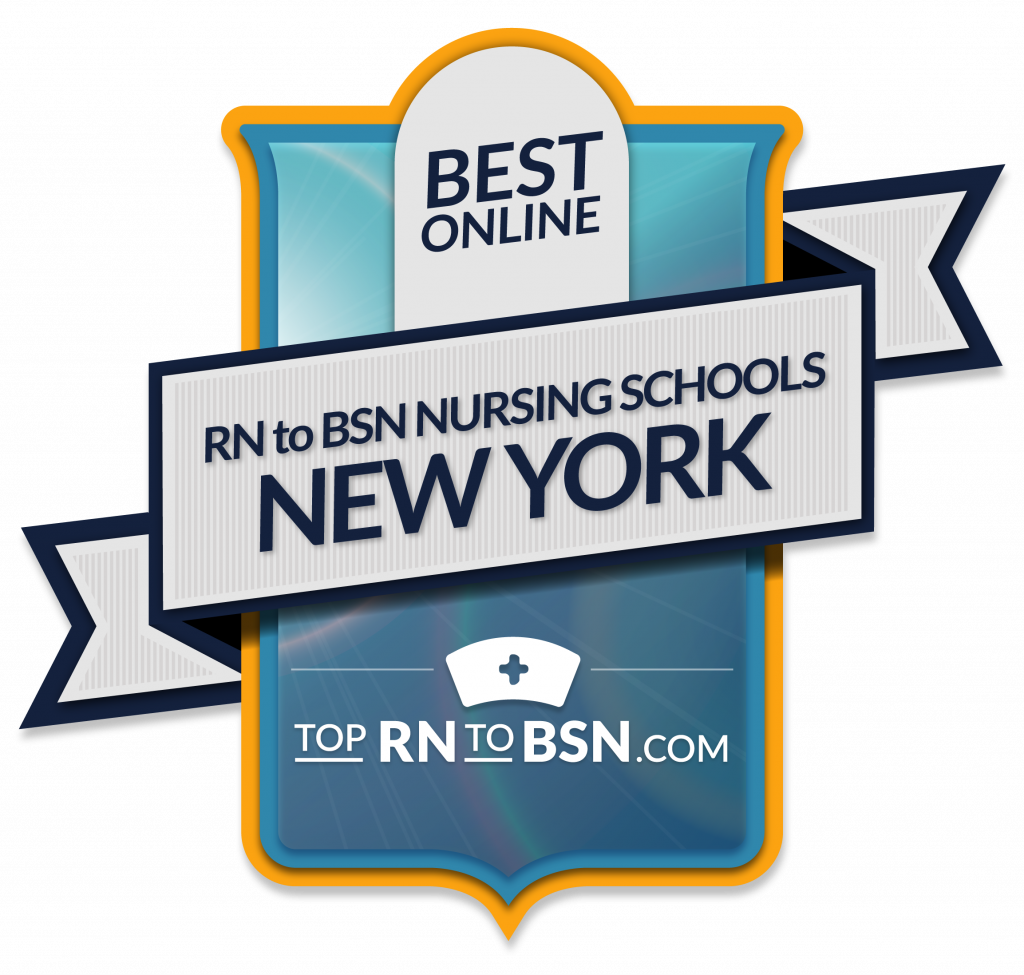 The time is now for nurses who live and work in New York – especially in New York City, one of the highest-paying cities for nurses in the US – to complete their Bachelor's of Science in Nursing. All nurses work extremely hard, there is no disputing that. Whether bedside nursing is your favorite part, or it is the vast opportunities to contribute to the field in other ways, the differences in opportunities that are available to those nurses with the four-year degree, mostly come down to more considerations for advancement and more money.
With the increase in theoretical models of nursing that BSN nurses earn in the two years of schooling following the initial RN licensure, the basis of their nursing expertise grows also. For those smart people who have already found nursing to be a worthwhile way to spend a career, make yourself an even more worthwhile component of this necessary field. Start earning your bachelor's degree today with one of these value-added online RN to BSN degree programs.
---
RN To BSN In New York: The Online Option
The following TopRNtoBSN programs are the 15 Best Online programs for RN to BSN students in the Empire State. Our editors have compiled this list with only educational programs that are accredited by the CCNE. Each is affordable, convenient, and everything a working New York nurse needs to finally finish a bachelor's degree in nursing, all while improving upon the skills you use every day. Having finished most of your clinical requirements during your initial RN program, most of the profiled coursework is entirely online. The RN to BSN programs at Hunter College, Alfred State College SUNY College of Technology, and Binghamton University are a bit different. Each of these features one or more courses that require in-person components. These overall top 15 programs are ranked evenly by 3 qualifications:
Reputation (the institution's CollegeConsensus.com Consensus Score)
Cost (per online credit)
Success Outcomes (from the Department of Education's College Scorecard)
You clearly show the interest and the potential to complete your BSN online. Do our part to increase the number of New York state nurses who have a complete undergraduate degree. Any of the following online RN to BSN completion programs will be a great option for this rewarding journey.
---
1. Lehman College – The City University of New York
Lehman College was founded in 1931 as the Bronx campus of Hunter College. Named after Herbert H. Lehman, a former New York governor, US senator, and philanthropist, this CUNY senior college is located in the North Bronx borough of New York City. Lehman features many innovative programs that focus on the success of students as their primary interest. In fact, Lehman's current president, José Luis Cruz, has made it his personal and professional mission to ensure that students' needs are first in all academic and administrative decision-making. He has even testified before the US senate to encourage lawmakers to do the same. These innovative values are not only displayed by the faculty and staff but are felt by students who are able to find great success at this great school.
The fully online RN to BSN nursing program at Lehman's School of Health Sciences, Human Services, and Nursing, is one of these innovative programs. The program fulfills the requirements of the New York State Education Department and is CCNE accredited. The goal of the RN to BSN program is to extend the education students received in the first two years of nursing school, and prepare them for a professional career or graduate school. They do this by offering a wide array of courses that build upon students' cultural awareness and sharpen their critical thinking skills. These both enable them to better serve a diverse patient population. Lehman is committed to students. Ensuring that staff is dedicated to meeting the specific needs of the online nursing student, is evident from the beginning of the admissions process through graduation and beyond.
Accreditation: CCNE
---
2. Farmingdale State College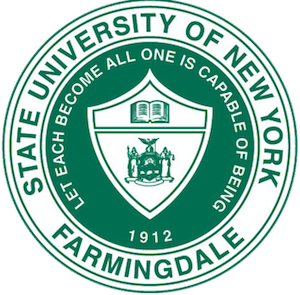 The State University of New York at Farmingdale was founded in 1912 on Long Island, New York. Originally founded as a school of applied agriculture, the name it first went by was the New York State School Of Agriculture on Long Island. While many more focuses have been added to the list of options for students, the current 45 academic programs still each have a technical approach to learning. Four schools make up the current offerings, the School of Engineering Technology, the School of Business, the School of Health Sciences, and the School of Arts & Sciences. With such specialized program offerings, a specialized faculty assist in ensuring a successful outcome for Farmingdale students.
The School of Health Sciences offers an Advanced Standing RN to BSN program at Farmingdale State College. The program is offered entirely online, allowing working RNs the option of furthering both their education and their salary, without missing work. This comprehensive completion track takes students approximately 2 years to complete and requires 60 college credits beyond the associate degree to graduate. Applicants must have a current RN license and must have a 3.0 GPA or better to be admitted. With required courses like Health Promotion and Patient Education, Modes of Inquiry, and Nurse as Advocate and Change Agent, the focus of the online RN to BSN program at Farmingdale is to educate nurses to become the best patient services coordinator and practitioner they can. Graduates can be confident they are equipped for the field and for further study.
Accreditation: CCNE
---
3. Hunter College- The City University of New York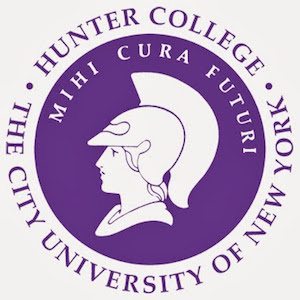 Hunter College is one of the associated colleges of the City of New York. It is located in the Upper East Side of Manhattan, in a neighborhood called Lenox Hill. It was founded in 1870, as part of the Normal School movement that trained teachers across the country. In Hunter's early days it was an all-women's school that had an established non-discrimination policy regarding race, ethnicity, and religion of applicants, a rare trait for the times. Hunter also incorporated an on-site elementary school for the children of students and a high school for academically gifted children. Innovative and access-based educational practices were also rare in those times. In 1914 the school became known as Hunter College and dropped its identity as a Normal School.
The Hunter-Bellevue School of Nursing operates within Hunter College and is the flagship nursing school of the City University of New York. They offer a fully accredited RN to Bachelor of Science in Nursing Program that can be achieved entirely online, with the exception of the clinical requirement for the course NURS 480: Promotion of Wellness in the Community. The reason Hunter-Bellevue stresses the importance of this on-site course is that it gives students the opportunity to work at a community health organization within New York City. The program was created for students who have already accomplished their associate degree in nursing, as well as their RN license for the state of New York, and are interested in furthering their nursing career.
Note that this program requires one course that cannot be achieved online
Accreditation: CCNE
---
4. St. John Fisher College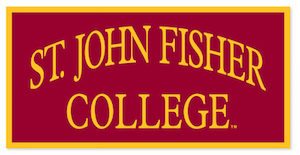 St. John Fisher College is a private liberal arts school located in Pittsford, New York, which is a suburb of the city of Rochester. Fisher was established in 1948 and was originally an all men's school with a Roman Catholic Foundation. In 1968 it became independent, and in 1971, coeducational. It is still connected to the Catholic tradition of American High Education. The College is made up of five distinct schools and has 35 undergraduate offerings as well as several masters and doctoral programs.
St. John Fisher College offers an accredited and fully online RN to Bachelors of Science in Nursing Program that features the flexibility for students to work at an accelerated pace, and still be accountable to their other life commitments. Students are given 24/ 7 access to their coursework, including online tutoring. The program can be completed in 12-18 months. Upon graduation, students are given an option to continue with their studies to achieve their Masters of Science in Nursing in an accelerated format. Many students who attend the Fisher Program are transfer students, as they accept a significant amount of credits from other institutions. Upon graduation, students will be well poised to continue their education or immediately be highly sought after, competitive candidates in the field of nursing.
Accreditation: CCNE
---
5. Alfred State College SUNY College of Technology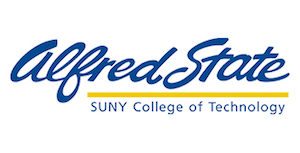 Alfred State College (SUNY) College of Technology was founded in 1908, and was originally called the Technical College at Alfred. Even before that, they were a teaching school, not unlike many of the other SUNY schools. Originally called the Alfred Select School, today they are considered a senior college, and are one of the eight SUNY schools. Their offerings include over 70 majors in a variety of disciplines. They have been known to employ thoughtful and visionary equal opportunity programs, and provide students with a small student to faculty ratio, which generally averages 20 students per faculty member. In this way, students are sure to receive a quality education that only comes from a dedicated faculty like the one at Alfred.
The RN to BSN program at Alfred State is an upper-division completion program that aims to enhance students' knowledge and skills foundation. This is to give nurses the ability to function more autonomously and interdependently in diverse, complex, and dynamic health care environments. The program can both serve as a solid academic foundation for advanced study in nursing at the graduate level or prepare graduates for leadership positions in an active nursing career. The BSN program is offered in both an online format and on-campus format, providing flexibility and learning style choices for the adult student and working professional.
Note that this program is not offered fully online, as some clinical components will be required in-person
Accreditation: CCNE
---
6. The City University of New York School of Professional Studies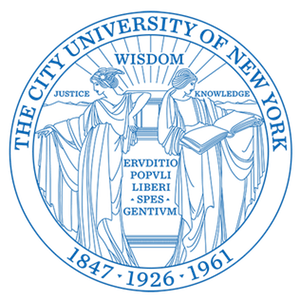 The City University of New York School of Professional Studies is a post-secondary institution that was founded in 2003. Located in the heart of New York City, this CUNY undergraduate and graduate degree-granting institution have 2000 students who are studying for credit. They offer programs that are entirely online, as well as an in-person bachelor's program in Urban and Community Studies. Some of their programs include online master's degree-granting programs, something select schools are able to do well. The School of Professional Studies offers credit courses in a variety of professional disciplines, including customized training programs tailored towards government agencies, nonprofit organizations, and unions. Other options include immigration law and project management, as well as healthcare administration. These dynamic offerings are a sign of the commitment to diversity and excellence in the student population, as well as to the enhancement of professionals working in the city and state of New York.
The CUNY School of Professional Studies offers a fully online RN to Bachelors of Science in Nursing Program that is geared towards supporting certified nurses to further their careers. Students are trained to develop skills in health assessment, nursing research, management and leadership, culturally competent care, nursing informatics, and global health and policy. Graduates of the program will be fully equipped to be leaders in acute care, long-term health care scenarios, and community health care settings. Students are also well-prepared to further their education if a master's program is desired for leadership roles in the field of nursing. International students are welcome and encouraged to enroll in this program, though they should note that visas will not be granted for attendance.
Accreditation: CCNE
---
7. State University of New York at Delhi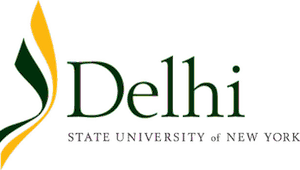 The State University of New York at Delhi was originally founded in 1915 when they offered entrance to their first nine students. In 1944, food technology became an emphasis of the school, and they have maintained such programs, which now also include Restaurant Administration. The campus is located in the Catskill Mountains on a scenic campus that sits on 625 acres, just three hours from New York City. The campus includes over 44 academic buildings and 6 beautiful residence halls. SUNY at Delhi serves a total of nearly 3 and a half thousand students annually and features a 16:1 student to faculty ratio. In 2014 and 2015, they were ranked as a leader in online bachelor's programs by the US News and World Report.
The State University of New York at Delhi offers an accredited and fully online RN to Bachelors of Science in Nursing Program that provides the flexibility necessary to complete the program while continuing to work in the nursing field. A practicum is included in the program, and students are given the chance to achieve this working in the healthcare profession in their hometown. The RN to BSN program at Delhi puts a heavy focus on the employment of critical thinking skills that are essential for clinical management in an ever-changing healthcare environment. Additional online upper-level liberal arts courses are available to students. This innovative program supports students to further their education if desired, or to achieve a higher-level career in the field of nursing.
Accreditation: CCNE
---
8. University at Buffalo- State University of New York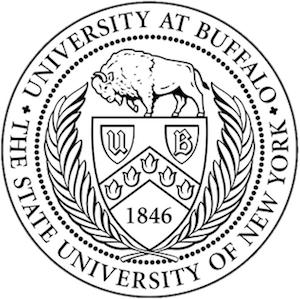 The University at Buffalo- State University of New York, is also called UB or SUNY Buffalo and was originally called the University of Buffalo. It was established in 1846, initially as a medical college with a private affiliation. In 1962 they joined forces with the State University of New York (SUNY) system. SUNY Buffalo has 13 distinct colleges that offer a variety of disciplines. They have consistently had the largest enrollment of the SUNY Schools serving over 30,000 students each year. They also feature the largest endowment and research funding of any of their fellows SUNY schools. The Carnegie classification has named the University of Buffalo as a doctoral institution with the highest level of research.
The University at Buffalo School of Nursing, a division of the University of New York, offers an accredited RN to Bachelors of Science in Nursing Program that can be achieved entirely online. Students can choose to complete this program in a one or two-year sequence. This course of study was developed to bring nursing students to the cutting edge of the field in the advancement of quality care and leadership. The US News and World Report ranked the program number 21 in online RN to BSN nursing programs. The cohort model allows for students to access peer support and teamwork for ultimate success.
Accreditation: CCNE
---
9. Binghamton University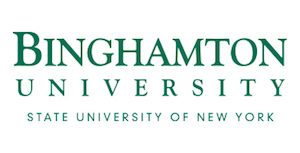 The State University of New York at Binghamton, commonly referred to as Binghamton University or SUNY Binghamton, is a public university with three different campuses making up the unique school. These campuses are located in Binghamton, Vestal, and Johnson City, all in upstate New York. Originally founded as Triple Cities College in 1946, the university began as a small liberal arts school, serving the surrounding community. It has grown immensely into a large doctoral, space-grant, and large public research university. Binghamton serves nearly 14 thousand undergraduate students annually. The 120 campus academic, research and institutional buildings make up a cluster of educational facilities that are unique and dedicated to research that betters the lives of all who are affiliated.
The RN to BSN program at Binghamton University is a fully accredited and entirely online program for working nurses to advance their mastery in the nursing field. This program housed in the Decker School of Nursing consists of 32 credits of nursing courses and 74 credits of nursing prerequisites, General Education courses, and electives. Students can transfer previous coursework to meet several of these requirements. Up to 98 credits of previous coursework may be transferred. Course content is delivered online and on-campus, with valuable face-to-face time with experienced faculty. Clinical experience is tailored to individual student interest and professional background goals and emphasizes leadership management roles in acute care, community, and rural-health settings.
Note that this program is not offered fully online, as there are student-focused clinical components that are invaluable to the structure of the program
Accreditation: CCNE
---
10. Empire State College- State University of New York

The Empire State College-State University of New York was founded in 1971 and has been committed to student-centered learning since its inception. They were designed to cater to non-traditional students by offering flexible programs, such as distance learning and night classes that can fit into the life responsibilities of busy adults. This mission has been coupled with individualized learning strategies and accommodations. Not only does the Empire State College offer a myriad of bachelor's, master's, and doctoral programs, they have certificate programs in several disciplines including project management and veterans studies. They are one of 13 of the State University of New York Schools.
The Empire State College offers a great value RN to Bachelors of Science in Nursing program, with courses that can be taken online, or in the traditional in-class format. This program is geared to registered nurses who are ready to further their careers. Graduates of this program do this by gaining leadership experience and the evidence-based skills necessary for excellence in a variety of decision-making practices and working in many healthcare settings. Students will learn to deliver comprehensive healthcare to diverse populations, while also preparing to continue on to achieve advanced degrees if they choose. Each student will work with a mentor to ensure they are on the right track for their personal goals and interests.
Accreditation: CCNE
---
11. Plattsburgh State University of New York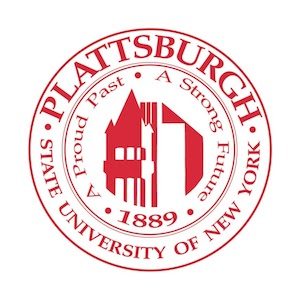 The State University of New York College at Plattsburgh, also known as SUNY Plattsburgh, is a public university in upstate New York. Founded in 1889, SUNY Plattsburgh is located near the Canadian border on the lovely Cumberland Bay. Being only an hour and a half from the Québec city of Montréal, Plattsburgh students are immersed in many cultures. Originally founded as a normal school or teachers' college, a modern Plattsburgh education is still rooted in the initial values of service and commitment to the community. Serving between 6 and 7 thousand undergraduate students each year, SUNY Plattsburgh remains a relatively small, student-focused school, with a 16:1 student-faculty ratio.
The fully online RN to BSN completion program at SUNY Plattsburgh was an early leader in distance education. Having a long history of innovative educational styles is only part of the reason that the Plattsburgh nursing students are poised for professional success. The applied learning experiences in this program offer exceptional opportunities to diversify students' experiences and give them the skills necessary to advance as leaders in the healthcare field. Given that course-based experiential learning is a hallmark of high-quality nursing education, the clinical coordinator at Plattsburgh works with students to find appropriate experiences in their own communities. In this way, the holistic flexibility of the program offers students a dedicated way to excel.
Accreditation: CCNE
---
12. Roberts Wesleyan College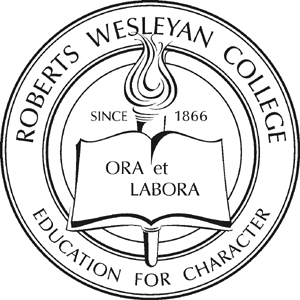 For over 150 years Roberts Wesleyan College has been providing a Christ-centered liberal arts education, offering liberal arts and professional programs in the Rochester, New York area. RWC was the first educational institution established for Free Methodists in North America. With its roots in what today we call social justice, founder Benjamin Titus Roberts was a social activist who opposed slavery and oppression of the poor and was a supporter of women's right to vote. His idea for the school was to train young people to become leaders with moral character. Today, students are charged with similar concepts of excellence and leadership, to take the structure and lessons from their education, and apply them to a principled life.
The school of nursing at Roberts Wesleyan College offers an RN to BSN program for nurses that is fully online. The 36 credit hour program takes 15 months to complete and offers students access to their course work 24 hours a day. To be considered for admission, applicants must have graduated from an accredited associate degree or diploma nursing program and hold a registered nursing license in the United States or Canada. The additional requirement that applicants are current employees for 20 hours per week as a registered nurse, is unique to Roberts Wesleyan. Students may also transfer a minimum of 60 semester credit hours of transferable credit from regionally accredited colleges and universities in nursing.
Accreditation: CCNE
---
13. New York University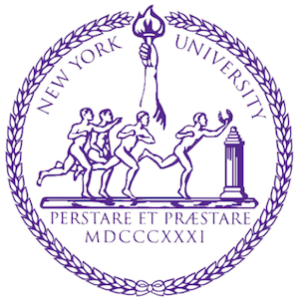 New York University, or simply NYU, is a large private university that has an excellent reputation for producing some of the brightest minds and boasts an impressive list of alumni. With its roots dating back to its founding in 1831, NYU is present almost everywhere throughout the city, with campuses located in each of the five boroughs, in Washington, DC, and in many cities around the world. Although the most famous academic emphasis of the school is on business and the arts, NYU also offers extensive and well-resourced programming in social science and scientific interests. Serving nearly 26,000 undergraduate students each year, NYU has more than earned its stellar reputation for excellence.
NYU's Rory Meyers School of Nursing, located near the East River in Manhattan, is designed specifically for registered nurses with an associate's degree in nursing. The online RN to BS program has the goal of increasing the general knowledge students have in the physical and social sciences, expanding the overall access to nursing theory, and the ability to connect with diverse patient needs. Students are equally expected to obtain or increase their awareness of assessment, patient advocacy, and care management. This type of professional nursing education increases graduates' earning potential by preparing the nurse to initiate and plan changes to treatment, and will open doors to leadership positions. The Rory School of Nursing prepares nursing students with the opportunity to practice in a wider range of settings.
Accreditation: CCNE
---
14. D'Youville College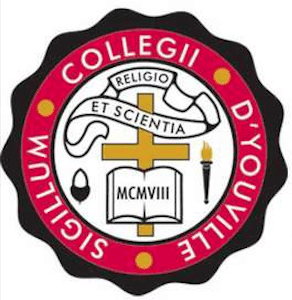 D'Youville College was founded by The Grey Nuns in 1908 and named it for their patron Saint Marie-Marguerite d'Youville. It was the first college to offer baccalaureate degree programs for women in western New York State. It was still a women's college until the 1970s when it became coeducational. D'Youville puts major emphasis on teaching students to contribute to the world by leading compassionate, productive, and responsible lives. With a Buffalo, NY campus located so close to the Canadian border, of the nearly 3,000 students who enroll each year at D'Youville, roughly 500 are Canadian. It is also a leading college in serving personnel and veterans of the U.S. military, making space for their unique situations to aid in their success.
The school of nursing at D'Youville offers a fully online RN to BSN nursing degree for nursing professionals seeking a flexible option to continue their studies in nursing theory and evidence-based practice. Each of the four semesters is 15 weeks long and prepares leaders in the field to be knowledgeable in, and to have the skills to implement, evidence-based care. The program emphasizes community-based nursing, providing extra attention to nurses' ability to successfully understand the needs of vulnerable populations. The final course of the program is called Leadership to Advanced Quality and Safety and is a capstone course for students. The capstone demonstrates the mastery of applicable theories and practice, and students demonstrated the ability to lead.
Accreditation: CCNE
---
15. Mercy College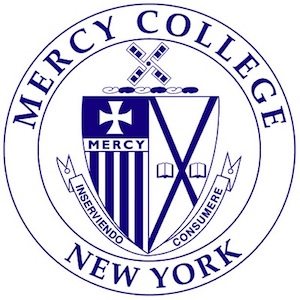 In the long line of Roman Catholic Universities that are Jesuit influenced, Mercy College was founded in 1950 to support Jesuit educational principles including outreach and social justice. Their motto is Inserviendo consumer, which translates from Latin as To be Consumed in Service. Located in Dobbs Ferry, New York, Mercy is a private university that has been coeducational since 1971. The College expanded its offerings to include online programs in the 1990s and was soon after granted the ability to offer entire degree programs online. Thousands of Mercy College students take one or all of their courses online. They do this through the more than 40 undergraduate and graduate programs available.
The Mercy College bachelor of science degree in Nursing is designed for registered nurses who have an associate's degree or who have graduated from a diploma program in nursing, and are planning to return to school for a bachelor's degree. Students have the option of three different format options for this completion degree. These are fully online (except clinicals), fully on campus, and a hybrid combination of in-person and online classes to accommodate working RN schedules. All didactic coursework, meaning all the work that is not clinical hands-on training, can be completed fully online. In-person clinical hours are required, however, flexibility is incorporated in order to meet the needs of our working RN students.
Note that this program is not offered fully online, as there are student-focused clinical components that are invaluable to the structure of the program
Accreditation: CCNE
---
What Education is Required to Be a Nurse in New York?
Students who wish to earn their nursing license in New York should begin by searching for a program that meets their objectives. A few searches that might be helpful as you begin your search would include:
Accelerated Nursing Schools NYC
Free Nursing Programs in NYC
New York Nursing Colleges
New York Nursing Schools
Private Nursing Schools in NYC
In December 2017, the New York Legislature passed a law that requires every Registered Nurse (RN) in New York to earn a Bachelor of Science in Nursing (BSN) degree (or higher) within ten years after the RN license's initial issuance. It becomes effective 18 months after its enactment in June 2019.
There are many New York Nursing colleges that offer BSN programs strictly designed for those who currently hold a New York Registered Nurse license. The available New York Nursing schools are located throughout the state; many programs have hybrid delivery options.
For students located in New York City's five boroughs, check out the Private Nursing Schools in NYC, the free nursing programs in NYC, and the accelerated nursing schools in NYC. These NYC nursing programs meet the requirements of the newest New York State law and prepare students to work within increasingly complex healthcare settings.
---
The BSN by the Numbers: Statistics and Money
Part of the reason nursing is such a worthwhile endeavor includes the constant industry improvement and job growth rates of 15% or more that several states are experiencing. The Bureau of Labor and Statistics estimates that the national number of available nursing positions will increase by nearly 500,000 in the United States by the year 2026. For high population states like New York, the number is twice this! In the next decade, nearly half a million new nursing positions will be available. Of the nearly 180 thousand nurses currently working in New York, each earn an average of over $81,000 per year. The higher end of this average goes to bachelor's degree-holders.
Soon, nurses from New York, and every other state, may not only want to earn higher credentials and higher wages, but the National Council of the State Boards of Nursing (NCSBN) is considering making it a requirement as the minimum licensing credential for nursing professionals. Another thing to put on the list of things to consider, is by 2020 the American Nurses Credentialing Center (ANCC) Magnet Recognition program will require that hospitals be staffed by 80% BSN holders.
---
How Do I Become a Nurse in New York?
To attain a New York nursing license, one must successfully complete a NY state-approved nursing program, and a child abuse identification/reporting-training module. The nursing programs approved by the state are designed to help students successfully meet the New York NCLEX requirements.
The state agency responsible for managing NY nursing licenses is the New York Board of Nursing. Interested students can begin the process by submitting the New York Board of Nursing application. The submitted application will begin a process that will ultimately lead to a New York nursing license by endorsement.
The New York State Board of Nursing license verification process requires each student to meet the New York NCLEX requirements. In addition to the education requirements, the New York nurses license verification process requires RNs to be at least 18 years old and of good moral character.
Nursing degree graduates who have met the requirements dictated by the New York nurses license verification process will hold nursing licenses for life, or until a suspension or revocation has been levied. However, it is noted that each RN must submit a New York Board of Nursing application for renewal every three years.
When ready, students interested in obtaining their New York nursing license by endorsement should sign on to begin the New York State Board of Nursing license verification process.
---
Online nursing programs
Online nursing programs are a great option for nurses who choose to continue to work during their schooling. For those who have family commitments or other obligations, time for anything extra is scarce. For those who live and work in rural parts of New York, sometimes far from quality nursing education programs, online options mean anything is possible! The flexibility and affordability that virtual classrooms provide can make the difference between going back to school or not. The amount of success and confidence in achieving a BSN are sure to outweigh all of the costs.
---
What Makes New York a Good State for Nursing?
New York State is home to nearly 220 hospitals. Clearly, the more hospitals there are, the more nursing jobs in New York are available. In fact, only the states of Texas and California have more hospitals than New York State. As a result, nursing jobs in New York are plentiful.
Nursing professionals, especially those in search of nursing jobs in NYC for new graduates, may prefer big city life. New York City is known for its world-class medicine and medical facilities. Therefore, many will find nursing opportunities for:
Nursing jobs in NYC for new graduates
Entry Level nursing jobs NYC
Nursing jobs in New York City hospitals
A New York nurse's salary average exceeds the average Registered Nurse salary for the United States. While the national average for Registered Nurses is $70,000, an RN New York nurses salary is $76,000 per year. Not only is New York City one of the highest-paying cities for nurses, but New York is one of the highest paying states as well.
The job market for nursing in New York is expected to grow by 15% through the year 2026; a rate that outpaces expert predictions for the national average and the economy.
---
Related: