Infographic – Nurse at War
Nurses at War: Angels on the Battlefield is an infographic that depicts the history of nurses in the military and at war.

Share this infographic on your site!
---
A Historical Timeline to 1900
The military nurse's role begins early in recorded history and continues today in most heroic ways.
1090, the Crusades: Nursing was conducted by monks and nuns of various religious orders. It was considered work of a spiritual nature as well as a physical one.
FACT: the Knights Hospitaller: Military order established in the crusades. Monks and other religious/military orders accompanied the soldiers to the holy land. Knights Hospitaller provided care for sick, injured, and poor pilgrims who traveled to Jerusalem.
1775, the American colonies: Commander-in-Chief George Washington asked for help from Congress, which approved one nurse for every ten patients in Continental hospitals.
1850: The Crimean War: Florence Nightingale, the pioneer of modern nursing, gained fame helping to reduce the death rate at a British base hospital by two-thirds.
1859: Jean Henry Dunant helped found the International Red Cross and the Geneva Convention. He won the first Nobel Peace Prize in 1901.
1898: Spanish American War. Daughters of the American Revolution recruited contract female physicians and nurses.
More than 1,500 nurses served, including 250 nuns, 80 African-American nurses, and at least four Native Americans.
21 of these women died after contracting illnesses from those in their care.
---
Timeline to 1900 – present
1901, Congress established the Army Nurse Corps. Seven years later, it created the Navy Nurse Corps.
1917, World War I :FACT: When the U.S. declared war on Germany in 1917, it had 403 Army nurses and 160 Navy nurses on active duty.
22,000: number of American nurses by the end of the war. Several hundred lost their lives, including many who became victims of the influenza epidemic of 1918.
World War II: 74,000 nurses join the Army and Navy Nurse Corps.
Despite the risks these women endured, it wasn't until 1947 that nurses in the Army and Navy Corps were finally granted permanent commissioned officer status.
WOW: April 1942: After the Bataan Peninsula in the Philippines fell to the Japanese 77 Army and Navy nurses became the largest group of American women ever captured and imprisoned by an army. All of them survived. They are better known today as The Angels of Bataan and Corregidor.
Not until 1955: after the Korean War, were men again permitted to serve as military nurses. During the intervening decades men who were registered nurses enlisted or drafted, but were not assigned as nurses.
---
Career Outlook
Now…a career
The career outlook: Active duty nurses in the U.S. armed forces are highly sought-after. The overall employment of registered nurses is projected to grow by 22 percent between 2008 and 2018, according to the U.S. Bureau of Labor Statistics.
$58,000: The average annual salary for a registered nurse working in a military hospital setting.
$82,000: average salary of an RN in Massachusetts
How the Nursing Corps Began:
Navy Nurse Corps was established by Congress in 1908; however, unofficially, women had been working as nurses aboard Navy ships and in Navy hospitals for nearly 100 years.
Army Nurse Corps: During World War II (1939-45) nearly sixty thousand American nurses served in the Army Nurse Corps (ANC).
Air Force Nurse Corps: Nurses within the U.S. Air Force initially were "flight nurses" which evolved out the Army Air Corp during World War II. In 1947, the U.S. Air Force was established and in 1949 the Air Force Nurse Corps emerged from the Army in which 1,199 nurses were brought over to the Air Force branch.
U.S. Marine Corps: The U.S. Navy oversees the medical needs of the U.S. Marine Corps.
---
Military Nursing Hall of Fame
Clara Barton: is significant in military nursing history because of her efforts during and after the U.S. Civil war to find missing Union soldiers. In 1881 she formed the American Red Cross
Louisa May Alcott: is known worldwide as the author of Little Women, she served as a volunteer nurse during the civil war.
Walt Whitman: The famous poet was also a volunteer nurse. Whitman worked as a nurse at Army hospitals set up during the Civil War.
Mary Todd Lincoln: The wife of President Abraham. During the Civil War, she worked tirelessly as a nurse, tending wounded soldiers
Helen Fairchild: The letters Helen Fairchild sent to her American family about combat nursing during WWI made her famous.
Hazel W. Johnson-Brown: The first African-American woman general in history, Hazel W. Johnson-Brown is also a skilled nurse.
Anna Maxwell, Founder of the Army Nurse Corps – Known as the American Florence Nightingale, Anna Caroline Maxwell bravely cared for wounded men, improved sanitary conditions of military hospitals, and trained nurses for care during the Spanish-American War.
Ruby Bradley: Most Decorated Woman in US Military – Col. Bradley of the Army Nurse Corps was the most highly decorated army nurse, receiving 34 medals and citations of bravery for her military service during the Japanese and Korean War, on World War II. Bradley began her service in the Army Nurse Corps as a surgical Nurse in 1934.
---
Military Nursing Casualties
Spanish American War: 21 contract nurses died from diseases such as typhoid, and malaria.
World War I: 430 casualties. Many of these were Army and Navy Nurses who died from influenza.
World War II: 460 casualties. Six Army nurses died from a hostile fire at Anzio Beachhead, 1944. Six Army nurses died when a Japanese suicide plane crashed into the Hospital Ship, USS Comfort near the Philippine Islands in 1945.
Korea: 16Army, Navy, and Air Force Nurses in theater or en-route to the battle theater – other servicewomen were not permitted in the theater. None died directly from hostile fire.
Vietnam: 8 nurses in theater or en-route to the theater. One Army Nurse, Lt. Sharon Lane, died from hostile fire. 7,484 Women (6,250 or 83.5% were nurses) served in Vietnam.
Iraq: 2007: Capt. Maria Ines Ortiz, 40, was killed by a mortar attack in the Green Zone in Baghdad. The Edgewood, Md., resident was the first Army nurse killed in combat since the Vietnam War.
Nursing Care on the battlefield: Iraq and Afghanistan
Trauma care always evolves in war. And so does combat health support. Today, the battlefields in Iraq and Afghanistan are characterized by:
quick military operations
increased mobility and dispersion of the units,
flexible and rapid task organization, and
geographically extended lines of communication.
On those battlefields, life- and limb-saving surgery in an austere environment is practiced without the high technology available in a civilian intensive care unit (ICU).
---
Modern Combat Care
The five levels of modern combat care:
Level One
Level One care begins on the front line or within the combat zone. Immediate first aid is delivered by the wounded soldier, a fellow soldier, or a combat lifesaver (a non-medical person trained in enhanced first aid), often from combat medics
Level Two
Level Two care also begins on the front line or within the combat zone. In the Army, the Battalion Aid Station and the Forward Surgical Team provide Level Two care. The Battalion Aid Station has medics, physician assistants, and physicians.
Level Three
Level Three care takes place in a combat support hospital, which is a network of long, insulated tents attached to one another.
Level Four
Level Four care is medical-surgical care provided outside the combat zone.
Level Five
Level Five care is given in hospitals in the United States, such as Walter Reed Army Medical Center in Washington, D.C. or Brooke Army Medical Center in San Antonio, Texas.
---
Changing Care
Changing care and challenges for combat zone nursing
One success of the Iraq war has been the use of protective body and vehicle armor to block fatal shots to the chest and abdomen.
FACT: Because of this protective equipment, chest injuries account for only 15% of war injuries, a decrease from previous wars. Damage-control surgery is one of the major advances in surgical practice in recent years. contaminated—are common.
---
Challenges, accomplishments, and pride
Deployment to a military operation, especially a war zone, presents several challenges for critical care nurses:
separation from family, usually for a year at a time
cultural differences
language differences
weather challenges, such as dust storms and extremes in temperature• supply shortages, such as running out of alcohol pads or burn sets
severe trauma—Some nurses enlist right after nursing school and are exposed to trauma not usually seen by experienced civilian nurses.
threats from local insurgents
development of post-traumatic stress disorder (PTSD)
A GRAND SALUTE: Despite the challenges and stress of providing nursing care on the battlefield, critical care nurses are doing great things, often in austere conditions
---
Fictional Military Nurses
Most famous fictional military nurses:
Colleen McMurphy of the TV series China Beach
Margaret "Hot Lips" Houlihan: the military nurse in MASH
---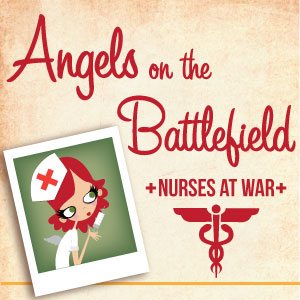 ---
Related: