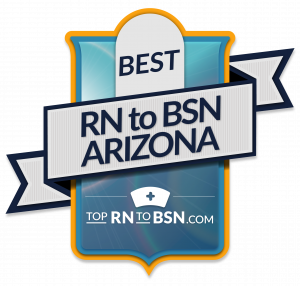 Arizona Online RN-BSN
An Arizona online RN-BSN is offered for working nurses to complete an undergraduate degree while they continue to work. In the 21st century, Arizona has quietly become one of the most innovative and advanced states, earning a reputation that has made it a destination for professionals and artists alike.
But like almost every other US state, Arizona faces a shortage of nurses. With the population growing, the Grand Canyon State could lack as many as 50,000 nurses in critical roles over the next decade. In a highly diverse state, with large immigrant populations and many elderly retirees, that shortage could be devastating to Arizona's healthcare system.
To meet the needs, some of the best nursing schools in Arizona have stepped up with online RN to BSN degree programs. With the convenience of online courses, nurses in the most remote parts of the sprawling state can earn their bachelor's degrees without having to leave their jobs or change their lifestyles.
---
How We Ranked the Best Online RN to BSN Arizona Nursing Schools
For our ranking, TopRNtoBSN editors researched the top Arizona nursing schools, seeking out fully online and hybrid RN to BSN programs that offer convenience, flexibility, and affordability. To rank the best programs, we took into account three equally-weighted factors: Cost, Employment, and Reputation using data from College Scorecard, IPEDS, and Niche. These sets of data are designed to help students find programs that will make a real difference in their careers – salary, promotion, and satisfaction.
---
---
1. Arizona State University

Arizona State University offers an online RN to BSN nursing curriculum. The degree is thirty credits long with classes that are usually completed in just seven weeks or so. The program prepares students for the ever-changing healthcare industry and provides many career opportunities once the student graduates. Most students complete the RN to BSN degree within 15 to 18 months. ASU also provides students with a reasonably priced cost, with no out-of-state tuition. The school is also CCNE accredited.
ASU is located in Tempe, just outside the beautiful Phoenix Metroplex. ASU is one of the top-ranked nursing schools in the nation and according to their website, BSU graduates pass the NCLEX on the first try 92% of the time – well beyond the national average. The ASU Edson College of Nursing is highly prized for its research and innovation studies and has exceptional faculty and staff.
Format: Online
Accreditation: CCNE
---
2. University of Arizona – Phoenix
University of Arizona in Phoenix offers an online BSN degree for RNs wanting to continue on to their educational goals. The program is CCNE accredited and provides two pathways for students to receive their BSN degree. According to the UOA website, both offer online and traditional class learning styles. UOA has an established reputation for having a competitive program that is most sought after by nursing students. The BSN degree also has a 96% passing rate on the NCLEX. The BSN program contains 126 credit hours and takes about two years to complete. Tuition costs at UOA are also reasonably priced.
Located in Phoenix, the University of Arizona focuses its time on the future and provides academic growth for all nursing students with a BSN degree. Home of the Wildcats, UOA's BSN degree program prides itself on being the first degree of its kind offered in the state.
Format: Hybrid
Accreditation: CCNE
---
3. Northern Arizona University

Northern Arizona University offers an online BSN degree for students interested in continuing their educational goals toward an excellent career in the healthcare industry. RNs who have already graduated from the state are eligible to earn their BSN at NAU. The BSN degree is a 120-credit hour program, with ninety units available for transfer. The BSN degree provides nursing students with coursework that prepares them for the workplace; such as public health administrators, nurse midwifery, or nurse anesthetists. Tuition costs at NAU is also affordable to most students going for the BSN degree.
NAU is located in Flagstaff, in northern Arizona, and less than two hours from Grand Canyon National Park. Flagstaff itself is among the top 10 best college towns in America, according to Time and Leisure Magazine. One last reason to choose NAU is for their research and development planning that flagstaff is well-known for in the city.
Format: Online
Accreditation: CCNE
---
4. Grand Canyon University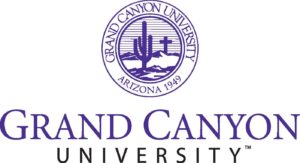 Grand Canyon University's RN to BSN degree provides nursing students with a career full of many possibilities. The program helps students broaden their understanding of the healthcare field and builds on sharpening skills in leadership. The degree can take as little as twelve months, with ninety credits being transferred. Each class completes in about five weeks. GCU also offers evening programs for students needing a more flexible schedule. The best reason for choosing GCU is the low tuition costs.
Grand Canyon University is located in Arizona's capital city, Phoenix. The RN to BSN degree is CCNE accredited and the GCU offers an MSN for students who decide to go further with their higher education. GCU, established as a Baptist-affiliated college, provides the opportunity for students to take both online and on-campus courses at the same time. This allows degrees to be completed sooner, allowing graduates to enter the nursing industry much faster.
Format: Online
Accreditation: CCNE
---
5. Brookline College

Brookline College's CCNE accredited online RN to BSN degree helps increase their student's job security, providing more opportunities in the workplace. The program is full of evidence-based practices, knowledge, and skills of clinicals and promotes a community-based nursing agenda. The RN to BSN program builds on business-like concepts for all nursing professionals. Tuition costs are low-cost, making it a great place to continue your educational goals.
Brookline College's RN to BSN degree program provides a curriculum that is affordable and flexible for each student. Students have the option to either take two classes per semester, finishing school within nine months; or take one class a semester, completing the online program in under two years. As a bonus, Brookline College offers a twenty percent discount to students who are employed by a clinical or education alliance partner.
Format: Online
Accreditation: CCNE
---
How Do I Become an RN in Arizona?
For students that are interested in a career as a nurse in Arizona, then this is the best time to do so. Arizona has a shortage of nurses and there are plenty of schools that offer the requirements to get your nursing career going. The best nursing programs provide working nurses with the means to increase their credentials, take on new specializations, and advance to leadership positions.
The first stage in the process of becoming a nurse in Arizona is to take prep classes while in high school. Some students in high school do not know what career path they will take. However, if you have a desire to care for and help people, the nursing field is where to head. After all, it's best to be prepared as early as possible. Talking to a guidance counselor is a great start.
Next, go for your ADN (associate's degree). The ADN degree takes about two to three years to complete. Some students can earn their ADN at a community college. It will provide the necessary requirements for RN licensure without the heavy tuition costs that state universities may charge.
After a nursing student has earned the ADN degree, it is a good idea to obtain the BSN degree as well. Even though nurses can find employment with only an ADN, many positions that are offered in Arizona do ask for applicants to have a BSN degree or work towards one. The BSN takes approximately three to four years to complete. The last and final step is taking the NCLEX-RN. This is an exam that allows RNs to practice. Students need to register to take the NCLEX and the cost is $200. For more information about the NCLEX, contact the NCSBN.
---
How is the Job Market for Nursing in Arizona?
Job openings for nurses in the state of Arizona are a growing commodity. Nurses can find work in medical centers, home health agencies, and traveling nurse providers. Certain school districts are also in need of nurses to accommodate the nursing shortage in Arizona. The most common jobs available in the state of Arizona are nurse anesthetists, emergency room nurses, home care nurses, including nursing assistants. Another area that could use more nurses is labor and delivery rooms or OB-GYN clinics.
Along with RNs and LPN jobs, nurses can find employment as aesthetic nurses, occupational health specialists, and CNA positions. For nursing students who choose to go further with their educational goals, becoming a clinical director or nursing home coordinator for the elderly will provide a higher salary rate with more benefits. However, nurses who do so will probably need at least an MSN or Doctoral degree to obtain these positions.
---
How Much Do Nurses Make in Arizona?
The average RN salary in the state of Arizona is around $75,110 per year, which is higher than the national average by almost $20,000. Of course, the pay scale can vary, depending on the occupation of the applicant and where they find work throughout the state. Popular cities or metroplex areas offer a higher salary than small towns.
One job that pays well in the state of Arizona is the nurse practitioner position. The national average on the BLS for NP professionals is $113,930 annually. However, the average salary for the NP is $104,970, according to the nurse salary guide. Other positions, like LPNs or LVNs, are paid around $46,240 annually. The salary is lower than regular RN positions, due to less education that is required. CNA positions are also popular in Arizona and is much-needed. The average pay for a CNA is around $30,000 a year and takes about nine months to complete. Even though the CNA job does not require the NCLEX or an RN licensure, it can help nursing students get a head start toward their nursing career goals.
---
Related: