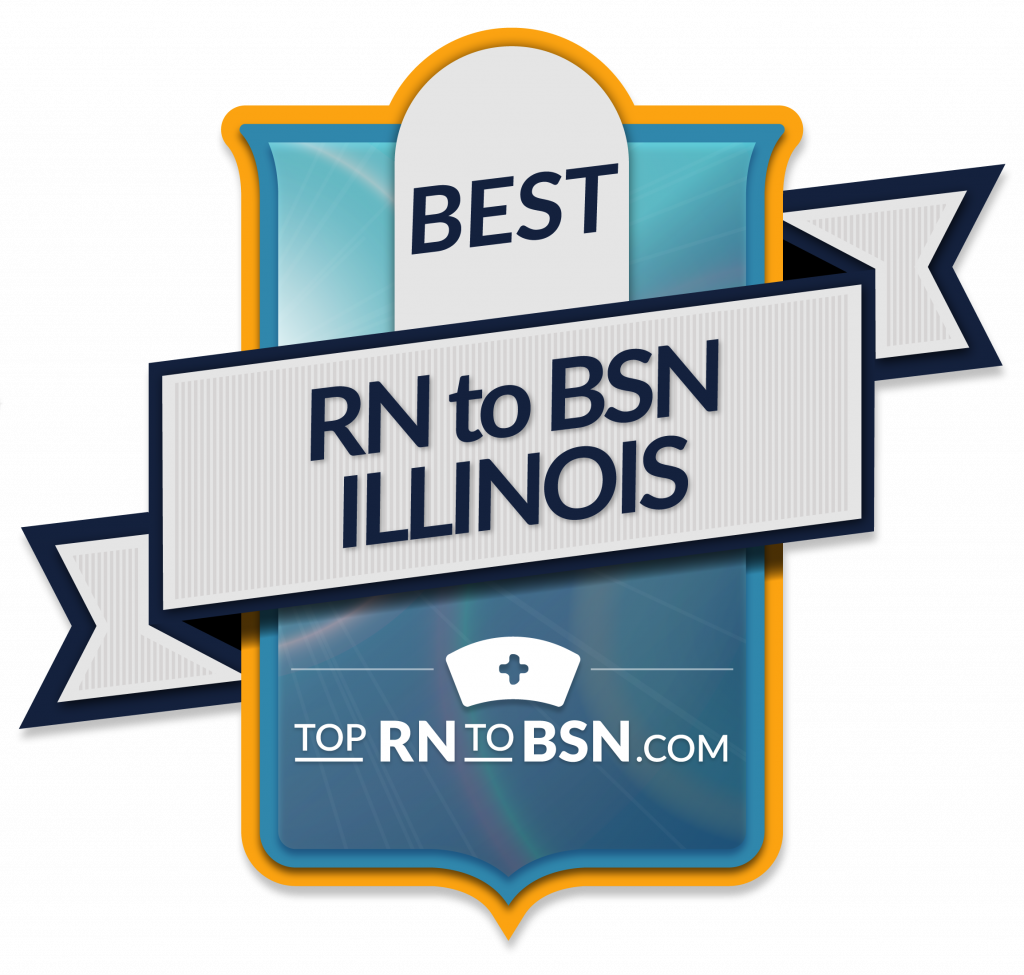 Illinois Online RN to BSN
The best Illinois online RN to BSN nursing schools and programs have flexible and affordable options for working RNs. For those midwestern RNs who are ready for the next step in their education, but need the flexibility of online nursing programs, you'll find there are quite a few online nursing programs in Illinois. Our number one school, Loyola University, has its accelerated nursing program completely available as an online option.
Branching out beyond the Windy City, there are excellent online nursing programs in Illinois, each with distinct strengths to offer non-traditional students. Since the American Nursing Association has made it a priority for 80% or more of all practicing nurses to have a BSN, the aspiration to earn that degree may soon be a requirement. Hospitals and clinics all over the country are requiring their employees to go back to school if they haven't already. Some are even helping them pay for it.
---
Ranking the Best Illinois Online RN to BSN Nursing Schools
Luckily, there are many more reasons to go back to school than just an industry requirement. The pay is better for graduates of BSN programs in Illinois than those who hold only an RN. On average, BSN graduates around $4000 more per year than similar nurses who only hold an associate degree. The ranking methodology we use takes the most important attributes into account.
First, we determined a school's reputation, then the cost of attendance, and finally the average salary for graduates of the school 6 years later. This established our sense of the return on investment for nursing students in Illinois.
Reputation (as calculated by Niche.com)
Cost (as reported to IPEDS)
Outcome (as reported to College Scorecard)
Students have choices when it comes to online nursing programs in Illinois. We're here to help narrow the field when it comes to choosing between BSN programs in Illinois. After all, you have enough to do deciding what to do with all the extra money you will make upon graduation.
---
---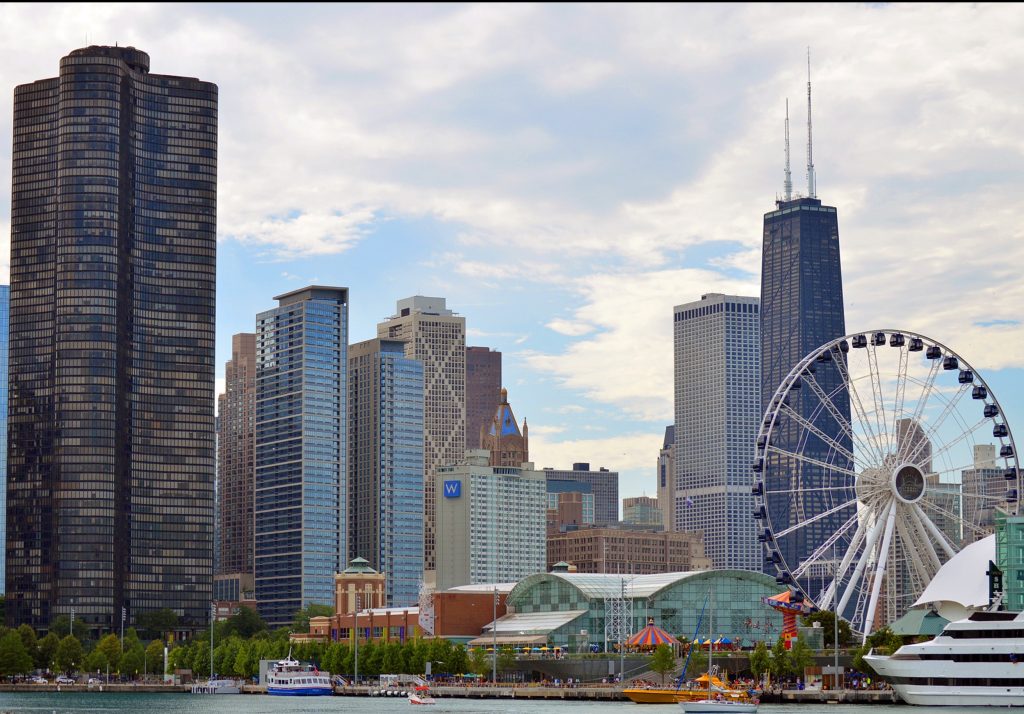 ---
1. Loyola University

Loyola University Chicago offers a completely online RN to BSN program through their Marcella Niehoff School of Nursing. One special thing about this program is the opportunity students have to learn from excellent faculty who are experts in their field. The other special thing is that Loyola is regarded as one of the top nursing schools Chicago has to offer. The Loyola School of Nursing has been a trailblazing institution since 1935. It was the first college nursing school to become accredited in the state. Since the Loyola nursing program recognizes that RNs have already completed many required courses, and are working in the field learning more every day, this RN to BSN program cuts away the repetitiveness.
The 30 minimum hours of required coursework is tailored to each student's schedule and needs. Additionally, classes teach content employers want in a BSN-holding nurse. Courses are taught in 8-week sections, so the entire program can be completed in as little as 3 semesters. For students who want to earn their BSN and work full time as a nurse, this program is flexible. Loyola nursing is one of the BSN nursing programs in Chicago that accepts applications year-round.
Degree: RN to BSN
---
2. Methodist College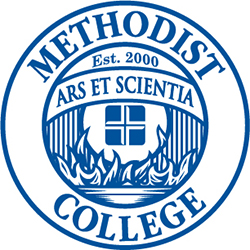 For registered nurses who are looking for a BSN program in Illinois, Methodist College offers a flexible way to earn their BSN degree while working as an RN in Illinois. Their generous transfer options mean that RNs with a two-year degree can transfer up to 77 credits from their first degree. So, students only need 43 additional credits at Methodist to graduate. The Association of Colleges of Nursing oversees all of the coursework in the online program. Instructors are qualified nurses who also receive extensive training on the differences between online and on-campus education. These measures ensure that students in this program are able to receive a high-quality nursing education whether they live in Peoria or anywhere in Illinois and beyond.
Selected courses are based on recommendations by the Institute of Medicine. So, each class of BSN graduates has what they need to be great nursing degree holders. The process of admissions for this innovative online BSN program takes into account the applicants holistic academic record for selection into the program. For some students, the admissions staff will ask for a personal statement or ask for an interview. These are simply opportunities to let the program know how much they want you.
Degree: RN to BSN
---
3. Illinois State University

Illinois State University offers an online RN to BSN program through their Mennonite College of Nursing. When it comes to online nursing programs in Illinois, this is an excellent choice for a variety of reasons. The US News and World Report ranked this program among the best online nursing programs in the country. Students have the option of studying with full or part-time status, and the flexible online format makes it easy to fit coursework into an already busy lifestyle. The faculty in the program are experts in their field and also academic trailblazers.
ISU is home to the Mennonite College of Nursing. The college is known for its 95% pass rate of the NCLEX, and a pass rate of 100% for the FNM Certification Exam. They offer a unique transcultural approach to nursing education with nursing care education and placements in many locations, including Russia and Brazil. Even though Illinois State considers themselves to be anything but ordinary, their campus sits in the college town of Bloomington-Normal. ISU offers students many opportunities to be successful, with generous financial aid opportunities.
Degree: RN to BSN
---
4. Olivet Nazarene University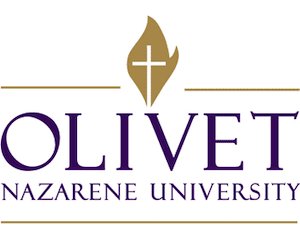 The Bachelor of Science in Nursing (RN-BSN) at Olivet Nazarene University is a comprehensive program. Eight different start dates per year means the most flexibility students can imagine to begin the process of advancing their nursing education. Part of the reason it made the list of top 10 nursing schools Illinois is the dedicated instructors that make the online RN to BSN program one of the best in the state. Each faculty member is an expert in their field. Twenty percent of the instructors hold doctorate level degrees in nursing. Each faculty member teaches within their specialty and is extensively trained in online educator requirements. Students are trained to become ready for practice at the bachelor's level or to be prepared for graduate education.
The success of nursing students is the main priority at Olivet Nazarene University. As a Christian School in the Wesleyan tradition, students are encouraged to see their time at the university as earning an "Education with a Christian Purpose." Additionally, The school encourages the values of hard work and commitment in this RN to BSN program.
Degree: RN to BSN
---
5. The University of Illinois at Chicago

One of the premier accelerated nursing programs Chicago has to offer is at the University of Illinois at Chicago. They have several academic options in the field of nursing including an online RN to BSN program. The US News and World Report ranked this distinct UIC Nursing program and other UIC online programs as number one for student engagement within the umbrella of online bachelor's degrees. Student engagement means that working away from campus at an online bachelor's degree does not have to mean being isolated from the university community. Their 94 percent graduation rate distinguishes them. Institutionally, they have identified that community is a key to a successful education, and have made inroads in embedding this practice into their online protocol. Financial aid is easily within reach for all students at UIC Nursing.
The University of Illinois at Chicago has one of the most prominent medical schools in the country. It initially opened as the land-grant institution for the state of Illinois in 1867. Also, it is the largest university in the Chicago area and has one of the best nursing programs in Chicago.
Degree: RN to BSN
---
6. Benedictine University

The nursing program at Benedictine University offers one of the accelerated online nursing programs in Illinois. They offer a comprehensive RN to BSN program that can be delivered entirely online or at one of their Illinois based campuses. Even though they offer a high-end private school education, their tuition rates are as affordable as many state schools. They also have scholarship opportunities for students who qualify. A team learning environment is intentionally fostered in this program, even in their online and web-enhanced classes. Students must come into the program with an unencumbered RN license from the state of Illinois.
The College of Education and Health Services at Benedictine University prepares students for a career of service as professionals in health care and education. They are the home of the Nursing and Health Program at Benedictine. They offer a variety of programming, much of which is flexible and online, though they also have plenty of residential programs that cater to a wide range of students and healthcare and education fields.
Degree: RN to BSN
---
7. Northern Illinois University

The Bachelor of Science in Nursing for RNs program at Northern Illinois University is for working RNs. Nurses can advance their education while they maintain their jobs and home commitments. Additionally, students can create a customized path of learning that fits their best schedule. There are full-time support coaches and career coaches, maximizing the opportunity students have to learn more about their field online, and even may contribute to the career they are already starting as licensed nurses. NIU accepts transferred credits from other accredited universities nursing programs, making the RN to BSN journey even shorter and more convenient for some students. The coursework engages students in providing high-quality health care in community settings along with a variety of other environments. The program is entirely online, and therefore grants students a level of flexibility that is required for many adult professional learners to be successful in all of their endeavors.
NIU is continually pushing the boundaries of innovation. Through online courses that many schools would not think to offer, students all over this country and abroad can take advantage of the numerous opportunities to earn a degree from a university that has been engaging students for a century and a quarter.
Degree: RN to BSN
---
8. Eastern Illinois University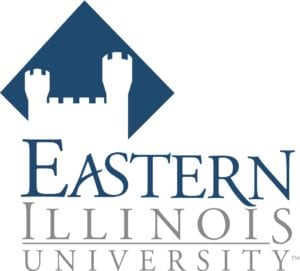 Eastern Illinois University offers a 100 percent online RN to BSN program that will give students the credentials and skills to make dramatic strides in their careers, and preparing them for successful graduate studies. As far as online nursing programs in Illinois go, this one is more accelerated them most and can be completed in as little as 14 months time. The coursework emphasizes clinical decision making, evaluative skills for nursing, and evidence-based practice. Students will also learn methods of accountability as it relates to lifelong learning. Students will learn to treat students effectively while maintaining a cultural sensitivity and applying such practices to diverse populations.
Eastern Illinois University was established initially as a Normal School to train teachers in 1895. They are a public school with their campus in the college town of Charleston, Illinois. Their total enrollment is close to 7,500, with a reasonably selective admissions process. They have seven entirely online undergraduate degree programs and 17 graduate programs, all of which are designed for adult learners and non-traditional students.
Degree: RN to BSN
---
9. Southern Illinois University Edwardsville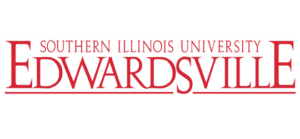 At Southern Illinois University Edwardsville, the School of Nursing offers an accelerated option. This program is for students who have an active Illinois nursing license and have been trained in an associate's nursing program. SIUE's program is entirely online and most students complete it in three semesters or one calendar year. Prerequisite courses for the program match many required by two-year programs in the state for a clear path towards accelerated study in nursing. Courses in the program are 8-weeks each, and allow for twice the education per semester than the 16-week format of many undergraduate program courses. Following an immersive experience learning the software used in the Accelerated RN to BS Option at SIUE, students hit the ground running in their program.
SIUE is located in beautiful Edwardsville, Illinois, just a half-hour from Saint Louis, Missouri. The Mississippi River influences the rich flora that grows on and around the 2,500-acre campus. The solidly midwestern values that undergird the institution are centered around accountability for its students, and the lifelong commitment to learning that the school hopes to inspire in each of them.
Degree: RN to BSN
---
10. Governors State University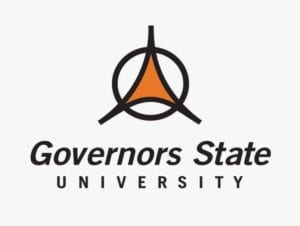 Governors State University's online RN to BSN degree program is designed to be the most up-to-date training for working nurses. GSU's Department of Nursing builds the RN to BSN program around the most current AACN recommendations, making sure that students are getting the highest standard of education. All coursework is fully online, and applicants with an associate's degree and a current RN license can complete their BSN in just 3 terms with a full-time study load. That means just one year – Fall, Spring, and Summer – to earn a BSN and take their career to the next level.
Founded in 1969, in the wave of educational reform that swept through the 1960s, Governors State University began as a pioneer in competency-based higher education. As such, GSU is known for its innovative approaches to education, especially in healthcare. Located in University Park IL, a suburb of Chicago, GSU is a major supplier for nurses for the Chicago Metro area, and has won numerous awards for their support of nontraditional undergraduate students, including recognition from the National Resource Center for the First-Year Experience and Students in Transition.
Degree: RN to BSN Completion Program
---
What Should I Look for When Searching for Online BSN Programs in Illinois?
The criteria for choosing online BSN programs in Illinois is the same for choosing any online college degree program:
Regional Accreditation: Regional accreditation is first and foremost; online BSN programs in Illinois should be accredited by the Higher Learning Commission, which is responsible for all colleges and universities in the Midwest.
Program Accreditation: An added layer of trustworthiness, online BSN programs in Illinois should also be accredited at the program level, preferably by the Accreditation Commission For Education in Nursing (ACEN) or the Commission on Collegiate Nursing Education (CCNE). The ACEN accredits programs at all levels, from associate's to doctoral; the CCNE only accredits bachelor's and master's programs. Either accreditation proves that the nursing school is on the up-and-up.
Transparent Costs: Believe it or not, shady programs will usually try to hide their real costs. Figuring out college tuition isn't easy in the best cases, but if you're choosing from online BSN programs in Illinois, choose one that makes it clear how much it's going to cost you.
There are other factors that may matter to you specifically, like available specializations or where you can do your clinical (do you have to travel to the college, or can you do clinicals close to home); but these are the baseline for online BSN programs in Illinois you can trust.
---
How Many BSN Nursing Programs in Chicago Are There?
With the 3rd-highest population in the US, nearly 3 million people, there is a lot of need for nurses in Chicago, and there are a lot of RN programs in Chicago to meet the need. In the metropolitan area alone, there are more than a dozen BSN nursing programs in Chicago, at the top nursing schools Chicago has to offer:
Benedictine University
Chicago State University
DePaul University
Governors State University
Lakeview College of Nursing
Lewis University
Loyola University
North Park University
Resurrection University
Robert Morris University
Rush University
Saint Xavier University
University of Illinois at Chicago
When it comes to BSN nursing programs in Chicago, there's something for everyone: DePaul Nursing and Loyola Nursing provide nursing programs from a Catholic ethical and moral perspective right in Chicago, with Benedictine University Nursing and the University of St. Francis nursing in the suburbs. UIC Nursing and the University of Chicago offer the experience of major research institutions known for their medical programs. The top nursing schools Chicago residents can access are astounding, making BSN nursing programs in Chicago crucial to all of Illinois' healthcare system.
---
What Do Online Nursing Programs in Illinois Cost?
Of course, there's no standard for how much an online RN to BSN degree program should cost; it depends on the college or university. There are some basic rules of thumb, of course. A public university, in general, is going to cost less than a private university. A highly elite private college with a strong national reputation is going to cost more than a lesser-known regional college. A major research university is going to cost more than a small regional university. BSN programs in Illinois follow these general rules.
A few things go into determining the tuition rate for BSN programs in Illinois:
Reputation – a college with a better reputation can charge more
Selectivity – a college that has more people applying than they can take looks elite, and can charge more
Resources – a college with more resources – and therefore, more opportunity – can charge more
On the other hand, public universities charge less because accessibility and affordability are part of their mission, right alongside academic quality. Smaller private schools may charge less simply to attract students.
With that in mind, the cost of BSN programs in Illinois line-up just about where you would expect. The University of Illinois at Chicago is the lowest, as a public regional university, right in line with schools like Governors State, Northern Illinois, Eastern Illinois, and Southern Illinois. The elite private Catholic colleges, including DePaul and Loyola, run the highest – but also have exceptional national reputations.
---
Are Accelerated Nursing Programs in Illinois an Option?
Accelerated BSN programs are one of the crucial tools nursing schools have developed to meet a nationwide nursing shortage head-on. Accelerated BSN programs use compressed, intensive classes (usually 5-8 weeks long, instead of a conventional 16-week class) and stack up frequent terms (sometimes as many as 6-8 in a year, instead of the traditional Fall, Spring, and Summer).
To apply for an accelerated BSN, you must usually have:
Associate's degree in nursing
Current RN license
All prerequisites accounted for
At least a 3.0 GPA
Online accelerated 2nd degree BSN programs are open to students who already have a bachelor's degree in another field, but who want to switch careers to nursing. Since applicants already have their bachelor's, online accelerated 2nd degree BSN programs know that they are serious, professional, and ready for the challenge of an accelerated BSN program.
There are also nursing programs without entrance exams, which help get students in more conveniently; for most of these, the program trusts that applicants know their basics based on other factors, like having their RN license or continuing education courses under their belt.
---
Are There Prerequisites for Accelerated BSN Programs?
For pretty much any online accelerated BSN program, or for nursing programs without entrance exams, you'll need all of your general education courses already done. If you have an ADN from an accredited program (community college, for instance), you've probably already done that, but if you only have a diploma, you'll have some prerequisites to get out of the way first. Having those general education courses done is the reason the program can be accelerated in the first place, or that the program can waive entrance exams.
Online accelerated 2nd degree BSN programs are easier in one respect. Since these students already have a bachelor's degree most of the general education courses are already complete. Whatever bachelor's degree you have includes basic foundational courses. And these are generally the same no matter what degree you have.
Nursing programs without entrance exams, online accelerated BSN programs, and 2nd degree BSN programs are for working adults who know what they want and don't want to waste a lot of time getting it. With nursing shortages all over the country, nursing programs are happy to get new nurses out quickly, but you have to meet them halfway. If you don't meet the prerequisites, you simply don't qualify.
---
Related: